Want to pick the perfect shade of green for your home? Let's compare olive green vs sage green to see which might be right for you!
Choosing the right paint color for your home's interior can significantly impact the overall ambiance and style of your space.
But, picking a paint color can be super overwhelming. After all, the possibilities are nearly endless!
Among the vast array of colors available, shades of green have become increasingly popular in interior design.
In this blog post, we will explore two popular green hues: olive and sage green.
By understanding their unique characteristics and how they can enhance your home's interior, you'll be better equipped to make an informed decision when selecting the perfect paint color for your home!
More green paint color goodness: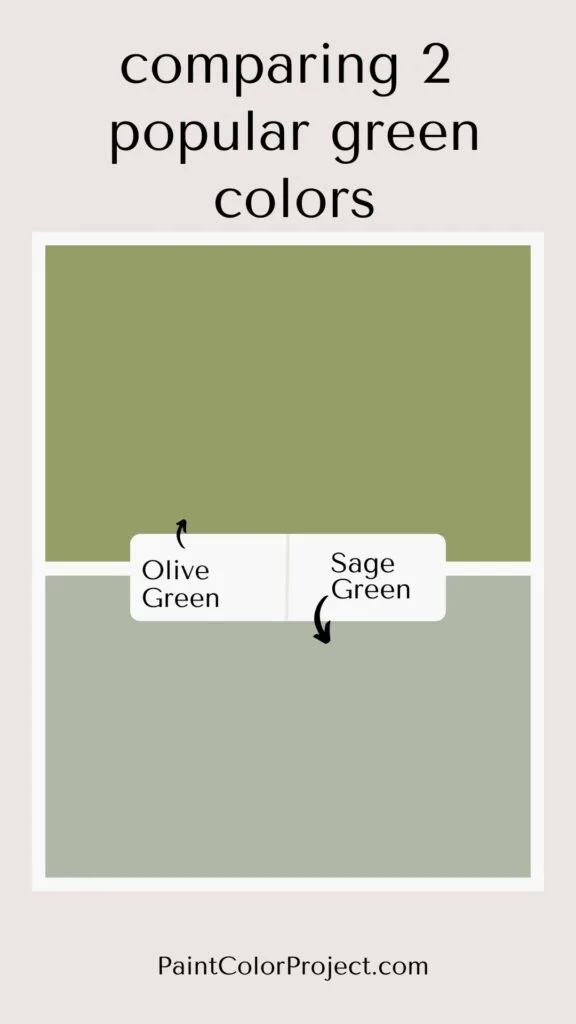 Olive Green vs Sage Green
Olive and sage green are two versatile paint colors that can infuse your home's interior with natural elegance and tranquility. Understanding the unique characteristics and psychological impacts of each hue will empower you to make an informed decision when selecting the perfect shade for your space.
Whether you prefer the earthy allure of olive green or the soothing ambiance of sage green, both colors have the potential to transform your home into a haven of style and serenity.
What is Olive Green?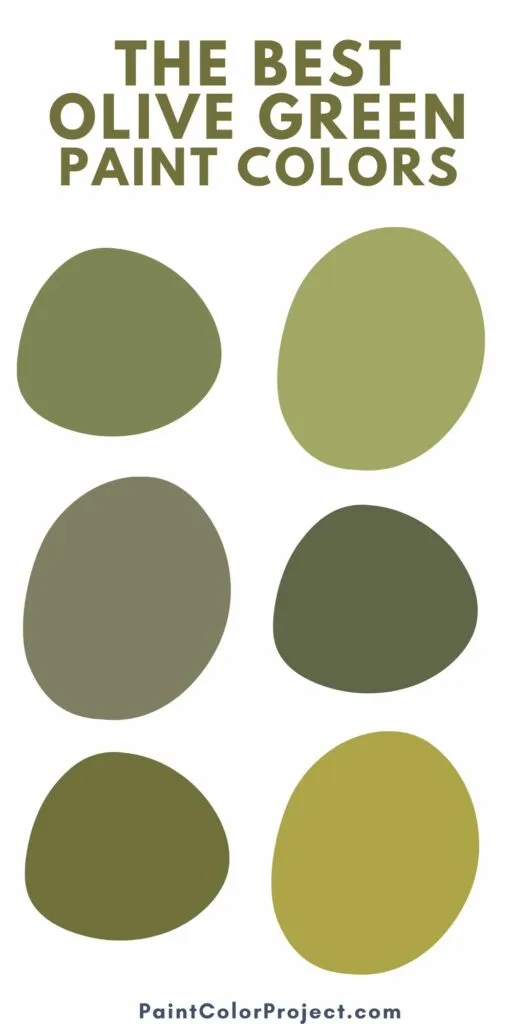 Olive green is a shade that comes from the natural colors found in olives and olive trees. This is usually a warm toned green color with strong yellow/golden undertones.
These warm undertones will make the color look more warm/yellow in rooms with warm lighting – such as south-facing windows. It will look more neutral in rooms with cool toned lighting.
According to color psychology, olive green evokes a sense of tranquility and natural harmony, making it a great choice for creating a serene atmosphere.
There are various interior design styles where olive green shines, such as modern, Scandinavian, and Mediterranean themes.
Olive green pairs nicely with other warm toned colors. I like to coordinate it with earth tones, warm neutrals, and pops of contrasting hues.
What is Sage Green?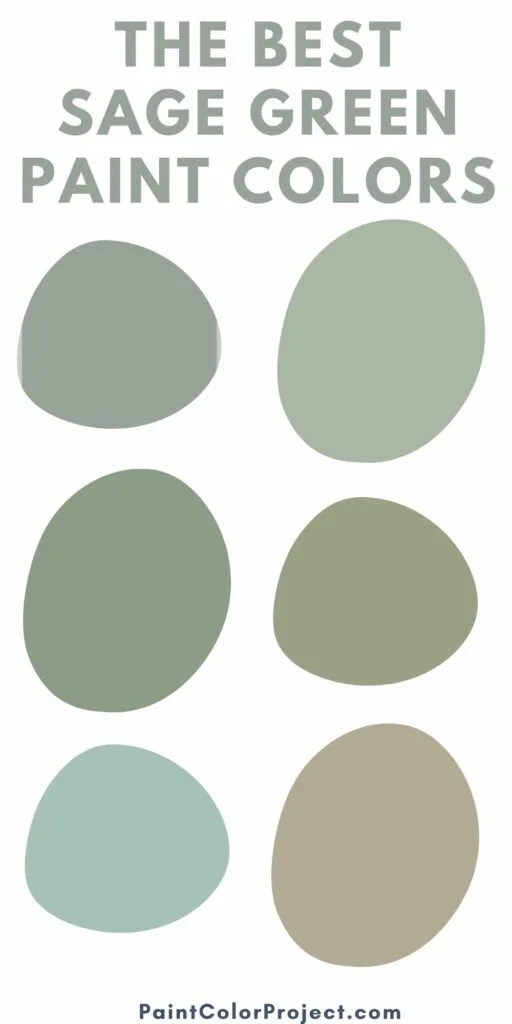 Sage green is a soft and muted shade of green reminiscent of the herb's foliage. This is usually a cooler toned green color, often with blue or gray undertones.
Sage can look more blue/teal in rooms with cool lighting or north facing windows. It will usually look more neutral in warm lighting.
According to color psychology, sage green promotes a tranquil environment, making it ideal for bedrooms, living rooms, and home offices.
Sage green complements various interior design styles, such as farmhouse, coastal, and shabby chic, by lending a touch of nature and understated elegance.
Since sage is a soft green color, it pairs well with soft pastels, crisp whites, and natural textures.
Olive vs. Sage Green: Making the Right Choice
The biggest distinctions between olive and sage green include their undertones, intensity, and overall mood.
Olive greens are usually more warm toned, while Sage greens are typically cool toned. So, look at the undertone of your fixtures (flooring, tile, furniture, art) and pick which best coordinates.
Sage greens are often more light toned, while olive is more common to come in both light and dark shades. So, that can be a consideration as well.
Finally, consider your desired aesthetic. Olive leans more earthy, boho, and warm. Sage feels more airy, and can easily lean coastal or farmhouse.
Don't forget to consider your personal style, existing decor, and the desired atmosphere you wish to create when selecting between olive and sage green.
Accent Colors for Olive Green and Sage Green
Olive Green and Sage Green are both green colors, so they have the same complementary and analogous colors.
Complementary colors are colors next to each other on the color wheel. For green, that is blue or yellow. But usually look great with any shade of green.
Analogous colors are opposite on the color wheel. Shades of green are typically across from shades of red. However, due to their different undertones, sage and mint have different analogous colors.
Olive green is really opposite of purple toned pink shades.
Sage green is opposite terracotta or desert rose shades of pink.
For neutrals, stick to creamy soft whites to nicely contrast the green shades.
These shades both pair well with black and deep charcoal black.
See my favorite Sage Green accent colors here!
Olive Green Paint Colors
Sherwin Williams Green Onyx

This medium, muted olive green is best if you're willing to give your space a friendly and relaxed vibe.
Click here to get a peel & stick sample of Green Onyx.
Benjamin Moore Thicket A soft olive green enriched with a subtle yellow cast is perfect for opening up your space.
Click here to get a peel & stick sample of Thicket.
Sherwin Williams Lemon Verbena

Another one on our list of best olive green paint colors that are slightly muted yet still vibrant.
Click here to get a peel & stick sample of lemon verbena.
Benjamin Moore Martini Olive

This one is perfect for adding to your space if you wish to make it extremely vibrant and playful.
Click here to get a peel & stick sample of Martini Olive.
Farrow and Ball Sap Green

A true nature reflection, this one acts as a soft, yet rich accent element, especially when used in smaller spaces.
Sherwin Williams Lemongrass

This is a yellow-green mix that will bring warmth and a natural glow into your space.
Click here to get a peel & stick sample of Lemongrass.
Sage Green Paint Colors
Behr Nature's Gift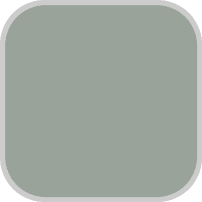 This is a beautiful earthy green. It's slightly darker than light green, with both blue and gray undertones. It really transforms in different light!
Read my complete Nature's Gift review!
Sherwin Williams Liveable Green

This sage green has a bit more yellow or brown to it. If your room has a lot of cool light, it will feel more green. In a room with bright natural light, it might read more beige.
Click to get a peel & stick sample of Liveable Green.
Benjamin Moore Sage Wisdom

This is a brighter sage green, but it still has those gray undertones that keep it from reading neon or pastel. A great color depth if you want green on your walls without feeling dark.
Click to get a peel & stick sample of Sage Wisdom
Benjamin Moore Saybrook Sage

This shade of sage green has a lot of yellow to it. That gives it great warm, cozy undertones. I'd only use this one if your flooring or tile also has warm tones to it.
Click to get a peel & stick sample of Saybrook Sage
Any more questions about olive green vs sage green?
Still not sure what paint color to choose?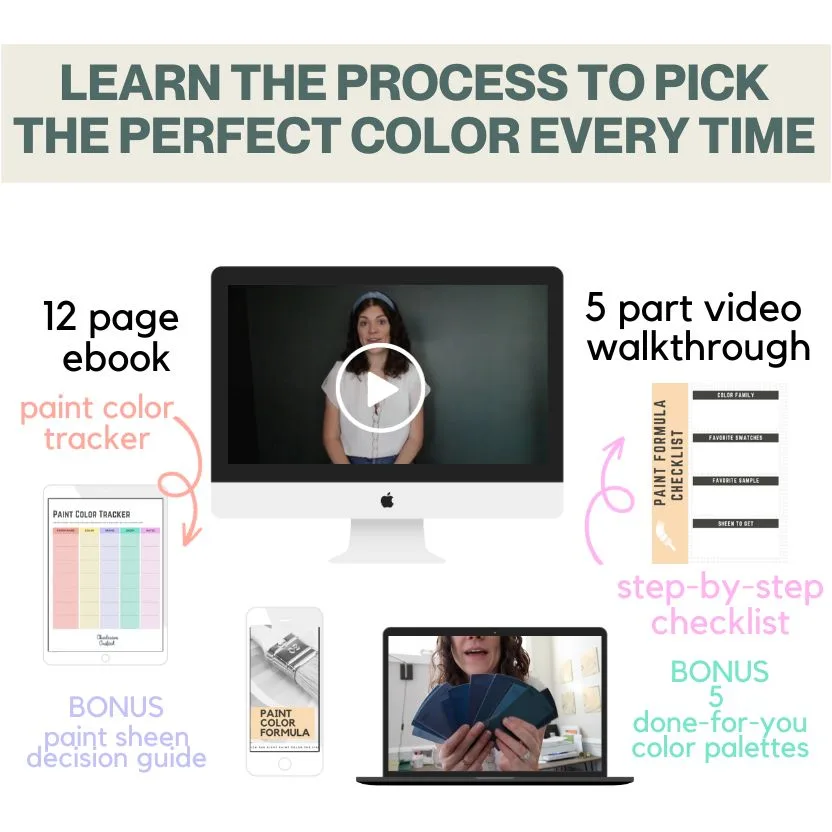 My Paint Color Formula ebook walks you through the painless process of expertly testing paint swatches to ensure you have the perfect color for your home.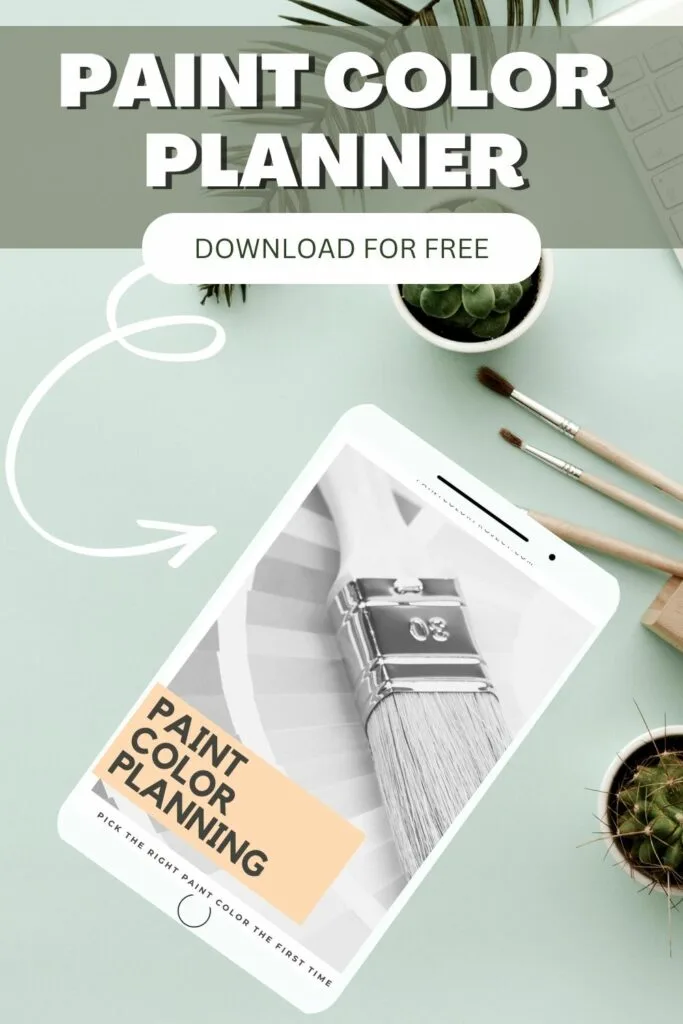 Thanks for reading!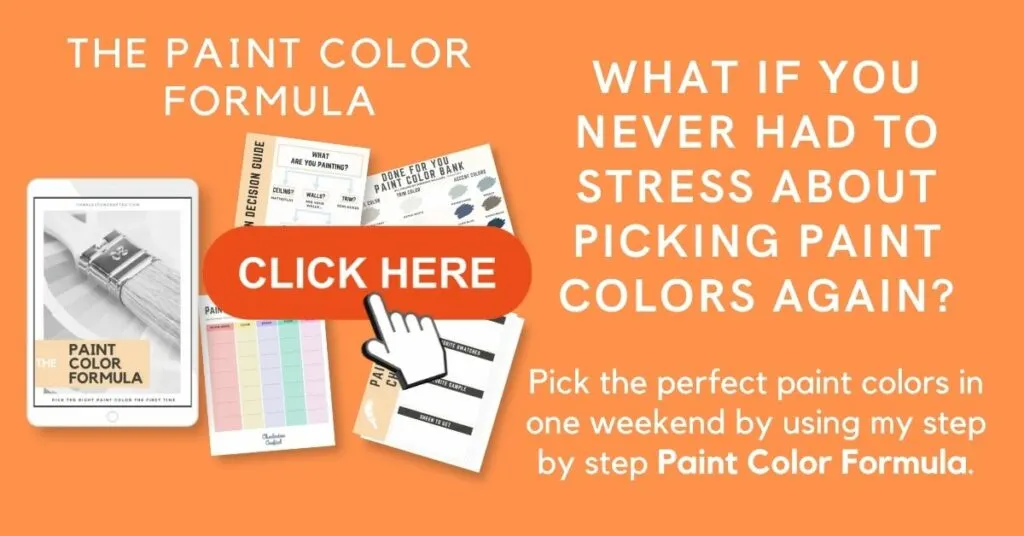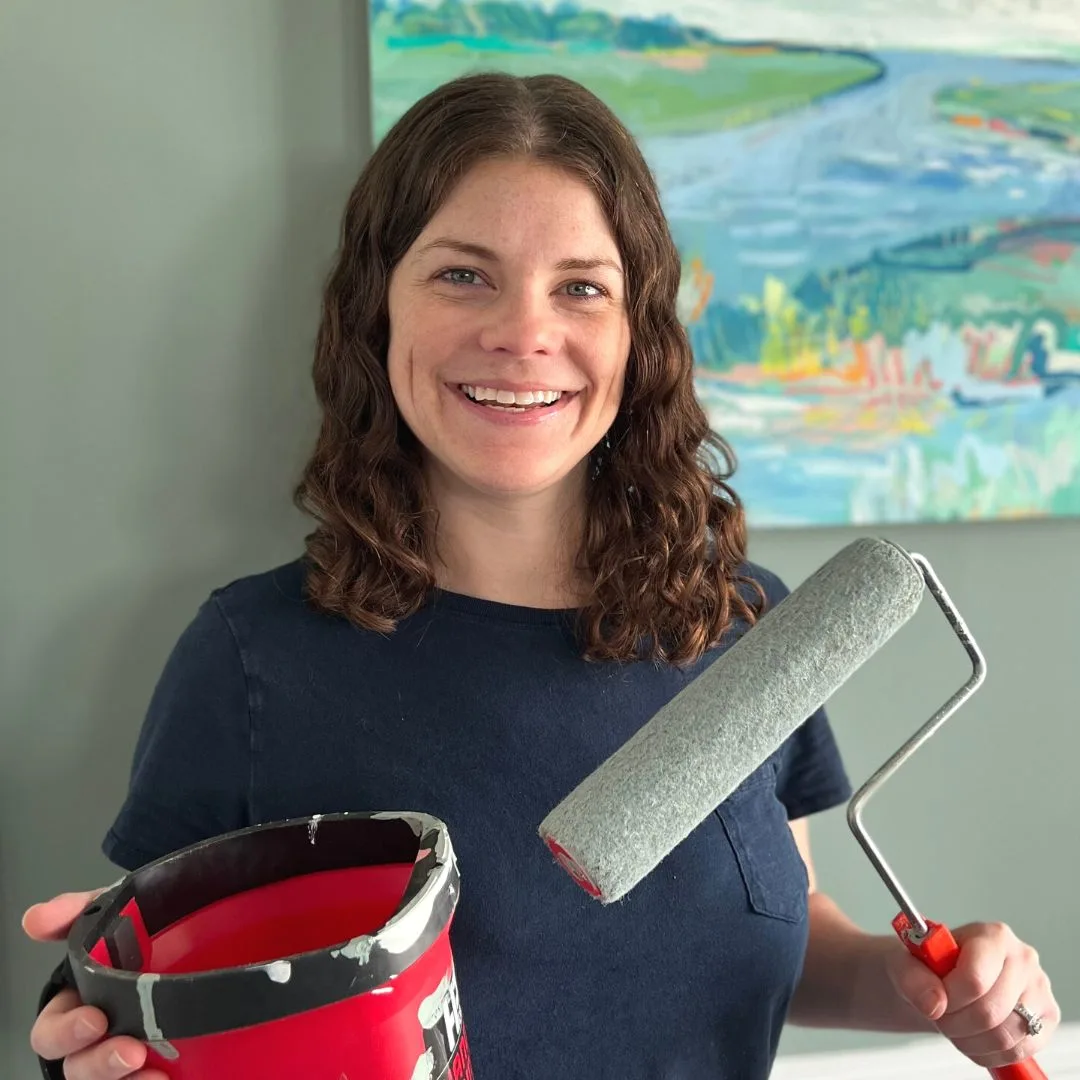 Morgan is passionate about home decor and paint colors. She has been sharing DIY home decor tips since 2012 at CharlestonCrafted.com. From there, she learned to love paint colors, and the Paint Color Project was born in 2022!