Want to paint your walls green? Here are the best mint green paint colors, how to use them, and what to pair them with!
Green is a super popular color to decorate with. Green is earthy and cozy. It's a touch of color without necessarily being too bold or wild.
Amongst all of the shades of green, mint might be a favorite to decorate with.
Definitely mint + sage green are two of the easiest shades of green to incorporate into most styles of home decor.
Mint green brings a sense of freshness, tranquility, and a touch of whimsy to any space.
Whether you're looking to create a soothing bedroom, a lively kitchen, or a serene bathroom, mint green hues can infuse your home with a delightful ambiance.
Let's dive into everything you need to know about mint green paint colors!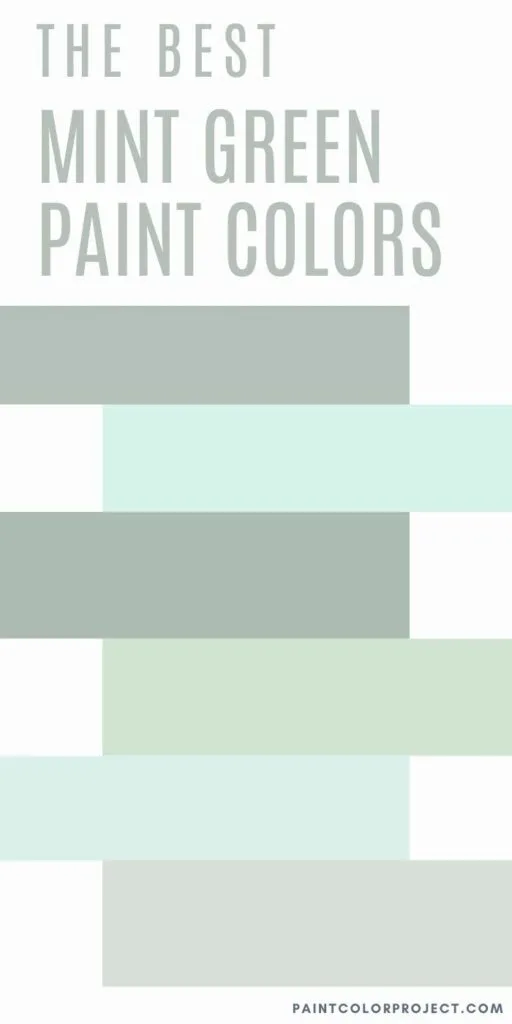 What is Mint Green?
Mint green is a light and delicate shade of green, reminiscent of fresh mint leaves. It embodies a sense of rejuvenation, calmness, and a touch of playfulness.
Mint is typically light and usually has blue to neutral undertones.
Mint green is very popular to use in coastal, beach house, or cottage style homes. It's also a popular choice for "gender neutral" baby nurseries.
But, it can also be incorporated into more modern adult spaces!
Where to Use Mint Green Paint
Mint green paint can transform various spaces in your home into serene and refreshing retreats. Here are some popular areas where mint green shines:
Bedrooms: Create a serene and peaceful atmosphere by painting your bedroom walls in mint green. This color promotes relaxation and tranquility, making it an ideal choice for a restful sleep space.
Kitchens: Infuse your kitchen with a lively and vibrant vibe by incorporating mint green cabinets or accent walls. This color adds a fresh and playful touch, making your kitchen a delightful space for culinary adventures.
Bathrooms: Transform your bathroom into a spa-like sanctuary by using mint green on the walls or as a decorative accent. Mint green creates a sense of cleanliness and serenity, perfect for rejuvenation.
Home Offices: Incorporate mint green into your workspace to promote focus and creativity. This color inspires a sense of freshness and clarity, fostering an environment conducive to productivity.
Colors to Pair with Mint Green
To create a harmonious color palette with mint green, consider these complementary and coordinating shades:
Soft Neutrals: Pair mint green with soft neutrals like white, cream, or light gray to create a clean and airy look. This combination enhances the fresh and calming qualities of mint green.
Coral or Peach: Add a touch of warmth and playfulness by pairing mint green with coral or peach accents. This combination creates a lively and cheerful atmosphere, perfect for a vibrant and energetic space.
Coastal Blues: For a tranquil and seaside-inspired aesthetic, pair mint green with coastal blues like aqua or sky blue. This combination evokes a sense of relaxation and brings a coastal charm to your home.
Metallic Accents: Incorporate metallic accents like silver or gold to add a touch of sophistication and glamour to your mint green space.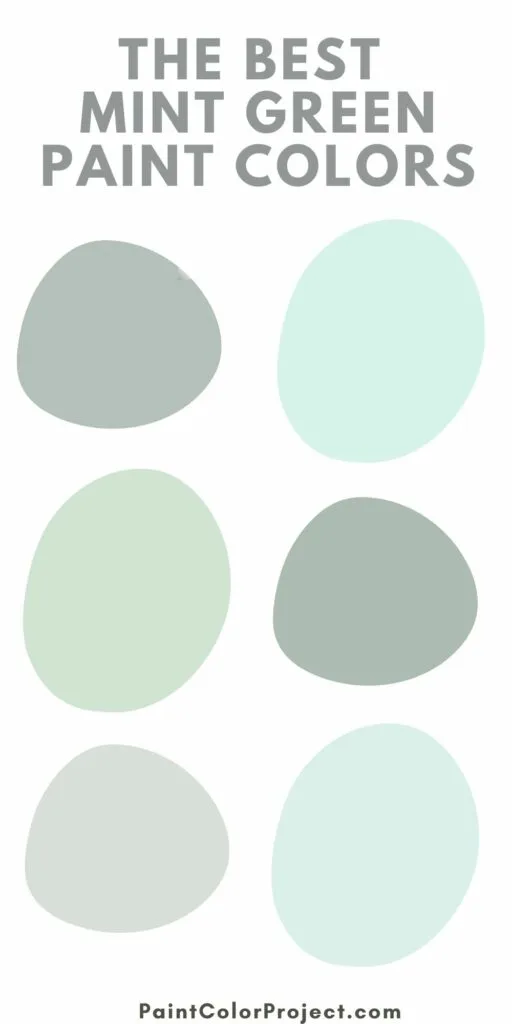 Best Mint Green Paint Colors
Here are my favorite mint green paint colors!
Benjamin Moore Minty Green (2042-70) A light and refreshing mint green that evokes a sense of calmness and cleanliness, perfect for creating a serene and airy atmosphere in bedrooms or bathrooms.
This shade has blue undertones and is bright without feeling neon on the walls!
Click here to get a peel & stick sample of Minty Green.
Benjamin Moore Palladian Blue (HC-144)
Palladian Blue is a soft mint green with hints of blue, offering a coastal-inspired and tranquil feel, making it suitable for bathrooms, bedrooms, or any space where relaxation is desired.
This is a slightly darker (more mid-tone, definitely not dark) option. Remember it will look lighter in bright rooms and darker in dark rooms!
Click here to get a peel & stick sample of Palladian Blue.
Sherwin Williams Softened Green (SW 6177)

Softened Green is a delicate and subtle mint green with a hint of gray undertone, providing a soothing and sophisticated look that is ideal for a peaceful nursery or a cozy reading nook.
This is a really warm toned mint that might really be more sage, but I wanted to include it because it's a great option if you have warm toned fixtures -floors or cabinets – and the blue-r shades are clashing.
Click here to get a peel & stick sample of Softened Green.
Sherwin Williams Window Pane (SW 6210)

Window Pane is a light and airy mint green that brings a refreshing and uplifting vibe to any room, creating a cheerful and welcoming atmosphere.
This is really the quintessential mint, a true green with light gray undertones, making it easy to decorate with and around. I really love this one!
Click here for a peel & stick sample of Window Pane.
Benjamin Moore Frosty Mint (571) Frosty Mint is a cool and refreshing mint green with a touch of blue, adding a crisp and invigorating feel to your space, perfect for kitchens, laundry rooms, or entryways.
This is a light and very bright shade. I recommend it for rooms with tons of natural light – it might feel a bit too neon in darker rooms.
Click here to get a peel & stick sample of Frosty Mint.
Sherwin Williams Mint Condition (SW 6743)
Mint Condition is a soft and soothing mint green that exudes a delicate and serene energy, making it a great choice for bedrooms or meditation spaces.
I love that this shade is a true green – not too blue, not too yellow. It's definitely one to swatch if you want a mint wall or cabinet!
Click here to get a peel & stick sample of Mint Condition.
Benjamin Moore Beach Glass (1564)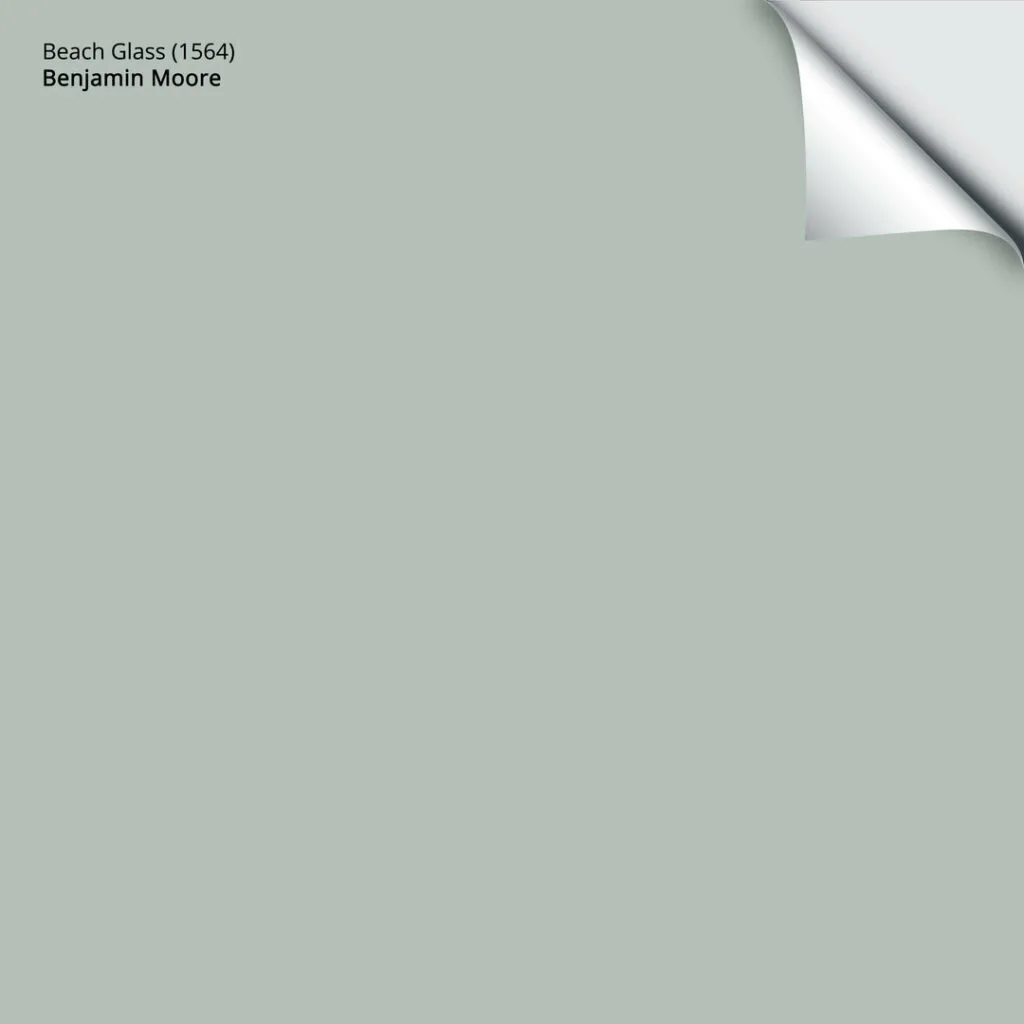 Beach Glass is a muted mint green with gray undertones, reminiscent of sea glass found along the shore, creating a calming and coastal-inspired ambiance.
This shade is super easy to decorate with because of the gray undertones and, in my opinion, has just the right amount of color to it. This is a big winner!
Click here to get a peel & stick sample of Beach Glass.
Benjamin Moore Baby Green (2047-70)

Baby Green is a light and bright shade of mint green with heavy blue undertones. This color can read as slightly neon and because of that is best for very well lit rooms, where the brightness will slightly wash out.
I love this shade for whimsical spaces like a nursery or a very beachy room, paired with creamy white trim.
Click here to get a peel & stick sample of Baby Green.
Sherwin Williams Quietude (SW 6212)
Quietude is a soft and tranquil mint green with gray undertones, creating a serene and balanced atmosphere, suitable for bedrooms or living areas where relaxation is key.
I love the muted gray tones of this shade, because it makes it less overwhelming to the eye and really easy to decorate with!
Click here to get a peel & stick sample of Quitetude.
What are you painting mint green?
Still not sure what paint color to choose?
My Paint Color Formula ebook walks you through the painless process of expertly testing paint swatches to ensure you have the perfect color for your home.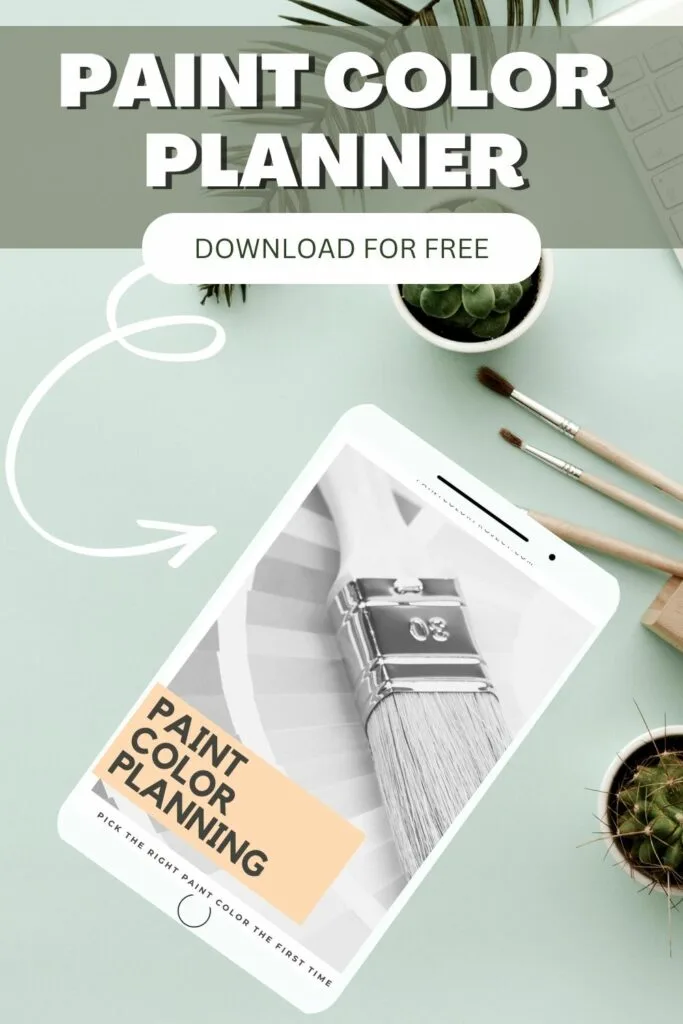 Thanks for reading!