Want to paint your home a cozy, inviting shade of gray? Here are the best warm gray paint colors for your home.
When it comes to timeless paint colors, we shouldn't forget that gray is proudly at the top of that list.
The main reason why it's so popular is because of its versatility.
Namely, gray has the ability to make a great pairing with almost all kinds of colors and designs, making it a safe choice no matter your dream aesthetics.
But, like any other color, gray also comes in quite a vast range of shades- dark, light, warm, cool, and more.
If you're interested in discovering the best warm gray paint colors, you've come to the right place! Take a look at the list we prepared for you to find out the shade you'll immediately fall in love with!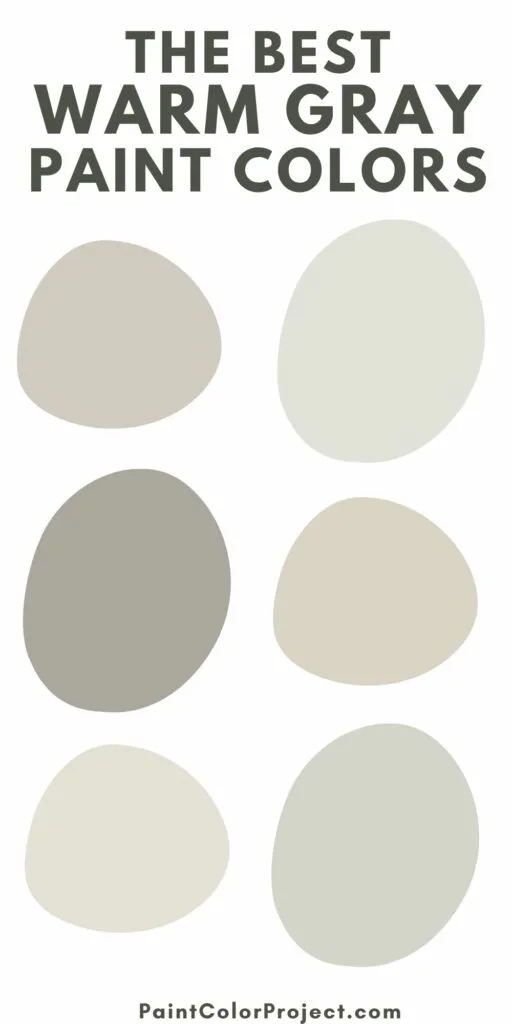 What is a warm gray?
Warm gray refers to shades of gray that have warm undertones. This is in stark contrast to shades of gray with cool, icy undertones.
Before we present you with our favorite warm gray paints, let's make sure you can identify them easily.
First of all, we need to ensure you don't confuse the terms warm grey and greige since they might initially seem interchangeable.
To put it simply, warm gray doesn't necessarily have enough of a beige tint in it to be considered greige. Some paints are borderline between the two, which might make you confused.
A warm gray color still looks gray when it's painted on your wall, while with greige, you can easily see the beige tone underneath.
So, the easiest way to define it is to say that warm grays are different than cool-toned ones because instead of having blue or purple undertones, they have red, yellow, or beige.
Yet, the beige subtones aren't noticeable enough to be called greige.
Sound complicated? Well, it's all a bit of a gray-area. (see what I did there?!)
Now that we made the distinction let's continue to list the paints that would make the best choice for your home.
The best warm gray paint colors
I have rounded up a ton of my favorite warm gray paint colors and decided it was easiest to break them down by brand for you.
Sherwin Williams best warm gray paint colors
Here are my favorite warm gray colors by Sherwin Williams.
Agreeable Gray

Agreeable Gray is probably the most universal warm gray paint that would look good in every home, no matter its decor and overall aesthetics.
It has a beautiful balance between gray and beige, and can easily be a good fit for both colors' lovers.
Read my complete review of Agreeable Gray here.
Click here to get a peel & stick sample of Agreeable Gray.
Repose Gray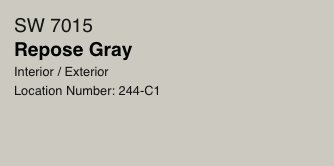 Repose gray definitely leans more toward the grayscale but is undoubtedly warm in its undertones.
Repose Gray has more green and blue undertones. You will especially see these tones in a North facing room. North facing rooms get cool light, which tends to make color skew blue-r.
This is a great option for a warm gray wall that actually works well with warm or cool accent colors. So, unlike some other greige paint colors that don't play well with cool toned fixtures (tile, cabinets, etc) Repose Gray can actually pull it off!
Read my complete Repose Gray review here.
Click here to get a peel & stick sample of Repose Gray.
Dorian Gray

This is a much deeper and richer color, making it ideal for moodier spaces. The level of warmth the hue has in it is ideal for combining – even with warmer, woody tones.
So, if you have wooden furniture in your home, Dorian Grey would perfectly complement it.
Click here to get a peel & stick sample of Dorian Gray.
Mindful Gray

Although it might look warmer on the sample, Mindful Gray shows up slightly cooler once it's painted on a wall.
It looks great in bathrooms and kitchens and makes a beautiful pair with marble surfaces, especially those with various colors and veining.
Click here to get a peel & stick sample of Mindful Gray.
Worldly Gray

Worldy Gray is yet another beautiful warm gray color, but remember that it's best to be careful with it.
Many consider it like a chameleon because it can drastically change depending on its surroundings.
It's best to be used in spaces that receive lots of natural light because otherwise, it may look like it has purple undertones.
Click here to get a peel & stick sample of Worldly Gray.
Colonnade Gray

Although it has a slight green undertone, Colonnade Gray is still considered one of the warm greys.
As opposed to the previous one, this one works better in darker and moodier places and has its green undertones showing more.
Click here to get a peel & stick sample of Colonnade Gray.
Benjamin Moore best warm gray paint colors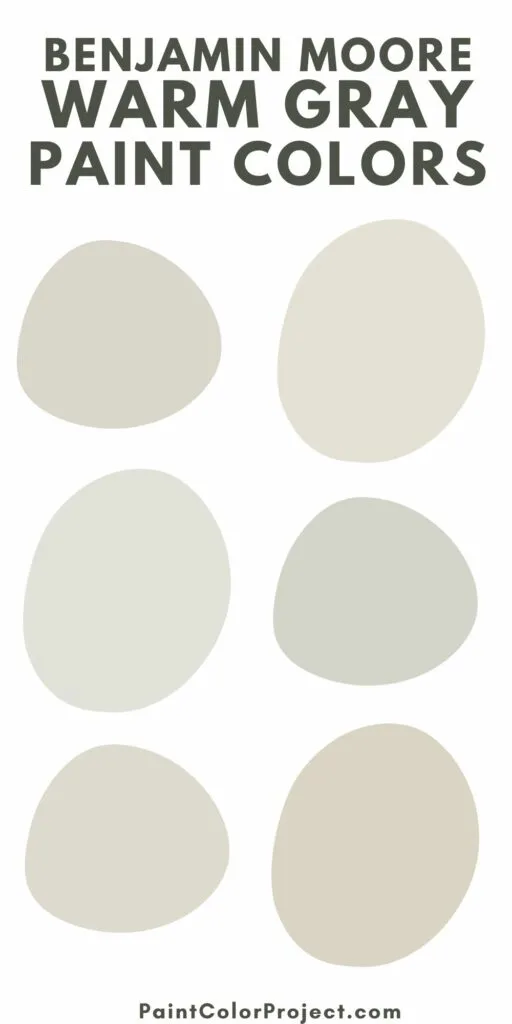 Here are my favorite warm gray paint colors by Benjamin Moore.
Balboa Mist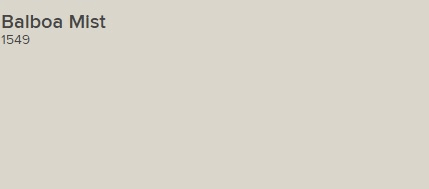 Technically – speaking, Balboa Mist does actually look like an off-white, but it has the right amount of warmth in it to allow us to consider it a warm gray.
It is neutral overall, with subtle hints of white that make it ideal for use in tranquil environments and dynamically painted settings.
Click here to get a peel & stick sample of Balboa Mist.
Classic Gray

Yet another one of the chameleon warm grays, the Classic Gray, looks different depending on the type and amount of light it receives.
But overall, it's a great neutral shade in each room because it can easily adapt and look good in many environments.
Click here to get a peel & stick sample of Classic Gray.
Silver Satin

Although the name might make you think this shade is a statement cool-toned gray, it's not so much in reality.
Its chameleon features make it appear different under diverse lighting, but overall, it is impossible not to notice Silver Satin's slightly warm undertone.
Click here to get a peel & stick sample of Silver Satin.
Gray Owl

If you're looking for a warm gray color to paint your kitchen with, then Gray Owl should definitely be one to consider.
Gray Owl is unique in that it is very neutral toned, so it can appear warm or cool. If you have very warm lighting, it will feel like a warm gray.
If you have cooler, north-facing windows, it might feel cooler on your walls.
Click here to get a peel & stick sample of Gray Owl.
Pale Oak


This naturally warm gray is as subtle and beautiful as it comes. It has a little bit of pink and yellow in it, which become noticeable depending on the light your space receives, as well as the other color in the room.
Namely, bright natural light makes it warmer gray towards yellow, while the pink tones are most noticeable in a shaded environment.
Click here for my complete Pale Oak review.
Click here to get a peel & stick sample of Pale Oak.
Edgecomb Gray

Edgecomb Gray is a neutral color with minimal undertones, making it an ideal fit for a room that receives plenty of natural lighting.
It pairs best with cooler-toned furniture and decor, so if your home has predominately blue, green, or gray elements, this is the paint you should opt for.
Click here to read my complete Edgecomb Gray review.
Click here to get a peel & stick sample of Edgecomb Gray.
Farrow & Ball best warm gray paint colors
Here are my favorite warm gray colors by Farrow & Ball.
Cornforth White

Cornforth White is a gray shade that's only slightly warm and saturated, allowing it to go well with literally everything.
So, if you're looking for a color you could use all over your home, Corforth White is the one.
Click here to get a peel & stick sample of Cornforth White.
Purbeck Stone

Although it looks bright and pleasantly airy during the day, it definitely changes under low light when it becomes more moody.
Best to be used in bedrooms, Purbeck Stone makes a perfect background for hanging art.
Click here to get a peel & stick sample of Purbeck Stone.
Pavilion Gray

Pavilion Gray is one of the neutral warm grays that look delicate and soft when painted on the walls. This makes it a good pair with white, stone-like marble, and darker gray shades overall.
Click here to get a peel & stick sample of Pavilion Gray
Final Thoughts
With this, we end our list of suggestions for the best warm gray paint colors. We truly hope that with so many great options to choose from, you'll be able to find the one that will match your vision and home layout perfectly.
Don't forget to get our free paint color planning worksheet that will help you color your home like a pro.
Still not sure what paint color to choose?
My Paint Color Formula ebook walks you through the painless process of expertly testing paint swatches to ensure you have the perfect color for your home.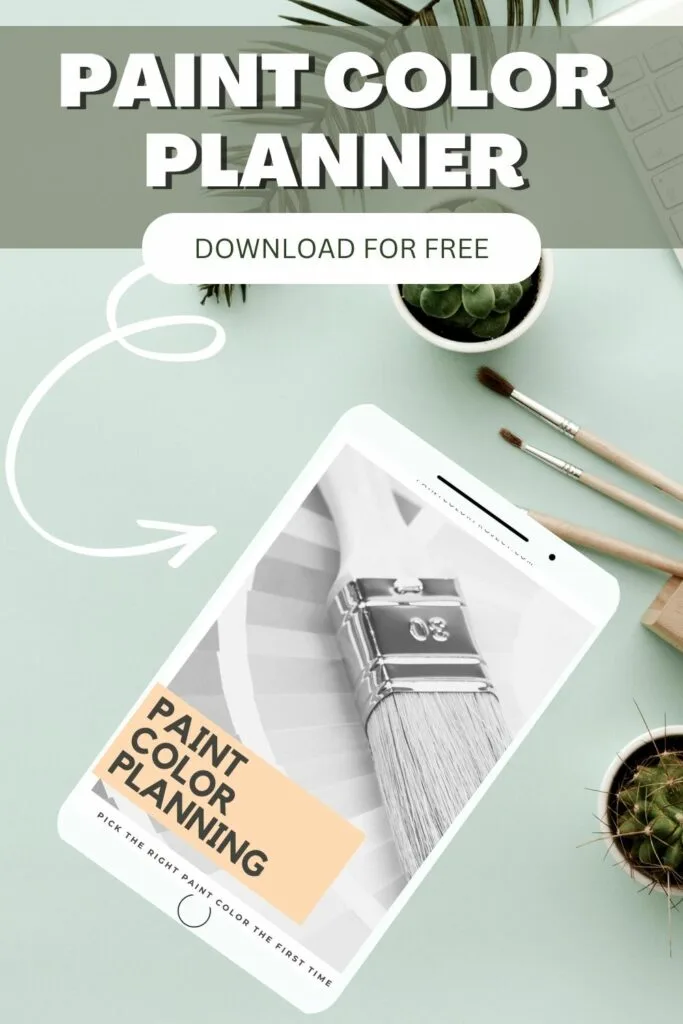 Thanks for reading!