Looking for the perfect warm gray paint color? Let's talk about Benjamin Moore Edgecomb gray – undertones, coordinating colors, and trim colors – and if it might be right for your home!
Neutral greige (gray/beige) paint colors are super popular. They tend to be universally appealing and flattering and work with a variety of color schemes.
One of the most popular greige colors is Benjamin Moore's Edgecomb Gray.
Seriously – it's one of Benjamin Moore's most popular and best selling paint colors.
Let's talk about this popular paint color and if it might be the right wall color for your home!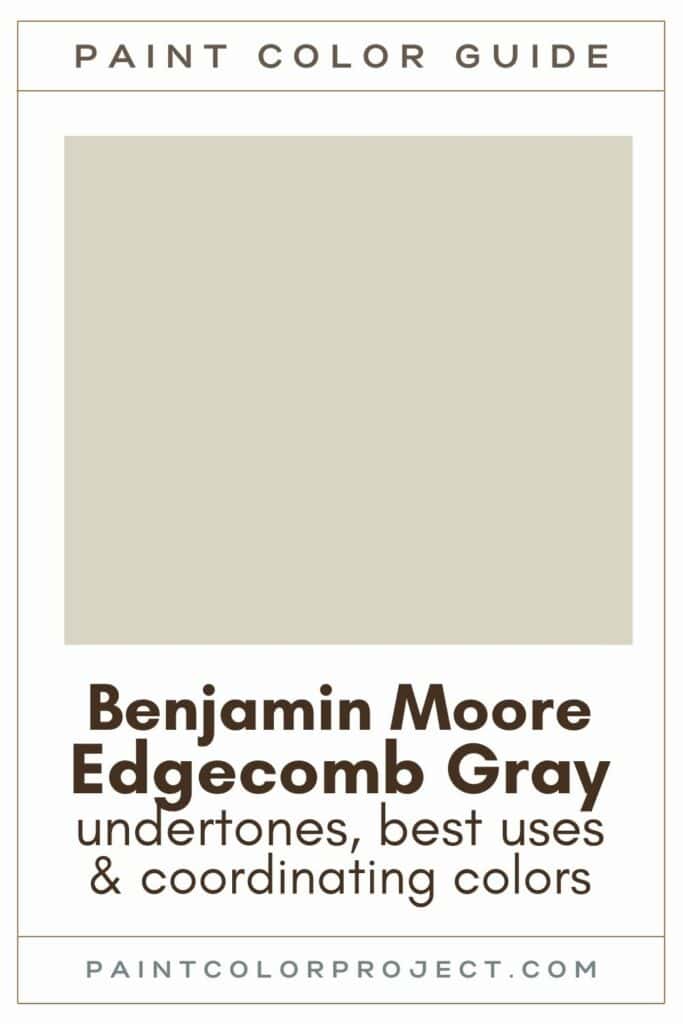 Benjamin Moore Edgecomb Gray HC-173
Color Family
Edgecomb gray is in the warm gray/greige color family.
Light Reflectance Value
63.88 – actually fairly dark for a typical neutral greige paint color.
Light Reflective Value is the measurement of how much light a color bounces around. This is on a scale of 0 to 100 with 0 being pure black and 100 being pure white.
RGB Colors
R: 218 G: 209 B: 196
RGB describes the amount of each color – red, green, and blue – present in a color. This is on a scale of 0 to 255 for each color. This is basically the color mix to make the color!
Hex Code
#DAD1C4

Undertones
This color is often described as "tawny". It is a beige with gray undertones. It has a lot of warmth to it but doesn't really feel yellow.
While there is a slight green undertone to it, it is not significant. There is no purple undertone.
This color will look grayer in natural light and more beige in artificial lighting. Overhead lighting often casts a warm tone on colors, and brings out the beige in greige paint colors.
Within that, North facing windows will let in the most cool light (bringing out the gray), while southern facing windows have warmer light (bringing out the tans and beige).
Bright, natural light will also make this color look lighter, compared to darker rooms where it will look like more of a medium toned gray.
Best uses
Edgecomb gray is a go-to paint color that works well in a ton of different spaces in your home. It has enough color to it to be interesting, but is still warm and neutral.
Edgecomb gray is neutral enough that it can work for a whole house paint color.
It's a great color to use in bedrooms, especially spare bedrooms that you want to feel neutral but still warm and inviting.
This color works great for kitchen cabinets, especially if you have white walls and want bright cabinets but with a little color depth and interest.
It's also a great color for the exterior of a home! It can look really charming with the right natural light.
Be sure to always swatch colors in your actual home to ensure that you are happy with the way the color reads in your actual lighting.
Don't plan to use Edgecomb Gray for trim – it's too dark. The only exception is if you have white walls and want a darker gray colored trim. I just mean it will NOT pass for white trim!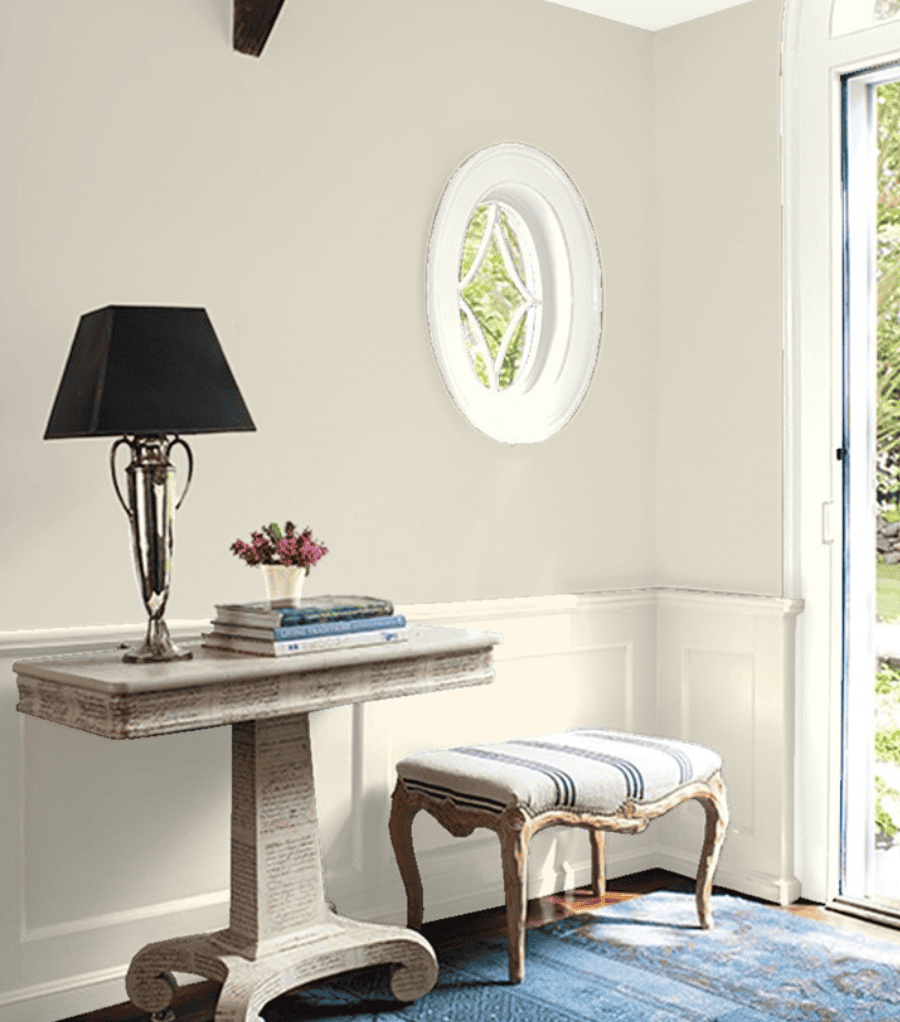 Similar Colors
Benjamin Moore Elmira White
Sherwin Williams Dumpling
Valspar Woodrow Wilson Putty
Olympic Tightrope
Edgecomb Gray Coordinating Colors
My pick for Edgecomb Gray Coordinating colors is creamy whites, bright blues or greens, and deep neutrals.
Creamy Whites
White Dove
White Chocolate
Bright blues + greens
Tranquility
Nickel
Palladian Blue
Salisbury Green
Deep neutrals
Hale Navy
Kendall Charcoal
Chelsea Gray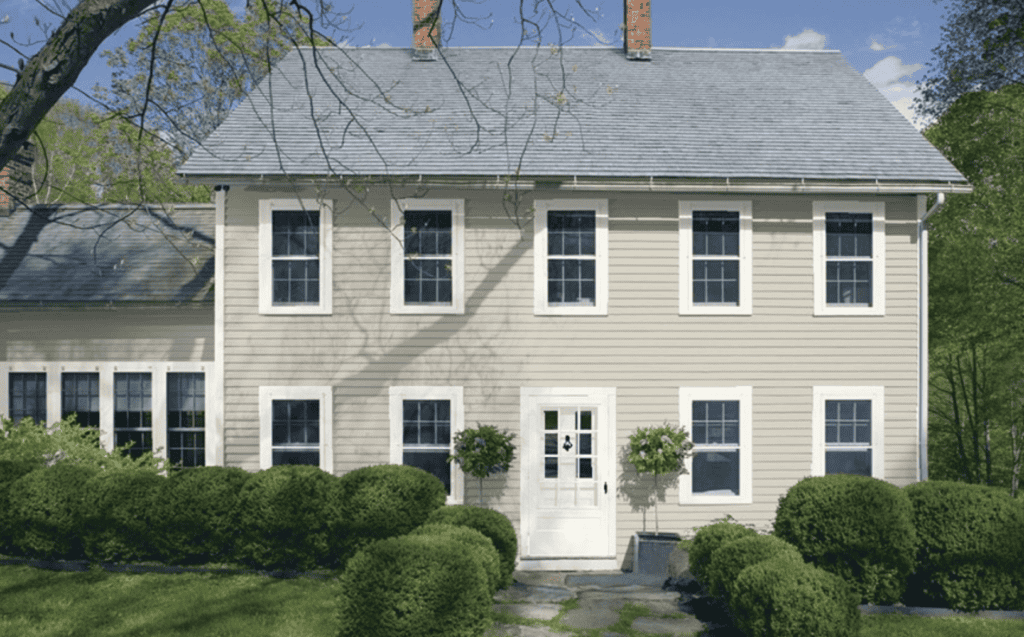 Trim Colors
You can pair Edgecomb Gray with either a bright white or warm white trim color.
Bright white trim will bring out the creaminess of Edgecomb Gray and provide more contrast.
Benjamin Moore Simply White
Sherwin Williams Extra White
Behr Ultra Pure White
Softer white trim will create a softer look, with less contrast but still a little contrast.
Benjamin Moore White Dove
Behr Cameo White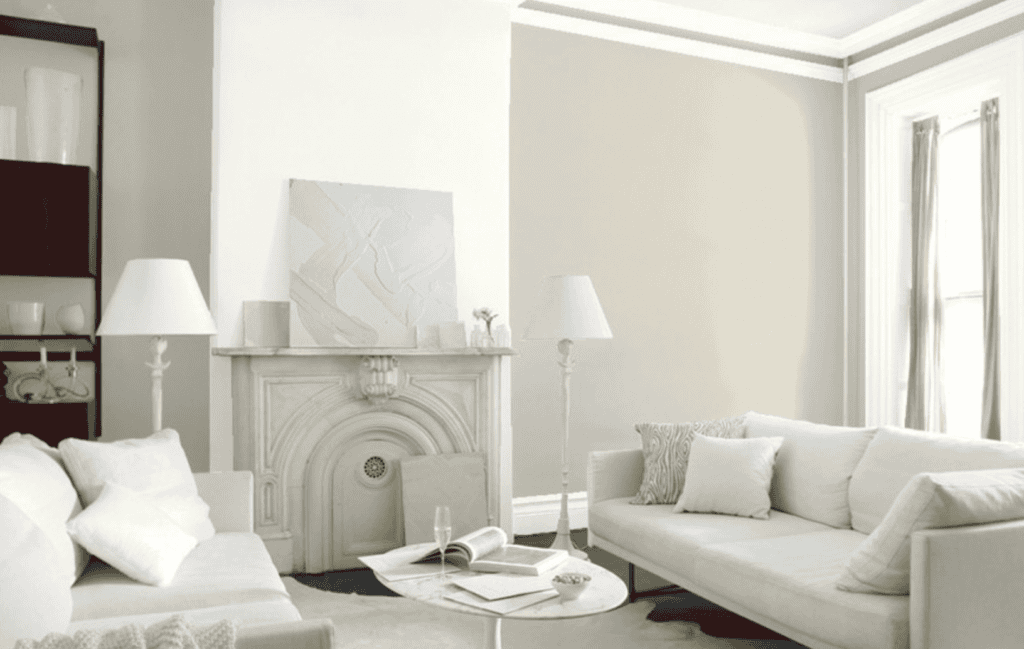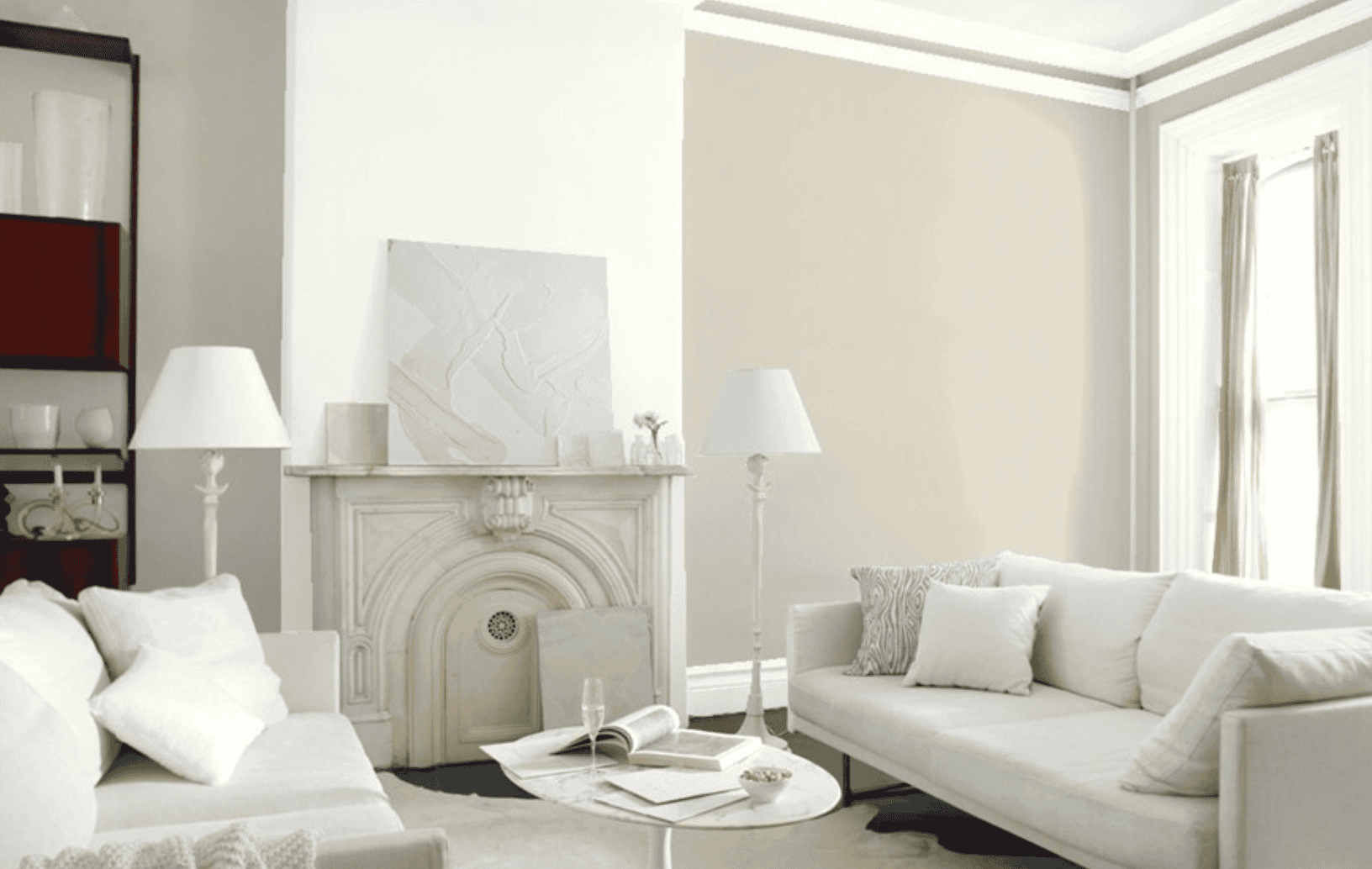 Free printable Edgecomb Gray color palette
Join the (free!) PaintColorProject+ community to access this exclusive color palette! Once you join, you can right click & save the palette image!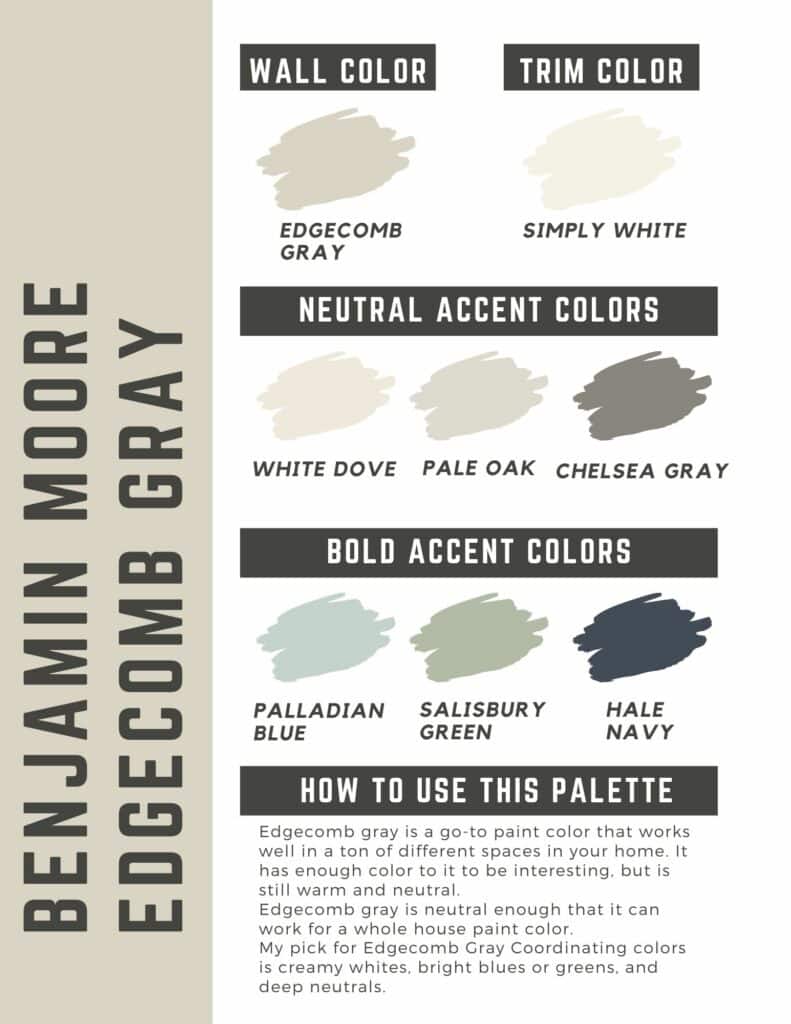 Edgecomb Gray FAQs
Is Edgecomb gray cool or warm?
Edgecomb Gray is a warm toned griege paint color. However, the lighting in your room at different times of day can bring attention to different undertones in the color, shifting it to be more or less warm-toned.
Is Edgecomb Gray too beige?
What does Edgecomb Gray go with?
Pair Edgecomb Gray with creamy whites, bright blues or greens, and deep neutrals.
Is Edgecomb Gray still popular?
Greige walls are not as trendy as they were a few years ago, but they are still a great neutral wall paint color that is popular with many, including realtors.
Does Edgecomb Gray look purple?
No, edgecomb gray can pick up a bit of pink (in warm lighting) or green (in cool lighting) but doesn't tend to look purple.
Does simply white go with Edgecomb Gray?
Simply White as a trim color will make Edgecomb Gray look slightly darker and creamier and provide a nice amount of contrast.
Does Edgecomb Gray go with agreeable gray?
Agreeable gray has a lot more purple to it than Edgecomb gray. I personally think the undertones of these 2 colors clash and I would not pair them together.
Is Edgecomb Gray a greige?
Yes – Edgecomb gray is a mix between gray and beige – greige!
What is a lighter version of Edgecomb Gray?
Good options for similar colors lighter than Edgecomb Gray include Benjamin Moore Fossil, Pale Oak, and Gray Mist.
Edgecomb gray vs Agreeable gray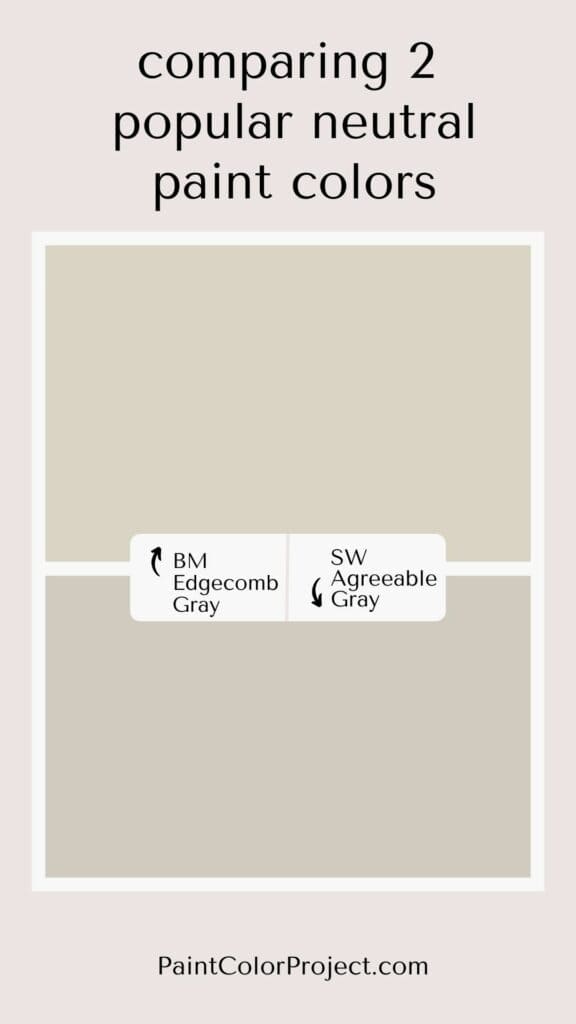 Edgecomb Gray is a beige with gray undertones, while Agreeable Gray is more gray with beige undertones.
I'd use Edgecomb Gray in Northern facing or darker rooms, and Agreeable Gray in southern facing or brighter rooms!
Read my complete Edgecomb gray vs Agreeable gray comparison here!
Edgecomb Gray vs Pale Oak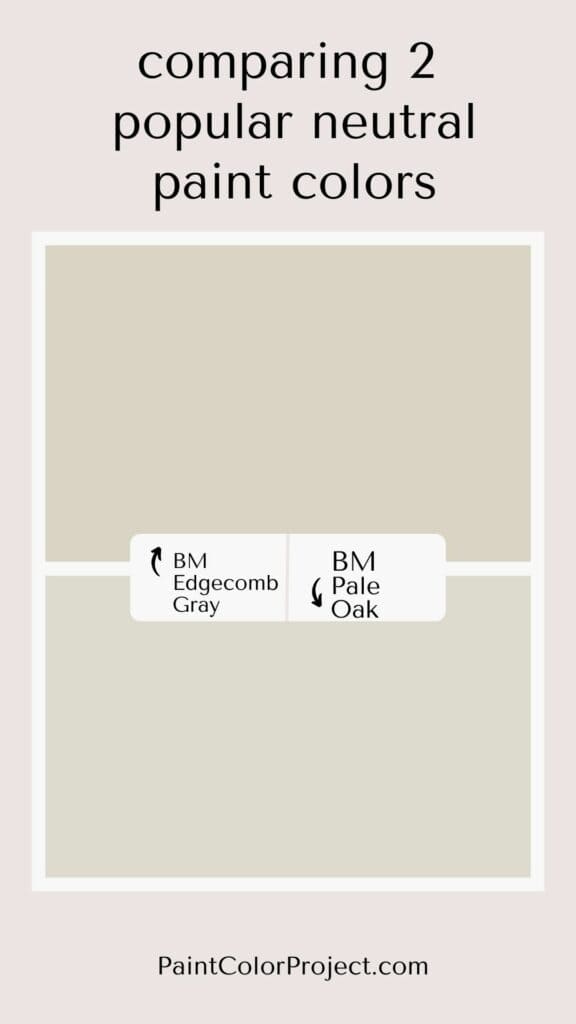 These colors are nearly identical at a glance! Upon further inspection, Pale Oak is airier while Edgecomb Gray has more color depth (is darker). Pale Oak is also slightly more muted and occasionally reads as lavender (in Northern light) while Edgecomb Gray is more yellow and warmer.
Click here to read my complete comparison of Edgecomb Gray vs Pale Oak.
Still not sure what paint color to choose?
My Paint Color Formula ebook walks you through the painless process of expertly testing paint swatches to ensure you have the perfect color for your home.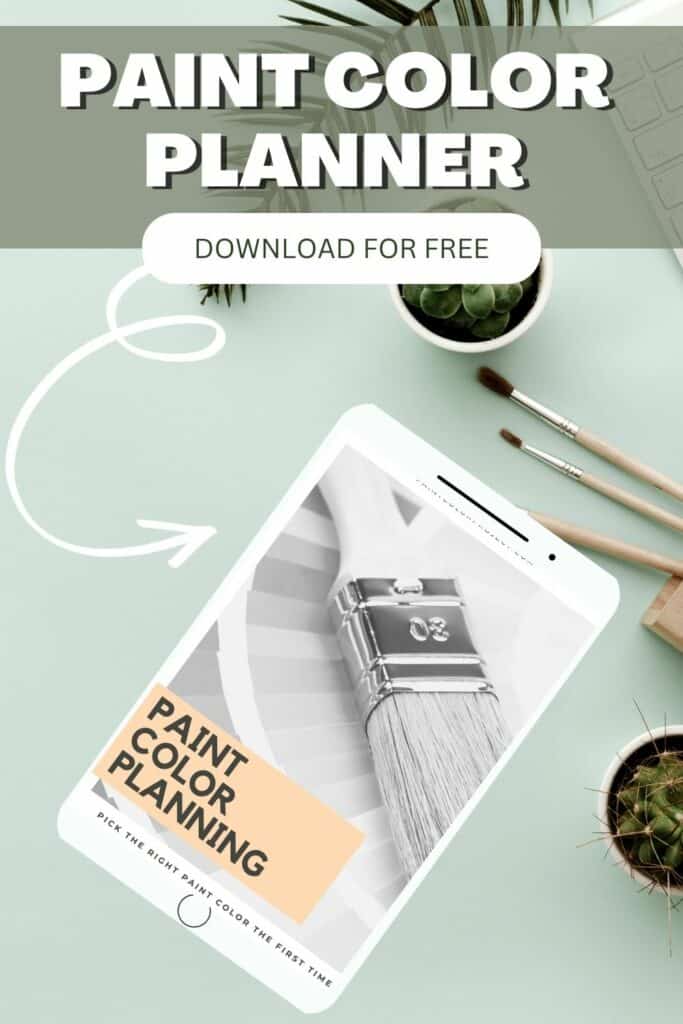 Thanks for reading!