Looking for the perfect soft neutral paint color? Let's compare Benjamin Moore Edgecomb Gray vs Pale Oak to see which might be right for your home!
Neutral paint colors are super popular because they are inoffensive and easy to decorate with.
Within neutral colors, warm neutrals are especially appealing as they make your room feel cozy and inviting.
Two of the most popular colors in this category are Benjamin Moore Edgecomb Gray and Pale Oak.
Read my full review of Edgecomb Gray
Read my full review of Pale Oak
Edgecomb Gray vs Pale Oak
These are both soft, neutral paint colors that are ultra popular!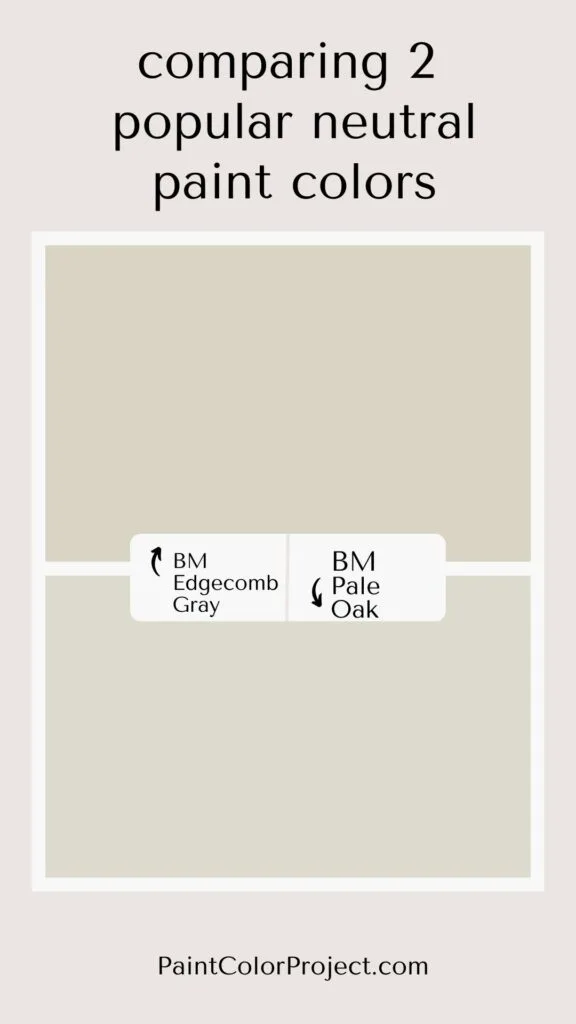 What is similar about Edgecomb Gray vs Pale Oak?
At a glance, these light beige colors are nearly identical! They are both light, bright, neutral colors with warm undertones.

What is different about Edgecomb Gray vs Pale Oak?
When placed next to each other, you can see a few differences.
Pale Oak has a slightly higher LRV than Edgecomb Gray, meaning that Pale Oak is lighter than Edgecomb Gray – though not significantly.
| | | |
| --- | --- | --- |
| | Edgecomb Gray | Pale Oak |
| LRV | 63.88 | 69.89 |
| RBG | R: 218 G: 209 B: 196 | R:222 G:216 B:205 |
| Undertones | This is a beige with gray undertones. It has a lot of warmth to it but doesn't really feel yellow. | Pale Oak has warm, yellow undertones. |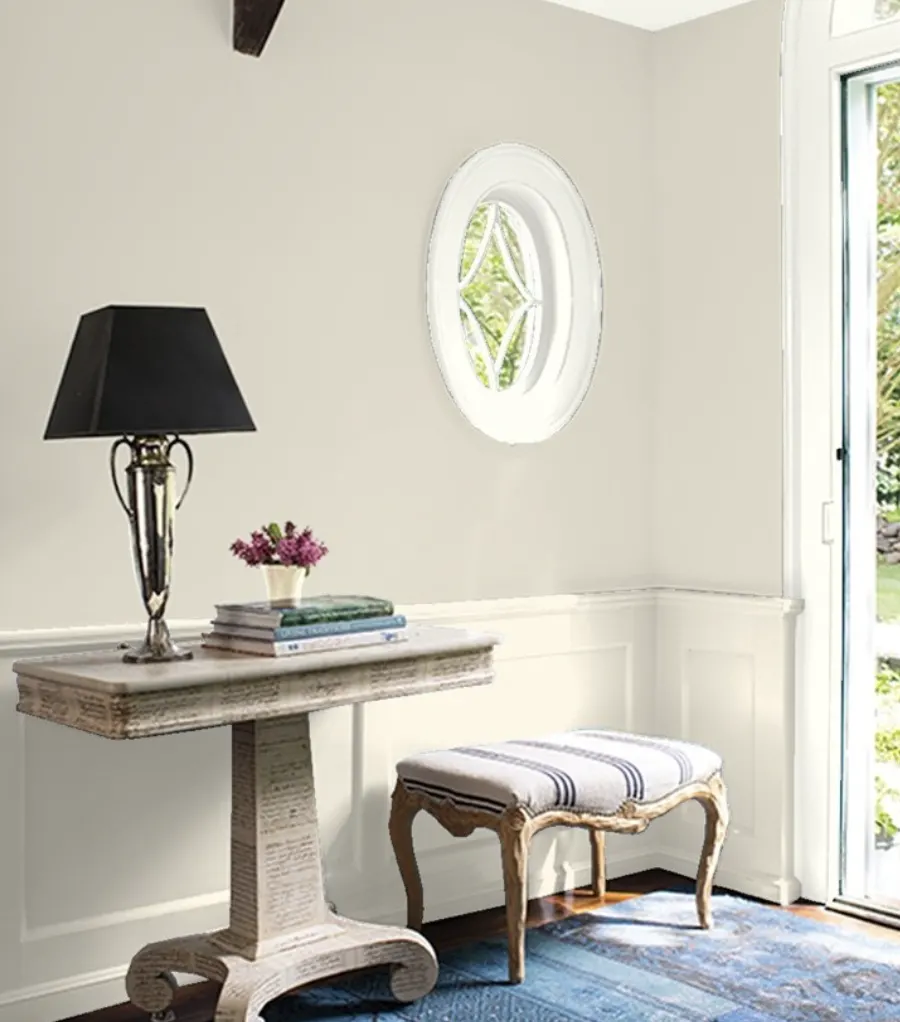 Undertones
Both of these colors have warm, yellow undertones. However, Edgecomb Gray has a bit more yellow – and more vibrancy to it.
Pale Oak is more muted and subdued and almost looks blue toned next to edgecomb gray. Pale Oak has been said to go a little lavender in cool, north facing light.
Additionally, Edgecomb Gray has more Gray to it, while Pale Oak is definitely creamier and more beige.
How do I decide between these two colors?
If your room gets bright natural light, Pale Oak could look washed out and almost white.
If your room is darker, Edgecomb Gray could look even darker on your walls.
So, I say Edgecomb Gray for a bright room and Pale Oak for a darker room!
Or, if you want a very light and airy room, definitely stick with Pale Oak.
Think about how much color depth you want and what natural light your room really gets!
Benjamin Moore Pale Oak Color Palette
Click here or the image below to download our exclusive premium paint color palette featuring Benjamin Moore Pale Oak.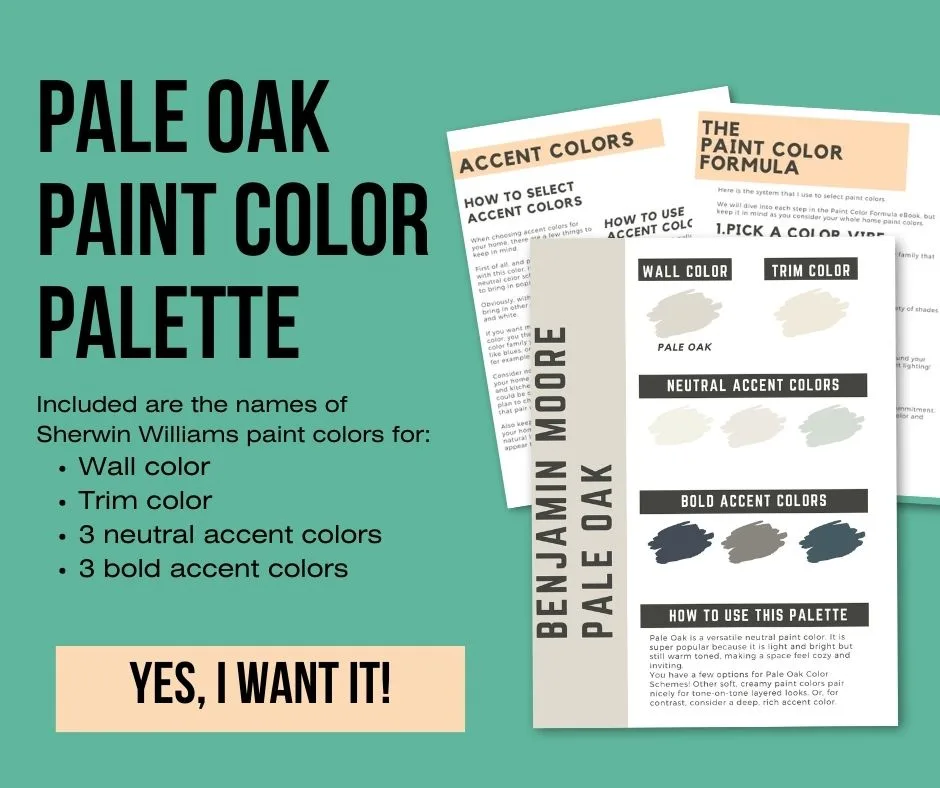 Free printable Edgecomb Gray color palette
Join the (free!) PaintColorProject+ community to access this exclusive color palette! Once you join, you can right click & save the palette image!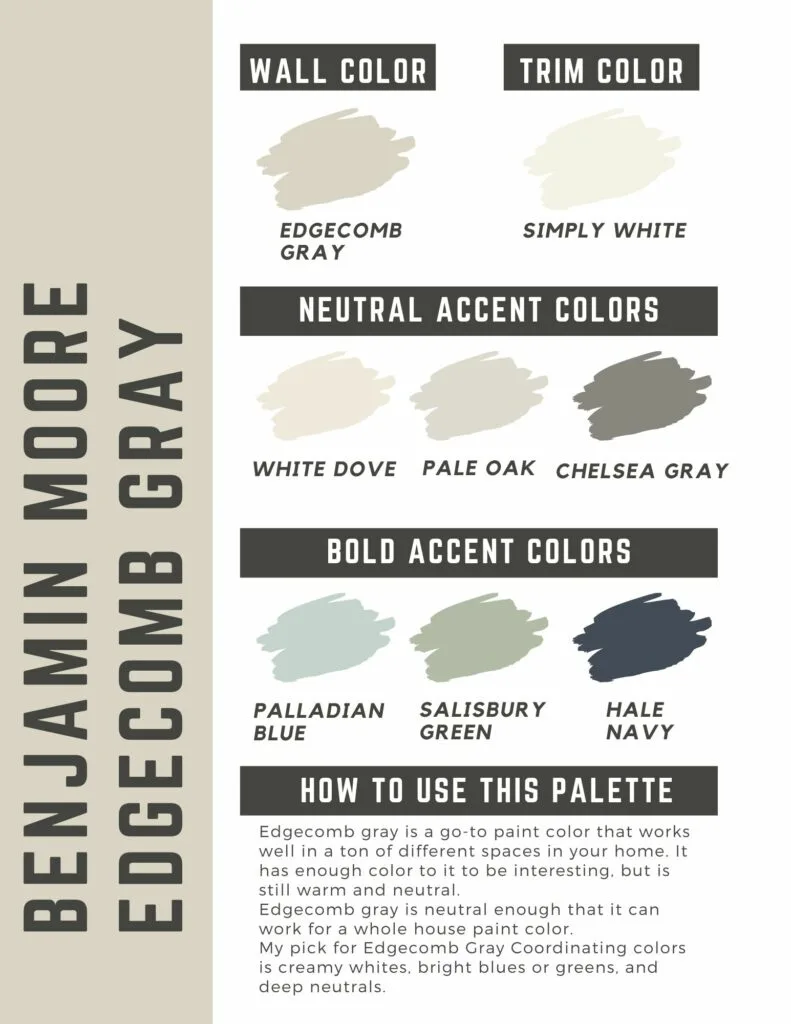 Still not sure what paint color to choose?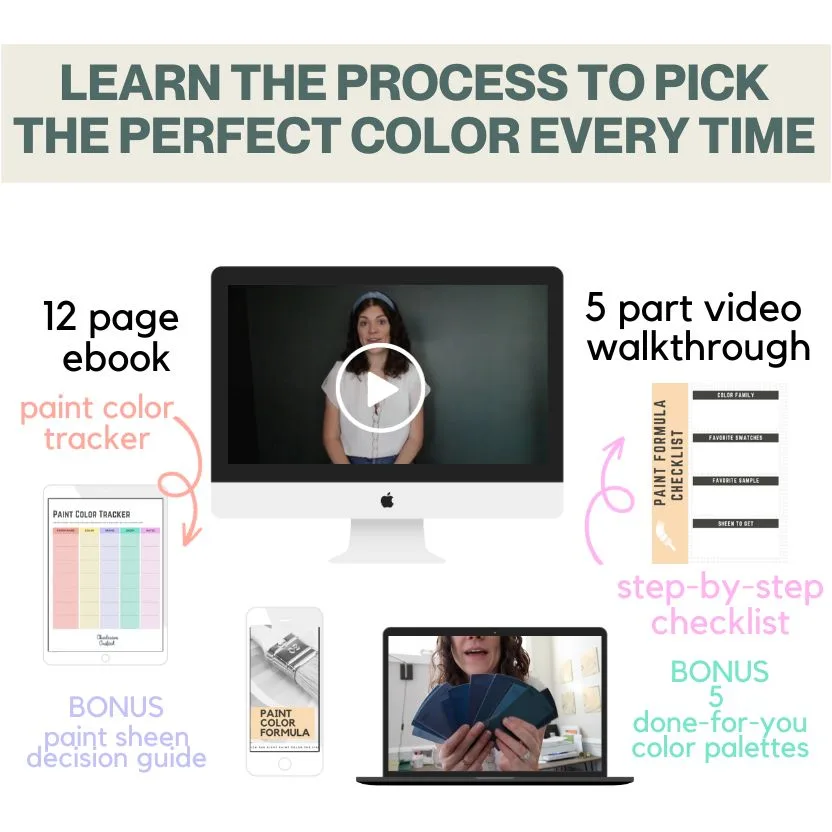 My Paint Color Formula ebook walks you through the painless process of expertly testing paint swatches to ensure you have the perfect color for your home.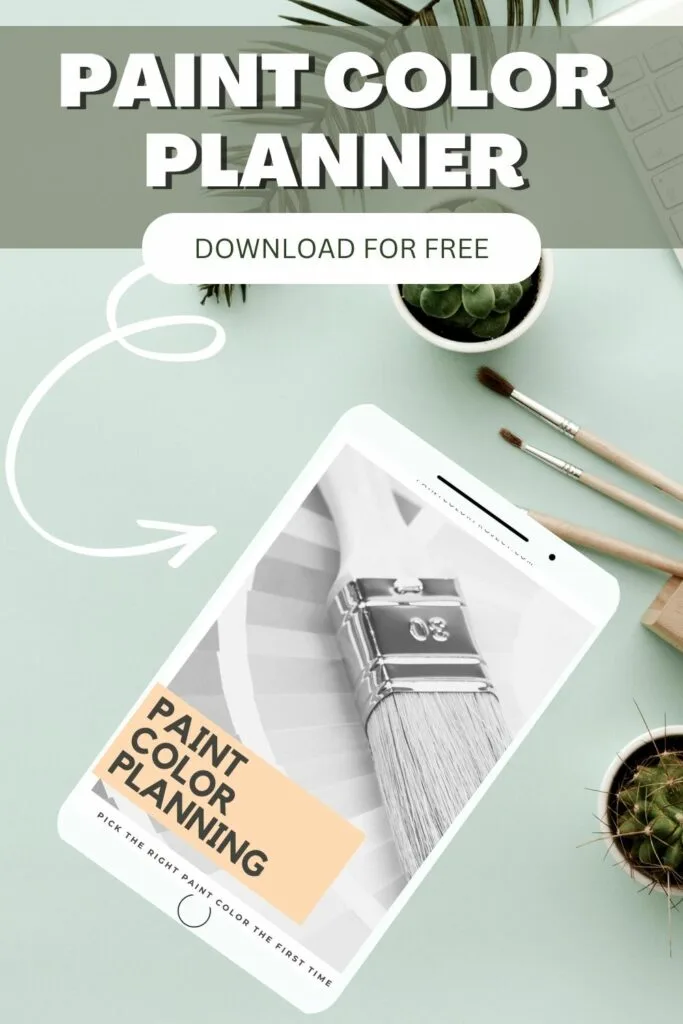 Thanks for reading!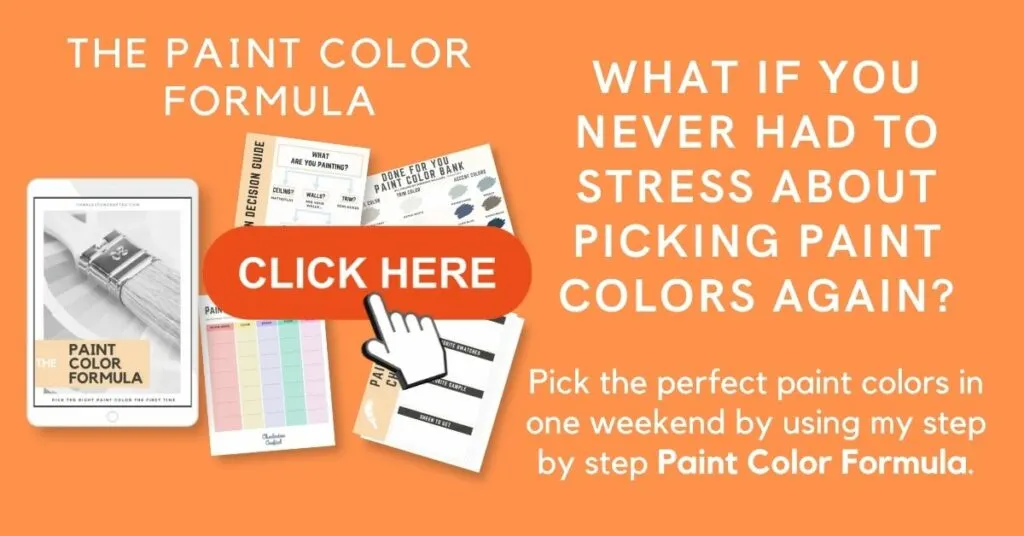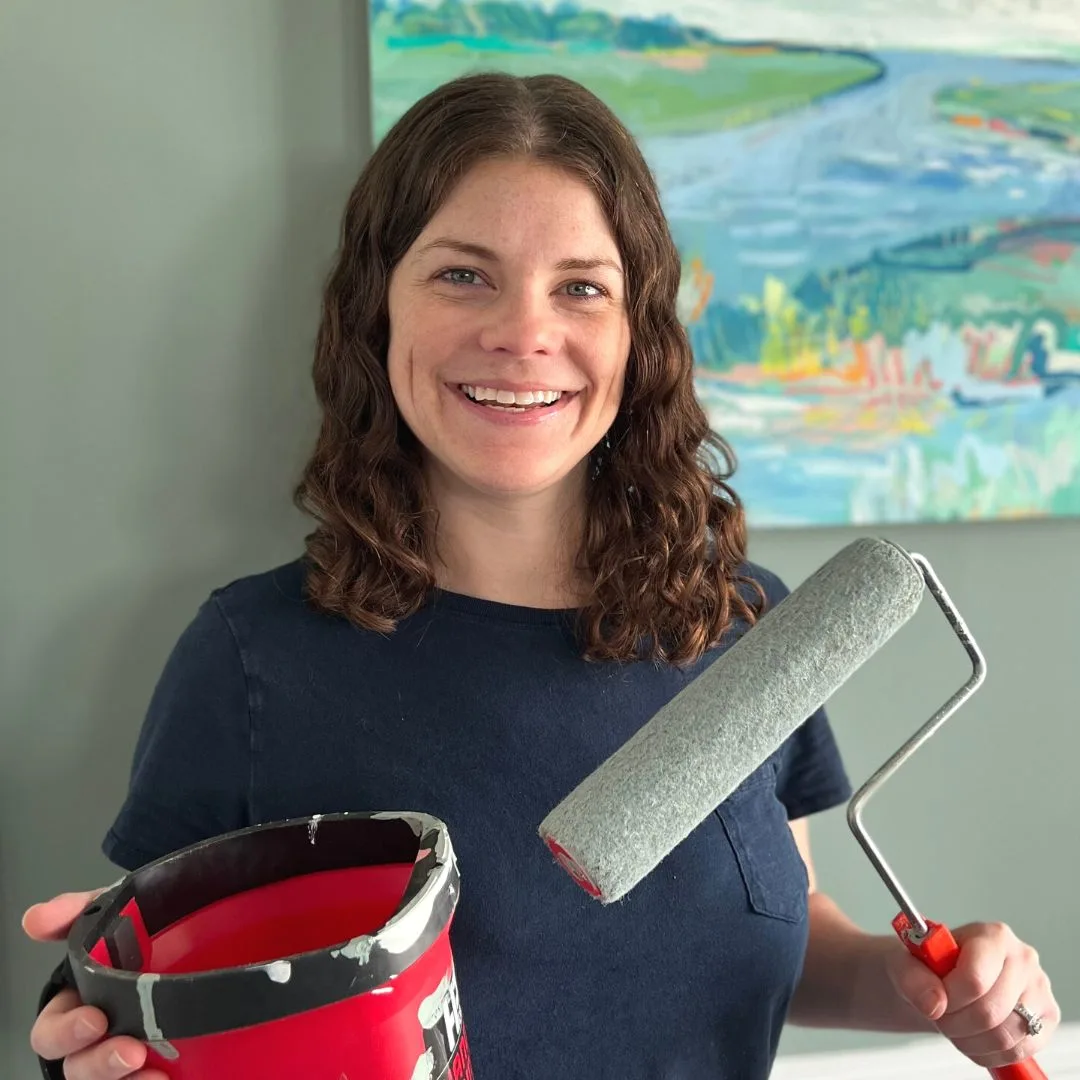 Morgan is passionate about home decor and paint colors. She has been sharing DIY home decor tips since 2012 at CharlestonCrafted.com. From there, she learned to love paint colors, and the Paint Color Project was born in 2022!