Love green? Here are the best forest green paint colors, and when and where to use them in your home!!
I love painting a bold color on the wall and one of my favorite colors lately is green.
There are so many shades of green to choose from – it can be very overwhelming.
In this blog post, we will delve into the captivating world of forest green shades.
Forest green brings a sense of tranquility and a touch of nature to any space. Whether you're considering a new paint color for your living room, bedroom, or kitchen, forest green hues can create an inviting and refreshing atmosphere.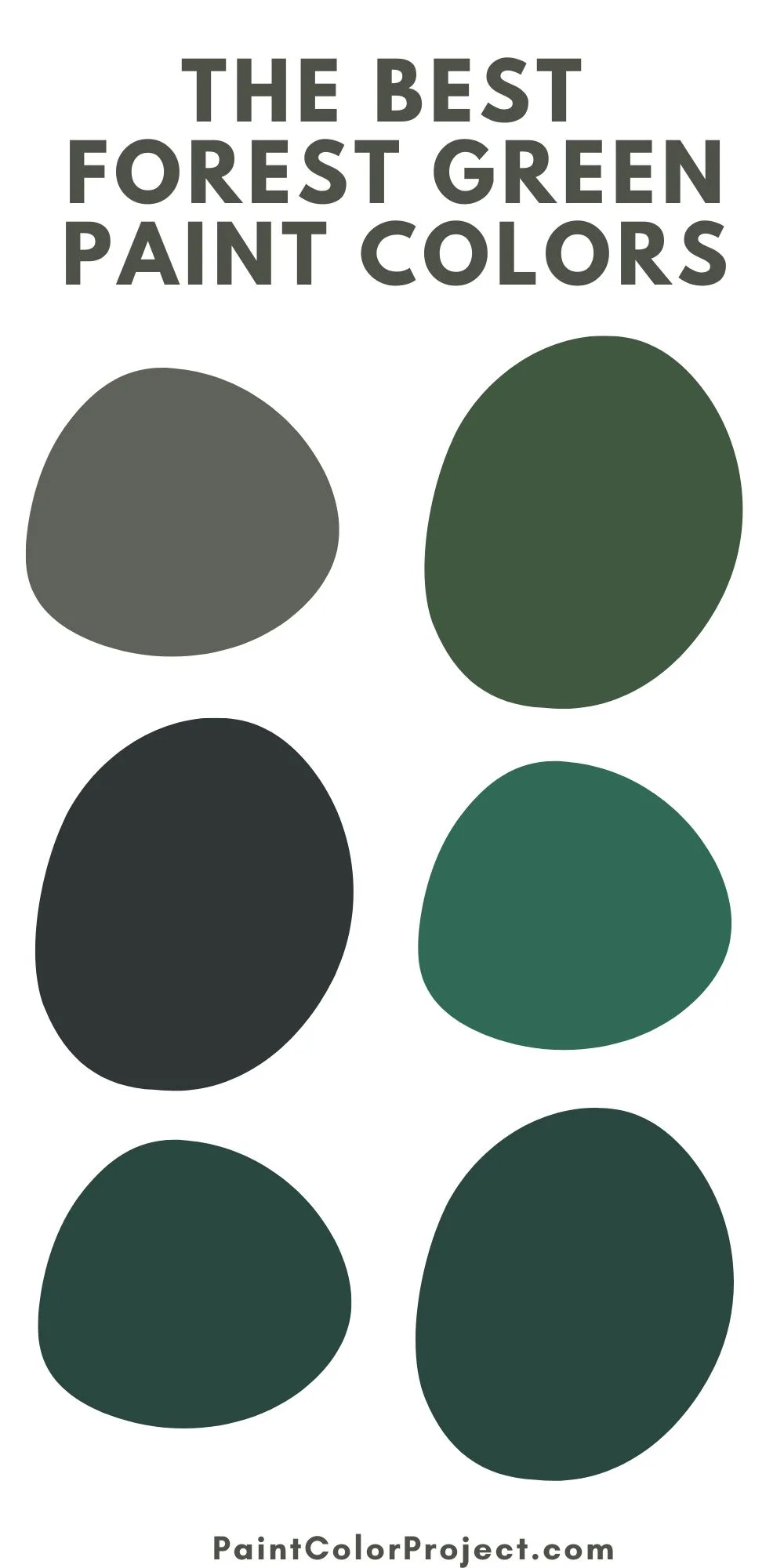 What is Forest Green?
Forest green is a deep, rich shade of green that resembles the color of lush evergreen trees found in dense forests.
It carries a sense of tranquility, balance, and connection to nature.
This versatile hue can range from cool, blue-based greens to warmer, yellow-based greens.
Forest green is often associated with feelings of relaxation, harmony, and rejuvenation.
Understanding the characteristics and significance of forest green will help you make informed choices when incorporating it into your home decor.
You can see my comparisons of Forest Green vs Sage Green and Forest Green vs Hunter Green here!
Where to Use Forest Green Paint
Forest green paint can transform any room into a serene and inviting space. Here are some popular areas where forest green shines:
Living Rooms: Create a cozy and welcoming ambiance by painting an accent wall in forest green. Pair it with neutral tones for a balanced and sophisticated look.
Bedrooms: Forest green is an ideal color choice for bedrooms as it promotes a sense of calmness and tranquility. Consider painting the walls in forest green or using it for bedding and accessories.
Home Office: Forest green can inspire focus and concentration, making it an excellent choice for workspaces. Use it as an accent wall or for furniture pieces like desks or bookshelves.
Kitchen and Dining Areas: Forest green adds a touch of freshness and brings a natural element into these spaces. Consider using it for cabinets, backsplashes, or dining chairs to create a warm and inviting atmosphere.
Colors to Pair with Forest Green
To enhance the beauty of forest green and create a harmonious color scheme, consider these complementary and coordinating shades:
Neutral Tones: Pair forest green with neutral colors like creamy whites, soft grays, or warm beiges. This combination creates a balanced and timeless look that allows the forest green to stand out.
Earthy Browns: Earthy brown tones such as chocolate brown or caramel can add depth and warmth to a room when combined with forest green. Use them for furniture, flooring, or decorative accents.
Warm Metallics: Consider incorporating warm metallic accents like gold or brass to add a touch of luxury and elegance to a space with forest green walls or furnishings.
Crisp Whites: For a fresh and clean look, pair forest green with crisp white accents. This combination creates a striking contrast and allows the green to become the focal point of the room.
Pale Pinks: For a softer and more delicate approach, combine forest green with pale pinks or soft blush tones. This combination adds a feminine touch and creates a serene and charming atmosphere.
Remember, these are just suggestions, and ultimately, the choice of colors should reflect your personal style and preferences. Experiment with different combinations to find the perfect balance that suits your space.
More green paint color goodness: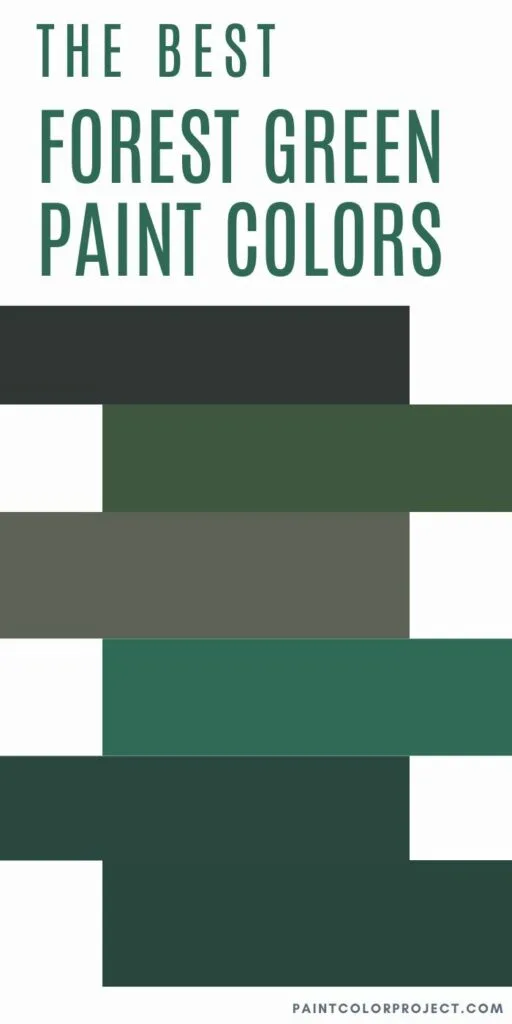 The best Forest Green paint colors
Here are some of my favorite forest green paint colors!
Benjamin Moore Deep Jungle (2055-20)

This deep, rich forest green embodies the lush foliage of an untouched woodland. It adds a sense of depth and drama to any space, making it perfect for accent walls or cozy reading nooks.
This is the brightest green that I recommend – it's a bit much for all of the walls but great for a focal wall, cabinet, or piece of furniture!
Click here to get a peel & stick sample of Deep Jungle!
Benjamin Moore Hunter Green (2041-10)

Hunter Green exudes classic elegance. Its deep, velvety appearance pairs beautifully with both traditional and contemporary decor styles, making it an excellent choice for dining rooms or libraries.
This shade has just a touch of blue to it and just feels very lush and expensive. It's a great choice!
Click here to get a peel & stick sample of Hunter Green!
Sherwin Williams Evergreens (SW 6447)

Evergreens is a versatile and timeless hue that brings the freshness of a lush forest into your home. This shade can be used in various spaces, including kitchens, hallways, or accent walls, creating a harmonious and vibrant atmosphere.
I love the brightness of this color – but it doesn't feel neon or like anything outrageous. It's great for those who love sophisticated color!
Click here to get a peel & stick sample of Evergreens!
Sherwin Williams Pewter Green (SW 6208)

Pewter Green offers a modern twist to the classic forest green. Its gray undertones give it a contemporary edge, making it a fantastic choice for minimalist and industrial-inspired interiors.
The gray undertones also make it fairly easy to decorate with and around, making it one of my favorite shades!
Click here to get a peel & stick sample of Pewter Green!
Benjamin Moore Forest Green Forest Green embodies the serene charm of nature with its deep green shade, creating a tranquil and grounding ambiance in any space, perfect for creating a serene sanctuary.
This shade has a good amount of blue to it and can feel very cheerful in a well-lit room.
Click here to get a peel & stick sample of Forest Green!
Sherwin Williams Night Watch (SW 6208)

Night Watch is a rich and captivating forest green with undertones of deep blue, evoking a sense of mystery and elegance, ideal for creating a statement wall or a luxurious atmosphere.
It's so dark it's almost black, and is perfect for a modern home aesthetic.
Click here to get a peel & stick sample of Night Watch!
What are your favorite forest green paint colors?
Still not sure what paint color to choose?
My Paint Color Formula ebook walks you through the painless process of expertly testing paint swatches to ensure you have the perfect color for your home.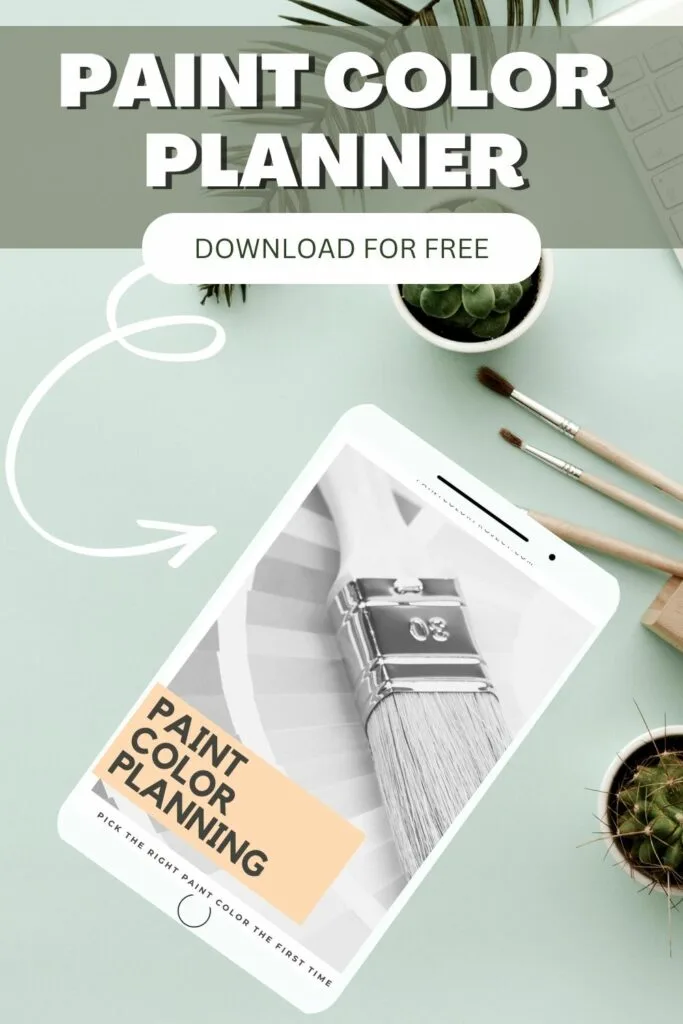 Thanks for reading!