Want to paint your home green? Here are the best hunter green paint colors for your home, when to use them, and what to pair them with!
Green paint colors are really hot at the moment. While it can be easy to swap in some colorful accents for a touch of sage green, decorating with a darker color can be more intimidating.
However, I personally love decorating with dark colors. I actually have two bedrooms in my home that are painted dark green and it is dramatic and romantic and modern all at once.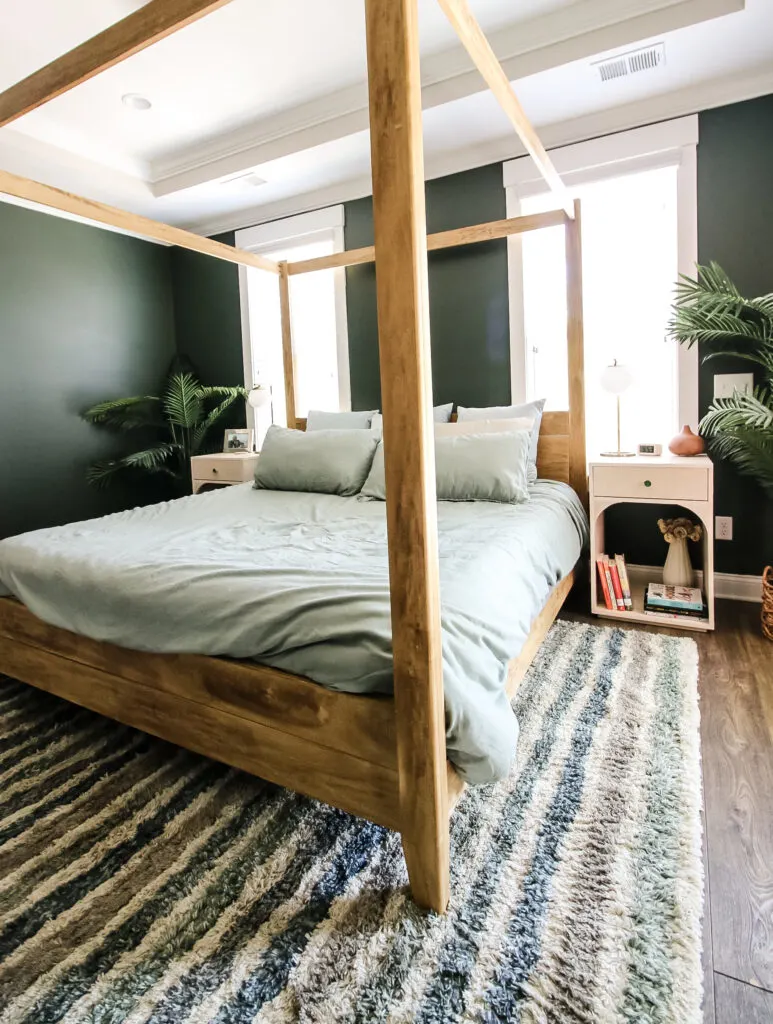 One of my favorite shades of dark green is hunter green.
Hunter green brings a sense of timeless sophistication and a touch of nature to any space.
Whether you're considering a new paint color for your living room, bedroom, or kitchen, hunter green hues can create an inviting and elegant atmosphere.
Join us as we dive into the top hunter green paint colors, providing you with a curated selection to inspire your next home transformation.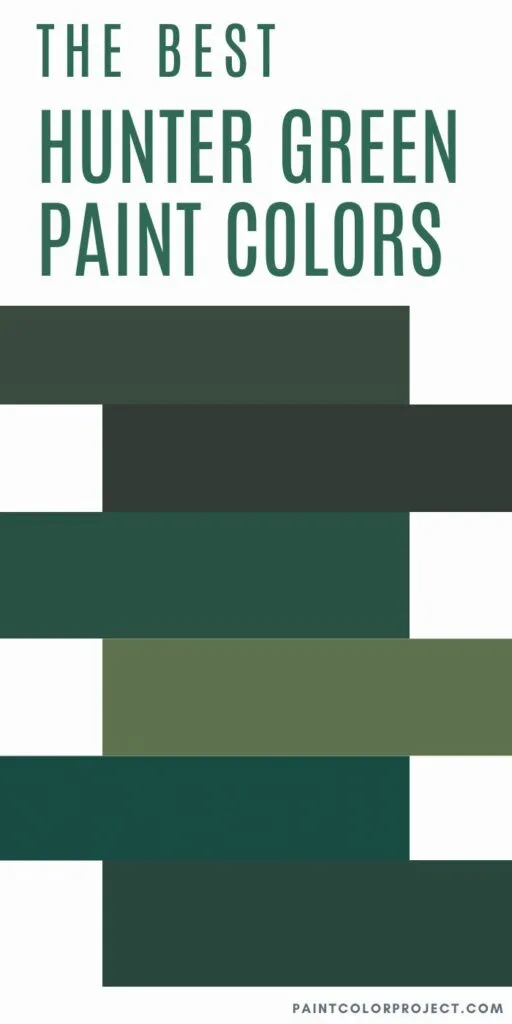 What is Hunter Green?
Hunter green is a deep, rich shade of green that draws inspiration from the lush greenery found in the natural world.
It embodies a classic and refined elegance while bringing a calming and grounding presence to your interiors.
Where to Use Hunter Green Paint
Hunter green paint can create a striking statement or a subtle backdrop, depending on how it's utilized in your home. Here are some popular areas where hunter green thrives:
Living Rooms: Infuse your living room with a touch of sophistication by painting an accent wall in hunter green. Pair it with neutral furnishings and metallic accents for a balanced and refined look.
Bedrooms: Create a serene and cozy atmosphere by adorning your bedroom walls with hunter green. This color promotes tranquility and relaxation, making it an ideal choice for a restful sleep space.
Kitchen and Dining Areas: Hunter green can bring a sense of depth and richness to kitchen cabinets or dining room walls. Consider pairing it with warm metallic accents and natural textures for an inviting and harmonious atmosphere.
Home Office: Enhance focus and productivity in your work environment by incorporating hunter green into your home office or study. This color evokes a sense of stability and concentration, creating a conducive space for deep thinking and productivity.
Colors to Pair with Hunter Green
To elevate the beauty of hunter green and create a cohesive color palette, consider these complementary shades:
Crisp Whites: Pair hunter green with crisp white accents for a fresh and timeless look. This combination creates a striking contrast and allows the green to shine as the focal point of the room.
Earthy Neutrals: Opt for earthy neutrals like warm beige, sandy tan, or deep browns to create a cozy and grounded ambiance that complements hunter green.
Rich Metallics: Introduce touches of rich metallics such as brass or gold to add a touch of glamour and sophistication to your hunter green space.
Soft Pinks: For a delicate and feminine touch, pair hunter green with soft pinks or blush tones. This combination creates a serene and elegant aesthetic, ideal for bedrooms or sitting areas.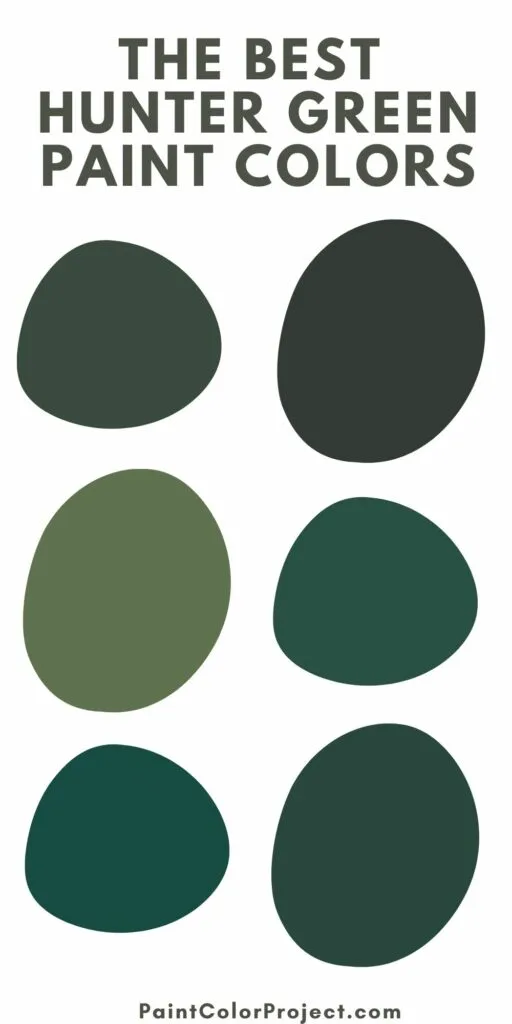 The best hunter green paint colors
Here are some of my very favorite hunter green paint colors to use in your home!
Benjamin Moore Hunter Green (2041-10)

A timeless and classic hunter green that exudes elegance and sophistication, making it perfect for adding depth to any space.
I love that it is dark and modern without being overwhelmingly so. It will still read green, especially in a very well lit room!
Click here to get a peel & stick sample of Hunter Green.
Benjamin Moore Forest Green (2047-10) Forest Green embodies the serene charm of nature with its deep green shade, creating a tranquil and grounding ambiance in any space, perfect for creating a serene sanctuary.
This shade has a bit more blue to it, making it perfect for homes with cool toned flooring, tile, or countertops.
Click here to get a peel & stick sample of Forest Green.
Sherwin Williams Greenfield (SW 6436)

Greenfield is a hunter green with a touch of warmth. It is more of a mid-toned rather than super dark option, which can make it a little easier to decorate with.
This is a great option for painting the walls in your home. Remember – in bright rooms, it will look lighter. In darker rooms, it will read as deeper!
Click here to get a peel & stick sample of Greenfield.
Sherwin Williams Hunt Club (SW 6468)

Hunt Club is a rich and luxurious hunter green with earthy undertones, providing a sense of opulence and grounding, perfect for creating a statement wall or a dramatic backdrop.
This is a great option if you want a hunter green with a lot of color and richness to it. It's gorgeous on a wall with intricate moldings!
Click here to get a peel & stick sample of Hunt Club.
Sherwin Williams Jasper (SW 6216)

Jasper is a dark hunter green with a hint of blue undertone, offering a refined and modern take on the classic hue, ideal for creating a moody and chic ambiance.
This color is very dark, almost black, and can therefore work really nicely almost as a neutral. I love it on cabinets and furniture!
Click here to get a peel & stick sample of Jasper.
Sherwin Williams Dard Hunter Green (SW 0041)

This is a warm toned, deep and rich shade of green. It has a touch of warm gray undertones, giving it a muted feel.
It's dramatic and can play as either traditional or modern – the best of both worlds!
Click here to get a peel & stick sample of Dard Hunter Green.
What are you painting hunter green?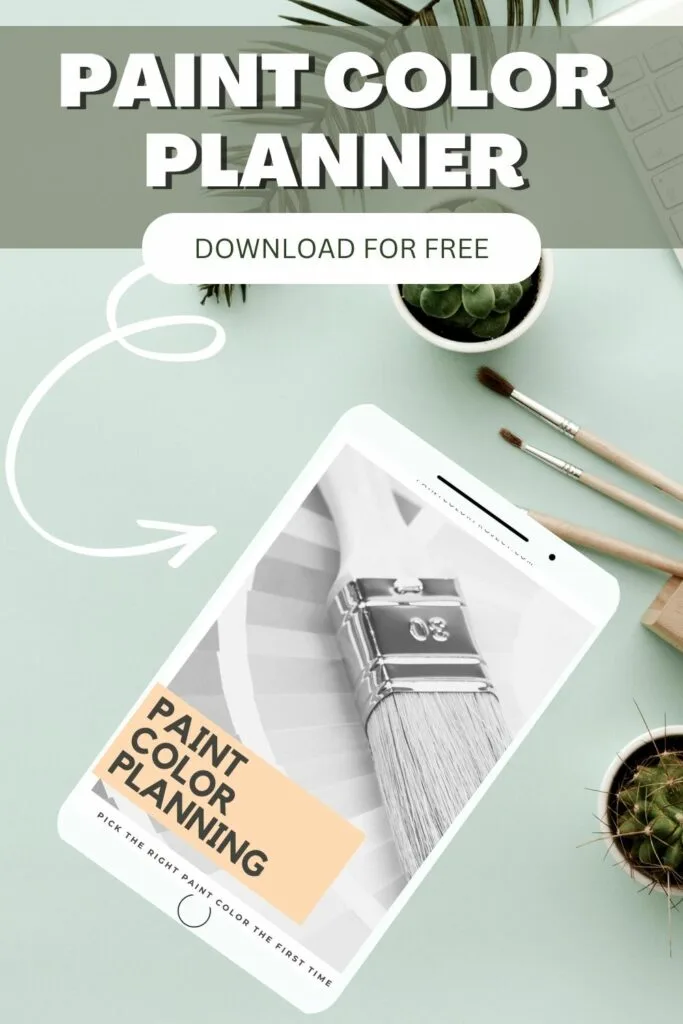 Thanks for reading!