Did you know that the direction the windows face effects how the wall color looks? Here are the best paint colors for north facing rooms!
Picking paint colors is tough enough – you have to think about the style and look you are going for and swatch colors in your real space.
But, one factor you might not be considering is the direction that your room faces.
This is actually a really important factor in how colors appear in your actual space!
Why does lighting matter?
The amount of light that a room gets significantly effects how colors look in that room.
The direction of the windows in a room directly effect how much light a room will get – and how long that light will last throughout the day.
It's important to understand which way your windows face when you are choosing paint colors and to understand the implications of that direction!
How do I know which way my room faces?
First, identify the wall in your room that has the most windows.
Then, whip out your compass (there are compass apps for your phone if you don't have one! Even the map app will have a compass!)
Point the compass at the wall you identified with the most or biggest windows. Whichever way it is pointing is the direction that your room faces!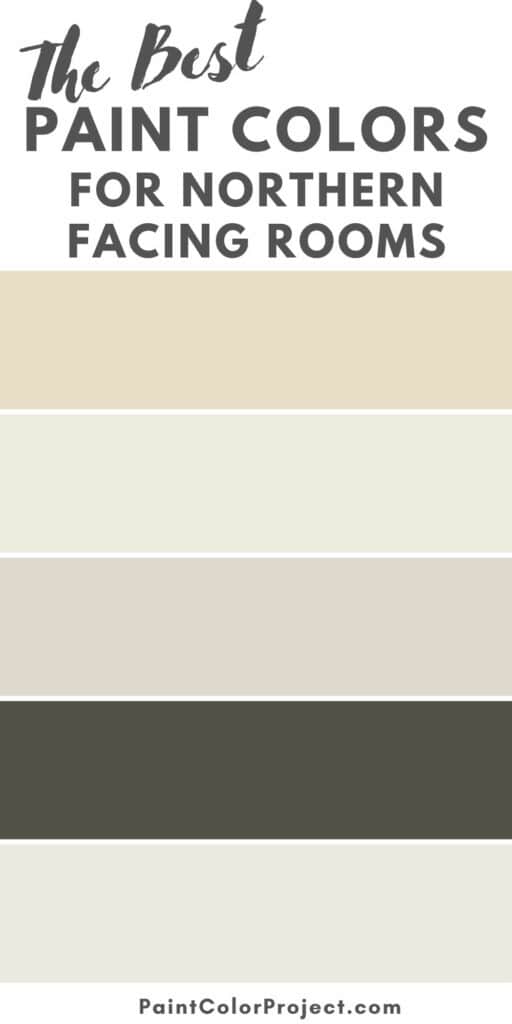 North facing room lighting
Rooms facing north are the darkest of all rooms. Often, rooms with northern exposure never get any direct light all day long.
I first learned this when I put plants in a north facing window and they still weren't getting enough light!
The light that does come through has a cool tone to it. This means it is going to make colors look cooler, grayer, and bluer than they might look in more of a stark space.
Are north facing rooms dark?
Your north facing room may or may not feel dark.
If the room has a lot of big windows, it can still feel light and bright, even if it's not a sunny room.
What is outside your windows also effects how the room feels. If there is lots of vegetation blocking the light, it will feel darker compared to if it is wide open.
Also, remember that you can always add artificial lighting. If you want a bright room, I suggest at least 3 light sources such as can lights, overhead light fixture, floor lamps, table lamps, under cabinet lighting, and wall sconces.
North facing rooms aren't instantly dark, but they can feel dark if not decorated with the natural lighting in mind.
What paint finish is best for north facing room?
North facing rooms don't get too much sun, so glare is less of an issue compared to brighter rooms. For that reason, satin paint is less offensive in here than in a southern facing room, for example. However, I will always recommend eggshell paint. See the benefits of eggshell paint here!
What color is best for north facing room?
Here are the best white, gray, neutral, and bold north facing room paint colors!
What white paint colors are best for north facing rooms?
The best white colors for north facing rooms are going to have warm undertones. This will counteract the cool lighting and look more neutral.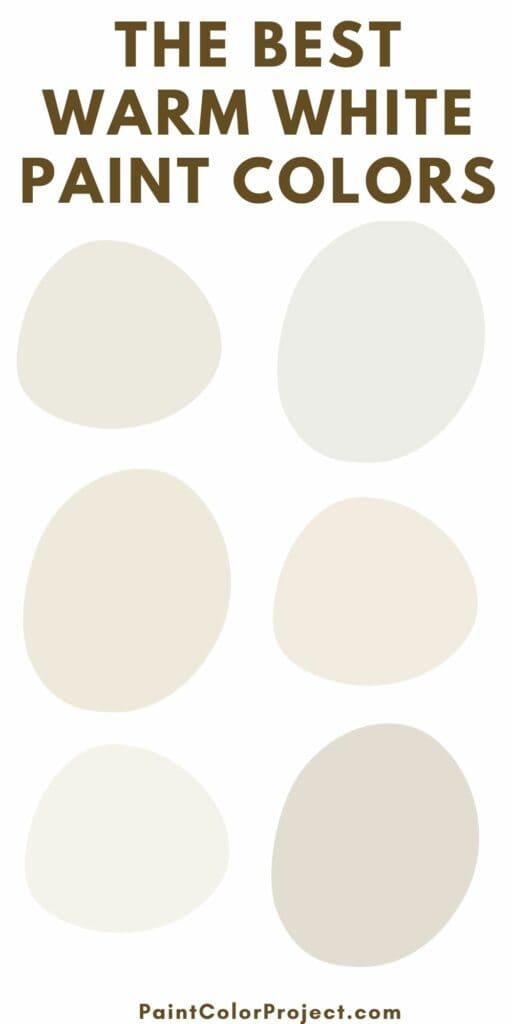 Some of my favorite warm white paint colors include:
Benjamin Moore White Dove
Behr Polar Bear
Behr Swiss Coffee
Here's my complete guide to warm white paint colors.
If you choose a cool bright white paint color, it can quickly look very cold and even blue in northern lighting. Be sure to swatch paint samples and check it out day and night before committing.
What gray paint colors are best for north facing rooms?
Just like with the white paint colors, you are going to want a gray paint color with a bit of warmth to it. It usually means something in the greige color family.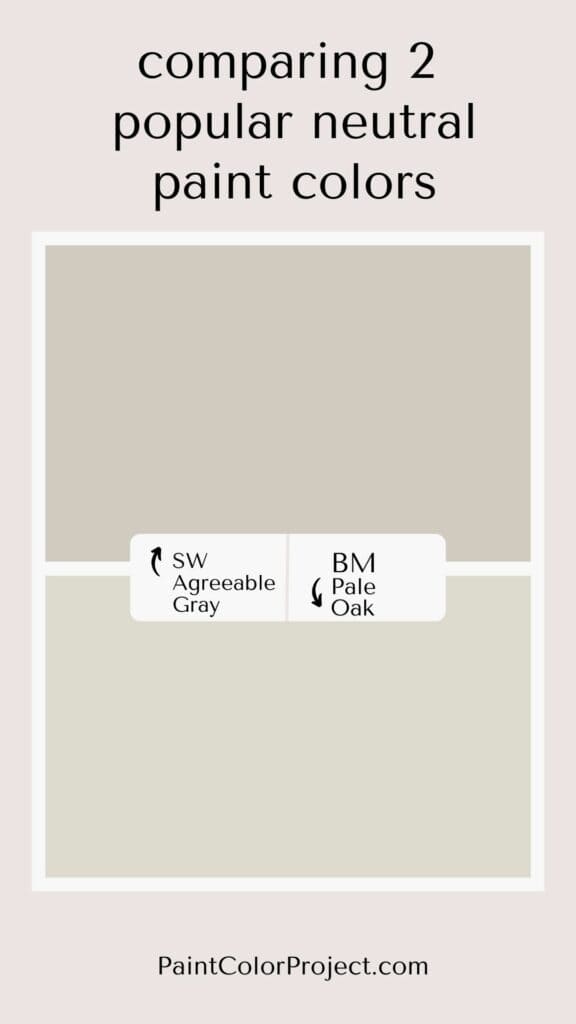 Some of my favorite warm gray paint colors include:
Benjamin Moore Chelsea Gray
Benjamin Moore Revere Pewter
What neutral paint colors are best for north facing rooms?
Neutral paint colors will usually be shades of beige or taupe. White northern exposure rooms, you can really get away with a heavy yellow undertone. That cool northern light really brings it back to neutral!
Some of my favorite warm neutral paint colors include:
Benjamin Moore Wheeling Neutral
Benjamin Moore Lenox Tan
Sherwin Williams Antique White
Sherwin Williams Tavern Taupe
What bold paint colors are best for north facing rooms?
Bold accent colors will of course mostly depend on your personal style and look of the room. As with all the other colors, steer clear of blues and cold tones and choose warm undertones in north facing rooms.
Some of my favorite warm bold paint colors include:
Behr Bitter Sage (or any Sage green)
Sherwin Williams Tricorn Black (or any warm black)
Sherwin Williams Urbane Bronze
What colors should you avoid in north facing rooms?
Steer clear of cool toned colors in northern facing rooms. This means icy blues, grays, and even greens. Remember that northern light will make everything appear bluer, so things can get very blue very quickly.
If you want a dark paint color, just be sure to test it in the dark room at night. Our master bedroom is northern facing and is painted Behr North Woods, a super dark green color. I adore it, but it reads as almost black at times. If that's not your vibe – steer clear of darker paint colors.
How do you brighten a north facing room?
There are a few ways to brighten a north facing room. you can of course add additional lighting and mirrors to bounce light. Also consider removing unneeded curtains and decorating in a generally light and airy style.
The best colors for north facing rooms to feel brighter will be a very light, warm white paint color or super light greige that leans beige. Look for something with an LRV above 80 for the brightest look.
How do you make a north facing room cosy?
It's important to choose colors with warm undertones to keep a space from feeling too cold. This is especially true with white wall colors, which can read as clinical if you combine a cold, pure white with northern facing windows.
Northern Facing Room Paint Color Palette
Join the (free!) PaintColorProject+ community to access this exclusive color palette!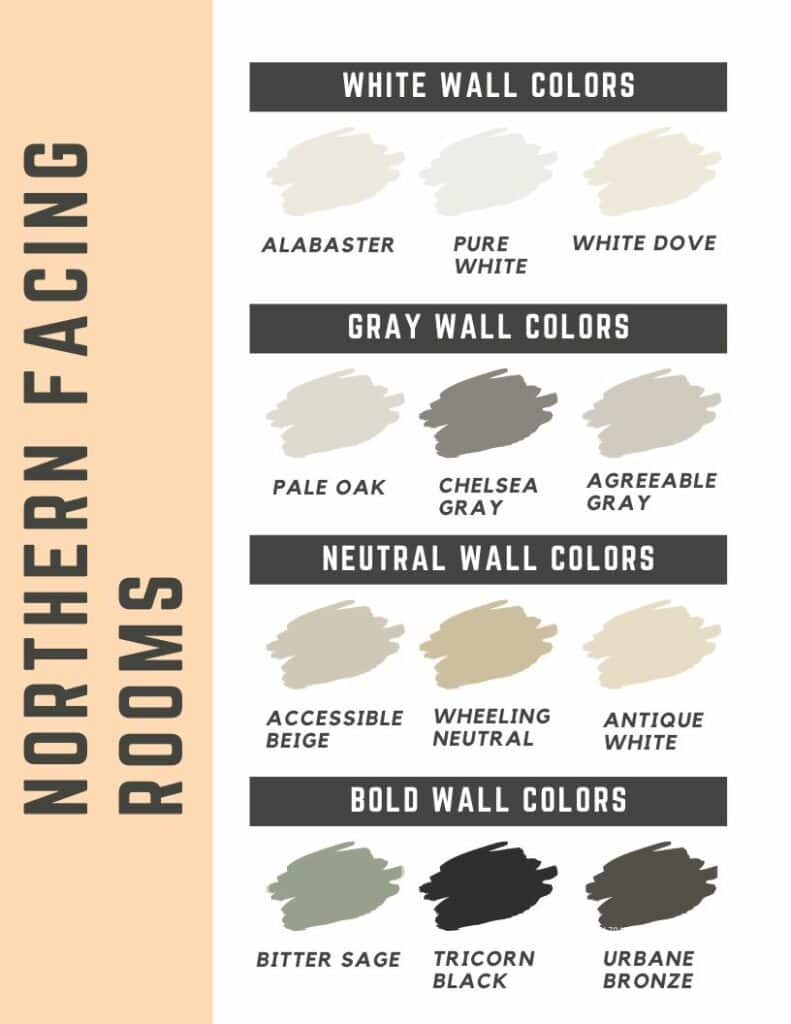 Still not sure what paint color to choose?
My Paint Color Formula ebook walks you through the painless process of expertly testing paint swatches to ensure you have the perfect color for your home.
Thanks for reading!