Looking for the perfect black paint color? Let's talk about Sherwin Williams Tricorn Black and if it might be perfect for your next project!
Picking the perfect paint color can be rough. You might think that if you narrow it down to black, it's easy.
Wrong!
There are SO MANY shades of black to choose from. They each have slightly different undertones, giving them totally different looks when placed next to each other.
This is why it's so important to swatch and sample paint colors in your actual space.
Today I want to chat about Sherwin Williams Tricorn Black. This is one of, if not the, most popular black paint colors. Let's dive into what makes it so fabulous!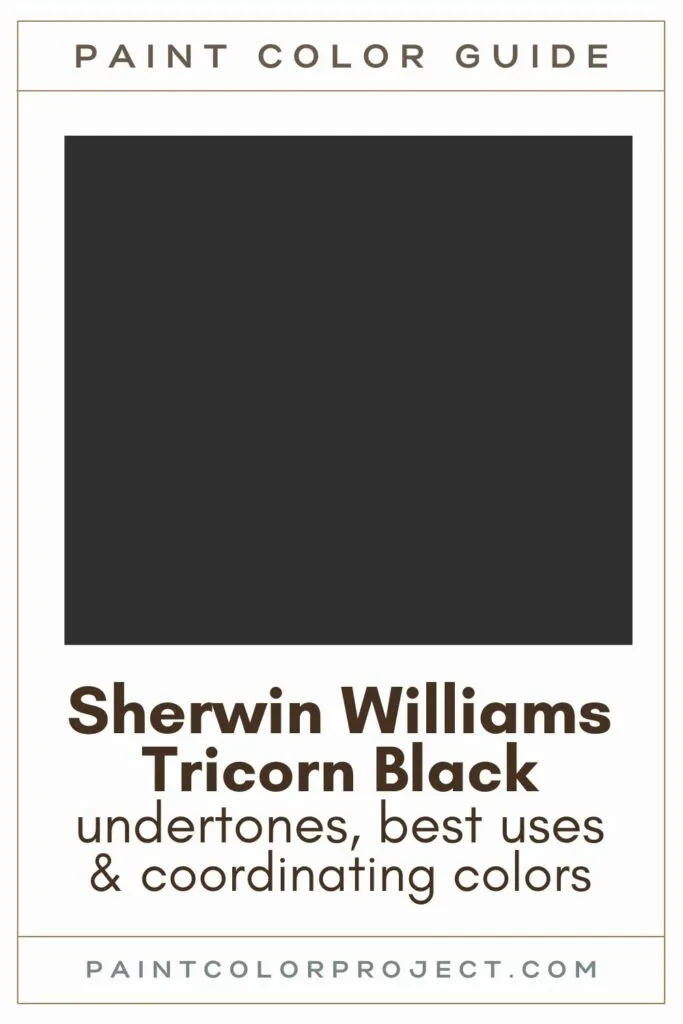 Tricorn Black SW 6258
Tricorn Black is considered an extremely neutral, true black paint color. It does not have strong undertones. This means that it holds its color in different lighting.
The lack of undertones makes this a super safe choice for those looking for a true black paint color.
This is a popular color for trim work, doors, and accent walls. It can be used on home exteriors but usually smaller homes, since it reflects so little light it can look like a big black void.
Click here to get a peel and stick sample of Tricorn Black.

Color Family
Tricorn Black is in the black color family
Light Reflectance Value
2.45
Light Reflective Value is the measurement of how much light a color bounces around. This is on a scale of 0 to 100 with 0 being pure black and 100 being pure white.
With an LRV under 3, Tricorn Black is one of the darkest black paint colors that Sherwin Williams offers.
RGB Colors
R:47 G:47 B:48
RGB describes the amount of each color – red, green, and blue – present in a color. This is on a scale of 0 to 255 for each color. This is basically the color mix to make the color!
Hex Code
#2F2F30
Undertones
Tricorn Black has very little undertone, making it a true black. If anything, it skews as slightly warm.
Best uses
Black paint colors are in general a bold choice for interiors. I like them being used for:
Trim, paired with white walls
Interior doors
Accent wall
All of the walls of a powder room
Furniture
Cabinets
Exterior on a smaller house
Similar Colors
SW Caviar
SW Black Magic
Benjamin Moore Black
Behr Limousine Leather
Farrow & Ball Pitch Black
Valspar Cracked Pepper
Coordinating Colors
Being a neutral, true black, Tricorn Black is super easy to layer into nearly any color palette. I personally like to pair it with slightly warm grays for neutral layers and mid century modern inspired colors for more of a pop.
Warm grays:
Mid century modern colors:
Baked Clay
Harvester
Dutch Blue
Parisian Patina
Carley's Rose
Fired Brick
Ember Glow
Eye Catching
Mild Blue
See the whole Mid Century Modern Sherwin Williams color palette here!
Trim Colors
Tricorn Black is neutral enough that you can pair it with either a bright white or a soft white trim. Keep in mind the vibe you are going for.
Do you want high contrast, crisp colors? Go bright white. Do you want something softer and cozier? Go soft white!
Benjamin Moore Simply White
Sherwin Williams Extra White
Behr Ultra Pure White
Benjamin Moore White Dove
Behr Cameo White
Tricorn Black color palette
Join the (free!) PaintColorProject+ community to access this exclusive color palette! Once you join, you can right click & save the palette image!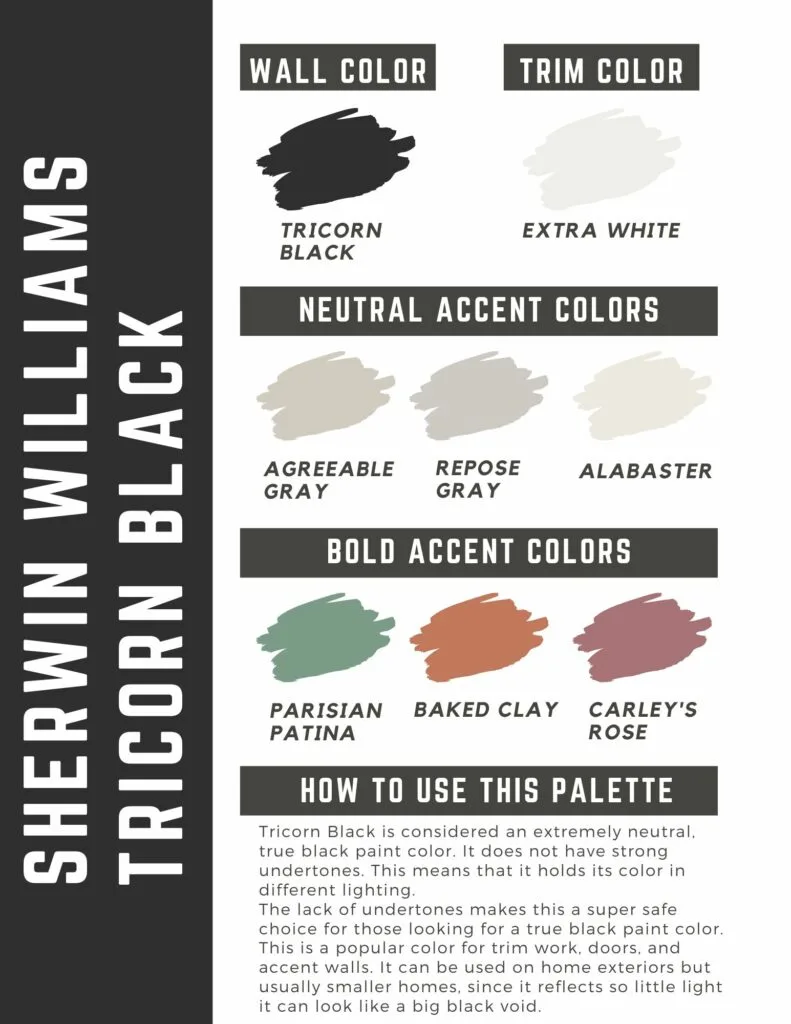 Tricorn Black FAQs
Is Tricorn black a true black?
Tricorn Black is the truest black paint color that Sherwin Williams offers.
Does tricorn black look blue?
Tricorn Black has a blue or violet hue. However, it will only look blue in a north-facing room or room with very cool, such as LED, lighting.
What is the prettiest shade of black?
The prettiest shade of black will depend on your preferences and the lighting in your space.
Some of the most popular black paint colors are:
| | | | |
| --- | --- | --- | --- |
| Paint Color | LRV* | Warm/Cool | Undertones |
| Sherwin Williams Tricorn Black | 2.45 | Warm | None |
| Sherwin Williams Iron Ore | 6.00 | Cool | Charcoal, Blue |
| Sherwin Williams Caviar | 3.00 | Warm | Brown |
| Sherwin Williams Black Magic | 3.00 | Warm | Red |
| Benjamin Moore Wrought Iron | 6.16 | Cool | Charcoal, Blue |
What color goes best with tricorn black?
Tricorn black is neutral enough to pair with any color palette. For a soft look, pair with warm grays. For bold colors, look to mid-century inspired color palettes.
What is the most popular Sherwin-Williams black?
Tricorn Black is consistently one of Sherwin Williams' most popular black paint colors.
Peppercorn vs Tricorn Black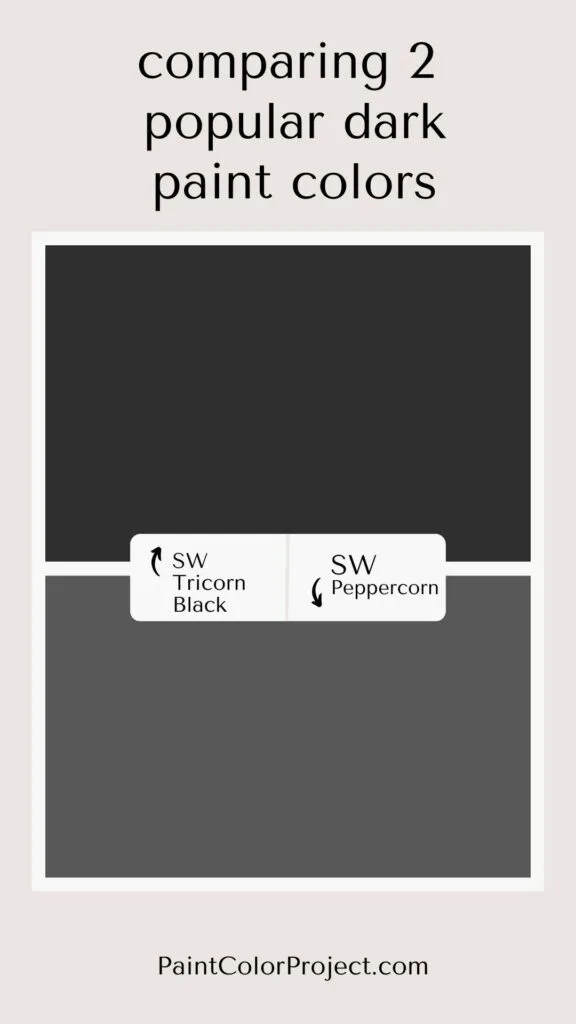 These are both very dark paint colors that are considered "neutral" and do not have heavy undertones that lean any particular way.
The biggest difference between these colors is in the Light Reflectance Value, or the color depth. That brings us to the main difference – Tricorn Black is really black, while Peppercorn is a deep charcoal.
Click here to read my complete Peppercorn vs Tricorn Black comparison
Still not sure what paint color to choose?
My Paint Color Formula ebook walks you through the painless process of expertly testing paint swatches to ensure you have the perfect color for your home.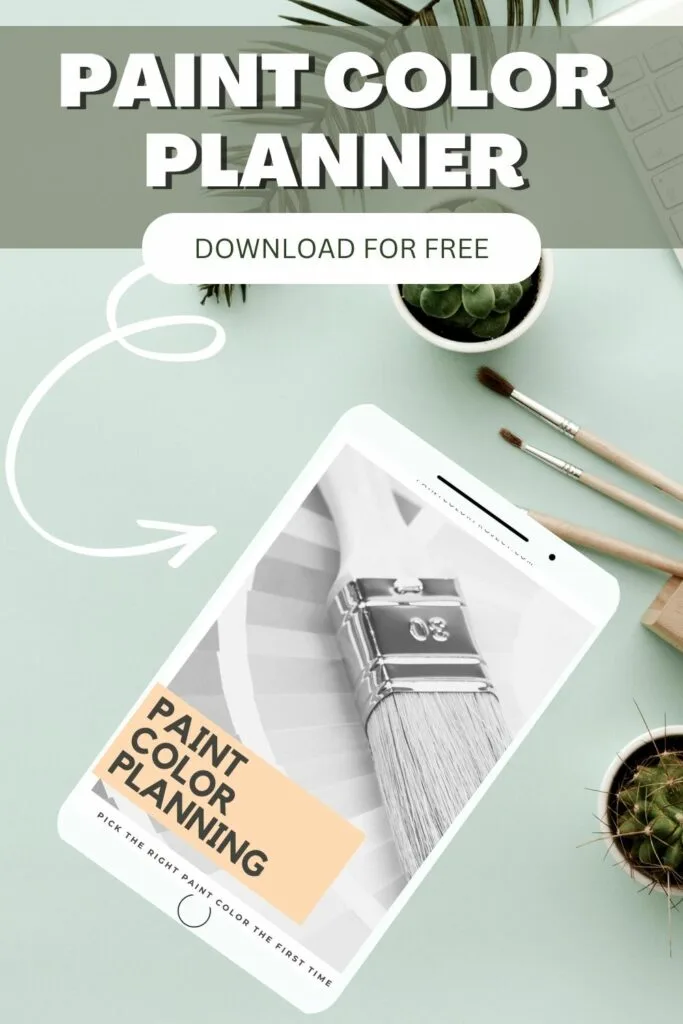 Thanks for reading!