Looking for a beige paint color? Let's talk about Sherwin Williams Accessible Beige color, undertones, coordinating colors, and trim colors!
Painting your home is a big step. It makes sense to choose a timeless, neutral paint color.
One of those colors is beige!
Accessible Beige is a super popular beige paint color by Sherwin Williams. It was extremely popular during the peak of the Beige Rage (I just made that up, lol, but when beige was all the rage in the early 2000's) but it is still a great paint choice for many homes today.
While most beige colors have a lot of yellow to them, the prominent undertone in Accessible Beige is gray!
Click here to get a 12″x12″ peel and stick sample of Sherwin Williams Accessible Beige paint color!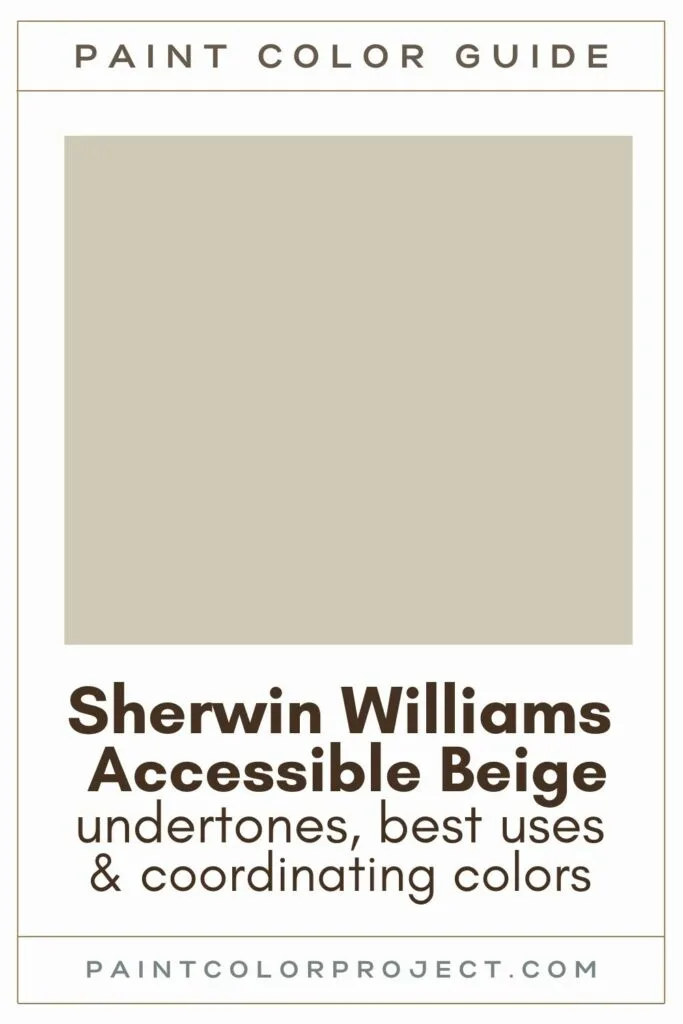 Sherwin Williams Accessible Beige SW 7036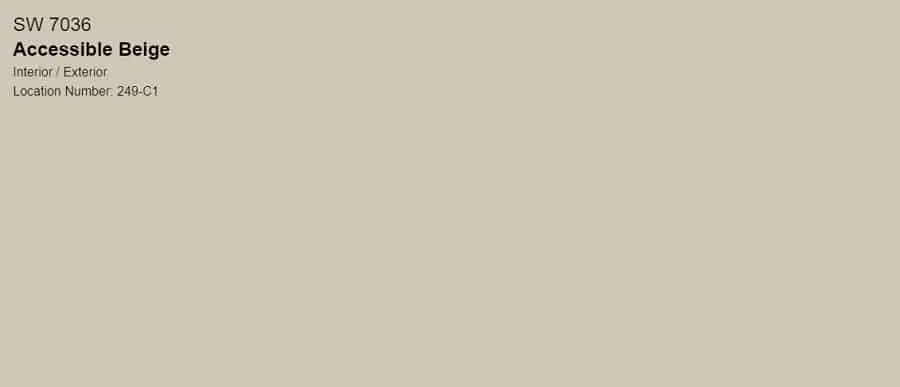 Color Family
Accessible beige is a light greige (gray-beige) color.
Light Reflectance Value
The Accessible Beige LRV is 58 – this means it reflects a good amount of light, but is not white or even close to white!
Light Reflective Value is the measurement of how much light a color bounces around. This is on a scale of 0 to 100 with 0 being pure black and 100 being pure white.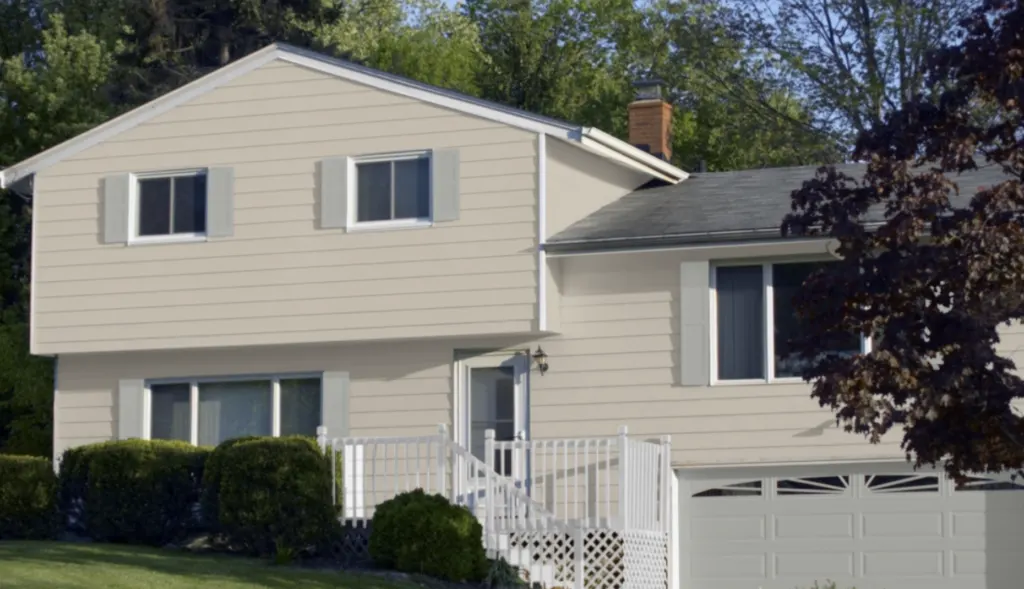 RGB Colors
R:209 G:199 B:184
This color has a good amount of red, which makes the brown, and is heavy on the green, which can be seen especially in north facing rooms.
RGB describes the amount of each color – red, green, and blue – present in a color. This is on a scale of 0 to 255 for each color. This is basically the color mix to make the color!
Hex Code
#d1c7b8
Undertones
Accessible Beige is a warm tan-beige color with significant gray undertones. The undertones are warm.
It does NOT have pink undertones. The main colors you will see are yellow undertones and slight green undertones.
In a north facing room, an Accessible Beige wall color will look more gray, while in a south facing room, it looks warmer and more beige.
Best uses
Accessible Beige is neutral beige color paint enough that it works as a whole home paint color, or can be used for any room of your home. It can also work great as an exterior paint color!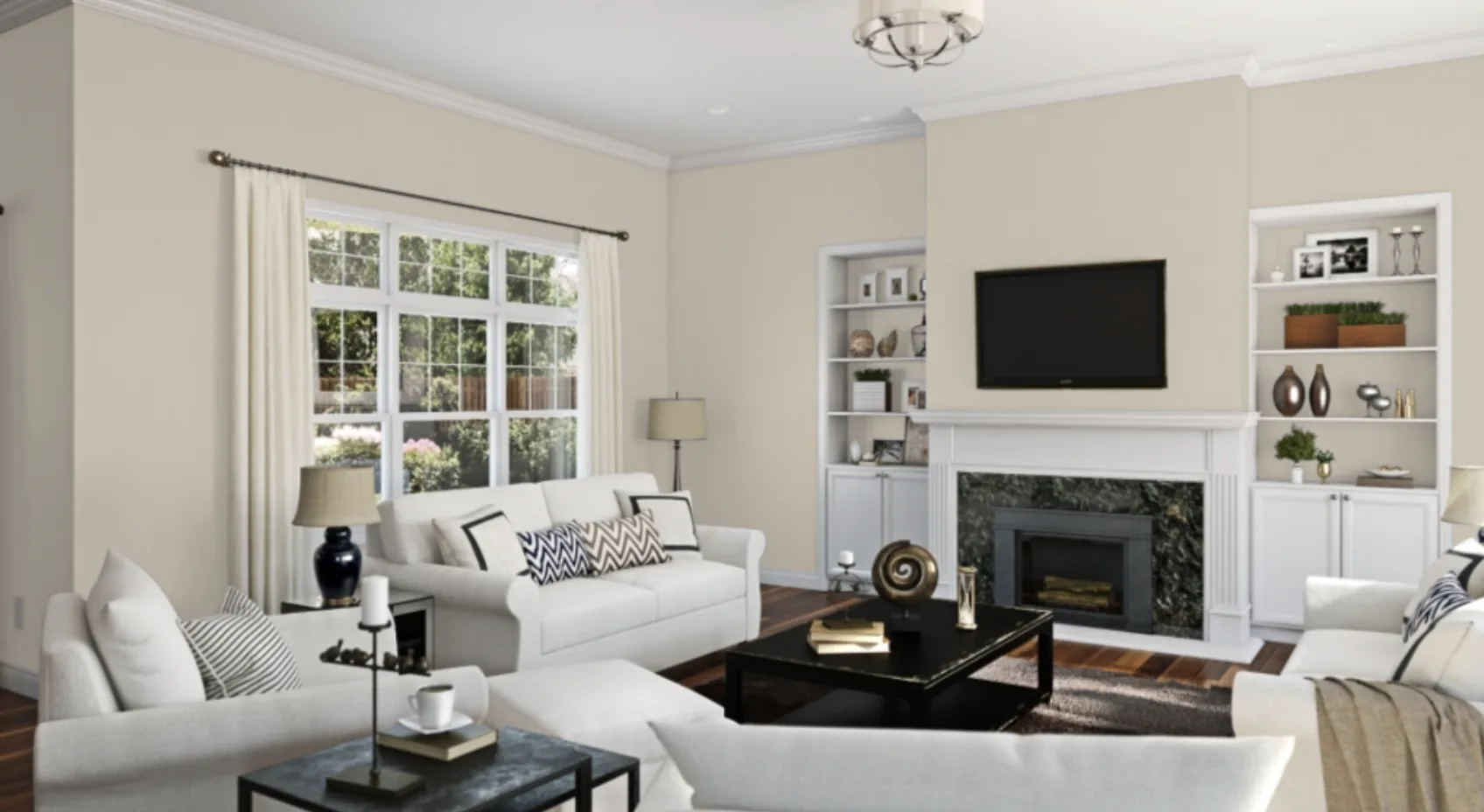 Colors Similar to Accessible Beige
Sherwin Williams Soft Suede
Sherwin Williams Slumber Sloth
Behr Gravelstone
Benjamin Moore Alphano Beige
Valspar Dove's Cry
Coordinating Colors
Your Accessible Beige color palette can be flexible – this neutral beige works with a lot of different colors!
If you want coordinating neutrals to pair with this gray greige paint color, consider creamy whites or deep shades of brown.
I would pair Accessible Beige with:
Tony Taupe
Balanced Beige
Van Dyke Brown
Here are all of my favorite Accessible Beige coordinating colors.
Accessible Beige Complementary Colors
If you want to bring in some color, how about a pastel?! I just love how Accessible Beige looks with:
Pink Shadow
Cadet
Topsail
In general, Accessible Beige looks best with colors that are darker than it, or significantly lighter (white) colors. Colors with a similar color depth can just look kind of murky when paired together.
Trim Colors
In general, I like to use a creamy or soft white as a trim color with warm toned beige and greige paint colors.
Soft white trim colors:
Benjamin Moore White Dove
Behr Cameo White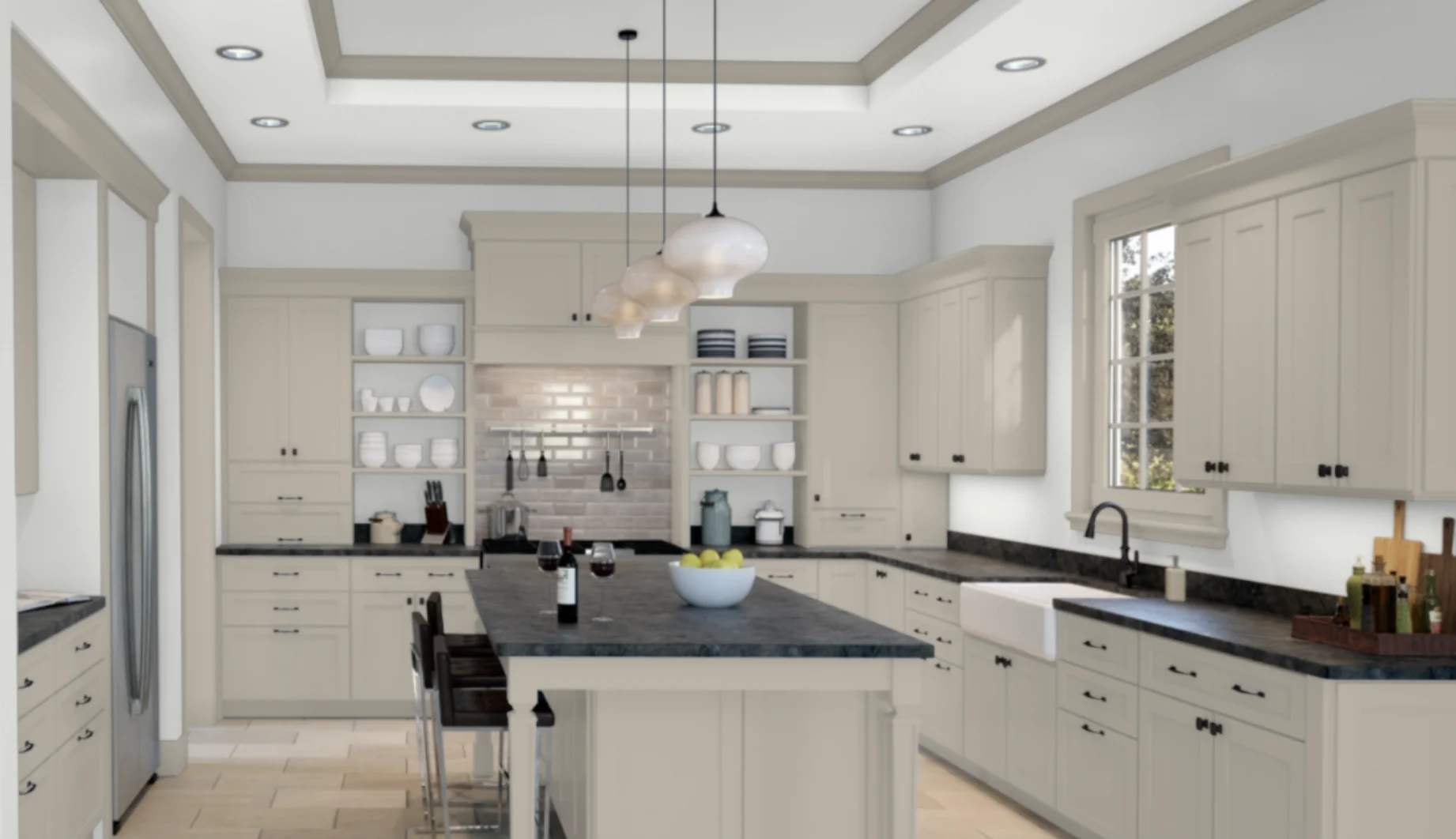 Click here to get a 12″x12″ peel and stick sample of Sherwin Williams Accessible Beige paint color!
Accessible Beige FAQs
Accessible Beige vs Agreeable Gray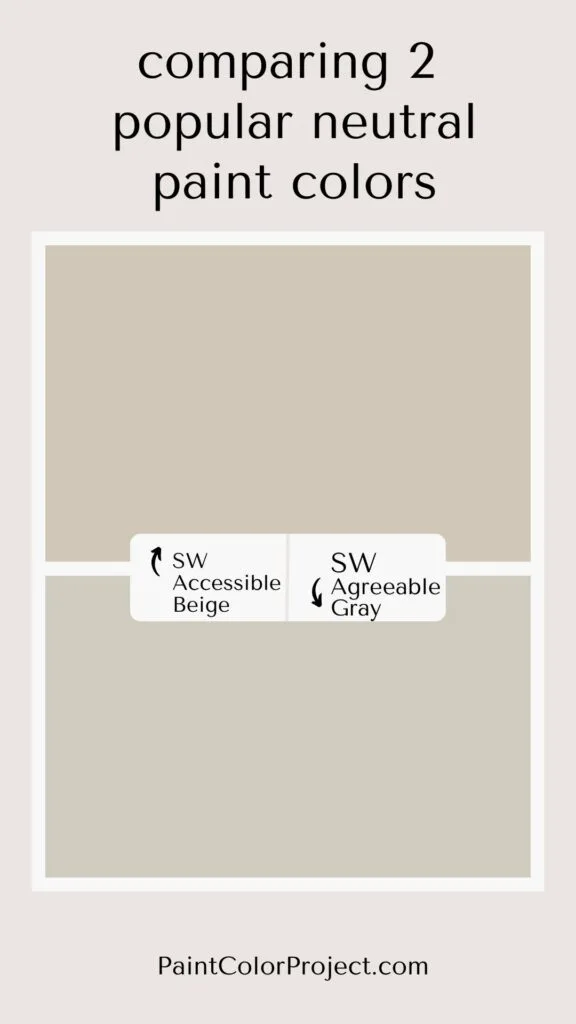 Agreeable Gray and Accessible Beige are VERY similar paint colors!
They are both greige. But, Agreeable Gray is more gray with hints of beige, while Accessible Beige is beige with hints of gray.
What does that mean? Accessible Beige is MUCH warmer and more yellow, while Agreeable Gray skews more pink!
Read my full Accessible Beige vs Agreeable Gray comparison here!
Accessible Beige vs Repose Gray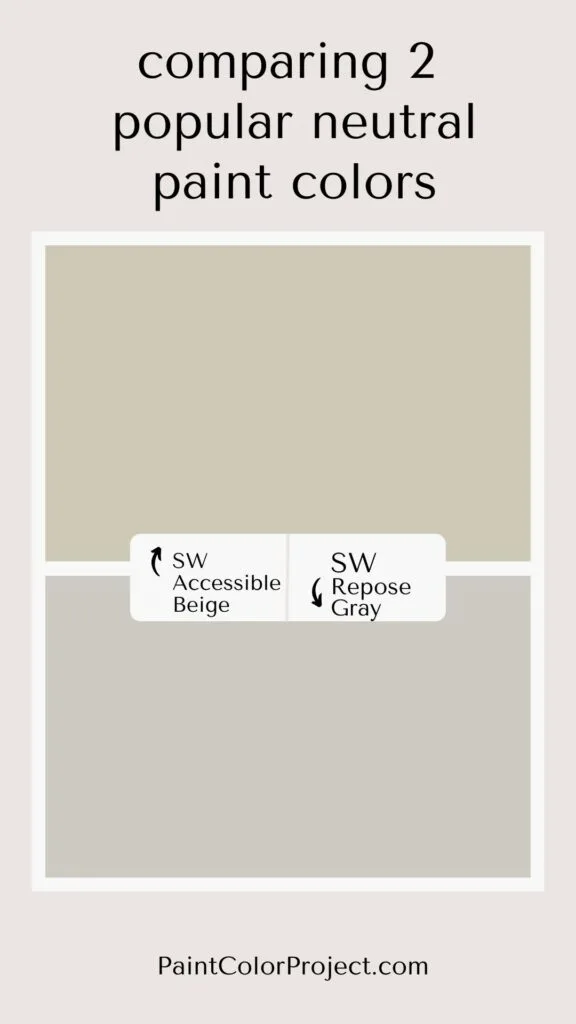 Accessible Beige and Repose Gray are both popular greige paint colors. Accessible Beige is more beige and Repose Gray is more gray!
Accessible Beige has warm, yellow and tan undertones. While Repose Gray is still warm toned, it has a bit of green and coolness to it!
Click here to read my full Accessible Beige vs Repose Gray comparison!
Accessible Beige vs Balanced Beige
Accessible Beige and Balanced Beige are both warm toned greige paint colors, though Balanced Beige is much darker and more brown.
Click here for my complete comparison of Accessible Beige vs Balanced Beige
Accessible Beige vs Pale Oak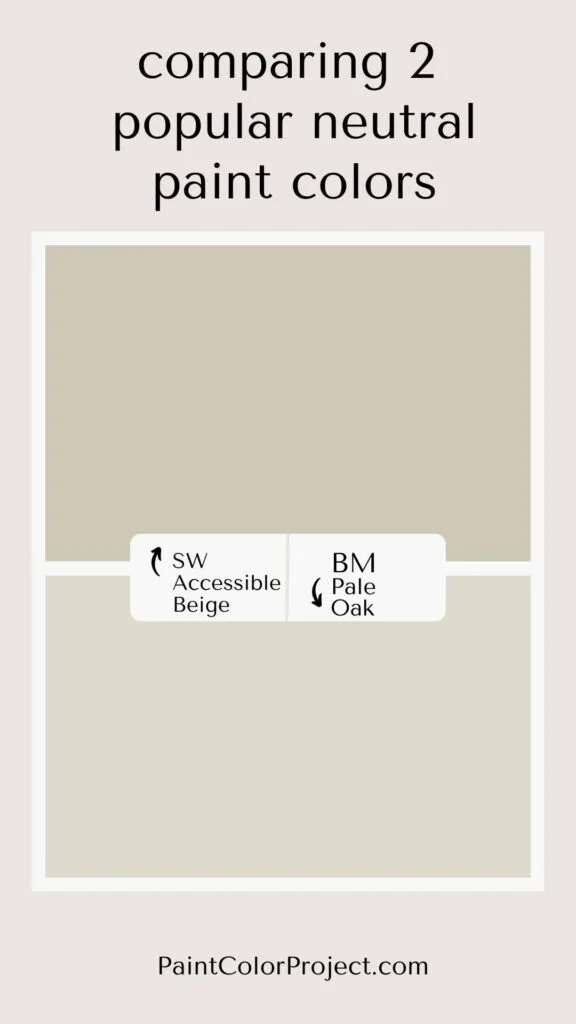 Accessible Beige is much more of a true beige paint color, while Pale Oak is a creamy, off white. They are really quite different!
Click here to read my full comparison of Accessible Beige vs Pale Oak!
Does White Dove go with accessible beige?
Dover white is a very creamy white paint color. You can pair it with Accessible Beige if you want very low-contrast tone on tone detailing. And if you really love beige!
Does Sea Salt go with Accessible Beige?
I LOVE this color combo, especially for coastal cottage homes. Read my full comparison of Sea Salt and Accessible Beige here!
What is the accessible beige Benjamin Moore equivalent?
There is no exact color match, but your best bets are:
Edgecomb Gray
Alphano Beige
Does Accessible Beige go with Honey Oak kitchen cabinets and floors?
Honey Oak cabinets have very warm, yellow undertones. The warm, yellow tones in Accessible Beige make it a good coordinating color.
Does accessible beige have pink undertones?
No, Accessible Beige does not have any pink undertones.
Is Accessible Beige a good color for open concept homes?
Accessible Beige is great for open concept homes. However, beware – if your home has significantly different lighting in different areas, this color can really look different in those different lights!
What finish of Accessible Beige should I choose?
My pick for walls is always eggshell paint. You can read about paint sheens here!
Sherwin Williams Accessible Beige color palette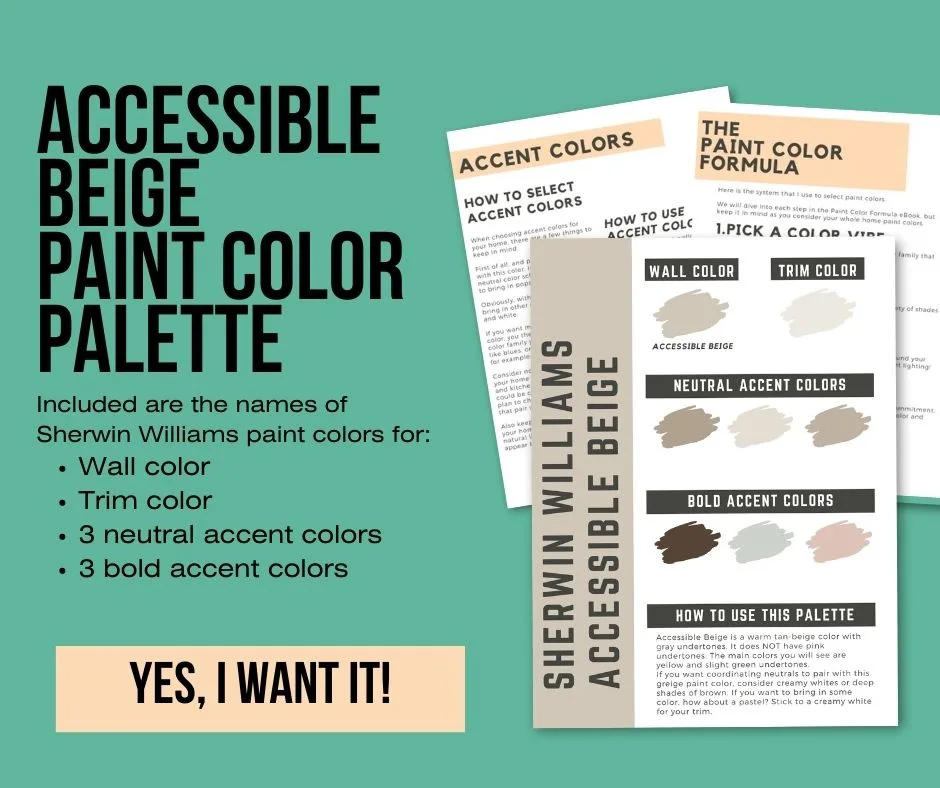 Click here to get the Accessible Beige pre-made paint color palette.
Still not sure what paint color to choose?
My Paint Color Formula ebook walks you through the painless process of expertly testing paint swatches to ensure you have the perfect color for your home.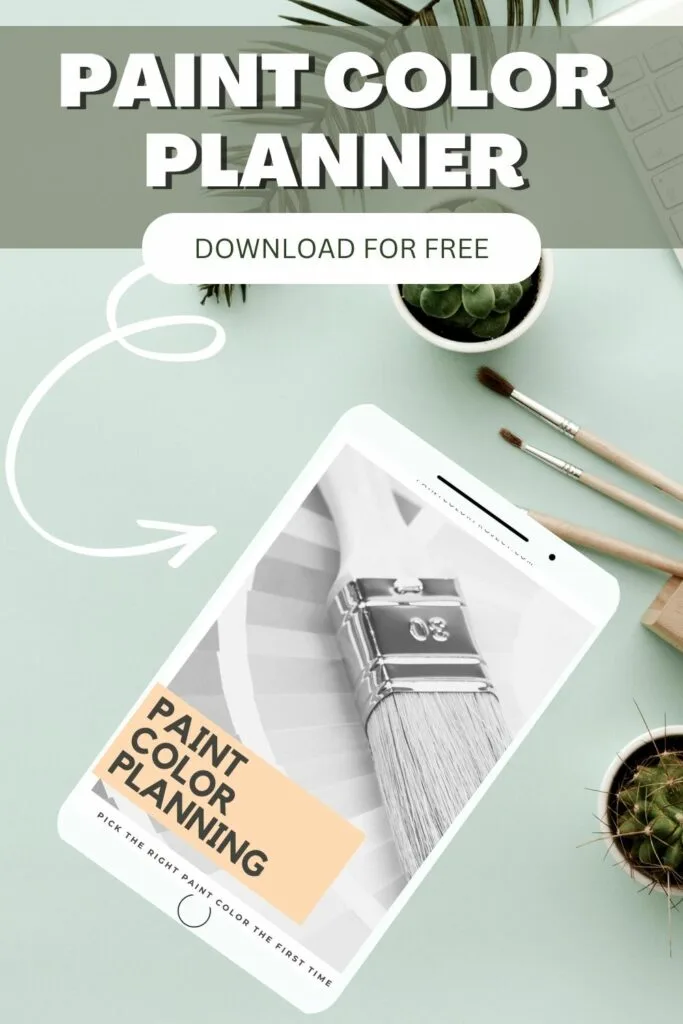 Thanks for reading!