Looking for the perfect shade of beige paint? Let's compare Accessible Beige vs Revere Pewter to see which might be perfect for your home!
Beige paint colors are popular because they are light and bright while still having some color depth to them.
Beige is neutral without being stark, and still stays warm and cozy.
It's no wonder it's such a popular color family, especially for whole house paint colors!
Two of the most popular colors in this category are Sherwin Williams Accessible Beige and Benjamin Moore Revere Pewter.
Read my full review of Accessible Beige
Read my full review of Revere Pewter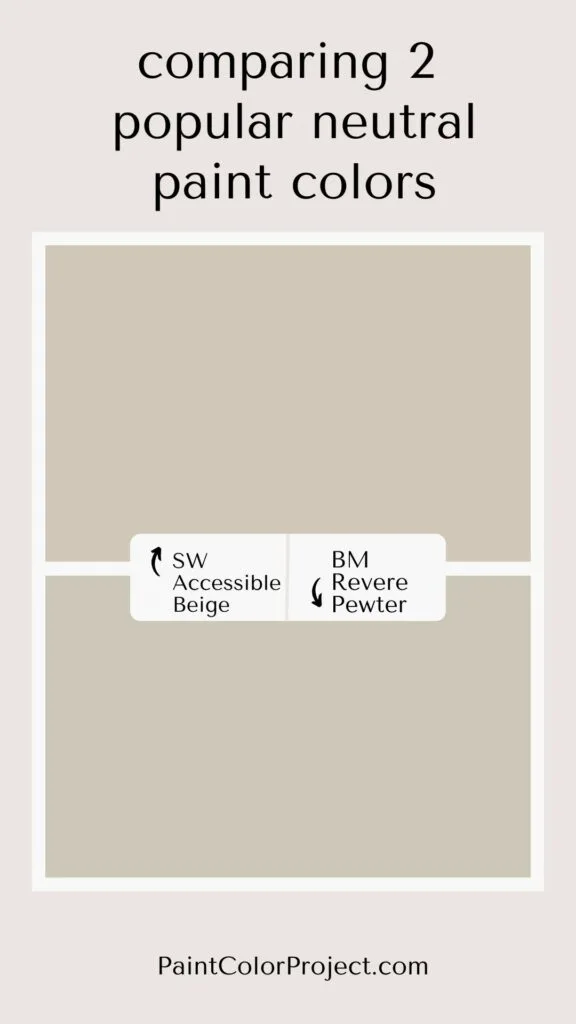 Accessible Beige vs Revere Pewter
At a glance, these two shades of beige are very similar. They are both similar in tone and depth. However, once you get them next to each other, you start to see the minute differences.
This is why it's so important to swatch colors in your actual home – to see the differences side by side.
Click here to get a 12″x12″ peel and stick sample of Sherwin Williams Accessible Beige paint color!
Click here to get a peel & stick sample of Revere Pewter!
What is similar about Accessible Beige vs Revere Pewter?
These are both shades of beige that are similar in depth (darkness) and are both warm toned beige colors.
However, they have slightly different undertones and one is lighter than the other!
What is different about Accessible Beige vs Revere Pewter?
Light Reflectance Value
Light Reflective Value is the measurement of how much light a color bounces around. This is on a scale of 0 to 100 with 0 being pure black and 100 being pure white.
With an LRV of 58, Accessible Beige is slightly lighter than Revere Pewter (LRV 55).
This is going to be especially obvious in a darker or north-facing room, where Revere Pewter can feel much more shadowy when compared to accessible beige.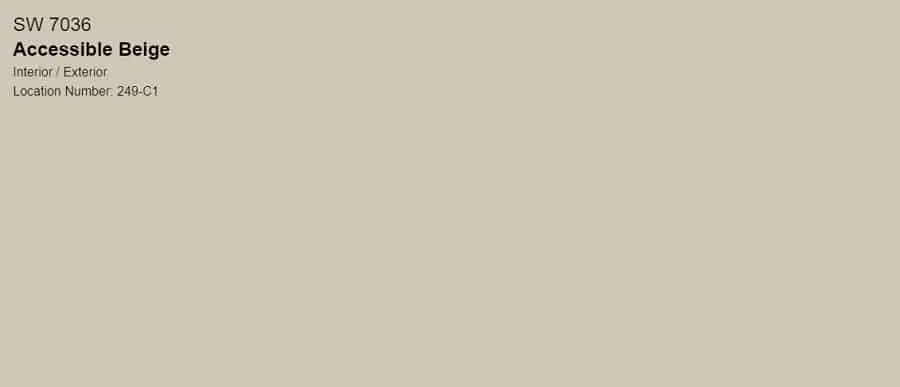 Undertones
The tan undertones in Accessible Beige make it feel warmer than Revere Pewter, which has a bit of green to it. While Revere Pewter is definitely warm toned, that green cools it down to a bit closer to neutral.
Cool lighting, like a north facing window or LED light bulbs, will make Revere Pewter feel even more neutral and less warm.
Accessible Beige, on the other hand, is more likely to go slightly pink, which a lot of people are turned off by.
How do I decide between these two colors?
Honestly, these two shades of beige are so similar that you really need to swatch them in your actual space to see which you prefer.
They can each be a little bit of a chameleon and change in different lighting situations, so it's super important to do a large swatch and put it on each wall of your room, because the light hits each walls angles slightly differently, and it can look like a totally different color on different sides of the same room.
Look at it in the day, and night, lights on the lights off, until you decide which you prefer.
Benjamin Moore Revere Pewter color palette
Join the (free!) PaintColorProject+ community to access this exclusive color palette! Once you join, you can right click & save the palette image!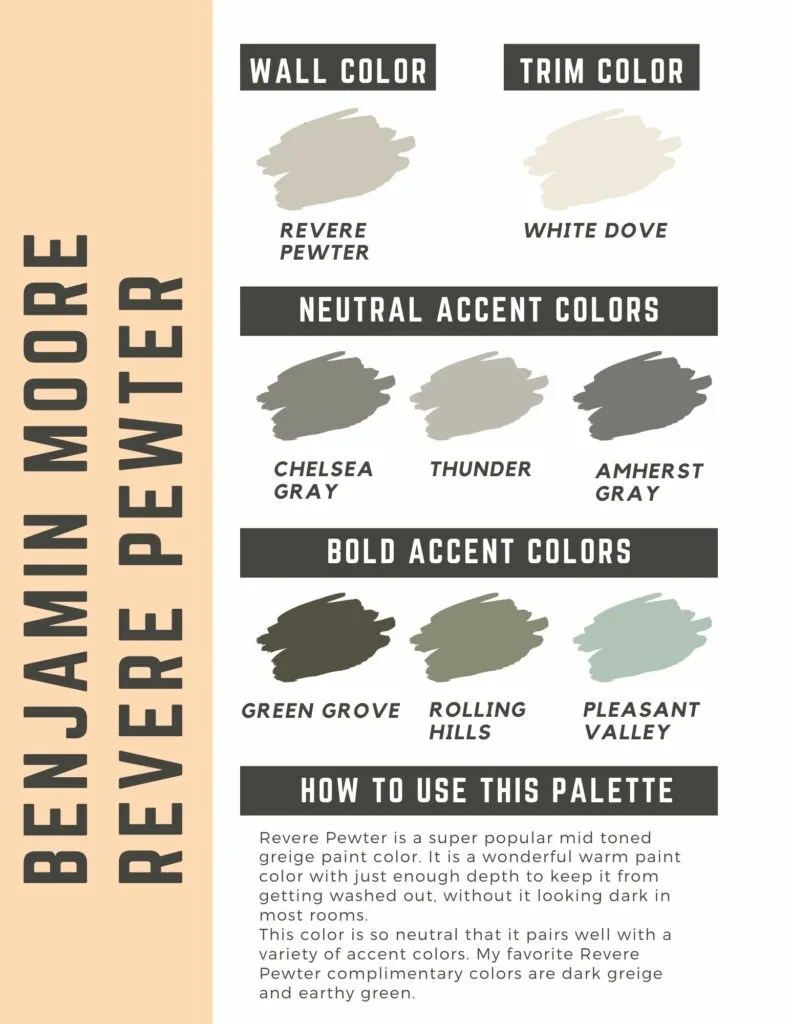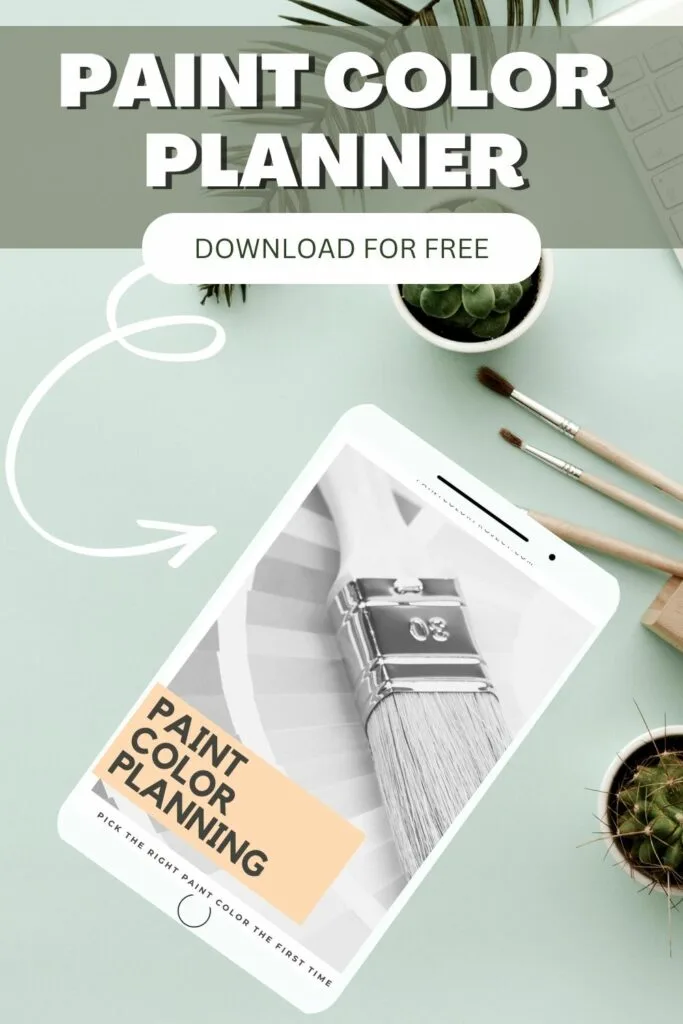 Thanks for reading!