Looking for a light, neutral gray color with green undertone? You need to check out Sherwin Williams Silver Strand and it's undertones, coordinating colors, and best trim colors!
Green paint has been on my mind lately. It's earthy, it bright, it's welcoming. We actually just painted the entire first floor of our home green!
If you aren't quite up for GREEN but like green (you know what I am saying?!) You might want a gray with heavy green undertones.
Check out Silver Strand – it might be perfect for you!
Joanna Gaines (of Fixer Upper) actually liked to use Silver Strand, which made it a super popular paint color, especially for those who like a farmhouse, coastal, or rustic home style.
This color is super light and airy, making it really appealing!
Click here to get a 12″x12″ peel and stick sample of Sherwin Williams Silver Strand paint color!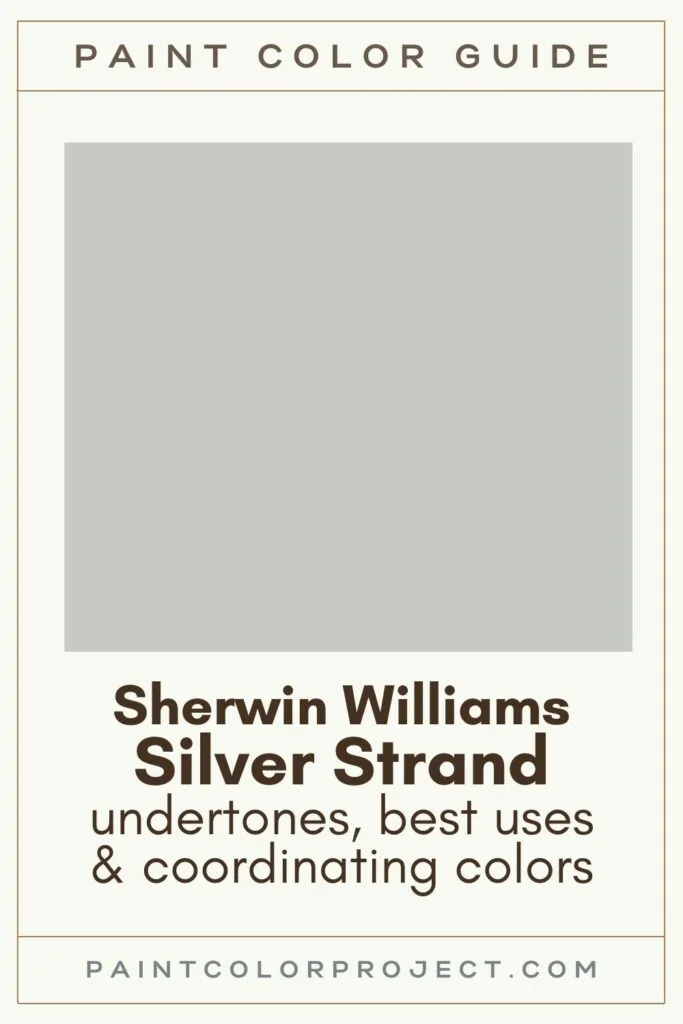 Sherwin Williams Silver Strand SW7057

Silver strand is a light gray color with green undertones. It is a cool color and the undertones make it perfect for soothing, spa-like vibes.
Color Family
Silver Strand is in the gray color family.
Light Reflectance Value
59 – this is considered a light color but definitely has more color to it than a super light or pale color!
Light Reflective Value is the measurement of how much light a color bounces around. This is on a scale of 0 to 100 with 0 being pure black and 100 being pure white.
RGB Colors
R:200 G:203 B:196
RGB describes the amount of each color – red, green, and blue – present in a color. This is on a scale of 0 to 255 for each color. This is basically the color mix to make the color!
Hex Code
#c8cbc4
Undertones
Silver strand has green and blue undertones.
How you decorate will really effect how the undertones look. If you want it to look more blue, pair it with blue accents. If you want it to seem more green, pair it with green accents!
Best uses
Silver Strand is a great whole house paint color! It's also perfect for master bedrooms and bathrooms if you want a spa-like feel.
Similar Colors
Sherwin Williams Pearl Gray
Sherwin Williams Pine Frost
Behr Heath Gray
Coordinating Colors
Because of the undertones, it's really easy to pair Silver Strand with blues and greens. Stick with shades lighter than Silver Strand for a neutral look or darker for a bolder look.
Stay away from reds, golds, yellows, any sort of bold warm color like that. It tends to clash with the cool Silver Strand tones.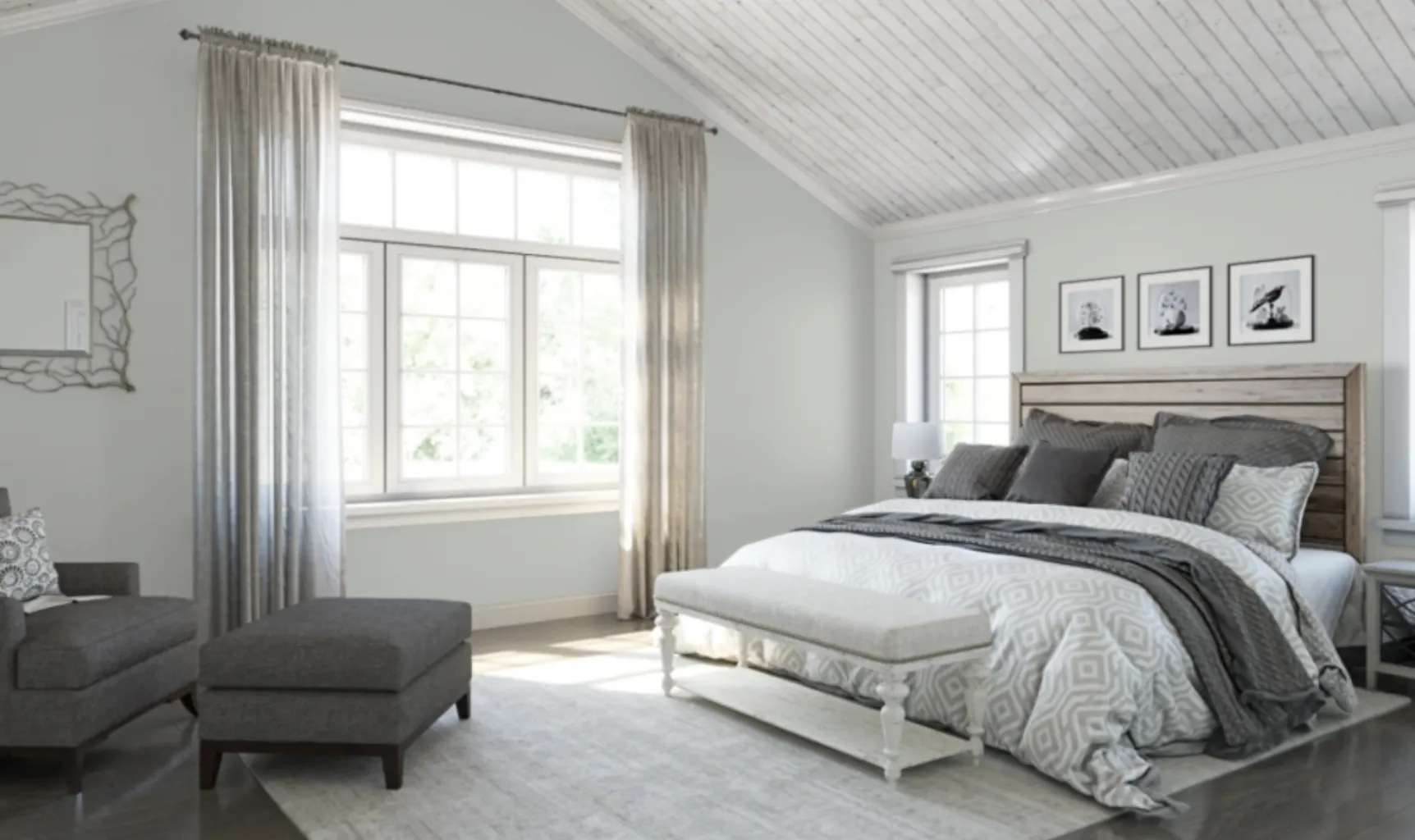 Silver Strand complementary colors
I like to pair Silver Strand with:
White Heron
Chelsea Gray
Topsail
Naval
See all of my favorite Silver Strand coordinating colors here.
Trim Colors
Pair Silver Strand with a cool white, but not too crisp. Anything warm with look very creamy.
Bright white trim colors:
Benjamin Moore Simply White
Sherwin Williams Extra White
Behr Ultra Pure White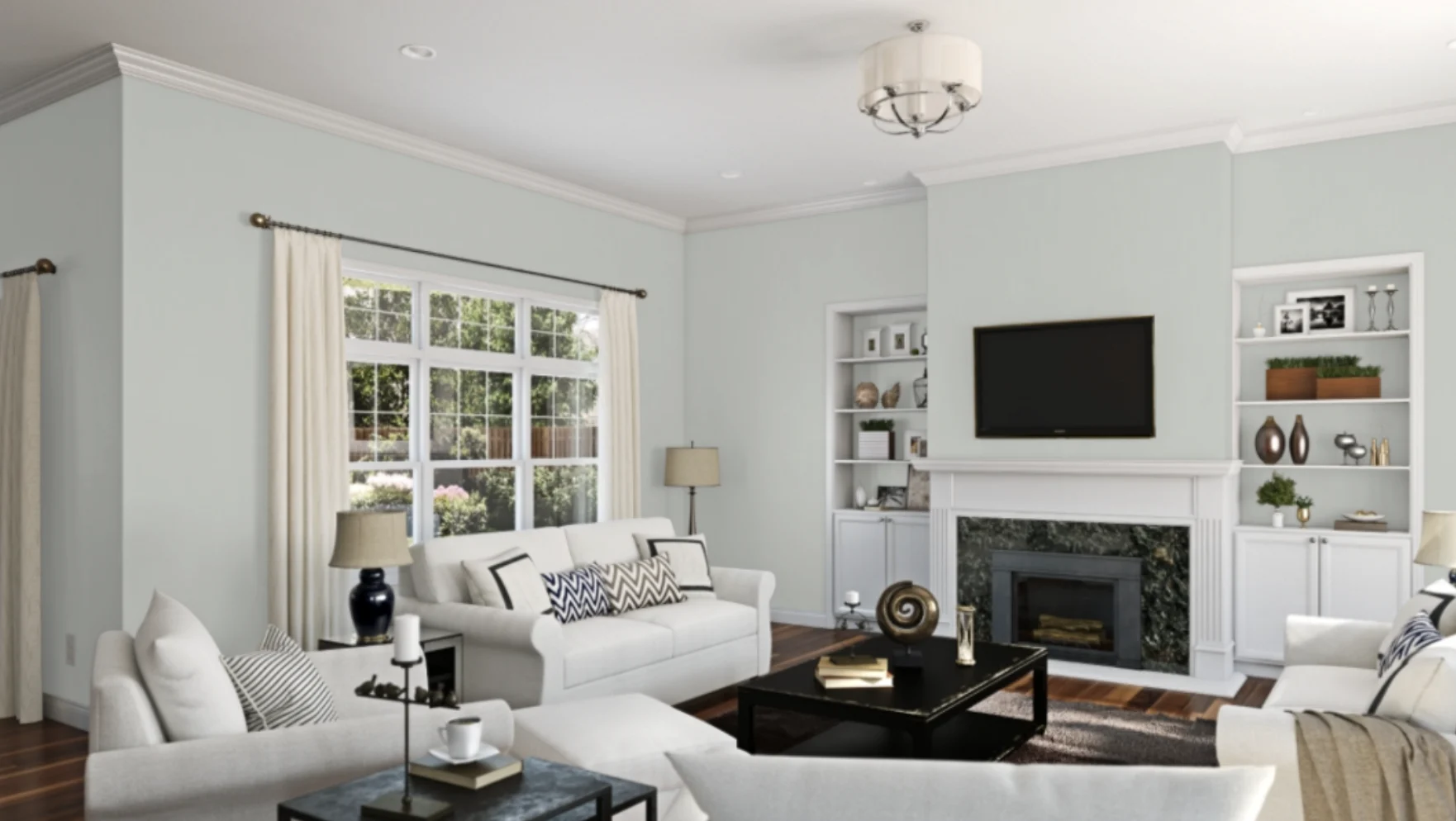 Is Sherwin Williams Silver Strand a warm or cool color?
Silver Strand is a cool toned color due to it's gray and blue tones!
Does Silver Strand look blue?
This color will look more blue if you have cool light coming in – such as cool light bulbs or north facing windows. Decorating with blue accents will also make it look more blue.
Does Silver Strand look green?
This color will look more green in warm light – yellow toned light bulbs or south-facing windows! Decorating with green accents will also make it look more green!
Is Silver Strand a neutral color?
Yes, silver strand is neutral. It's really gray – it just has heavy green undertones. It's great if you want a neutral paint with a bit of personality!
Does Alabaster go with Silver Strand?
Yes – Alabaster is a nice bright white that plays very nicely with Silver Strand!
Silver Strand vs Sea Salt
Silver strand and Sea salt are very similar colors. However, if you put them next to each other you will clearly see that Silver Strand is gray with green undertones and Sea Salt is green with gray undertones!
See my full comparison of Silver Stand vs Sea Salt here!
Silver Strand vs Repose Gray
Read my full comparison of Repose Gray and Silver Strand!
Sherwin Williams Silver Strand Color Palette
Check out my custom color palette of Sherwin Williams Silver Strand coordinating colors.
Join the (free!) PaintColorProject+ community to access this exclusive color palette! Once you join, you can right click & save the palette image!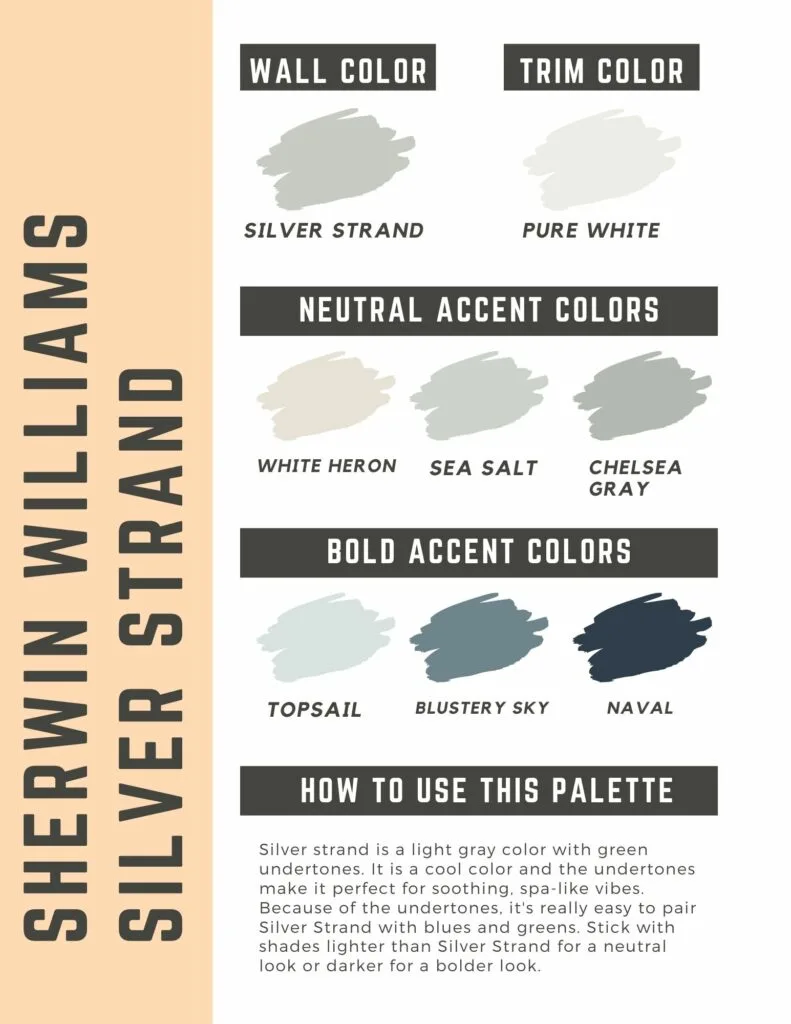 Still not sure what paint color to choose?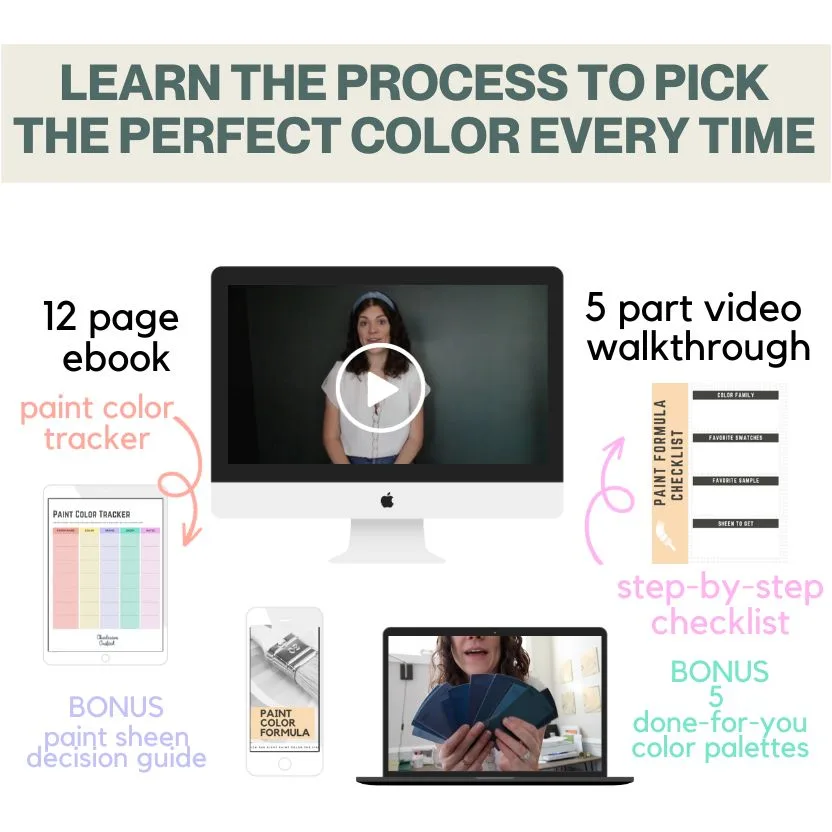 My Paint Color Formula ebook walks you through the painless process of expertly testing paint swatches to ensure you have the perfect color for your home.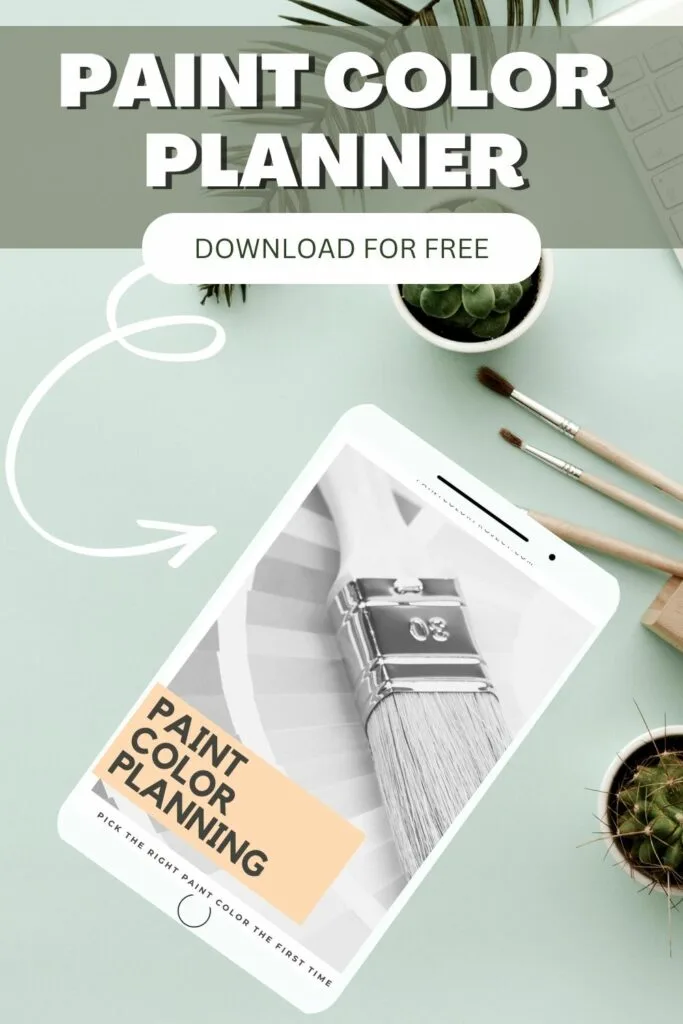 Thanks for reading!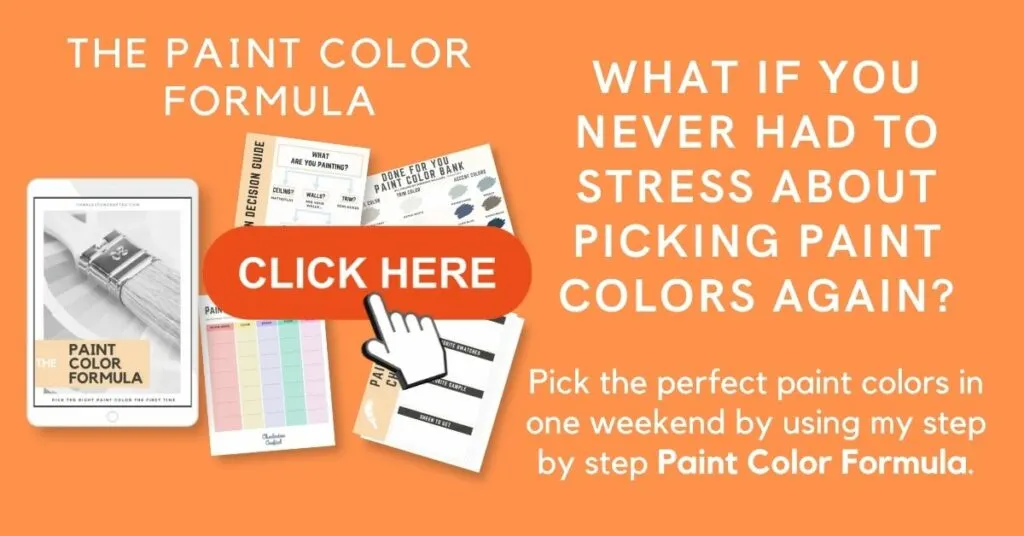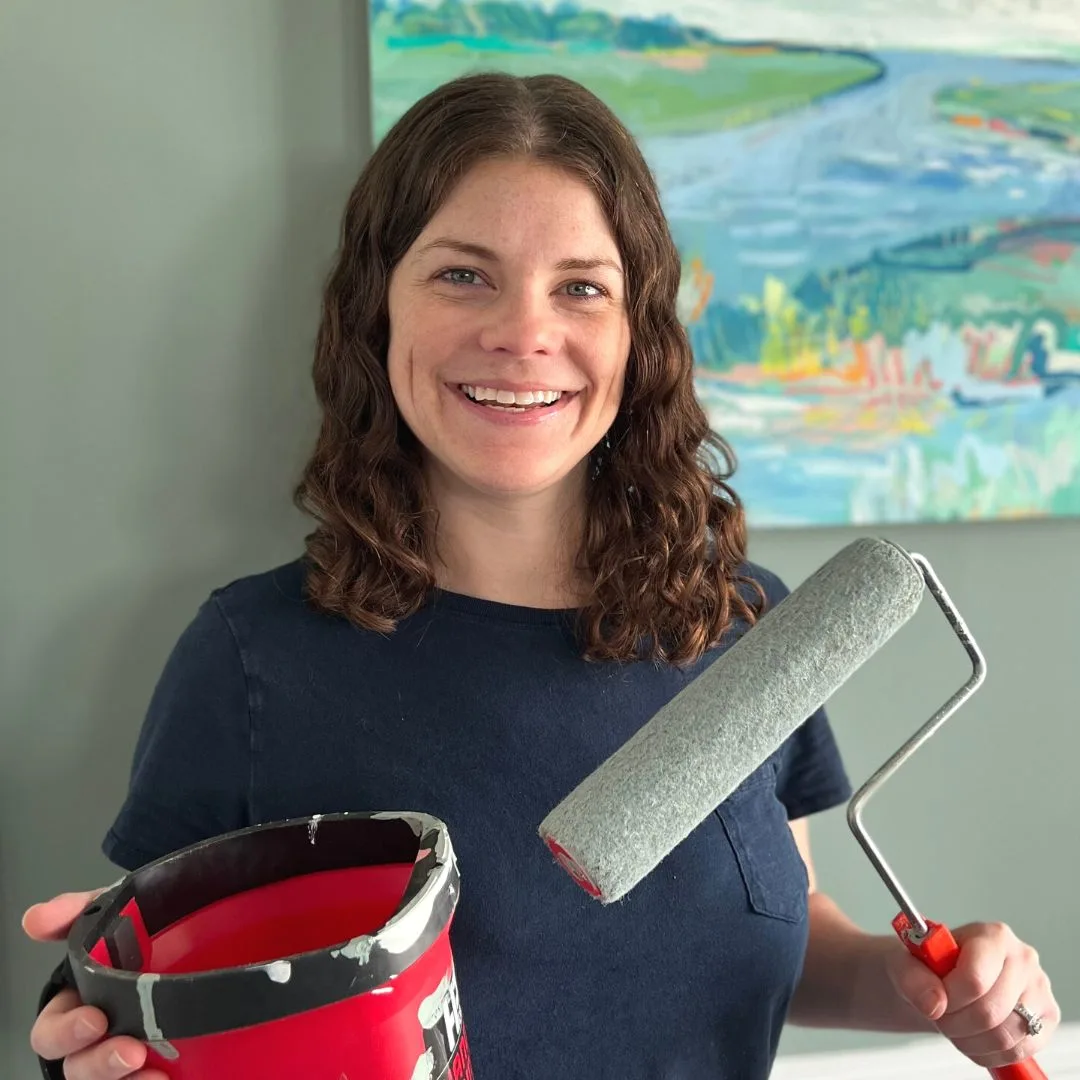 Morgan is passionate about home decor and paint colors. She has been sharing DIY home decor tips since 2012 at CharlestonCrafted.com. From there, she learned to love paint colors, and the Paint Color Project was born in 2022!