Looking for a light, bright, green paint color that is almost neutral but still has a pop of color. Meet your new friends, Sherwin Williams Sea Salt.
Sea Salt is a super popular paint color for homes. It is a faint green that is extremely light, bright, and welcoming.
This color is perfect for beach houses, lake cottages, or any home you want to have a breezy feel to it.
Click here to get a peel & stick sample of Sea Salt!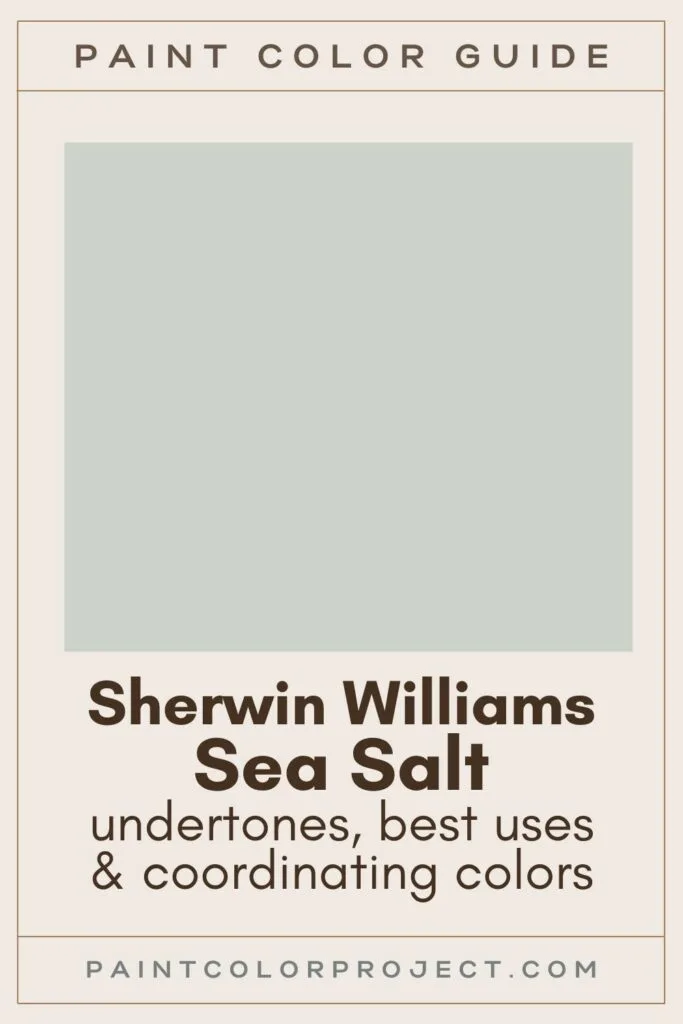 Sherwin Williams Sea Salt (SW6204)

Color Family
This color is in the green color family.
Light Reflectance Value
63 – not too light, but definitely not dark either.
Light Reflective Value is the measurement of how much light a color bounces around. This is on a scale of 0 to 100 with 0 being pure black and 100 being pure white.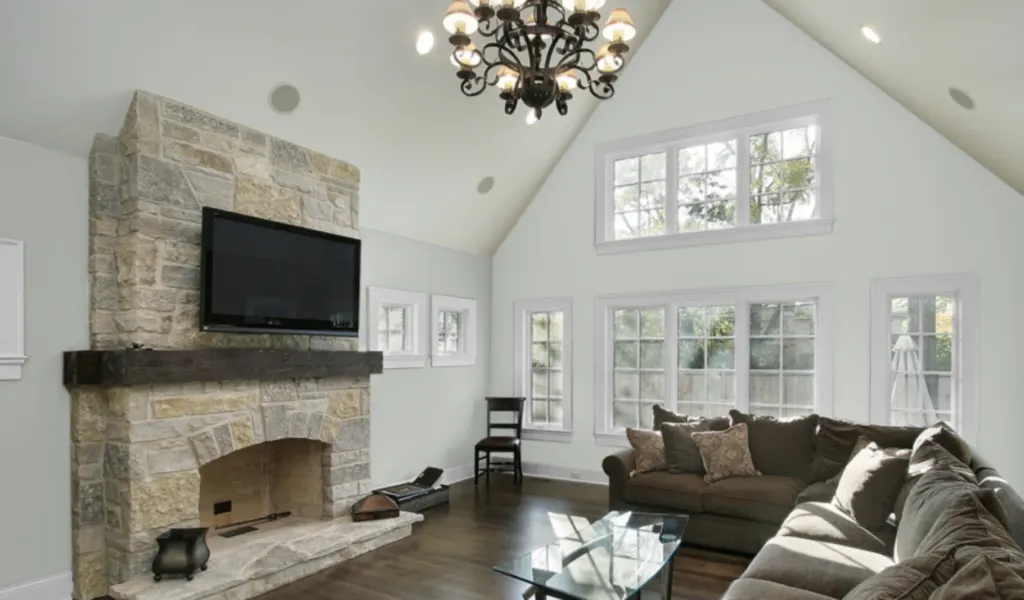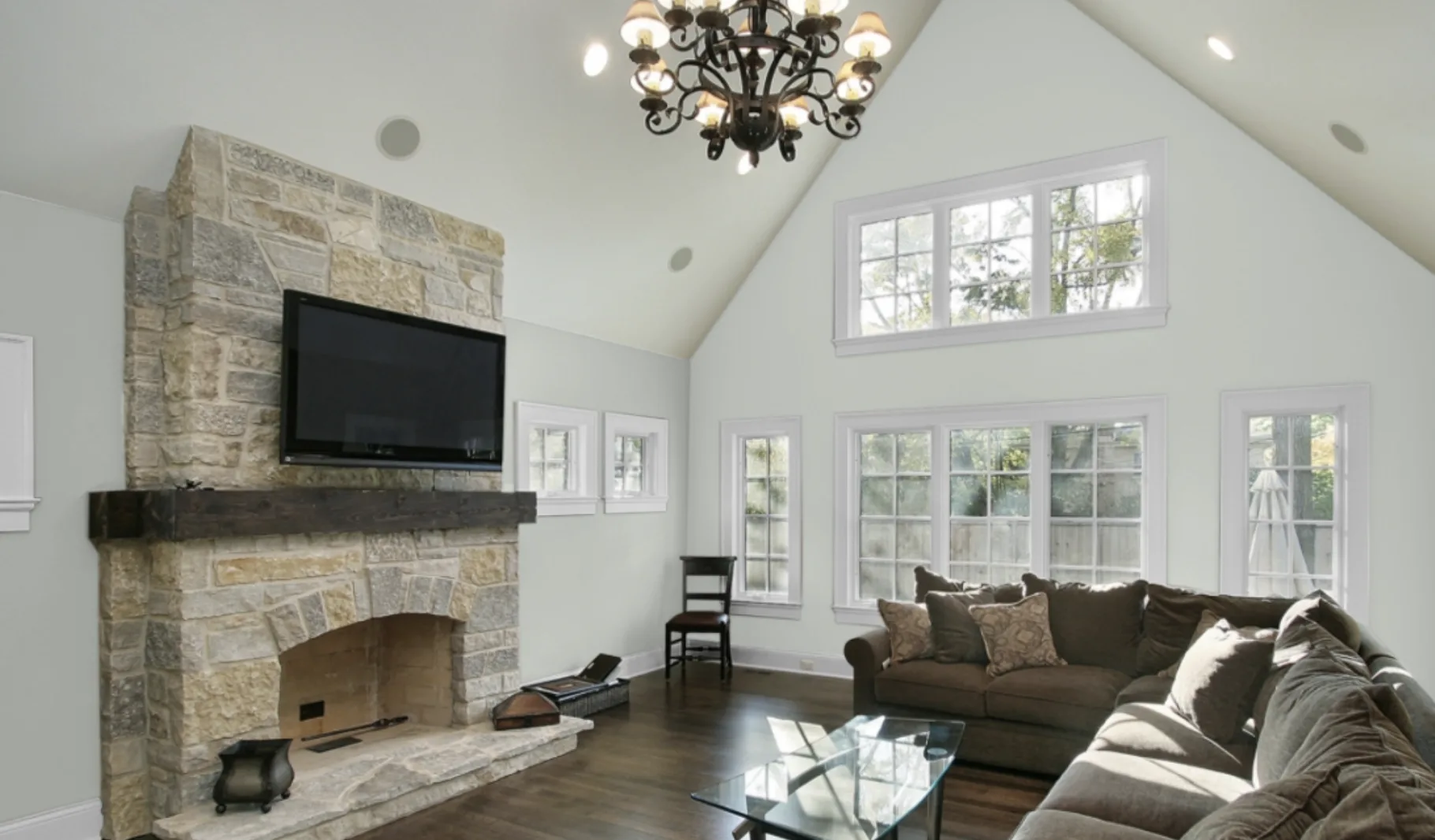 RGB Colors
R:205 G:210 B:202
RGB describes the amount of each color – red, green, and blue – present in a color. This is on a scale of 0 to 255 for each color. This is basically the color mix to make the color!
Hex Code
#cdd2ca
Undertones
This is a green color with gray and blue undertones. This gives it a bit of a cool tone.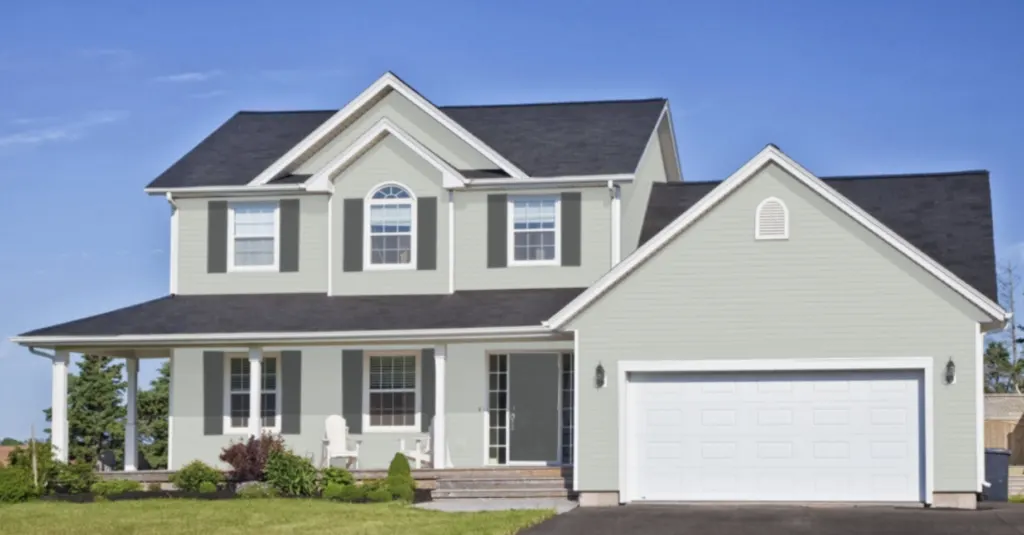 Best uses
Sea Salt is a fantastic whole-house paint color. It can also be used for a whole room – large or small, accent ceiling or wall, or even to paint a piece of furniture!
Similar Colors
Sherwin Williams Sea Spray
Sherwin Williams Pearl Gray
Valspar Happy Cloud
Magnolia Emmie's Room
Behr Shy Green
Benjamin Moore Cool Breeze
Coordinating Colors
Sea Salt neutral accent colors
If you want to emphasize the green-ness of Sea Salt, pair it with a neutral color. Some of my favorites include:
Intimate White
Urbane Bronze
Sea Salt bold accent colors
Sea Salt also works well as a neutral paired with bold colors. Since it does have color to it, I like to pair it with more neutral-bold colors like navy or black. Some favorites are:
Rainstorm
Tricorn Black
Naval
Click here to get a peel & stick sample of Sea Salt!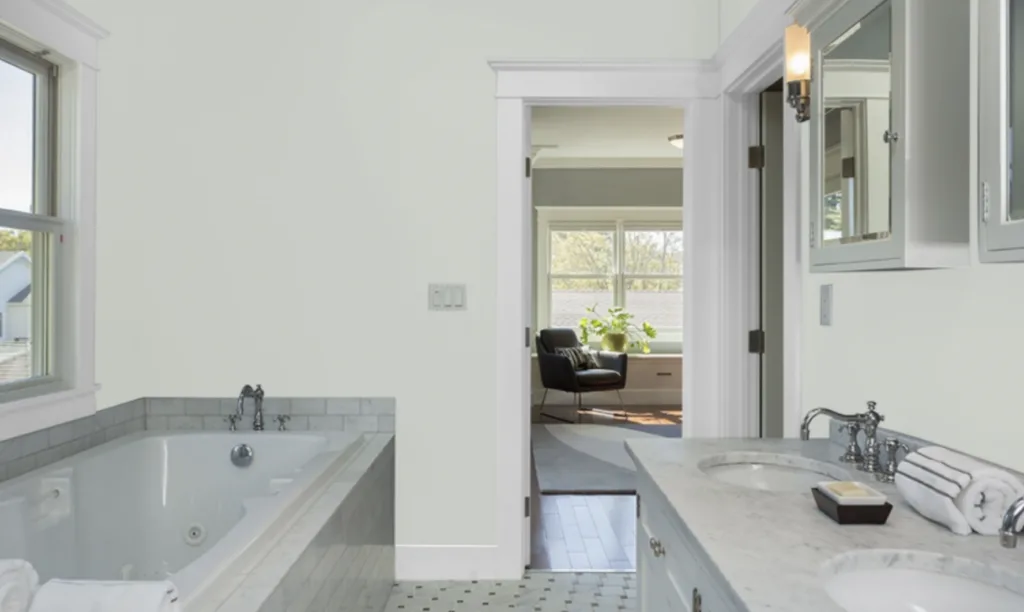 Trim Colors
I like to pair Sea Salt with a slightly creamier white with warm tones. I think a crisp cool white can have too much contrast. My favorites include:
Soft white trim colors:
Benjamin Moore White Dove
Behr Cameo White
Is Sherwin Williams sea salt green or blue?
Sea Salt has both blue and green undertones to it, but it tends to read more green than blue is most lighting situations. Sea Salt will look more blue in darker spaces or in rooms with north-facing windows. This cooler light brings out the cooler blue in the paint!
See my comparison of Sea Salt vs Misty here!
Is Sherwin Williams sea salt warm or cool?
The blue and gray undertones in Sea Salt make it a solidly cool toned color. However, the yellow of the green keeps it from being cold or stark in any way. It's fairly mid tone in that way!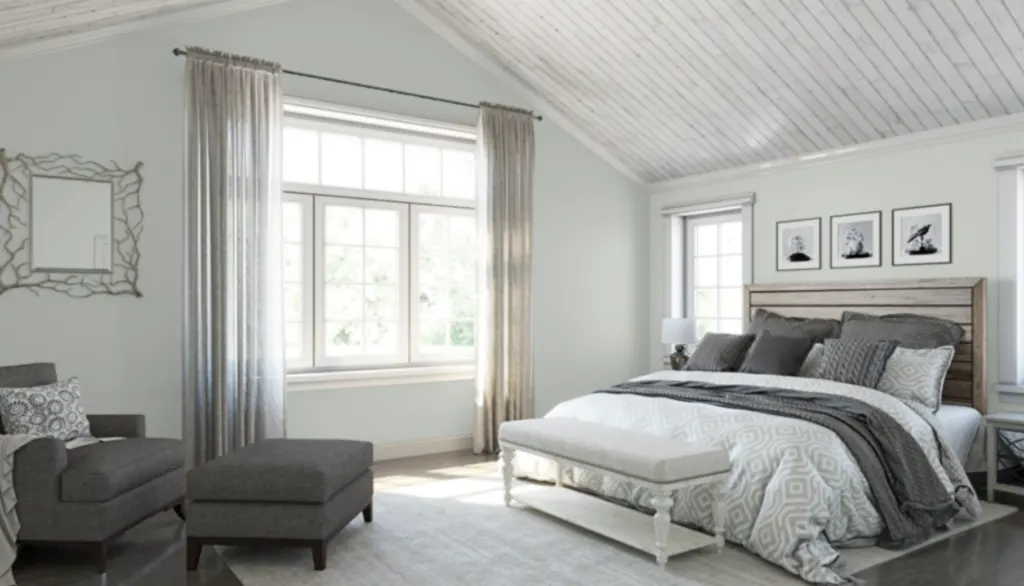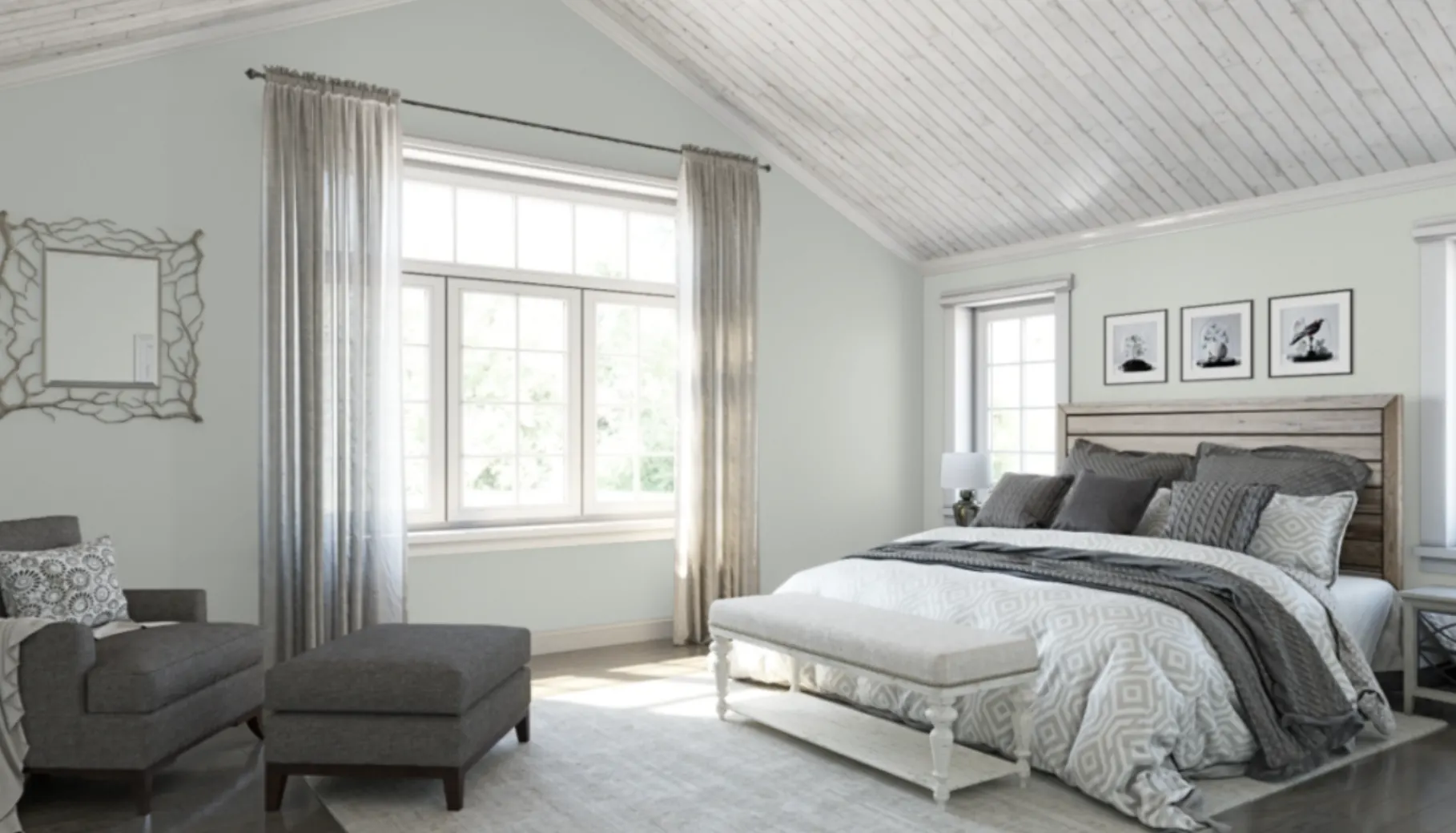 Does Sherwin Williams sea salt look blue?
Sea Salt can absolutely look blue in a space with less natural light. It's SUPER important to swatch colors on your walls and look at them day and night to be sure you like the tone.
Is Sherwin Williams sea salt a neutral color?
Most people consider black, white, gray, and tan to be neutral colors. In that way, no Sea Salt is not a neutral. But, it can serve as a great backdrop to many other colors and designs. So, while it is not neutral, it is a fantastic base color and perfect if you want just a touch of color and personality on your walls!
Does Sea Salt go with Accessible Beige?
I LOVE this color combo, especially for coastal cottage homes. Read my full comparison of Sea Salt and Accessible Beige here!
Sea Salt vs Silver Strand
Sea Salt and Silver strand are super similar Sherwin Williams Paint colors. Sea Salt is green with gray undertones, while Silver Strand is gray with green undertones.
See my full comparison of Silver Stand vs Sea Salt here!
Click here to get a peel & stick sample of Sea Salt!
Sea Salt Color Palette
Check out my custom color palette featuring the best Sea Salt coordinating colors!
Join the (free!) PaintColorProject+ community to access this exclusive color palette! Once you join, you can right click & save the palette image!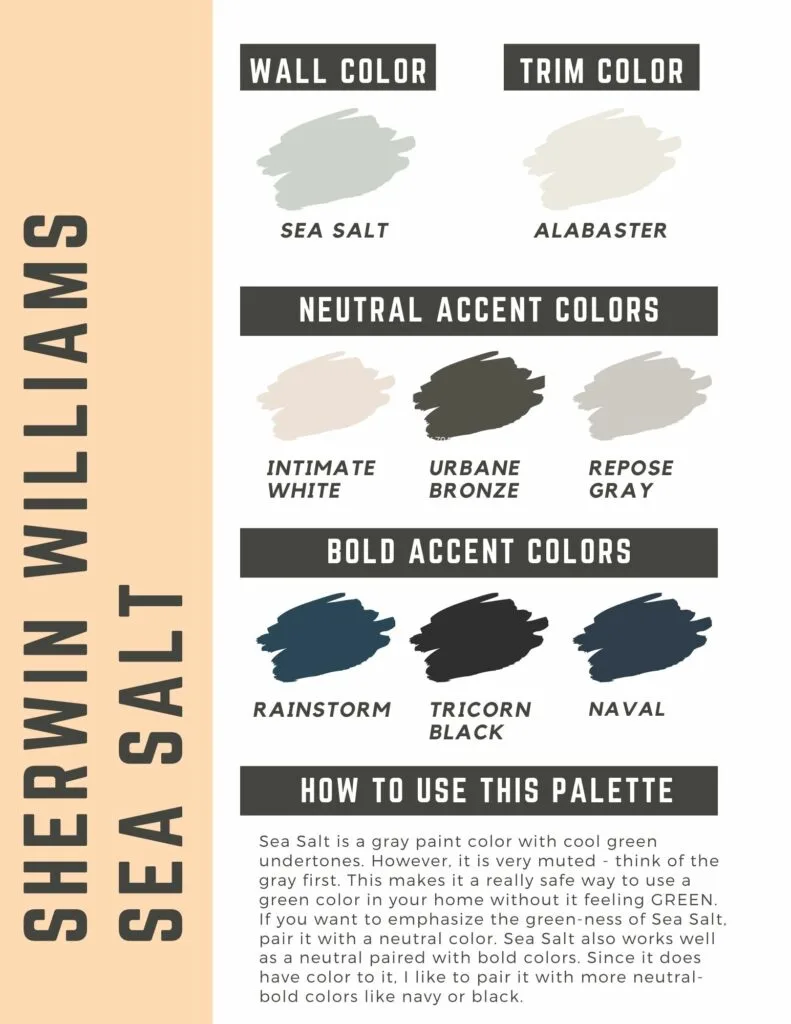 Still not sure what paint color to choose?
My Paint Color Formula ebook walks you through the painless process of expertly testing paint swatches to ensure you have the perfect color for your home.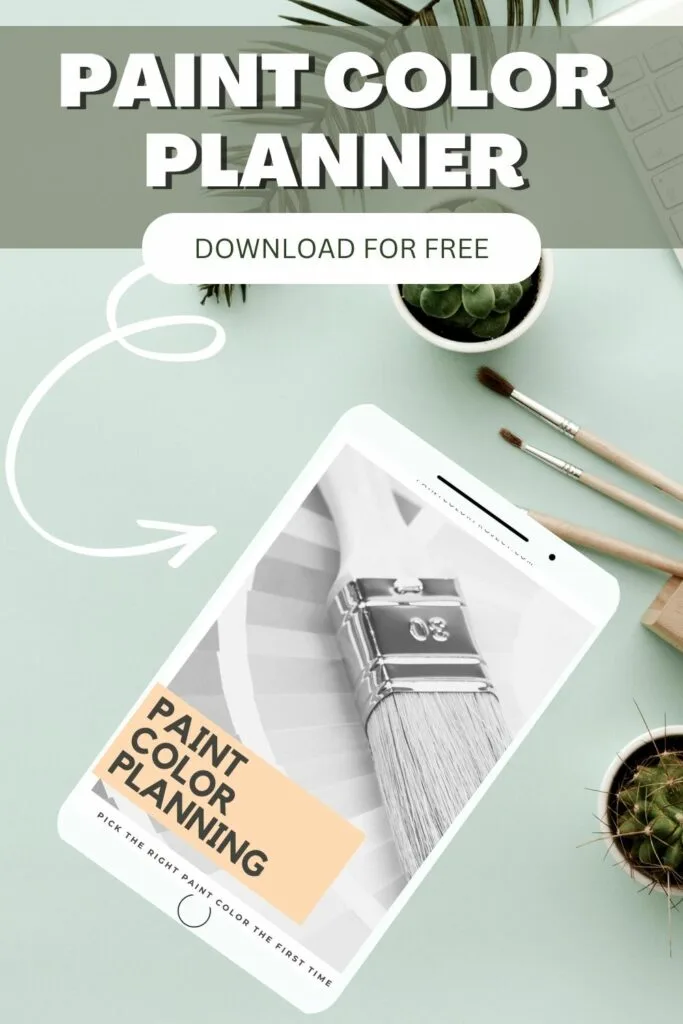 Thanks for reading!