Here are some of the very best paint colors to paint your master bedroom. These colors will help you to design your space into a calm and serene sanctuary!
The master bedroom or owner's suite of a home should be calm and inviting. It should be a retreat to enter at the end of a long day and unwind and relax.
There are a lot of design choices that can be made to make your master bedroom feel more inviting. One of the best ways to do that is with the right color scheme or color palette.
Here is my best advice for picking master bedroom paint colors!
The Best Paint Colors For a Master Bedroom
The best paint color for your master bedroom is going to be whatever makes you the happiest. It doesn't matter what is trendy or popular, if it makes you feel calm and relaxed, then it is perfect for your space.
Keeping that in mind, I am going to share some widely accepted rules around paint colors. Take them or leave them, but they are something to consider!
Click here to get peel and stick samples of my favorite bedroom paint colors!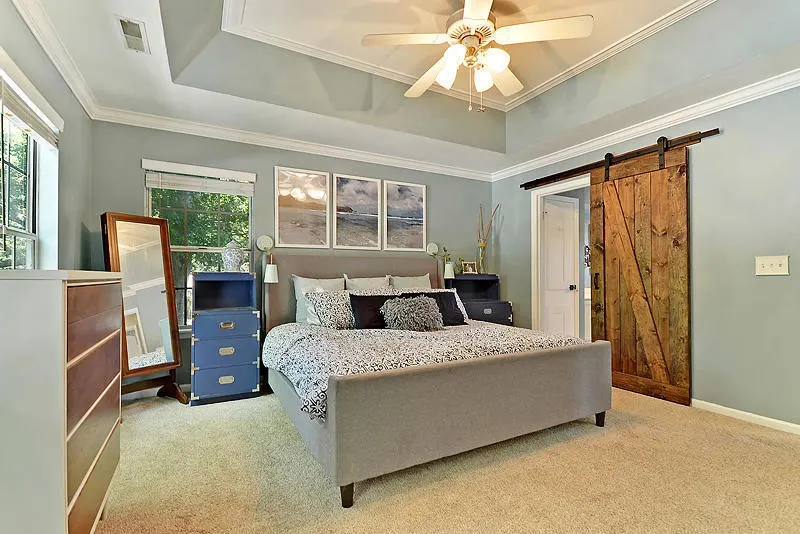 The Best Colors to Paint Your Master Bedroom For Sleep
The most relaxing color for a bedroom is a blue gray color. You can check out all of the best blue gray paint colors!
According to the psychology of color, cool colors – think blues and grays – are the most calming and therefore will lend themselves towards encouraging sleep.
Reds, yellows, and oranges, however, tend to increase your heart rate and therefore might make you feel more awake. They are in general the worst colors for sleep.
So, if you want to feel calm and sleepy, go with a cool, mellow color for your bedroom walls.
Colors to Make a Room Look Bigger and Brighter
If you have a smaller master bedroom and want it to feel bigger and brighter, you will want to avoid dark, moody colors. Go for a very light white, beige, gray, or blue wall color for best results!
Generally, high ceilings make a room feel bigger, so fake that feeling by painting your ceiling a bright white.
In general, focus on light colored decor and furniture and eliminate as much clutter as possible to make a space feel more open and airy.
What is the most romantic color for a bedroom?
If your main goal in decorating your master bedroom is to make it feel romantic, you might want to go in the opposite direction! Red paint colors will get your heart racing, which isn't great for sleep but is great for romance!
Paint your bedroom red or raspberry pink for a spicy time!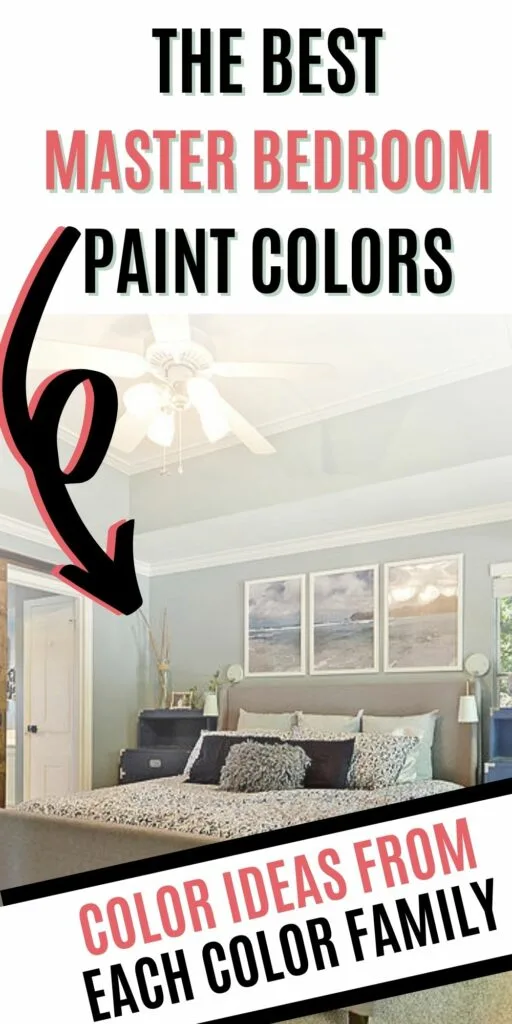 Here are some of the specific paint colors that I love for a master bedroom!
Click here to get peel and stick samples of my favorite bedroom paint colors!
White Walls
White is the new "it" neutral wall color. But, not all white paint colors are alike. For a master bedroom, you don't want a pure white but rather something with a bit of warmth to it. Slight yellow or brown undertones will let white paint feel more cozy.
For trim work, I actually like to match my trim to my white walls. Just use a flat or eggshell finish on the walls and semi-gloss on the trim for tone-on-tone texture!
My favorite white paint colors for master bedrooms:
Sherwin Williams Pure White
Benjamin Moore White Dove
Behr Polar Bear
Behr Swiss Coffee
Sherwin Williams Aesthetic White
Dark or moody colors
You can never go wrong with light and bright colors, but I really love a dark and moody bedroom. Consider a deep blue, green, black, or brown for a big impact!
Benjamin Moore Hale Navy
Behr NYPD
Benjamin Moore Salamander
Sherwin Williams Urbane Bronze
Sherwin Williams Tricorn Black
Gray paint colors
If you don't like stark white walls but don't want a bold color, a light gray wall is a safe color choice. Test each of these colors – in natural light and at night with the lights on – to be sure that the undertones flow with your flooring and furniture.
Benjamin Moore Gray Owl
Benjamin Moore Wickham Gray
Consider accenting with a charcoal gray. Choose a shade of gray 2-3 shades darker than your wall color for an easy color match!
Accent walls
If you want a neutral master bedroom with a pop of color and interest, an accent wall is probably right for you. Accent walls in bedrooms are typically done on the wall behind your headboard.
Accent colors can be completely different than your wall color. A more popular look is to go with a color 2-3 shades lighter OR darker than your main wall color on the same paint strip.
Finally, accent walls can be textured. Consider wall paper, faux brick, or even panelling painted the same color as your walls!
Click here to get peel and stick samples of my favorite bedroom paint colors!
What is your favorite color in a master bedroom?
Still not sure what paint color to choose?
My Paint Color Formula ebook walks you through the painless process of expertly testing paint swatches to ensure you have the perfect color for your home.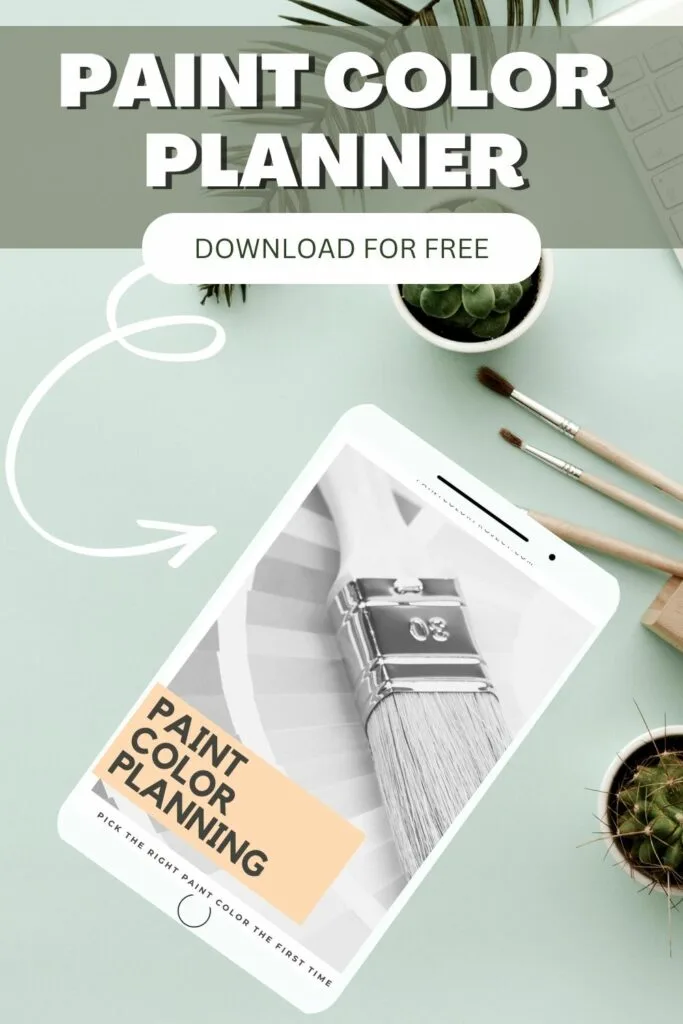 Thanks for reading!