Want to paint your home a deep green color? Let's chat about Sherwin Williams Pewter Green and see if it might be perfect for your home!
Green paint colors are really trending at the moment, and I personally love a bold, deep green room.
If you are also looking for the perfect deep green paint color, let me introduce to you Sherwin Williams Pewter Green!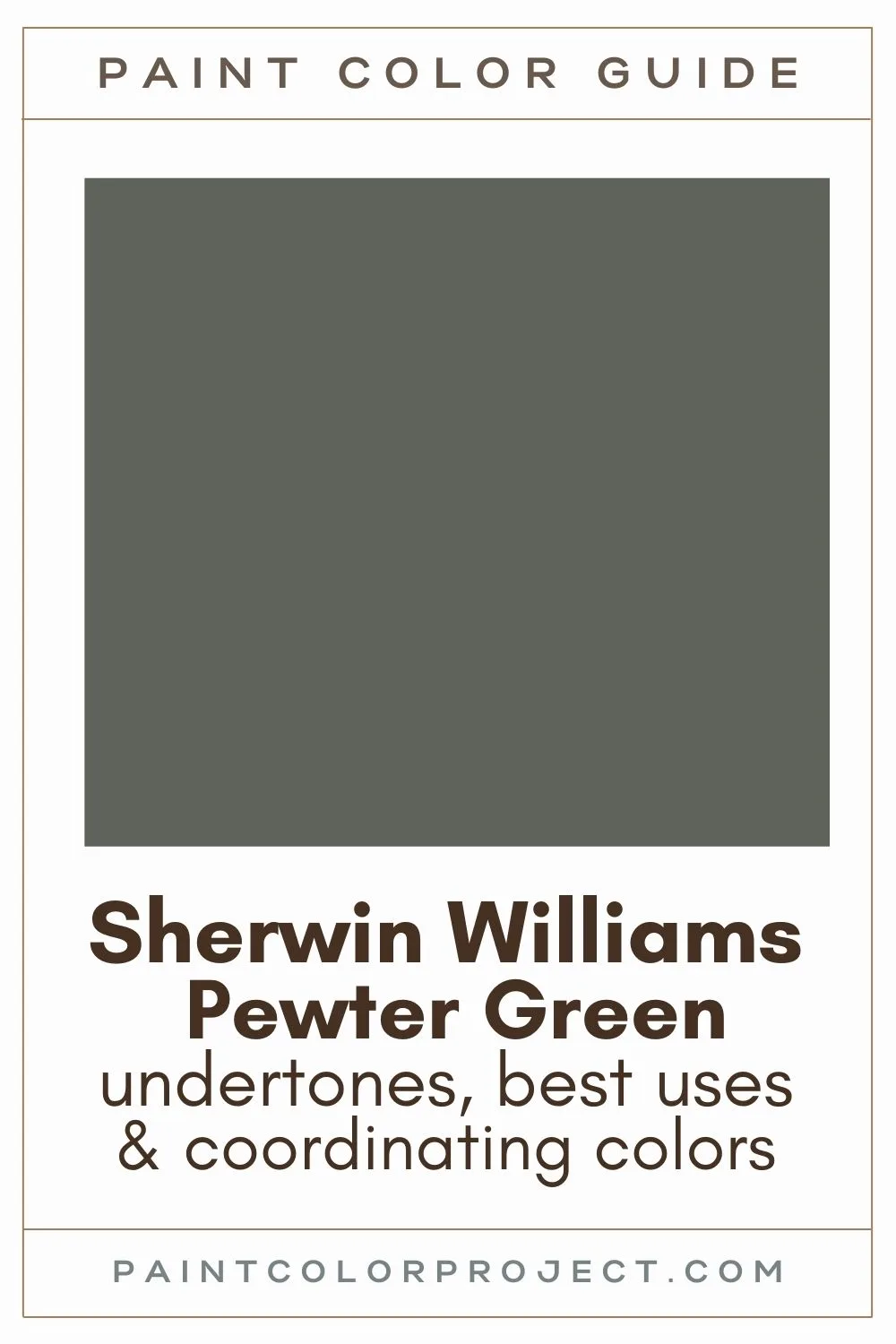 Sherwin Williams Pewter Green 6208
Pewter Green is a deep, warm, green color. It feels olive, but can also read as a bit charcoal in a very dark room.
Click here to get a peel & stick sample of Pewter Green!
Color Family
Pewter Green belongs to the green color family, known for its calming and natural qualities. This particular shade of green falls into the gray spectrum, making it a popular choice for those seeking a neutral color with depth and character.
Light Reflectance Value
12
Light Reflective Value is the measurement of how much light a color bounces around. This is on a scale of 0 to 100 with 0 being pure black and 100 being pure white.
Pewter Green is a darker paint color – but not quite black. It will look pretty dark in rooms without much lighting and brighter in rooms with brighter lighting!
RGB Colors
R:94 G:98 B:99
RGB describes the amount of each color – red, green, and blue – present in a color. This is on a scale of 0 to 255 for each color. This is basically the color mix to make the color!
Hex Code
#5E6259

Undertones
Pewter Green as warm gray undertones. It can sometimes read as olive and sometimes read as charcoal, but even when it looks gray it still is heavily green.
Best uses
Since Pewter Green is such a dark color, it can be a lot on the walls of your house! Instead, I'd use it for:
cabinetry
an accent wall
the walls of a moody, well-lit bedroom
built ins such as in a library
doors or trim paired with white walls
a piece of furniture
Click here to get a peel & stick sample of Pewter Green!
Similar Colors
Benjamin Moore Dark Olive
Sherwin Williams Woodland Lichen
Behr Woodland Moss
Behr Pinecone Hill
Valspar Flora
Farrow & Ball Down Pipe
Coordinating Colors
Pewter Green can work well with a variety of color palettes, but I like to pair it with warm grays, light blues, or deep browns.
Warm grays
Click here for all of my favorite warm gray paint colors!
Light blues
Click here for all of my favorite light blue paint colors!
Deep browns
Trim Colors
Since Pewter Green is a warm paint color, I prefer to pair it with a soft white trim paint color.
Click here to get a peel & stick sample of Pewter Green!
Pewter Green color palette
Join the (free!) PaintColorProject+ community to access this exclusive color palette! Once you join, you can right click & save the palette image!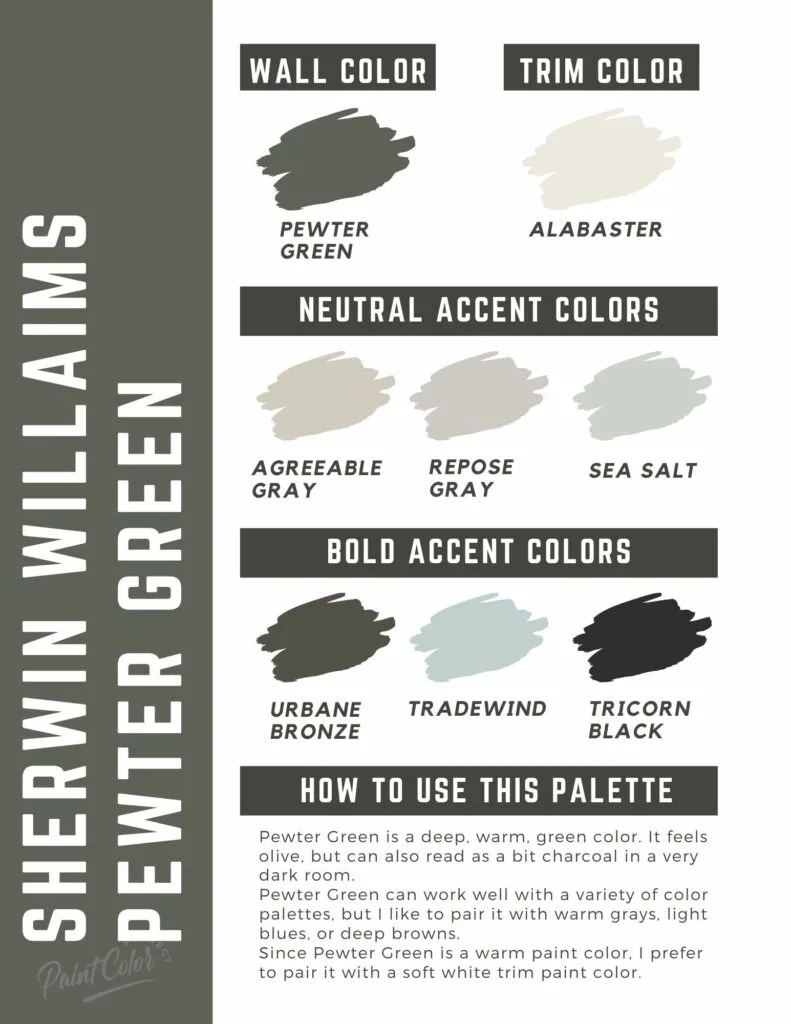 ———————
Still not sure what paint color to choose?
My Paint Color Formula ebook walks you through the painless process of expertly testing paint swatches to ensure you have the perfect color for your home.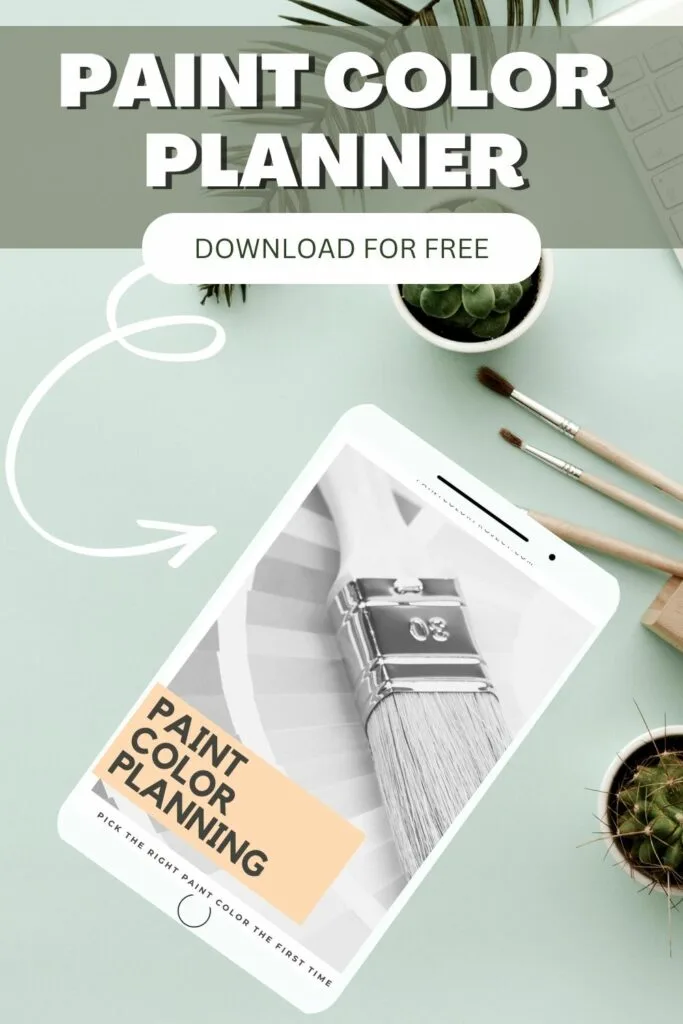 Thanks for reading!