Looking for a deep charcoal gray paint color? Let's talk about Sherwin Williams Iron Ore and if it might be the perfect color for your home!
Black paint is a dramatic and modern choice. While you might not paint all of your walls black, it's fantastic for an accent wall, a piece of furniture, doors, trim, or the exterior of a home.
Let's talk about Iron Ore and if it might be the right color for your home!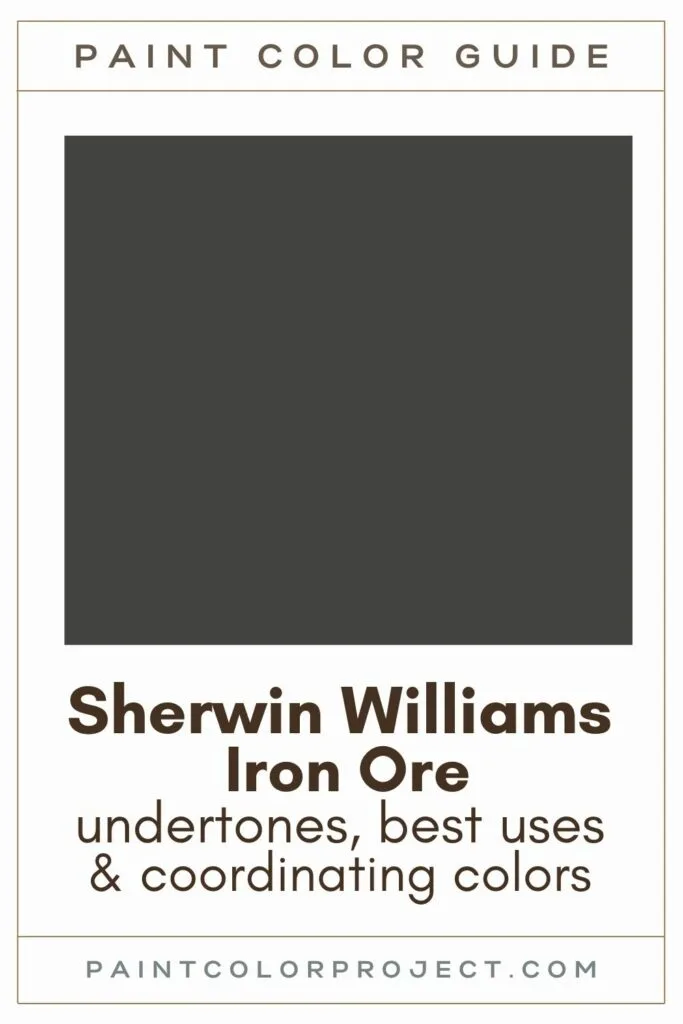 Sherwin Williams Iron Ore
Iron Ore is really a soft black – or a very deep charcoal gray. However, it reads as black in many situations and can be easier to decorate with than a true black.
Click here to get a peel and stick sample of Iron Ore!
Color Family
Iron ore is in the black color family.
See all of my favorite black paint colors here!
Light Reflectance Value
6
Light Reflective Value is the measurement of how much light a color bounces around. This is on a scale of 0 to 100 with 0 being pure black and 100 being pure white.
With an LRV of 6, Iron Ore is VERY dark! However, it's not as dark as Tricorn Black, with a LRV of 3!

RGB Colors
R:67 G:67 B:65
RGB describes the amount of each color – red, green, and blue – present in a color. This is on a scale of 0 to 255 for each color. This is basically the color mix to make the color!
Hex Code
#434341
Undertones
In warm natural light, Iron Ore can have slightly green undertones. This really appears outside in the sunlight on home exteriors.
Since it's a soft, warm black, it can also sometimes read as slightly chocolatey brown. It also has charcoal or gray undertones – but in a warm toned way.
In general, Iron Ore will look more charcoal in bright spaces and more true black in low-light rooms.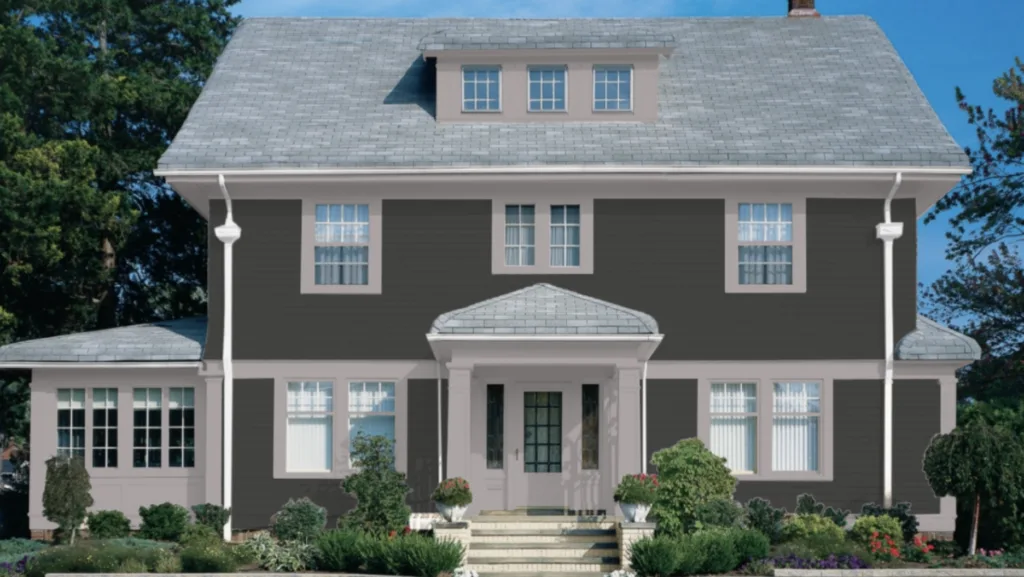 Best uses
Kitchen or bathroom cabinets
Doors
Trim
Home exterior
Accent wall
Furniture
Walls of a room you want to feel cozier
Creating a focal point such as a fireplace
Click here to get a peel and stick sample of Iron Ore!
Similar Colors
SW Armory
SW Clove
SW Darkroom
Behr Oil Shale
Behr Charcoal Gray
Benjamin Moore Notre Dame
Valspar Noir
Coordinating Colors
Iron Ore pairs best with other colors with warm undertones. Avoid blues and other cool toned colors.
Light warm grays:
Colonnade Gray
Anonymous
Shitake
Natural Linen
Bold warm colors:
Pottery Urn
Whole Wheat
Renwick Olive
Red Barn
Uber Umber
Coral Clay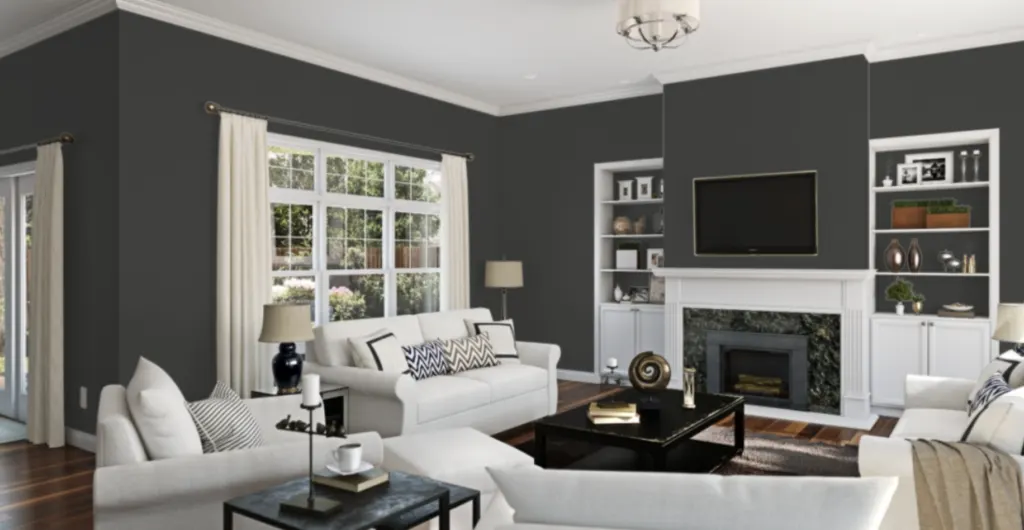 Trim Colors
You can pair Iron Ore with a bright white trim for a high contrast, crisp look, or with a creamier white for a slightly softer vibe.
Benjamin Moore Simply White
Sherwin Williams Extra White
Behr Ultra Pure White
Benjamin Moore White Dove
Behr Cameo White
Sherwin Williams Iron Ore color palette
Join the (free!) PaintColorProject+ community to access this exclusive color palette! Once you join, you can right click & save the palette image!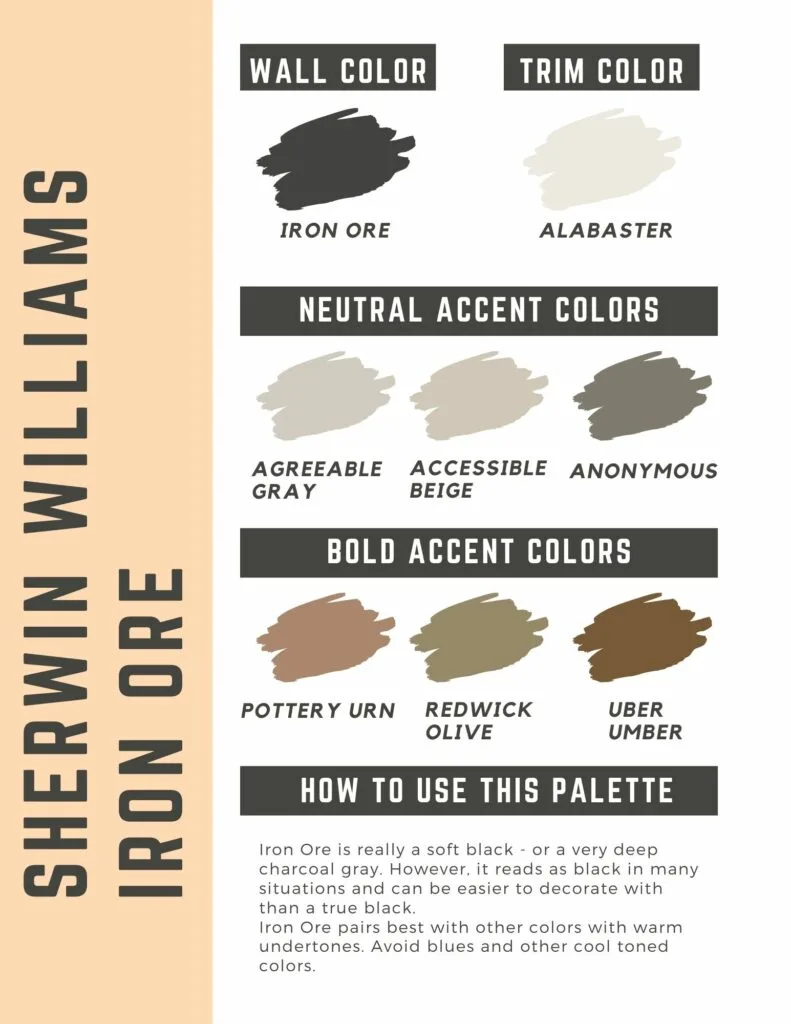 Sherwin Williams Iron Ore FAQs
Does Sherwin Williams Iron Ore look green?
Iron Ore can read as slightly green in warm lighting. This includes natural light.
Is SW Iron Ore black?
Iron Ore is a light, soft black paint color.
Does Iron Ore paint look blue?
Iron Ore doesn't read as much blue as it does green.
Does Iron Ore go with agreeable gray?
Iron Ore and Agreeable Gray are both warm toned and coordinate nicely.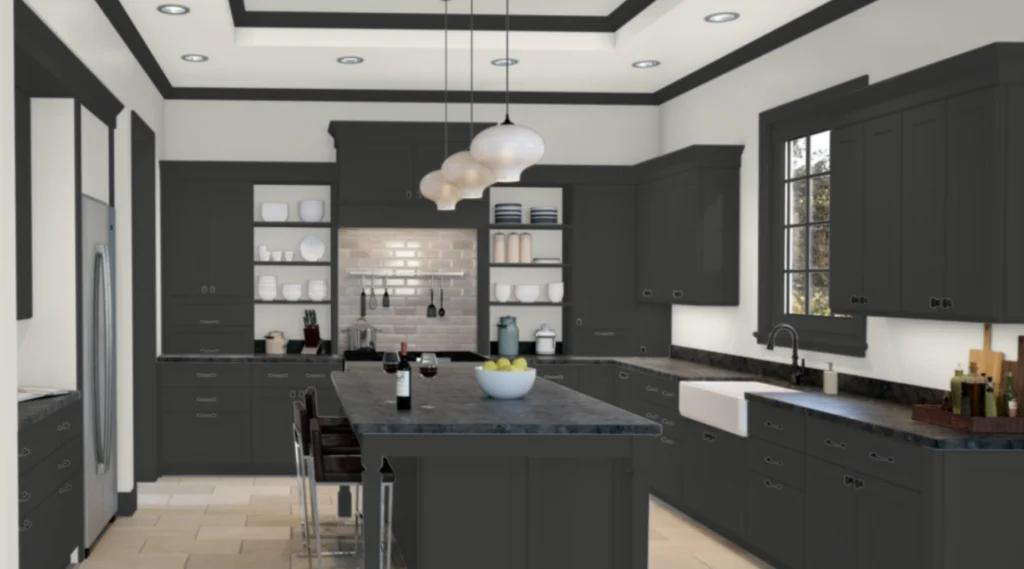 What is one shade lighter than Iron Ore?
Sherwin Williams Peppercorn is a similar deep gray color that is slightly lighter than Iron Ore.
Does Iron Ore go with accessible beige?
Iron Ore and Accessible Beige are both warm toned gray colors and coordinate nicely.
Iron Ore vs Peppercorn
Peppercorn has an LRV of 10, which compared to Iron Ore's 6, so Peppercorn is a slightly lighter and more gray color.
Sherwin Williams Urbane Bronze vs Iron Ore
These are both super dark, moody paint colors. They're both really flattering, beautiful colors that work well in many spaced. But, set them side by side and you will see the differences!
Iron Ore is darker and more black than Urbane Bronze. So, if you really want black, Iron Ore is more likely to give you what you want.
If you decorate with cool accents – crisp white, blue, or other cool tones – Iron Ore is going to be easier to incorporate. The very warm tones of Urbane Bronze could clash. Iron Ore, on the other hand, can usually play well with warm toned accent colors.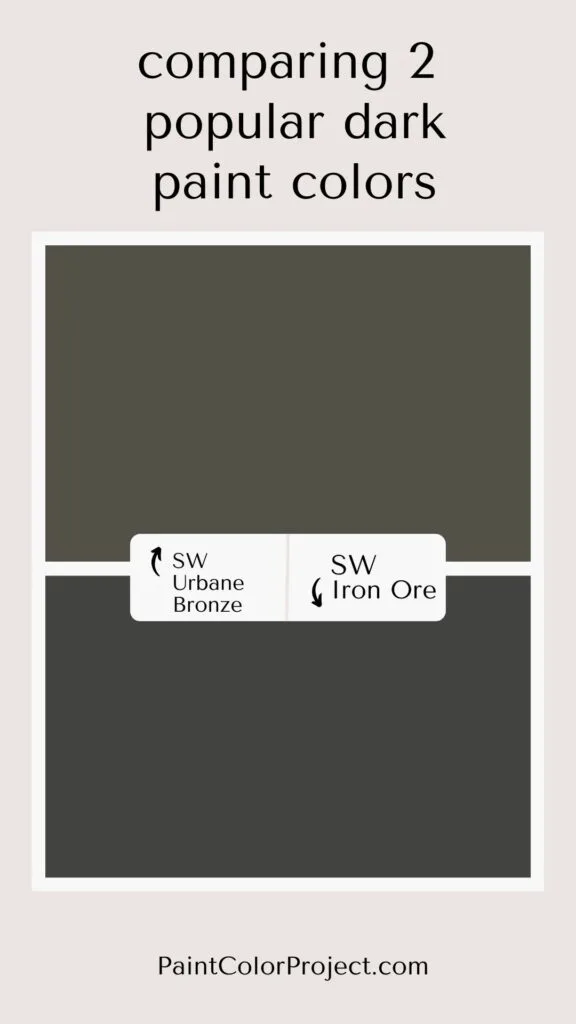 Read my full comparison of Iron Ore vs Urbane Bronze here!
Peppercorn vs Iron Ore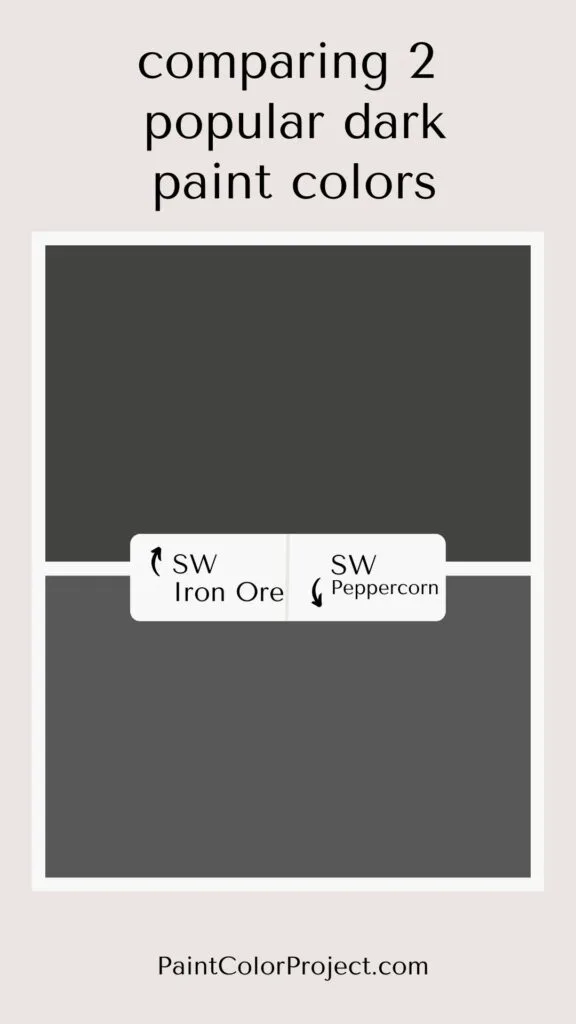 These colors are similar at a glance. However, Iron Ore is slightly darker and more chocolate brown (warm toned) while Peppercorn is cooler.
Click here to read my complete Peppercorn vs Iron Ore comparison.
Still not sure what paint color to choose?
My Paint Color Formula ebook walks you through the painless process of expertly testing paint swatches to ensure you have the perfect color for your home.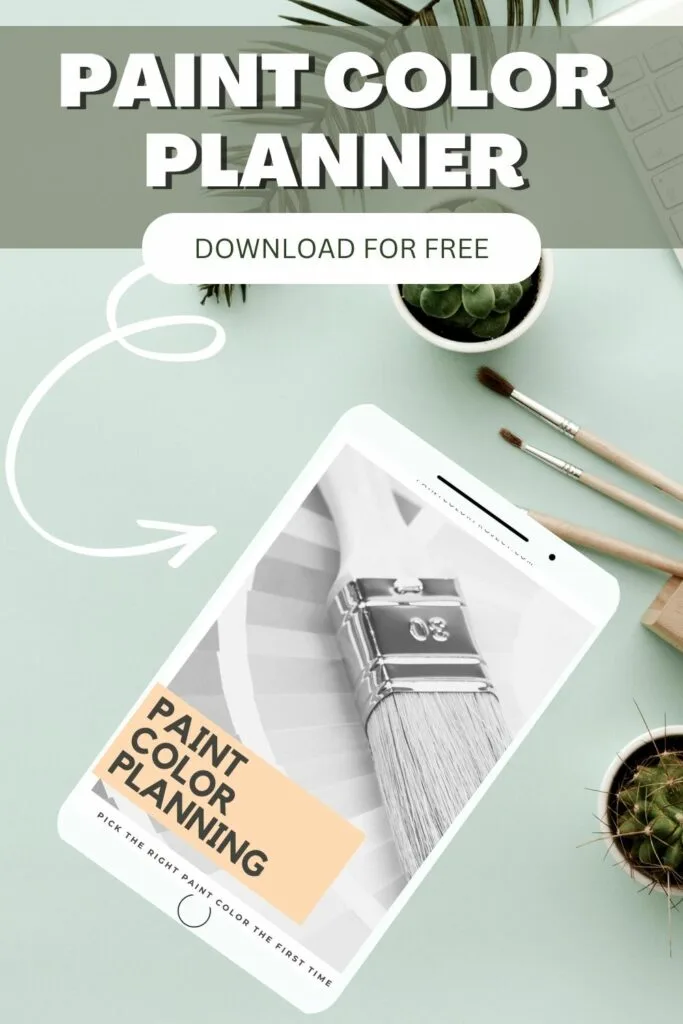 Thanks for reading!