Looking for a deep, dark gray or black paint color? Let's talk about Sherwin Williams Urbane Bronze vs Iron Ore and if one of these colors might be perfect for your home.
Dark paint colors are magical. They can be an unexpected choice, but are a great way to add drama to a space.
I love a deep dark gray or off-black color for trim, accent walls, and furniture. Black doors just instantly look custom and high end!
But – black paint colors are a bit like white in that there are a surprising number of shades with a lot of nuance to them.
Two of the most popular colors in this category are Sherwin Williams Urbane Bronze and Iron Ore.
Read my full review of Urbane Bronze
Read my full review of Iron Ore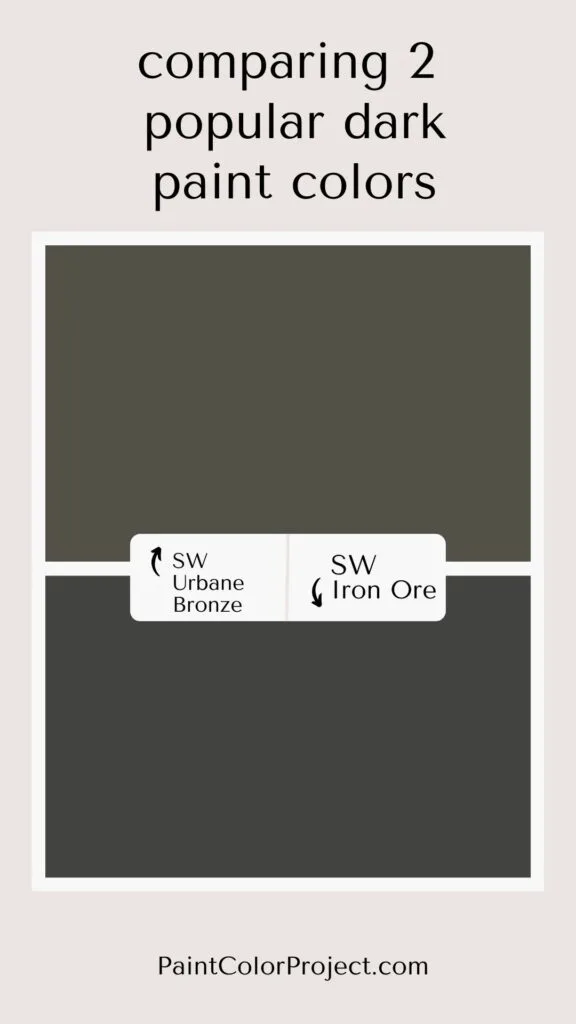 Sherwin Williams Urbane Bronze vs Iron Ore
These are both super dark, moody paint colors. They're both really flattering, beautiful colors that work well in many spaced. But, set them side by side and you will see the differences!
What is similar about Urbane Bronze vs Iron Ore?
Both of these colors are dark with warm undertones. They both actually have a decent amount of green to them, which keeps them feeling a touch more brown or gray than pure black.

What is different about Urbane Bronze vs Iron Ore?
With an LRV of 6, Iron Ore is actually darker than Urbane Bronze. Iron Ore is really verging on the black category, while Urbane Bronze is more in the dark brown zone.
Urbane Bronze
Iron Ore
LRV
8
6
RBG
R:84 G:80 B:74
R:67 G:67 B:65
Undertones
Urbane Bronze is a brown paint color with gray undertones. Additionally, this color has a green undertone to it. This can come out if it's paired with a lot of warm wood or wood accents. The green is gorgeous, but if you don't want any green, beware!
In warm natural light, Iron Ore can have slightly green undertones. This really appears outside in the sunlight on home exteriors.
Since it's a soft, warm black, it can also sometimes read as slightly chocolatey brown. It also has charcoal or gray undertones – but in a warm toned way.
Iron Ore is much blacker and a bit cooler toned than Urbane Bronze. With no pure black next to it, Iron Ore will read as pretty black to most eyes. It's just got enough brown to make it feel soft and not harsh.
On the other hand, Urbane Bronze looks a bit more chocolate brown and has a bit more interest to it. It really transforms in different lighting, sometimes really leaning into the green undertones.
Undertones
Both of these shades have green and brown, warm undertones. Iron Ore is a bit less warm – more neutral. It is still warm – but feels a bit cool next to super-warm Urbane Bronze!
They also are both a bit softer than a pure black – especially paired with a true black accent, the brown will show more.
How do I decide between these two colors?
Iron Ore is darker and more black than Urbane Bronze. So, if you really want black, Iron Ore is more likely to give you what you want.
If you decorate with cool accents – crisp white, blue, or other cool tones – Iron Ore is going to be easier to incorporate. The very warm tones of Urbane Bronze could clash. Iron Ore, on the other hand, can usually play well with warm toned accent colors.
Iron Ore also feels more dramatic, while Urbane Bronze feels a bit softer. I'd say if you are painting walls, Urbane Bronze is likely a bit easier to decorate with. Iron Ore is really great for trim, doors, and accents, though!
Still not sure what paint color to choose?
My Paint Color Formula ebook walks you through the painless process of expertly testing paint swatches to ensure you have the perfect color for your home.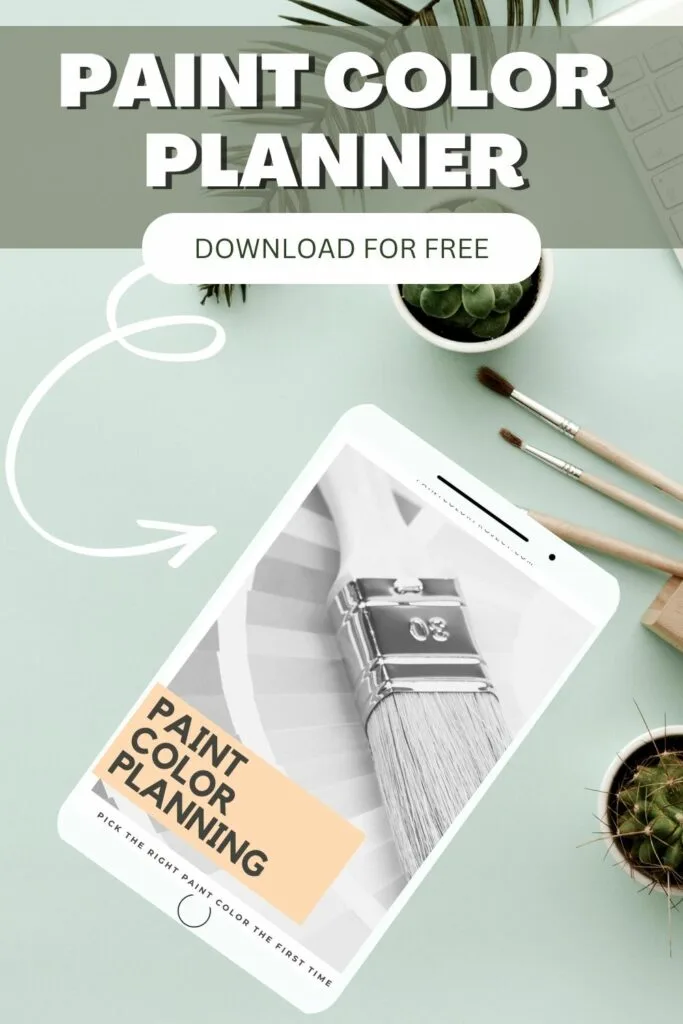 Thanks for reading!