Looking for the perfect black paint color? Let's talk about Benjamin Moore Raccoon Fur and if it is perfect for your home!
Black paint colors are a great way to make a space feel sleek and modern. A soft black is a lot of the time easier to decorate with compared to a harsh, more pure black shade.
Let's talk about Benjamin Moore Raccoon Fur and if it might be right for your home!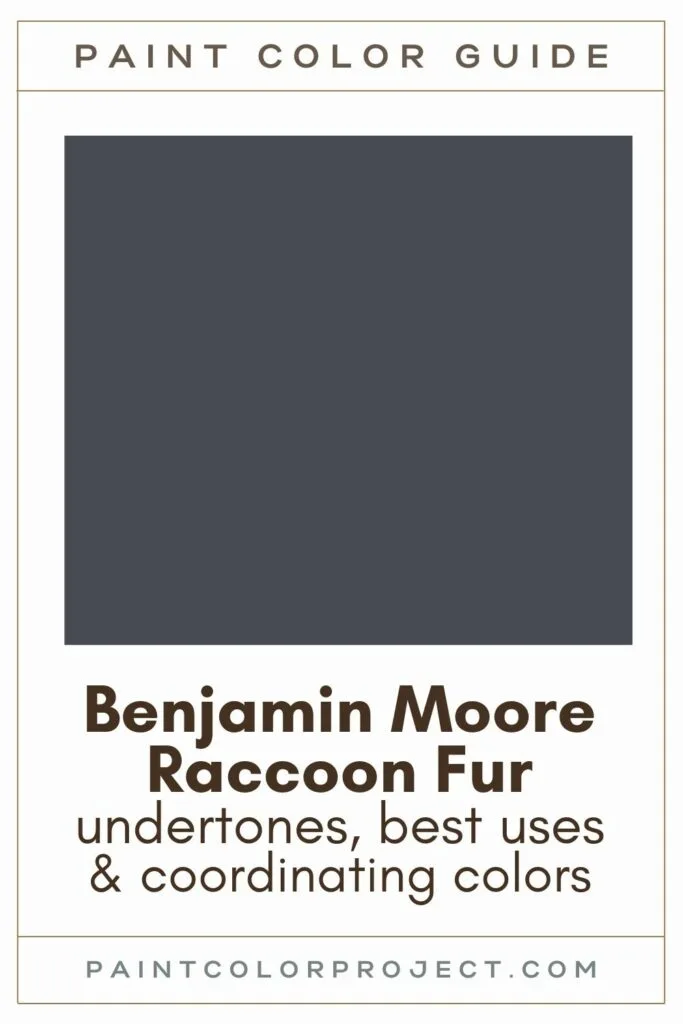 Benjamin Moore Raccoon Fur
Raccoon Fur is a soft black paint color with slight violet undertones. This color is great because it is dark enough to read as black without being harsh, and has just enough blue to keep it interesting.
Click here to get a peel and stick sample of Raccoon Fur.
Color Family
Raccoon Fur is in the black color family.
See all of my favorite black paint colors here.
Light Reflectance Value
8
Light Reflective Value is the measurement of how much light a color bounces around. This is on a scale of 0 to 100 with 0 being pure black and 100 being pure white.
With an LRV of 8, Raccoon Fur is pretty dark. However, it is on the lighter side for a black color!
RGB Colors
R:70 G:74 B:77
RGB describes the amount of each color – red, green, and blue – present in a color. This is on a scale of 0 to 255 for each color. This is basically the color mix to make the color!
Hex Code
#464A4D

Undertones
Raccoon Fur has charcoal gray, inky blue, and slight violet undertones.
Cool tones – like cool, artificial lighting or north facing windows – are going to bring out that cool blue tone.
On the other hand, warm tones – like bright natural light – will make this shade appear a bit more neutral toned.
This shade can read a bit navy, so if you dislike that – pick a more true black!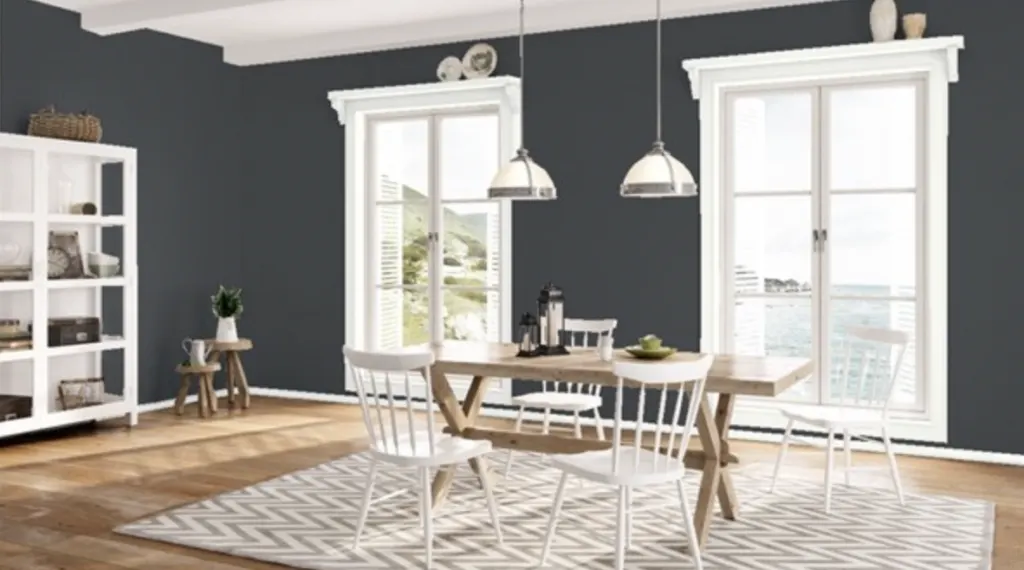 Best uses
Kitchen or bathroom cabinets
Doors
Trim
Home exterior
Accent wall
Furniture
Walls of a room you want to feel cozier
Creating a focal point such as a fireplace
Similar Colors
BM Witching Hour
BM Black Horizon
BM Gravel Gray
Behr Ink Black
Sherwin Williams Cyberspace
Valspar Sooty Lashes
Click here to get a peel and stick sample of Raccoon Fur.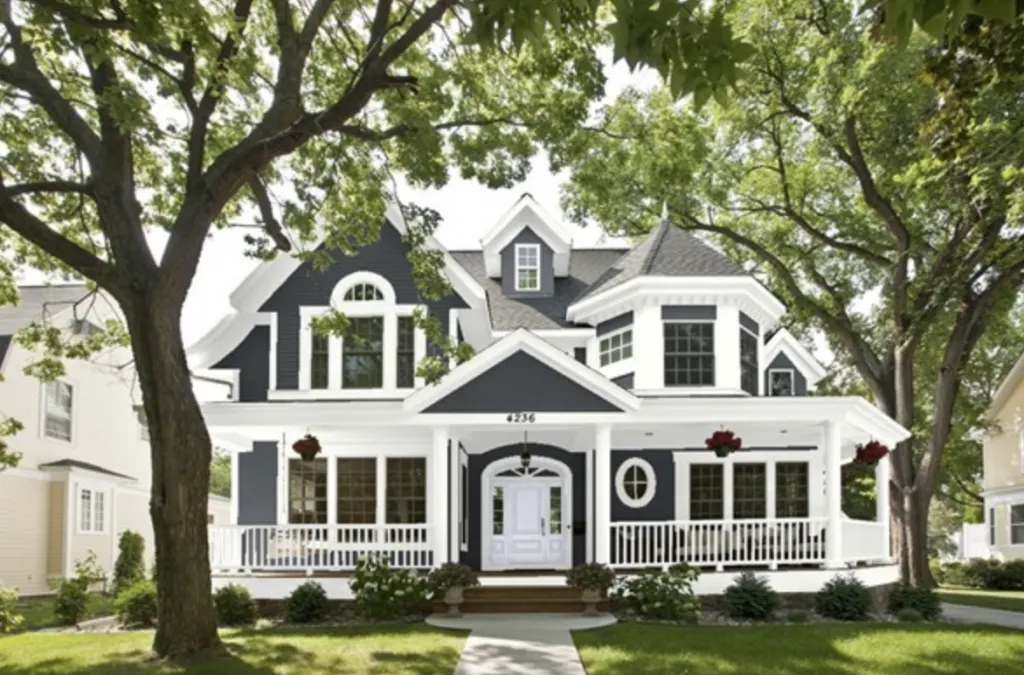 Coordinating Colors
Because of the cool tones to Raccoon Fur, I prefer to stick to pairing it with other cool tones. This will mostly be lighter cool toned grays, whites, or bolder shades of blue and violet.
Light Cool Grays:
White Heron
Gray Cloud
Chalk White
Timber Wolf
Blues:
Water's Edge
Solitude
Little Falls
Smoke
Lavender Blue
Iced Lavender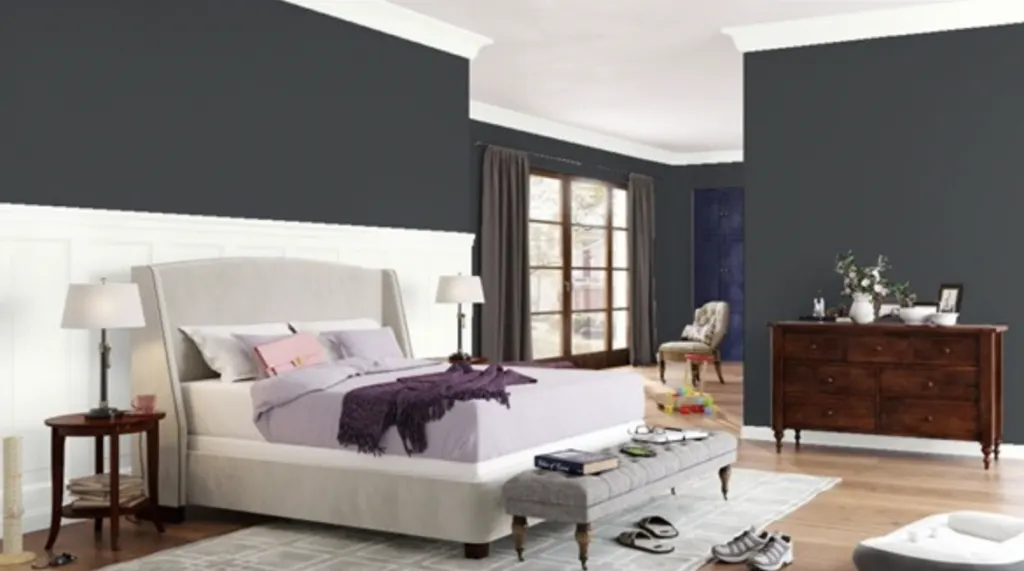 Trim Colors
Because of the blue undertones in this shade, I prefer to stick to a cool, bright white trim color.
Benjamin Moore Simply White
Sherwin Williams Extra White
Behr Ultra Pure White
Benjamin Moore's Raccoon Fur color palette
Join the (free!) PaintColorProject+ community to access this exclusive color palette! Once you join, you can right click & save the palette image!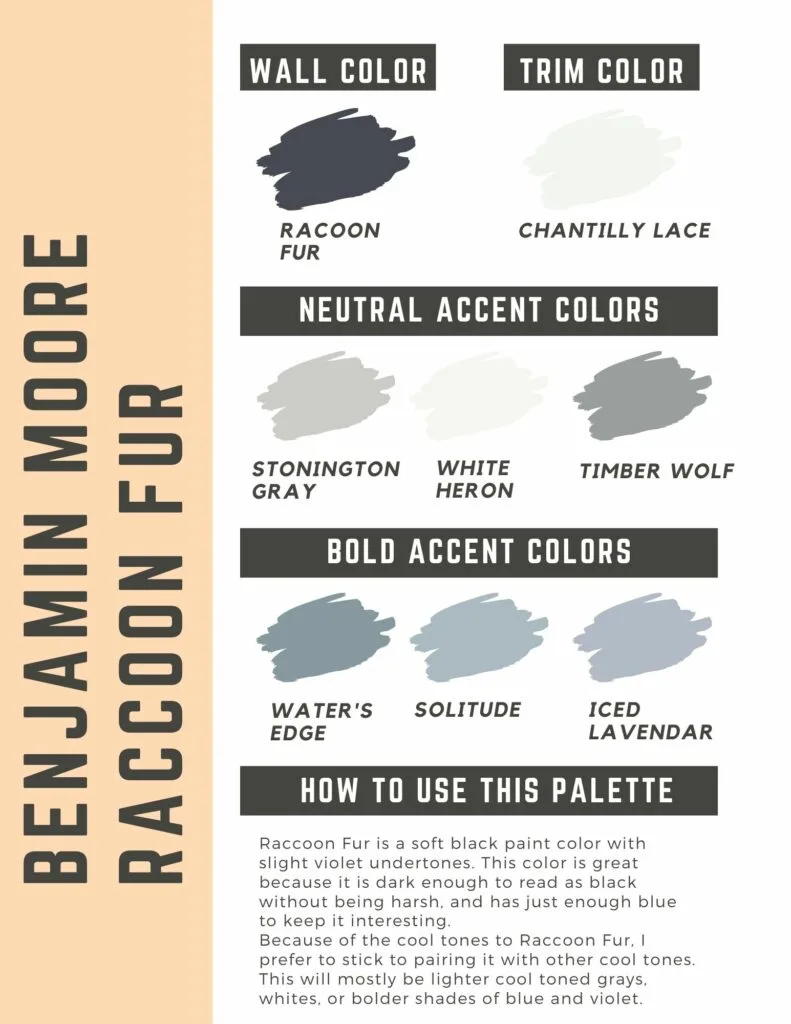 Click here to get a peel and stick sample of Raccoon Fur.
Still not sure what paint color to choose?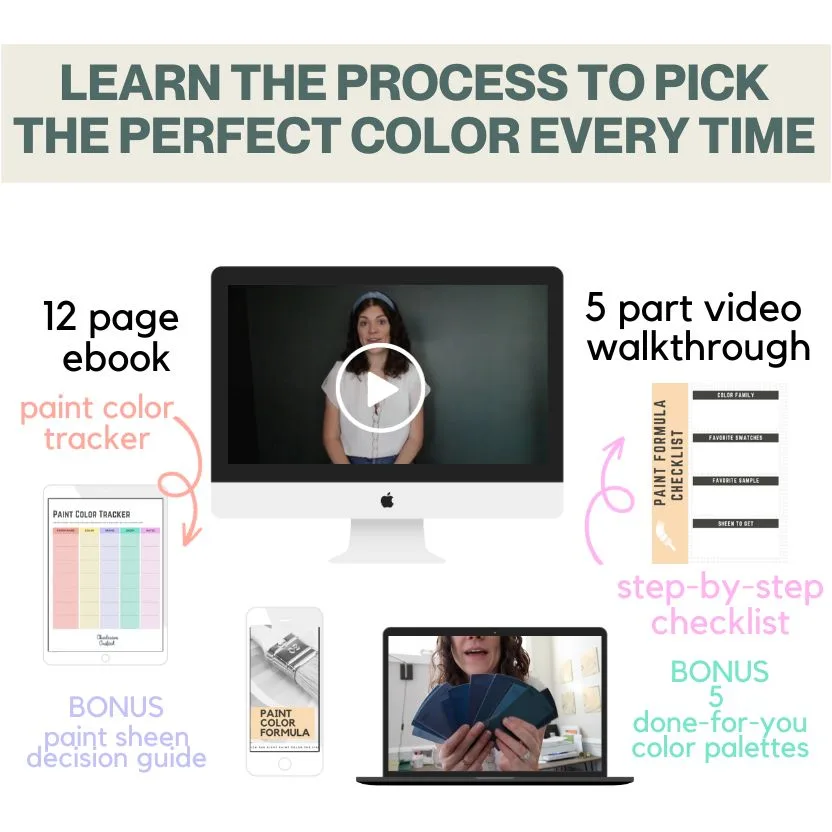 My Paint Color Formula ebook walks you through the painless process of expertly testing paint swatches to ensure you have the perfect color for your home.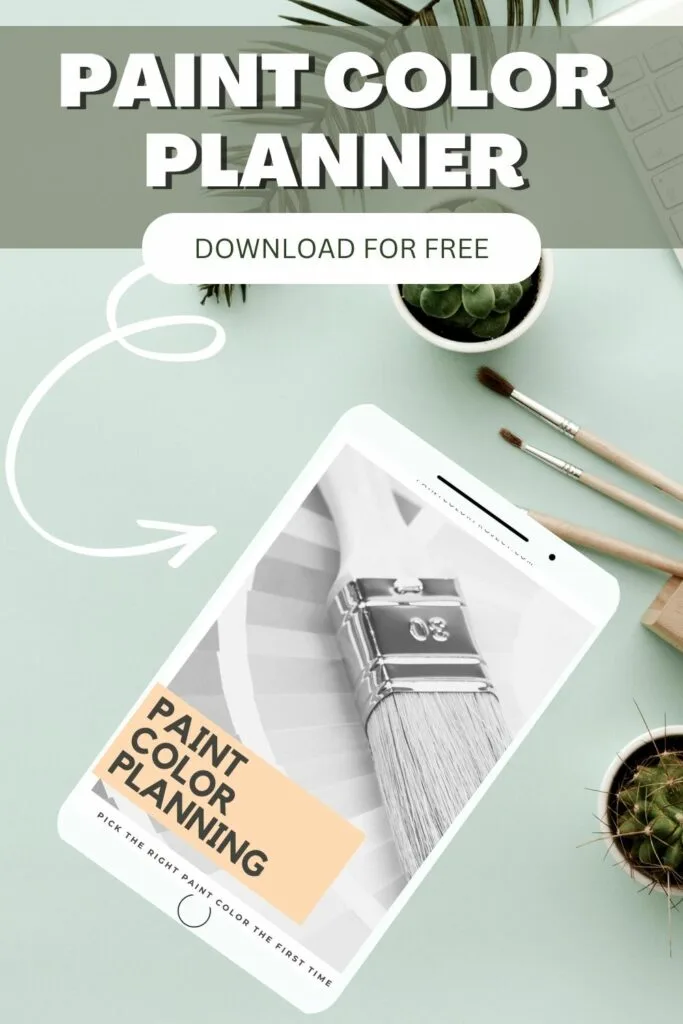 Thanks for reading!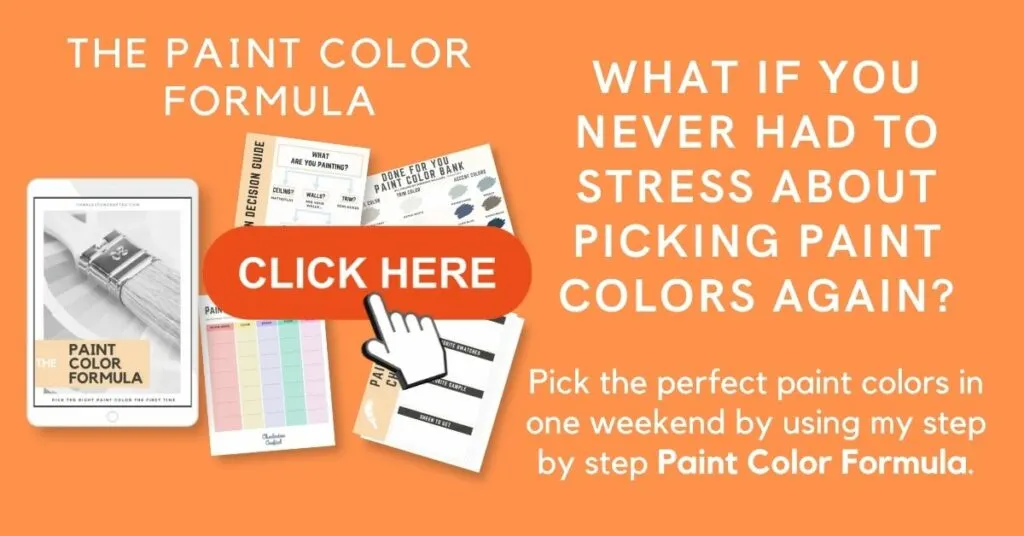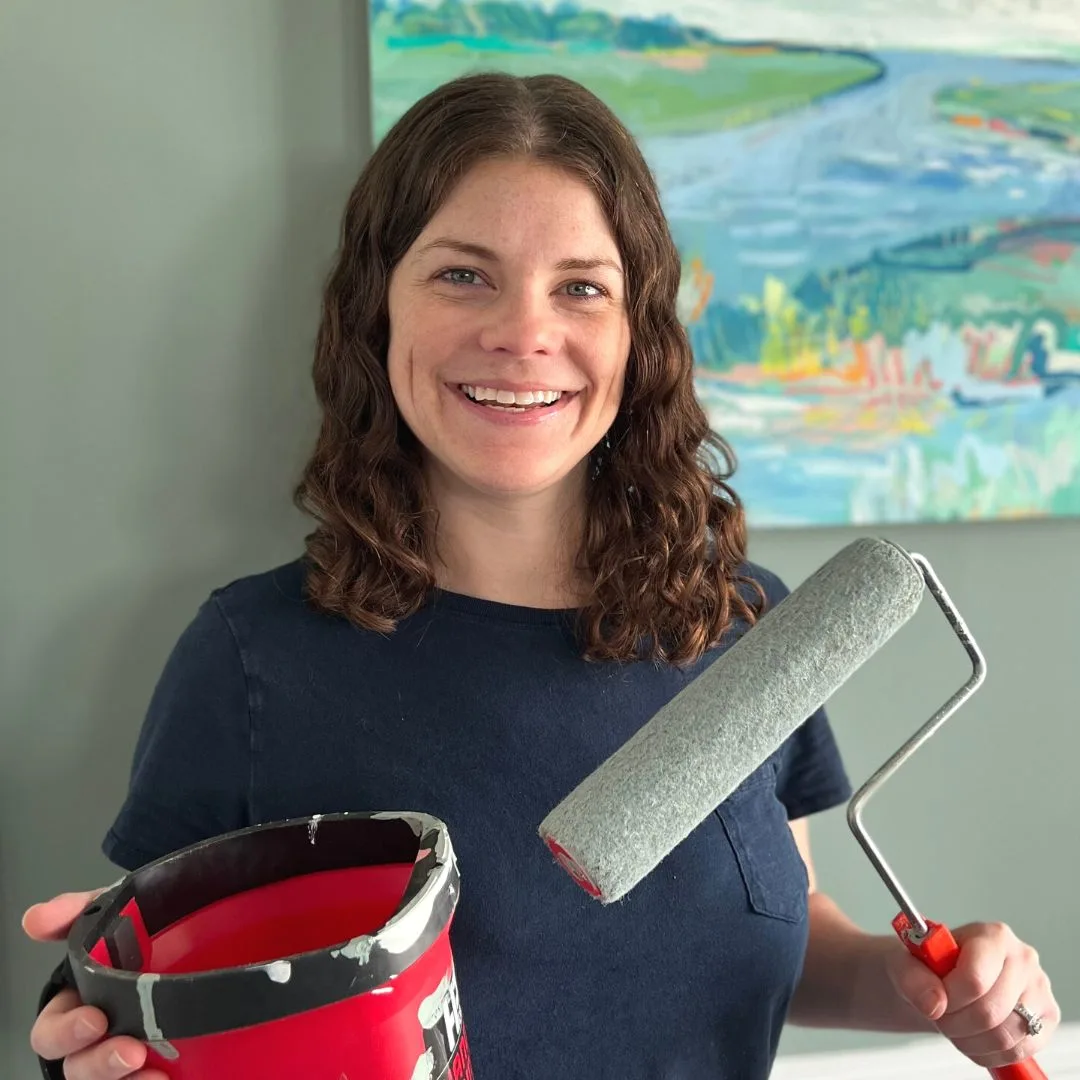 Morgan is passionate about home decor and paint colors. She has been sharing DIY home decor tips since 2012 at CharlestonCrafted.com. From there, she learned to love paint colors, and the Paint Color Project was born in 2022!