Looking for the perfect deep moody gray paint color? Let's chat about Sherwin Williams Peppercorn and if it might be perfect for your home.
I love a dark paint color. There is something so moody and luxe feeling about a deep, dark painted wall.
Whether you want to paint your walls dark or are just looking for an accent color, I bet you came across the suggestion of Sherwin Williams Peppercorn.
This dark gray paint color is super popular for a reason – it is very neutral and easy to decorate with.
Let's dive into Peppercorn and if it might be right for your home!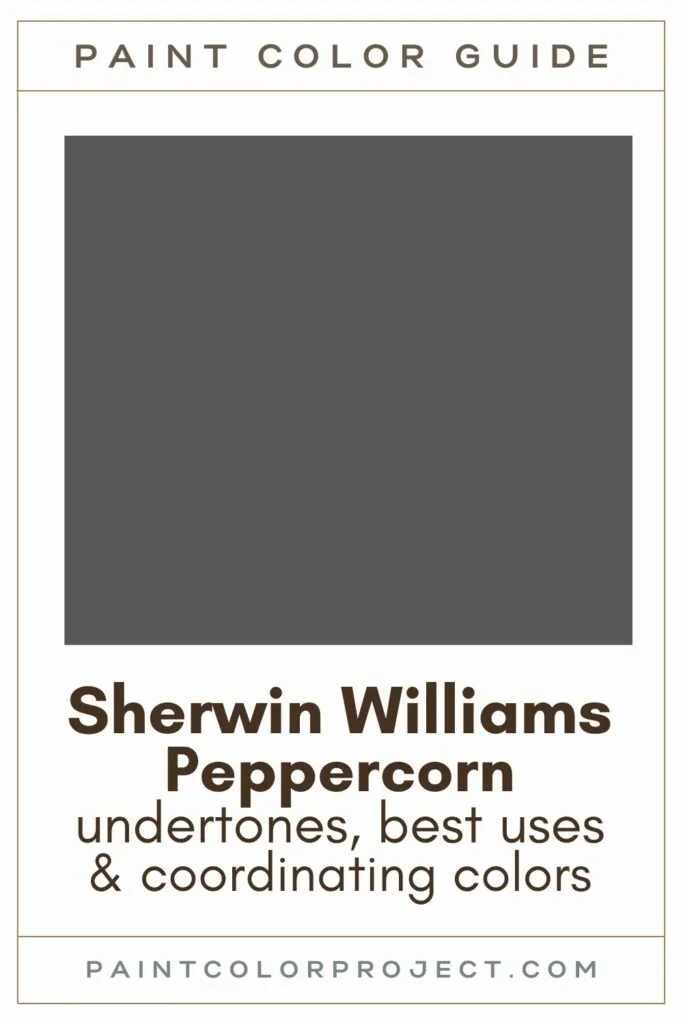 Sherwin Williams Peppercorn SW7674
Peppercorn is a very deep gray that is almost charcoal and, in certain lighting, can almost look black. It does not have a lot of undertones, making it a "true gray" and flexible enough to work in many spaces.
Color Family
Peppercorn is in the gray color family.
Light Reflectance Value
10
Light Reflective Value is the measurement of how much light a color bounces around. This is on a scale of 0 to 100 with 0 being pure black and 100 being pure white.
Shades of black usually have an LRV under 5, with 0 being pure black. So, with an LRV of 10, Peppercorn is a very dark gray, but is definitely not black.
RGB Colors
R:88 G:88 B:88
RGB describes the amount of each color – red, green, and blue – present in a color. This is on a scale of 0 to 255 for each color. This is basically the color mix to make the color!
This RGB spread alone shows you how well balanced this color is and how it really doesn't much favor one undertone.
Hex Code
#585858

Undertones
One reason that Peppercorn is such a popular choice for a dark gray paint color is that it is very neutral in its undertones. It doesn't feel cold or overly warm – there's not purple or orange to it.
Overall, Peppercorn reads as a slightly cool (but not blue) dark gray paint color.
This will be brought out more – and feel moody and dramatic – in north facing or darker rooms.
In brighter, southern facing rooms, the way the color reads can change more throughout the day.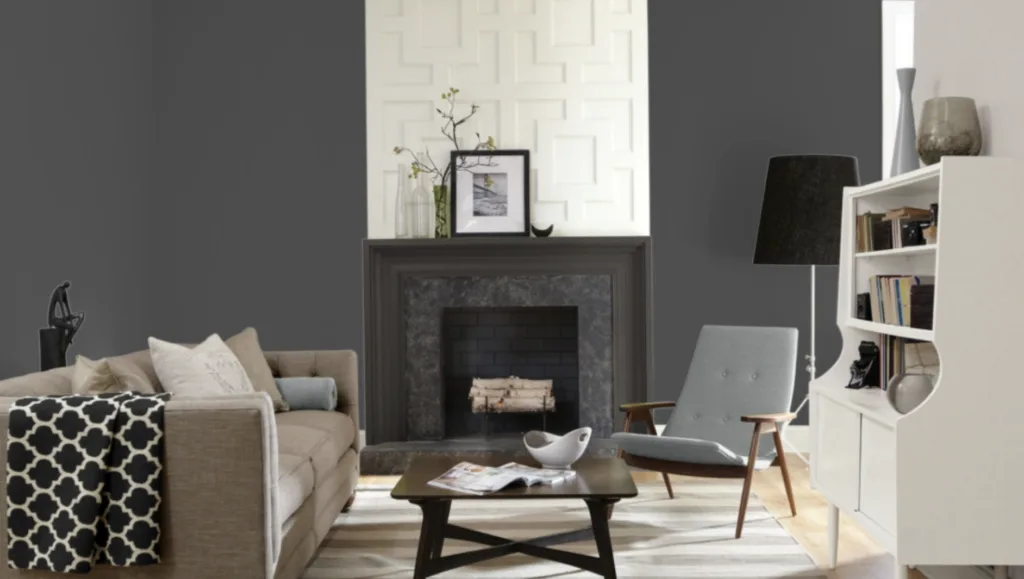 Best uses
A dark, dramatic color like Peppercorn is usually too dark and moody for the average homeowner to use on all of the walls of a room. I like Peppercorn for:
Accents walls
Furniture
Trim, paired with white walls
Doors
Walls + ceiling in a small powder room
All of the walls in a very bright, large bedroom
Cabinetry
Exterior of a home
Remember – in a dark room, this color is going to look very close to black. In a brighter room, it will look more like a shade of gray.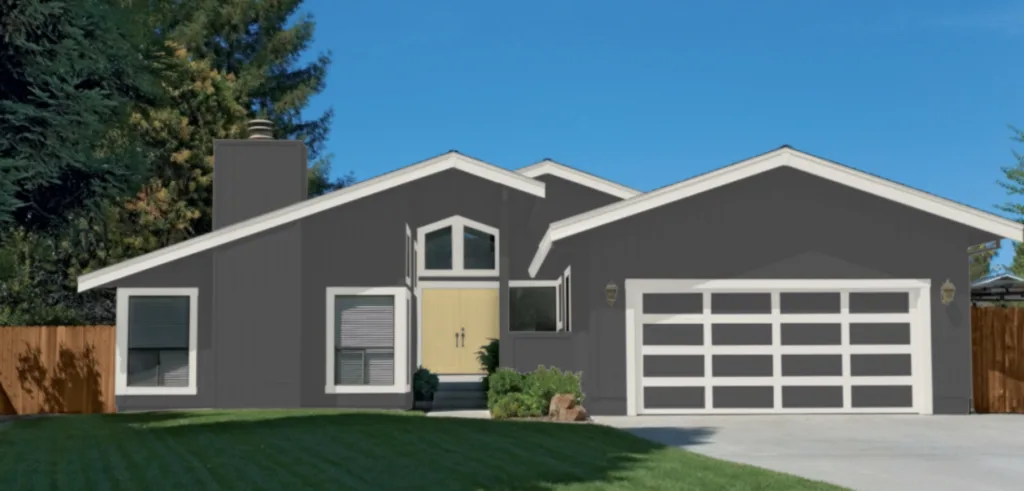 Similar Colors
SW Forged Steel
SW Ironclad
SW Thunder Gray
BM Almost Black
BM Gray
BM Ambler Slate
Behr Shadow Mountain
Behr Hematite
Valspar Sable Calm
Coordinating Colors
I like to pair Peppercorn with lighter colors for contrast and to break up the dark color. Since Peppercorn is a touch cool, stay away from very warm colors, which can clash.
Light grays:
Light greens: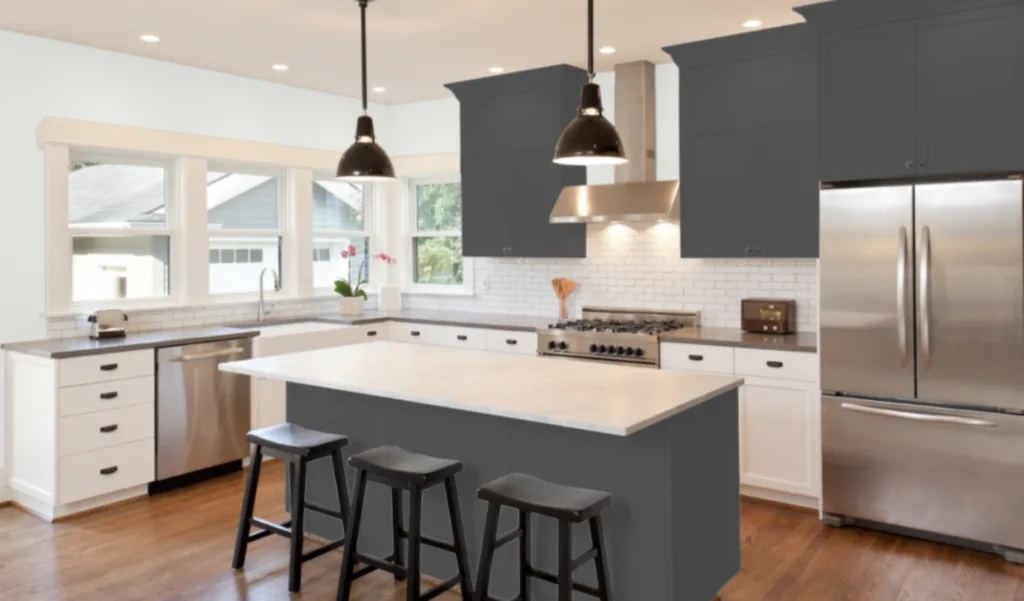 Trim Colors
I prefer a pure white trim with cool paint colors, Peppercorn included.
Benjamin Moore Simply White
Sherwin Williams Extra White
Behr Ultra Pure White
Sherwin Williams Peppercorn color palette
Join the (free!) PaintColorProject+ community to access this exclusive color palette! Once you join, you can right click & save the palette image!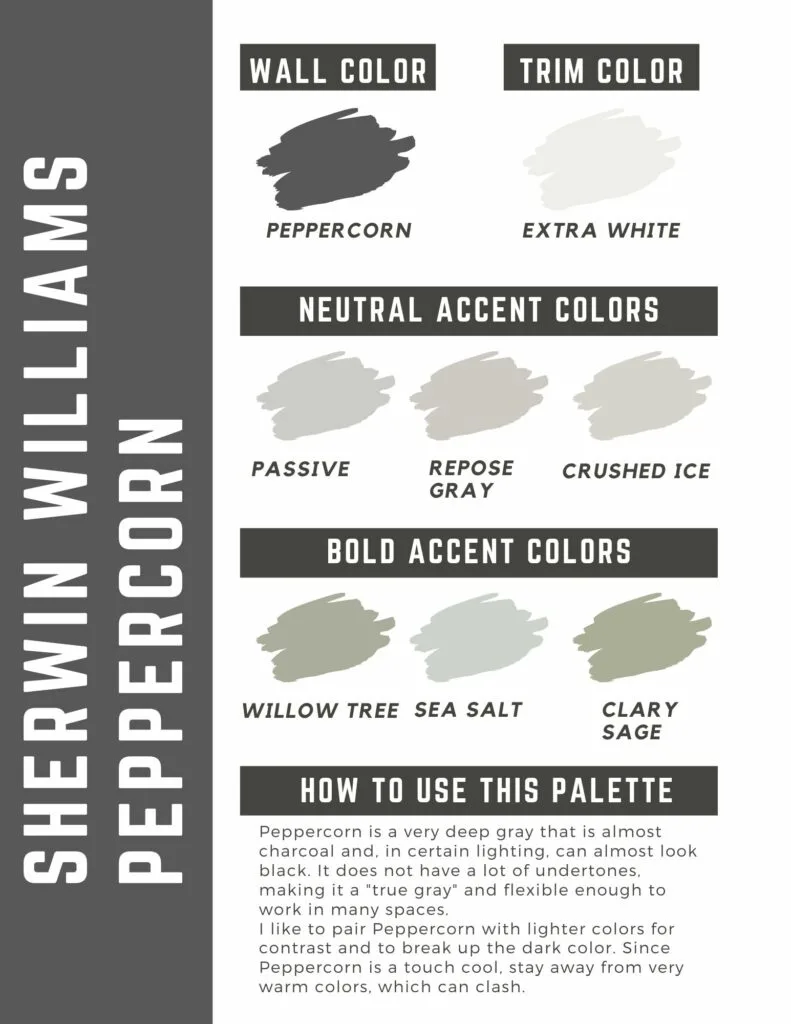 SW Peppercorn FAQs
What colors go well with Sherwin Williams peppercorn?
Pair peppercorn with other cool toned accent colors. I prefer something at least a few shades lighter for contrast in color depth.
Is Sherwin Williams peppercorn a warm color?
No, Peppercorn has cool undertones. It has a touch of inky blue or even purple to it, which keep it from being warm.
Is Peppercorn a gray or black?
Peppercorn is a dark gray color, but it is not as dark as a black. However, in a dark room without much natural light, it can definitely look black to the eye! Pair it with something pure black to see that it is not in fact black!
What is a shade lighter than peppercorn?
The colors on the same paint strip as Peppercorn are (from lightest to darkest):
Argos SW 7065
Gray Matters SW 7066
Tin Lizzie SW 9163
Cityscape SW7067
Grizzle Gray SW 7068
Peppercorn SW 7674
Does repose gray go with peppercorn?
Yes, Repose Gray and Peppercorn work nicely together and have enough shades difference to be interesting!
Does peppercorn look blue?
Peppercorn does not normally read as blue, but it does have inky blue undertones to it. It is most likely to look blue in cool light – such as from north-facing windows – which will bring out the blue undertones.
What Benjamin Moore color is closest to Peppercorn?
BM Almost Black is often suggested as a similar shade to Peppercorn. However, they are not exactly the same and should not be used as a precise color match!
Peppercorn vs Iron Ore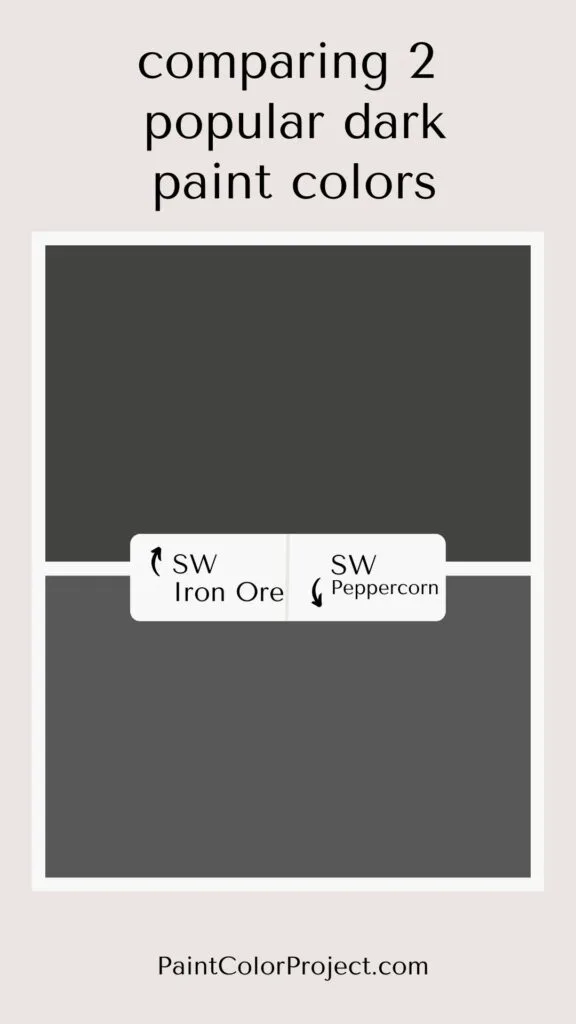 These colors are similar at a glance. However, Iron Ore is slightly darker and more chocolate brown (warm toned) while Peppercorn is cooler.
Click here to read my complete Peppercorn vs Iron Ore comparison.
Peppercorn vs Tricorn Black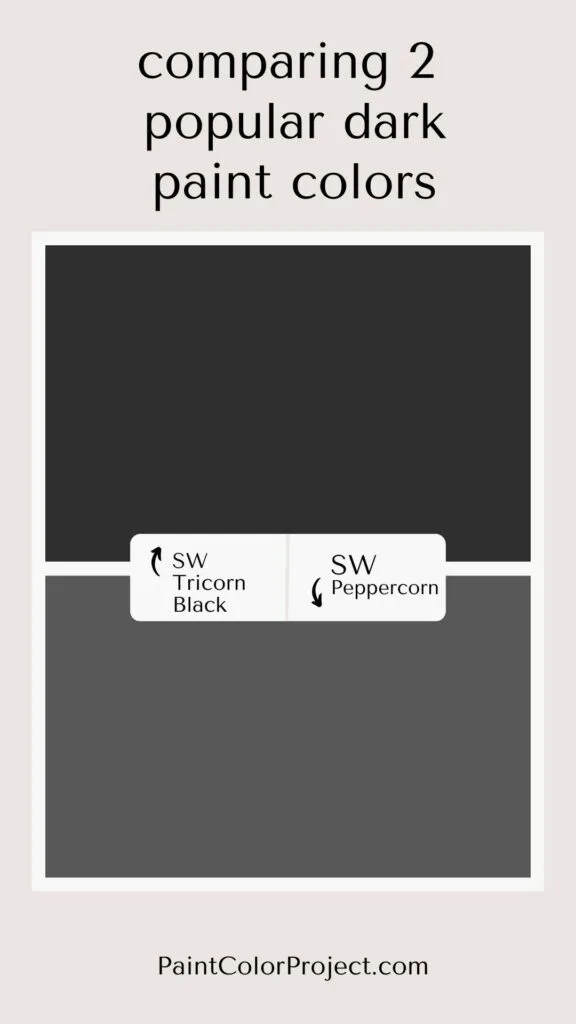 These are both very dark paint colors that are considered "neutral" and do not have heavy undertones that lean any particular way.
The biggest difference between these colors is in the Light Reflectance Value, or the color depth. That brings us to the main difference – Tricorn Black is really black, while Peppercorn is a deep charcoal.
Click here to read my complete Peppercorn vs Tricorn Black comparison
Peppercorn vs Urbane Bronze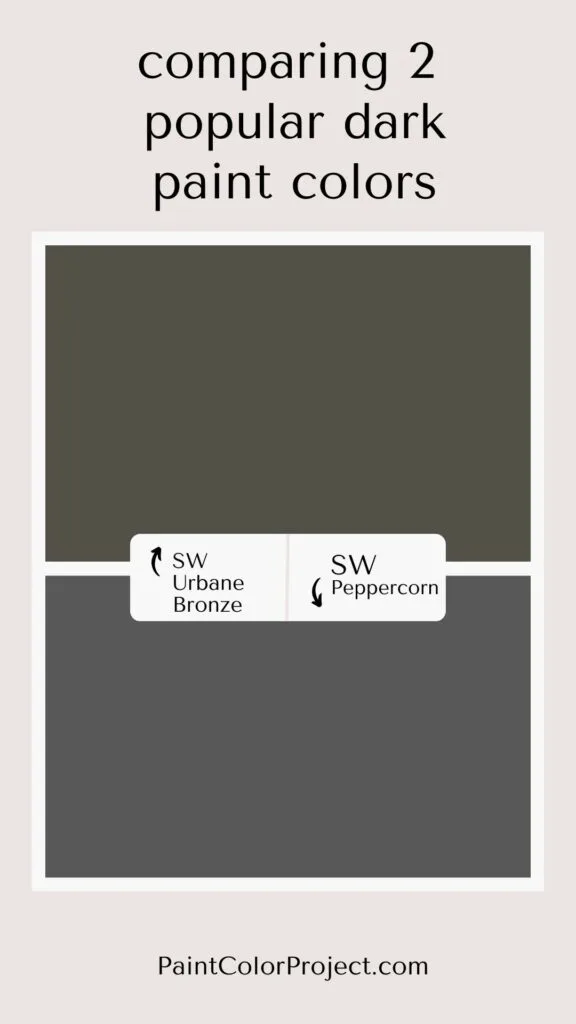 Undertone is the biggest difference between these two shades. Urbane Bronze is much more brown, while Peppercorn is cooler.
Peppercorn really reads like a charcoal gray, while Urbane Bronze is more… bronze! and really like a deep dark brown/gray.
Click here to read my complete Peppercorn vs Urbane Bronze comparison.
Still not sure what paint color to choose?
My Paint Color Formula ebook walks you through the painless process of expertly testing paint swatches to ensure you have the perfect color for your home.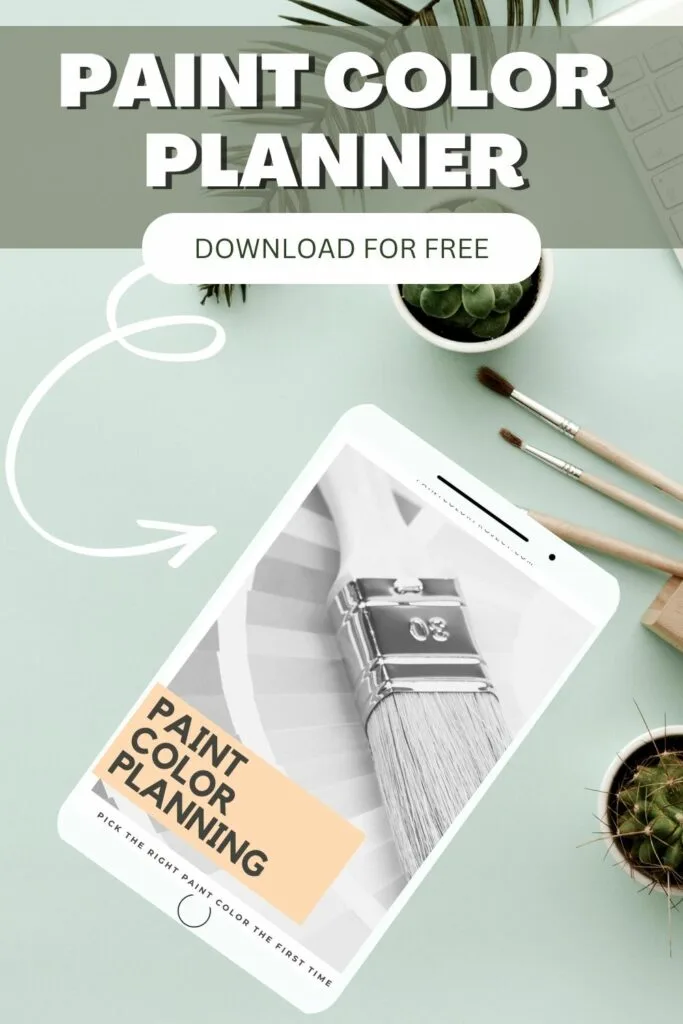 Thanks for reading!