Want to paint your bedroom white? Here are the best white paint colors for bedrooms with tips on picking and decorating with the perfect shade!
Your bedroom is one of the most important rooms in your home because it is where you will rest and relax and recharge from the day.
For this reason, I always encourage new homeowners to decorate their bedroom first.
Whether you have moved into a new home or you were just decorating a home you have lived in for a while, paint can go a long way to transform your bedroom.
Today I wanted to talk about white paint colors. White is one of the most popular paint colors that exists.
And it's no question why – white is the ultimate neutral when it comes to walls.
You can pair white walls with literally any other accent color and make it work. But, not all white paint colors are the same.
All it takes is one trip to the paint desk to be quickly overwhelmed by all of the white paint, swatches and paint possibilities.
Today I wanted to talk about what goes into picking a white paint color for your bedroom and share some of my favorite shades of white paint.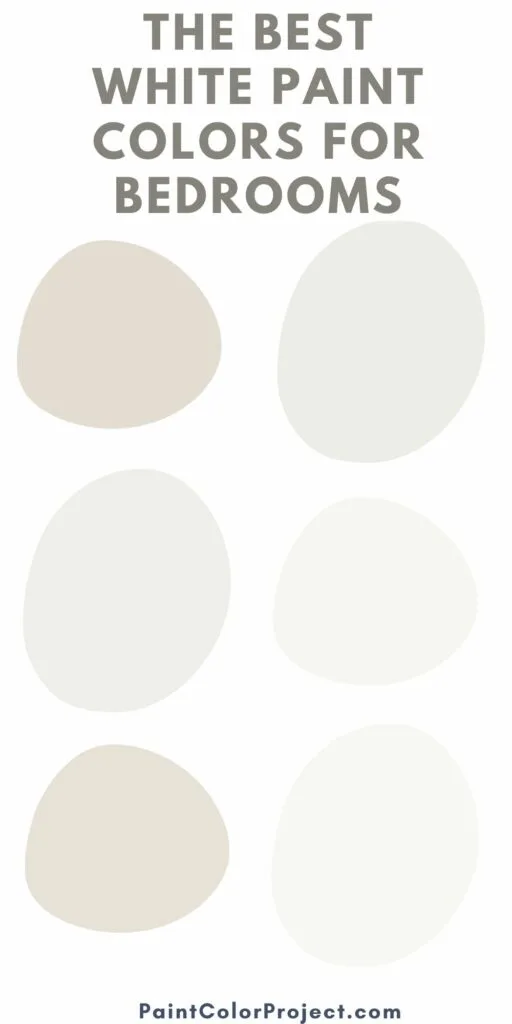 The Enchanting Allure of White in Bedrooms
White walls are timeless and popular for a reason. White paint can make even a small room, feel bright, airy, and spacious.
White paint serves as an excellent backdrop for other decor elements and accents. But, white walls can get really boring really quickly if you aren't careful.
White and Subtle Accents
The easiest way to jazz up a room with white walls is to obviously add color to your accent decor. But, you can actually make your white room interesting and still keep it monochromatic white.
The best way to do this is to use various shades of white, such as off-white, Ivory, or cream to death and interest to your bedroom.
You can also use subtle accents and textiles, furniture, and decor to bring warmth and personality to a white space.
You are going for a white on white space, it's super important to use texture to create visual interest.
This could be choosing different textures of textiles on your bed like an interesting knit throw, or silky pillows, or a velvet duvet.
Bring in additional textures with your furniture like rattan or wicker, even if it isn't a bright color to add some interest visually.
Understanding Undertones in White Paint Colors
It is super important to understand that not all white pink colors are the same. And one of the biggest differences between different shades of white is the undertone.
Undertone is the colors underneath the surface that make each specific color have its own unique luck. A white paint color could have yellow, gray, green, pink, or even purple undertones.
It is super important to know the undertones in your white paint color before committing to it.
I highly suggest looking at the undertones in the existing features in your room that will not be changing.
In the bedroom, this is usually flooring, trim, and any furniture you will be keeping.
If it is warm toned, like Golden Oak, pick a warm tone white paint color.
If you have cool gray floors or gray tile or cool toned furniture or art, pick a cooler white paint color.
This is not a hard and fast rule, but it is significantly easier especially if you are beginner at decorating to just stick to one color undertone in a room room
Tips for Painting with White
White paint can take three coats or more if you are painting over a dark paint color underneath. I highly suggest, especially if you're painting over a dark wall, that you splurge on a high end paint here.
Talk to the paint desk where you are shopping and tell them the color you were painting over and that you are painting the walls white.
They will help you be able to pick the right paint.
Just know that cheaper pants are going to take more coats which will take you more time and could end up meaning that you need an extra can which will cost you more overall anyways.
Accent Colors for White Walls
Here are some accent colors that you might want to consider pairing with your white walls in your bedroom.
Soft Neutrals
These gentle, muted hues encompass a range of warm grays and beige tones that effortlessly blend with white walls.
Soft neutrals create a comforting and harmonious atmosphere, making them an ideal choice for achieving a balanced and cozy bedroom retreat.
Coastal Blues
Inspired by the soothing colors of the ocean and sky, coastal blues infuse a sense of tranquility and serenity into white bedrooms.
These shades perfectly complement white walls, evoking a coastal-chic ambiance that transports you to a calming beachside retreat.
Sea Salt (SW 6204) – Sherwin-Williams
Palladian Blue (HC-144) – Benjamin Moore
Hale Navy (HC-154) – Benjamin Moore
Watery (SW 6478) – Sherwin-Williams
See all of my favorite blue paint colors!
Warm Greens
Bringing nature indoors, warm greens add a touch of earthy serenity to white bedrooms.
These hues work harmoniously with white walls, creating a refreshing and inviting space reminiscent of a peaceful botanical oasis.
Olive Grove (SW 7734) – Sherwin-Williams
Rosemary Green (SW 6187) – Sherwin-Williams
Sage Green Light (144) – Farrow & Ball
Soft Fern (2144-40) – Benjamin Moore
See all of my favorite warm green paint colors!
Dusty Pinks
These delicate and subtle pink shades exude elegance and softness, complementing white walls to perfection.
Dusty pinks create a romantic and dreamy atmosphere, adding a hint of femininity and sophistication to the bedroom.
Pink Damask (2174-60) – Benjamin Moore
Blushing Bride (2085-50) – Benjamin Moore
Peignoir (286) – Farrow & Ball
See all of my favorite light pink paint colors!
Luxurious Golds
Infuse your white bedroom with a touch of glamour by incorporating luxurious gold accents.
These warm metallic shades create a sense of grandeur and sophistication, elevating the overall elegance of the space.
Antique Brass (SW 6228) – Sherwin-Williams
Champagne Gold (K18-2) – Behr
Warm Gold (2155-20) – Benjamin Moore
Gilded (SW 6694) – Sherwin-Williams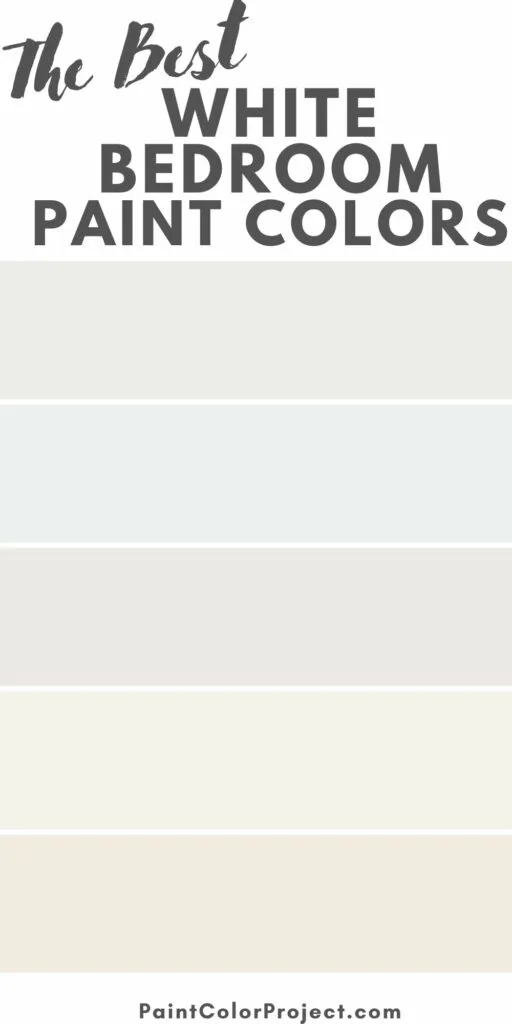 The Top White Paint Colors for Bedrooms
Here are my favorite white paint colors to use in bedrooms, broken down by their undertone.
Bright Whites
Warm Whites
Cool Whites
True Whites
What's your favorite white paint color?
Still not sure what paint color to choose?
My Paint Color Formula ebook walks you through the painless process of expertly testing paint swatches to ensure you have the perfect color for your home.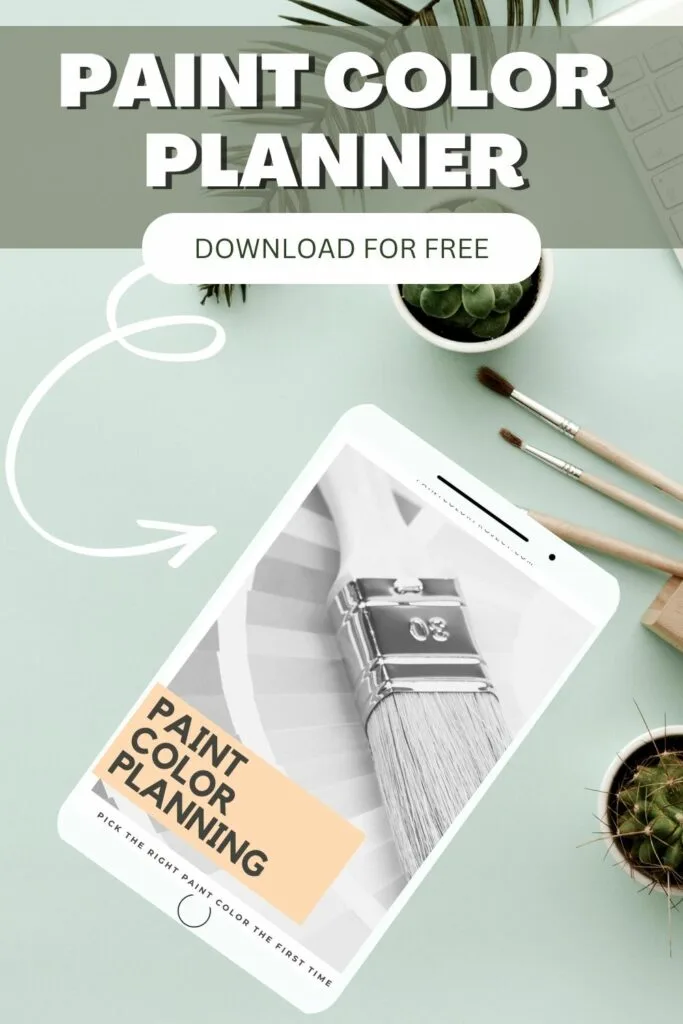 Thanks for reading!