Looking for the perfect neutral paint color for your home? Here are the best cream paint colors that might be perfect for your space!
People love a neutral paint color. I get it – neutral paint lets you choose from many accent colors and you can even completely change your accent color scheme without having to re-paint.
Cream is a popular neutral paint color because it is soft, warm, and generally easy to decorate with.
While cream isn't an exciting color per se, it's very unlikely that anyone will be offended by cream. So, it can be a great color to paint your house to sell, too.
Let's talk about cream paint and some of my very favorite shades!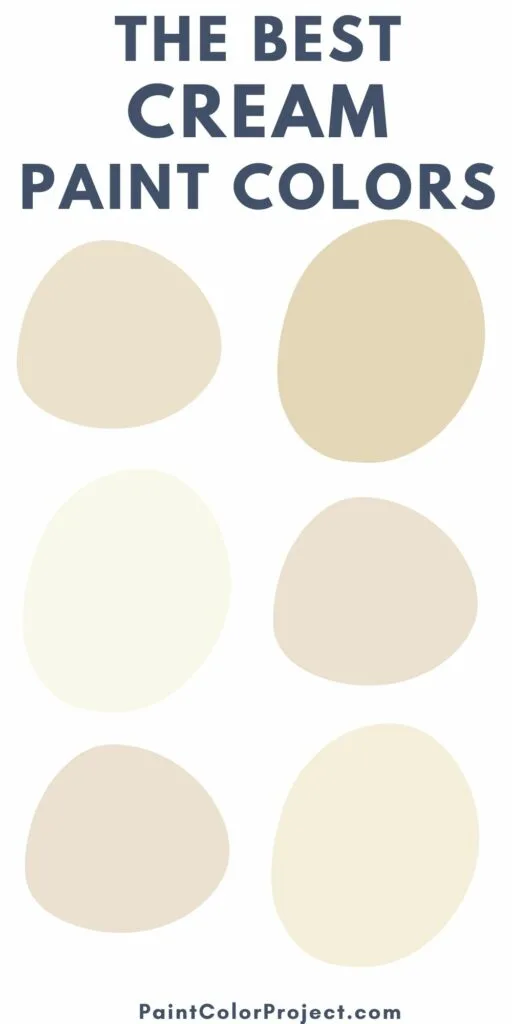 What color is cream, anyway?
Cream is considered to be a very pastel shade of yellow. It is often an off white with heavy yellow undertones.
We will talk about Light Reflective Values later, but in general:
LRV > 82 is considered white
LRV of 73-82 is considered off-white
LRV < 73 is considered not white at all
Why should you choose a cream color paint?
Cream paint colors are light and bright enough to be very neutral. But, they are more warm and inviting compared to a pure white color. Cream colors also tend to have a bit more depth to them than a warm toned white, making it great for very brightly lit spaces that can easily get washed out.
Cream walls are a soft, neutral option that works with many styles of home decor and different accent colors. Cream colored walls are timeless and this paint job will last you decades!
How do I choose a shade of cream paint?
The easiest way to get a feel for a cream paint color is to get a paint strip for that color.
Follow it down to darker shades. Suddenly it's easier to see the brown, yellow, or pink undertones!
Here's my complete guide to paint undertones!
The easiest way to tell this is to get a paint swatch and hold it up to something true white – such as a sheet of paper. Suddenly the undertones pop out!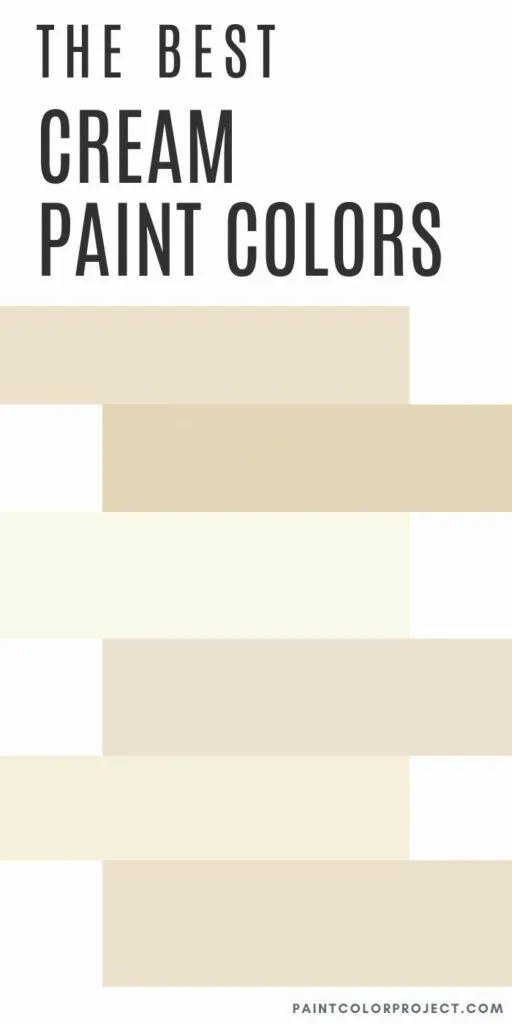 What colors go well with cream?
Cream is a neutral color that can go with almost any other color palette.
You can pair cream with other soft colors, such as light tans or grays, for a very neutral look. Or, you can pair it with darker or bold accent colors and it will still look great.
As far as picking accent colors, I suggest looking at the undertones of the cream paint color that you are using and choose colors that coordinate with or complement that tone!
Click here to see all of my favorite neutral, cool, and warm toned accent colors to pair with cream walls!
What is the best cream paint?
The best cream paint will depend on where you want to use it and the light conditions and existing fixtures in your home.
My general process for picking a wall paint color is:
Get paper swatches
Hold them up all over the room
Pick 3-5 to get samples of
Paint on multiple walls, look at it day and night, lights on and light off
Pick a color
You can read ALL about my paint color formula here!
What is the best cream paint color for walls?
The best cream paint color for walls will be one that the undertones coordinate with the existing features in your room.
Remember that light white and cream wall paint has a high LRV – light reflective value. This means that they are light colors but also means that they literally reflect light. They will reflect the colors of the things around them.
So, a cream wall next to a big red rug will get a bit of a pink reflection to it. If the cream already has pink undertones, it could look VERY pink! This is why it's so important to swatch colors in yours space!
What is the best cream paint color for the exterior of a home?
Once again, you are going to want to choose a cream paint with undertones that match or coordinate with the color of your home's siding, brick, or stone outer finish.
Also consider how much bright light the space gets – whites and off whites can look completely washed out in bright light! If your home gets a lot of sun, pick a color with a lower LRV and a bit more color to it to help it still look creamy.
What is the best cream paint color for kitchen cabinets?
Pick a cream paint color that complements your existing features like countertops, flooring, and backsplash. If there are existing white elements, I'd suggest comparing those specifically to the paint samples to be sure you have a good match or at least they don't clash.
What is the best trim color to pair with cream walls?
You have two options for trim colors when it comes to cream walls: use the same cream on the trim, or go with more of a stark white.
If you want a soft, layered look, going tone-on-tone with the trim is a great option. Choose a flat or eggshell paint for the walls and a semi gloss finish on the trim, but make it the same color!
If you prefer more contrast, you will want a clean white trim. Anything too warm will look murky next to the cream. Think of Extra White or Ultra White, for example.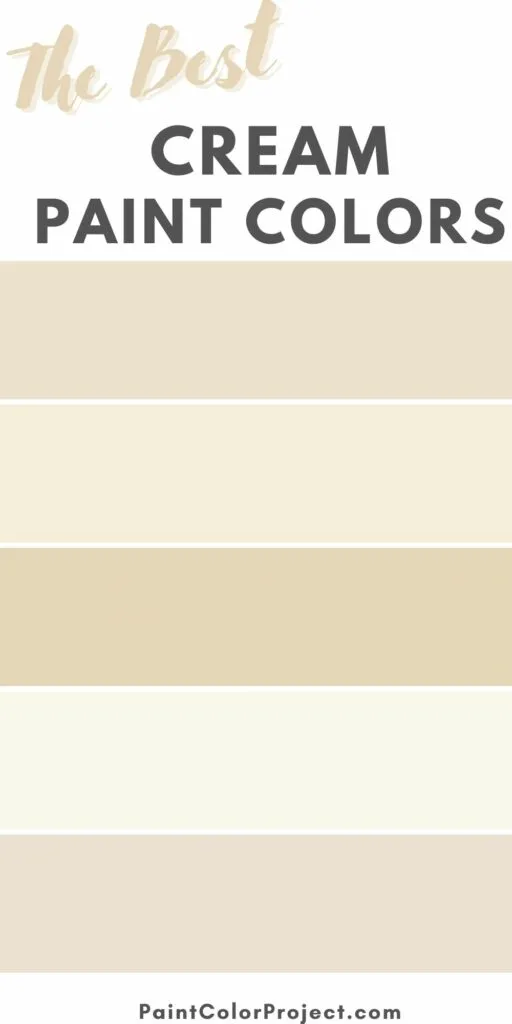 Popular Cream Paint Colors
Some of the most popular cream paint colors are:
*Light Reflective Value measures the percent of light that is shone at a color that bounces back. The lower the number, the darker the color is!
What is your favorite cream wall color?
Thanks for reading!