Looking for the perfect muted light blue paint color? Let's talk about Sherwin Williams Icy and if it might be perfect for your home!
We live in Charleston, South Carolina, so I personally have a big soft spot for coastal style home decor. Our first house was very coastal themed, in fact.
Light blue paint colors are perfect for coastal style homes. They also work well for lake houses or even with traditional-preppy style decor. Finally, a light blue wall is great if you want a spa aesthetic in a bedroom or bathroom.
The problem with blue walls is that you don't want them to be BLUE blue. That's why it's important to choose a soft blue with gray undertones to tone it down.
Let's talk about Sherwin Williams Icy, a beautiful mid-toned blue-gray color that might be perfect for your home.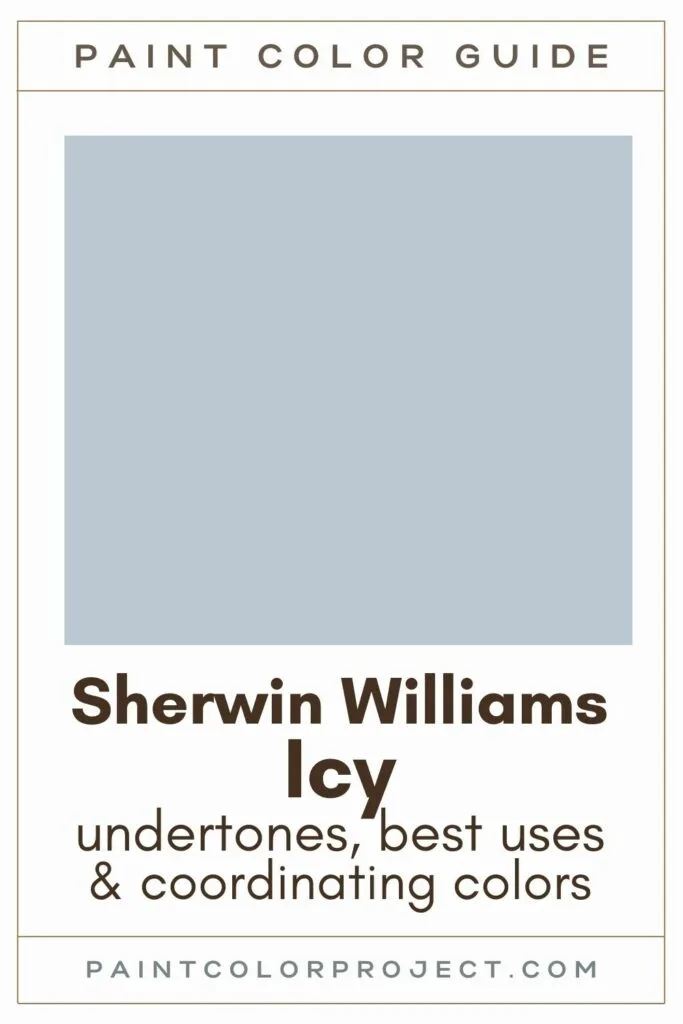 Sherwin Williams Icy SW6534
Color Family
Icy is in the blue-gray color family. See all of my favorite blue-gray paint colors here.
Light Reflectance Value
56
Light Reflective Value is the measurement of how much light a color bounces around. This is on a scale of 0 to 100 with 0 being pure black and 100 being pure white.
At 56, this is definitely a mid-toned color. It's not super light but has a good amount of color depth to it!

RGB Colors
R:187 G:199 B:210
RGB describes the amount of each color – red, green, and blue – present in a color. This is on a scale of 0 to 255 for each color. This is basically the color mix to make the color!
Hex Code
#bbc7d2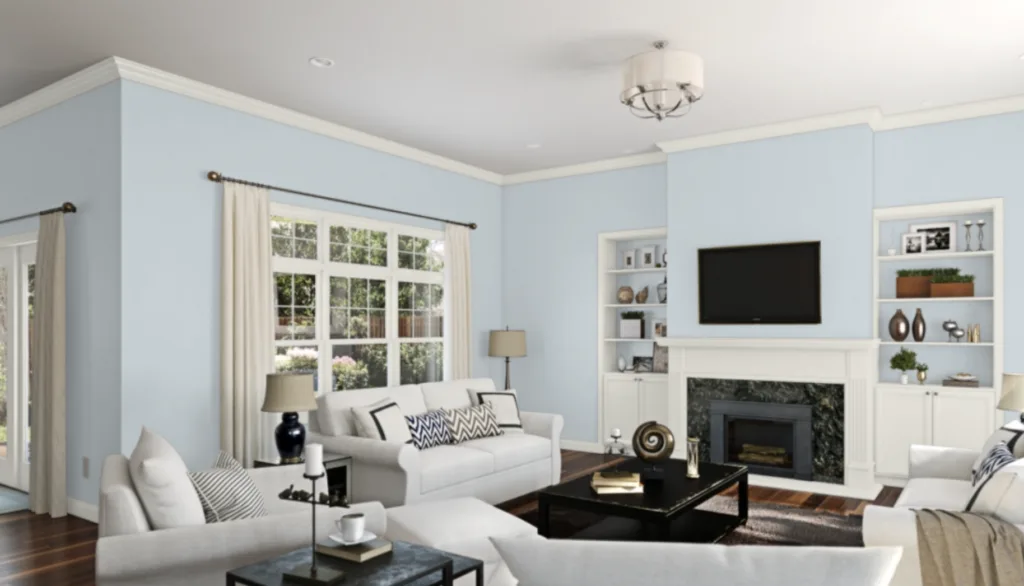 Undertones
Icy is a blue color with heavy gray undertones.
The gray undertones really tone it down and keep it from looking like a baby boy's nursery. I big heart eyes love this color!
Icy could read a little purple if paired with warmer light, such as a south facing window or yellow-tinted light bulbs.
North facing rooms or spaces with cool toned light will bring out the icy (no pun intended) blue tones. It could look very cool in those conditions.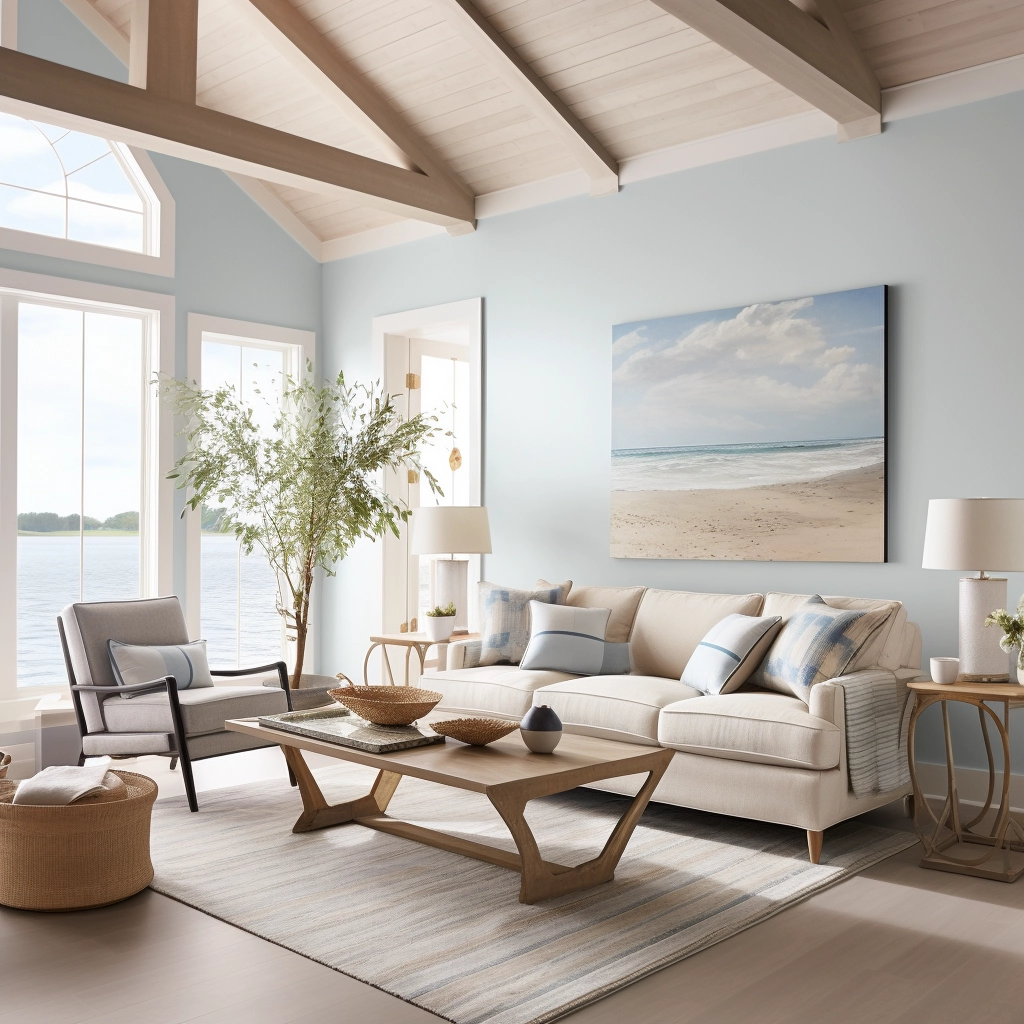 Best uses
This color works great for a bedroom or bathroom. This is a great color if you are going for a hotel aesthetic or a spa-like bathroom!
Icy can work for a living room/kitchen space, especially if you are going for a coastal or beach house look.
Similar Colors
Sherwin Williams Upward
Sherwin Williams Mild Blue
Sherwin Williams Hinting Blue
Benjamin Moore Instinct
Behr Rememberance
Behr Journey's End
Valspar Blue Fog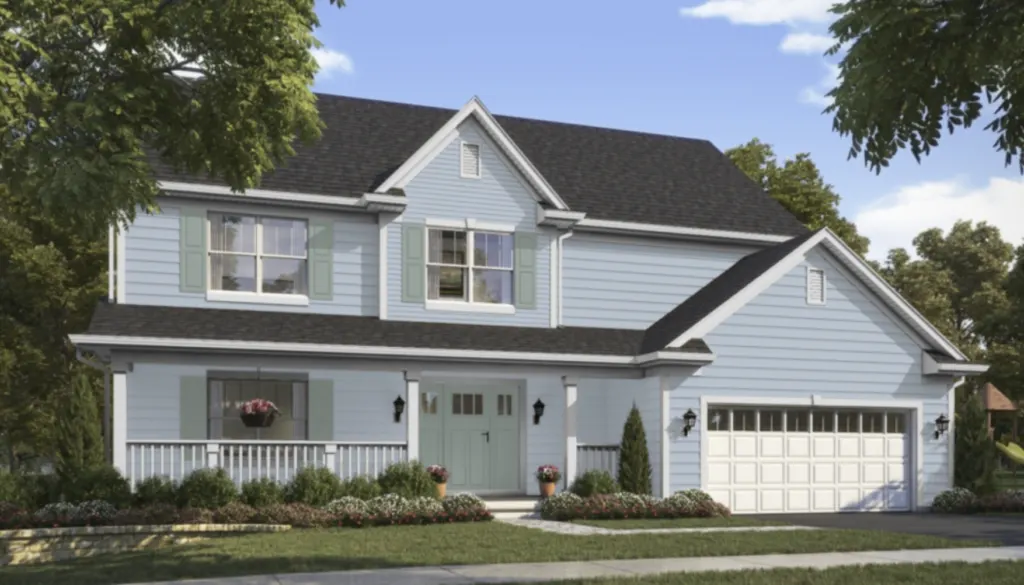 Coordinating Colors
I like to pair Icy with teal greens, navy blue, or creamy greiges.
Teal Greens
Sherwin Williams Halcyon Green
Sherwin Williams Rain
Sherwin Williams Tradewind
See all of my favorite blue-green paint colors here.
Navy blue
Sherwin Williams Dusty Heather
Sherwin Williams Naval
See all of my favorite navy paint colors here.
Creamy Greige
Sherwin Williams Sunbleached
Sherwin Williams Drift of Mist
Sherwin Williams Mindful Gray
This color works well with both gray and tan upholstery, meaning it is likely to match a lot of popular couches!
Trim Colors
For a beachy look, I actually like to pair Icy with a creamier, soft white trim color.
Benjamin Moore White Dove
Behr Cameo White
Sherwin Williams Icy color palette
Join the (free!) PaintColorProject+ community to access this exclusive color palette! Once you join, you can right click & save the palette image!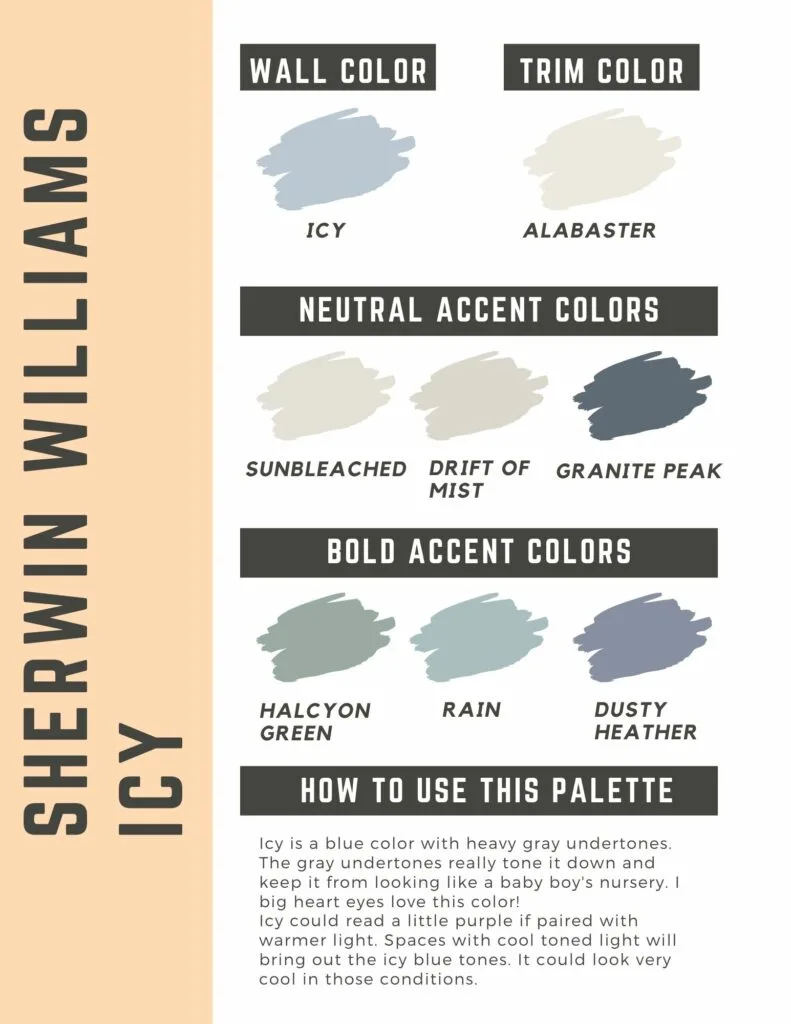 Still not sure what paint color to choose?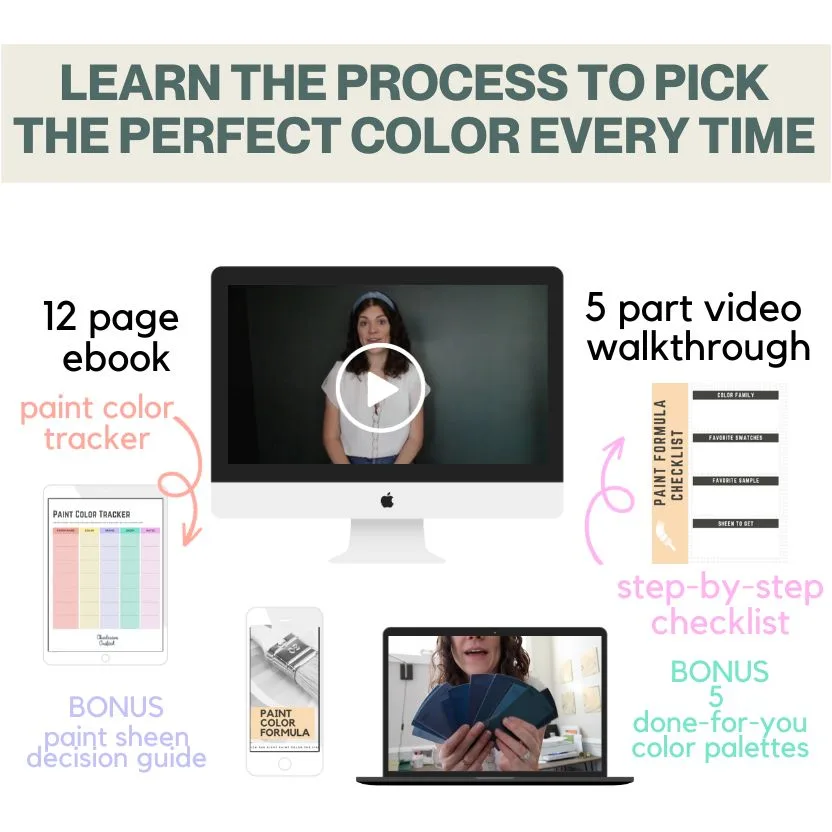 My Paint Color Formula ebook walks you through the painless process of expertly testing paint swatches to ensure you have the perfect color for your home.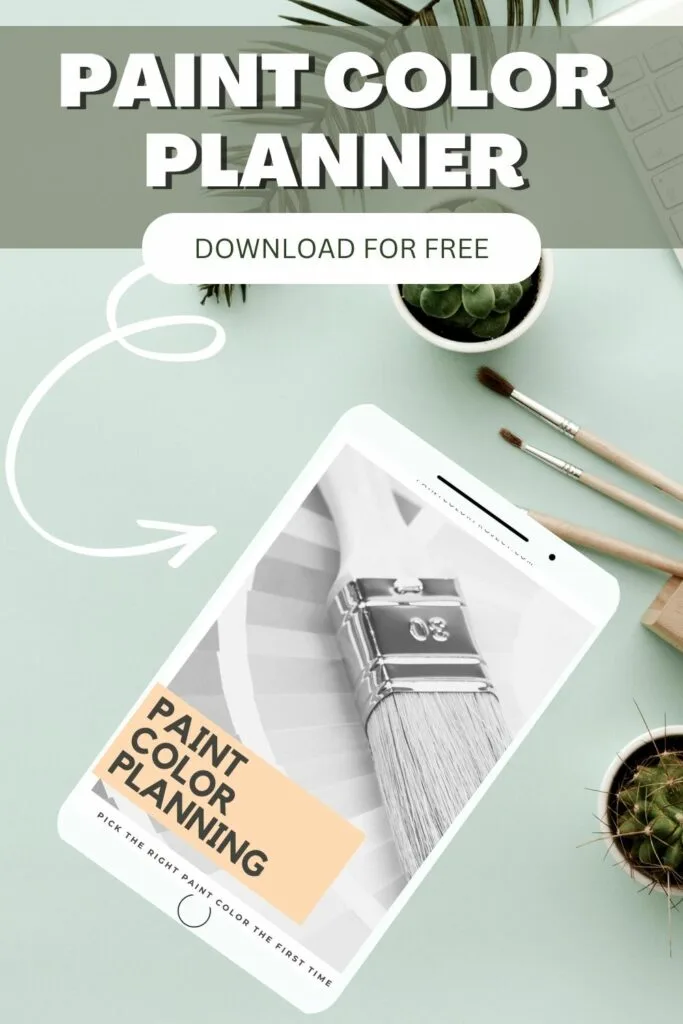 Thanks for reading!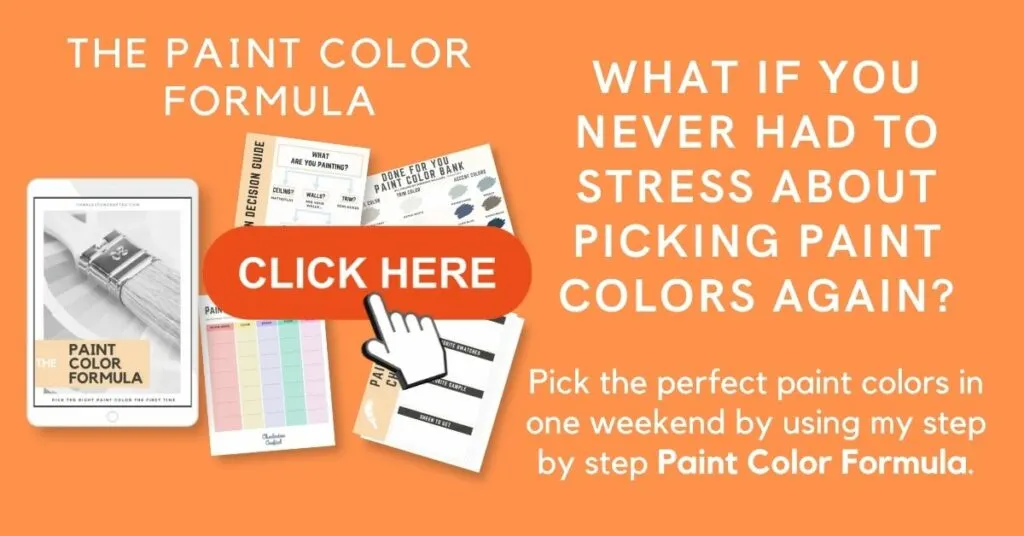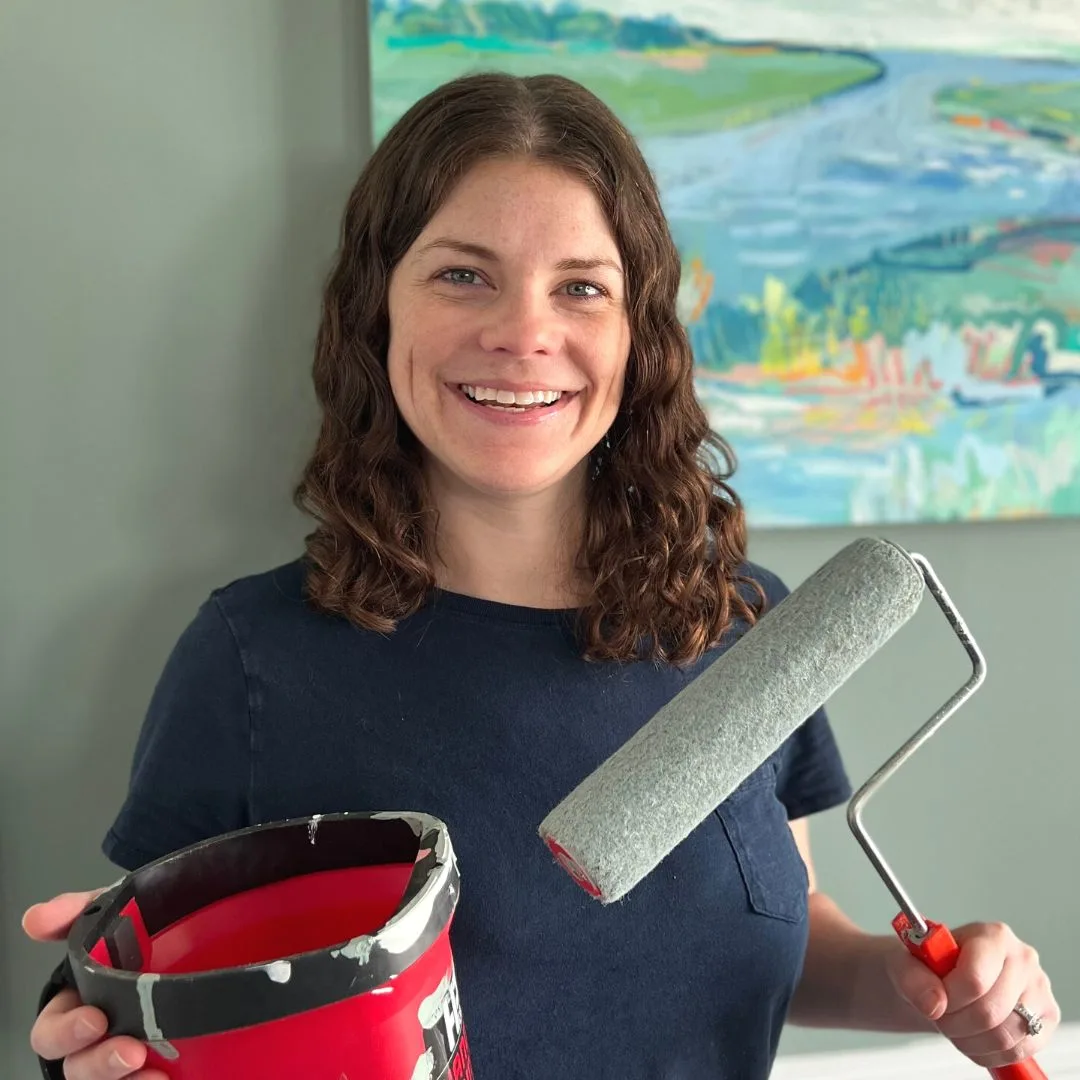 Morgan is passionate about home decor and paint colors. She has been sharing DIY home decor tips since 2012 at CharlestonCrafted.com. From there, she learned to love paint colors, and the Paint Color Project was born in 2022!