Looking for the perfect white paint color? Let's talk about Benjamin Moore Swiss Coffee and if it might be the perfect color for your home!
White paint colors are a classic for a reason. They make a space feel instantly light and bright and they are so easy to add almost any accent color to.
Swiss Coffee is one of the most popular white paint colors. It's really been made super popular by Shea McGee of Studio McGee and Netflix fame. She used this color – actually lightened by 25% – in a lot of her home.
But, as I always say, just because a color looks good on HGTV, in a magazine, or on Instagram, does not mean it will look the same in your home.
Let's dive into Swiss Coffee and how to know if it's a good fit for your space!
Click here to get a peel and stick sample of Swiss Coffee!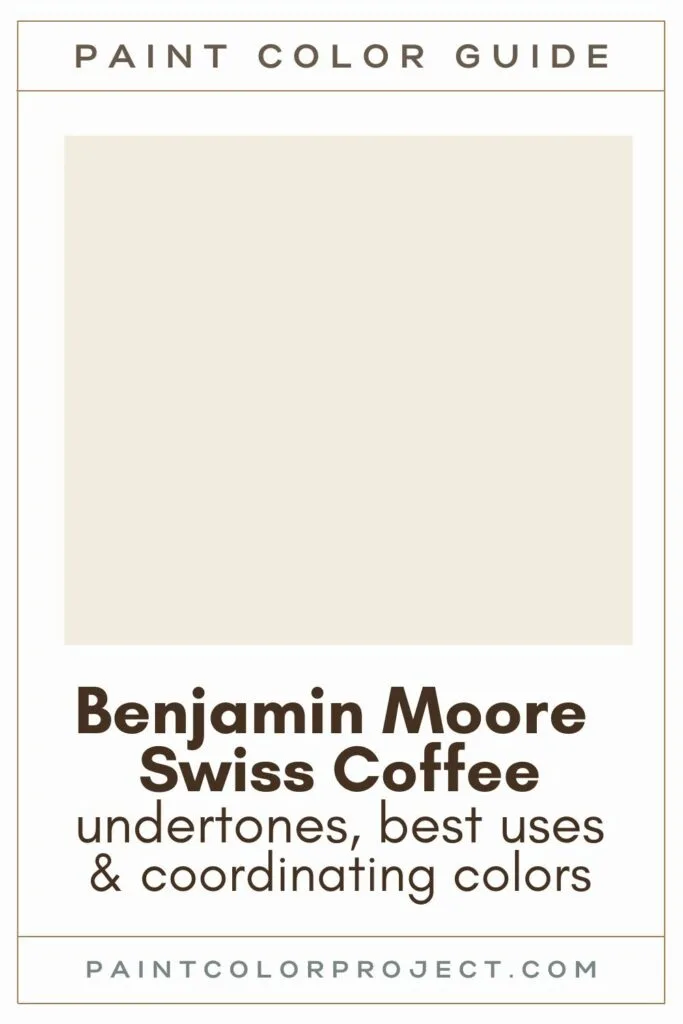 Benjamin Moore Swiss Coffee OC-45
Swiss Coffee is a super popular soft white paint color. It is called "soft" because it reads as slightly warm and will not feel cold or icy in your space.
While Swiss Coffee is popular, it still has a few intricacies that might effect how it looks on your walls!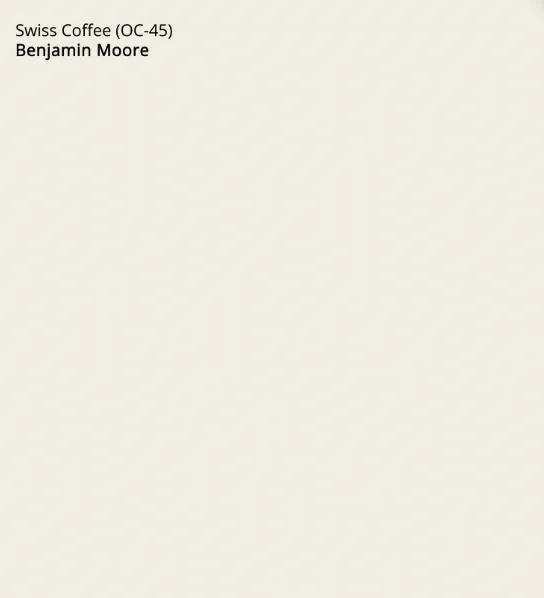 Color Family
Swiss Coffee is an off white paint color.
Light Reflectance Value
81.91
Light Reflective Value is the measurement of how much light a color bounces around. This is on a scale of 0 to 100 with 0 being pure black and 100 being pure white.
LRVs of 73 – 82 are generally considered off white. So, this color is one of the lightest shades of off white that you will find!
In bright spaces, it will really read as white most of the time. It's just in darker rooms that it will feel creamier.
RGB Colors
R:237 G:234 B:224
RGB describes the amount of each color – red, green, and blue – present in a color. This is on a scale of 0 to 255 for each color. This is basically the color mix to make the color!
Hex Code
#EDEAE0
Undertones
Swiss Coffee has warm undertones. These can read as yellow or beige in most circumstances.
This color also has the tendency to sometimes read as a bit green. This can be particularly true in cool lighting such as a north facing room or LED light bulbs.
Best uses
This color is so neutral it works for almost any room in the house. It's a great whole house paint color for cohesiveness.
Swiss Coffee is also a super popular cabinetry paint color! It's a great option for a warm white look.
I would steer clear of using Swiss Coffee on an exterior as it tends to reflect greenery and read a bit green.
Similar Colors
Benjamin Moore White Dove
Benjamin Moore Steam
Benjamin Moore Vanilla Milkshake
Sherwin Williams Cotton
Valspar Picket Fence
Behr Sweet Surrender
Coordinating Colors
For neutral accent colors, it makes sense to pair Swiss Coffee with warm gray colors. The warm tones play nicely together and it gives a soft, layered look.
Warm gray colors:
BM Kendall Charcoal
BM Rockport Gray
BM Revere Pewter
BM Natural Cream
BM Chelsea Gray
Because Swiss Coffee can read as slightly green, I actually like pairing it with green accent colors.
This might sound counter intuitive, but placing Swiss Coffee next to actual shades of green will make it look less green by comparison. The green undertones also ensure that it's most likely to match and not clash a green accent color.
Green accent colors:
BM Lush
BM Ponderosa Pine
BM Shady Lane
BM Icy Morn
BM Duxbury Gray
BM Quiet Moments
BM Storm Cloud Gray
See all of my favorite green-gray paint colors here!
Do not pair Swiss Coffee with shades of blue – it's hard to pull off and almost always feels like it clashes.
Click here to get a peel and stick sample of Swiss Coffee!
Trim Colors
For white paint colors, I highly recommend painting the trim and walls the same color. So, I would do Swiss Coffee in a flat or eggshell finish on the walls and then Swiss Coffee in a semi-gloss finish on the trim.
This gives a softer look that reads as very flattering.
Plus, if you pair a slightly-creamy off-white wall with a stark white trim, the whiteness of the trim will make the walls look dirty or dingy. It's very rarely a good look!
Benjamin Moore Swiss Coffee color palette
Join the (free!) PaintColorProject+ community to access this exclusive color palette! Once you join, you can right click & save the palette image!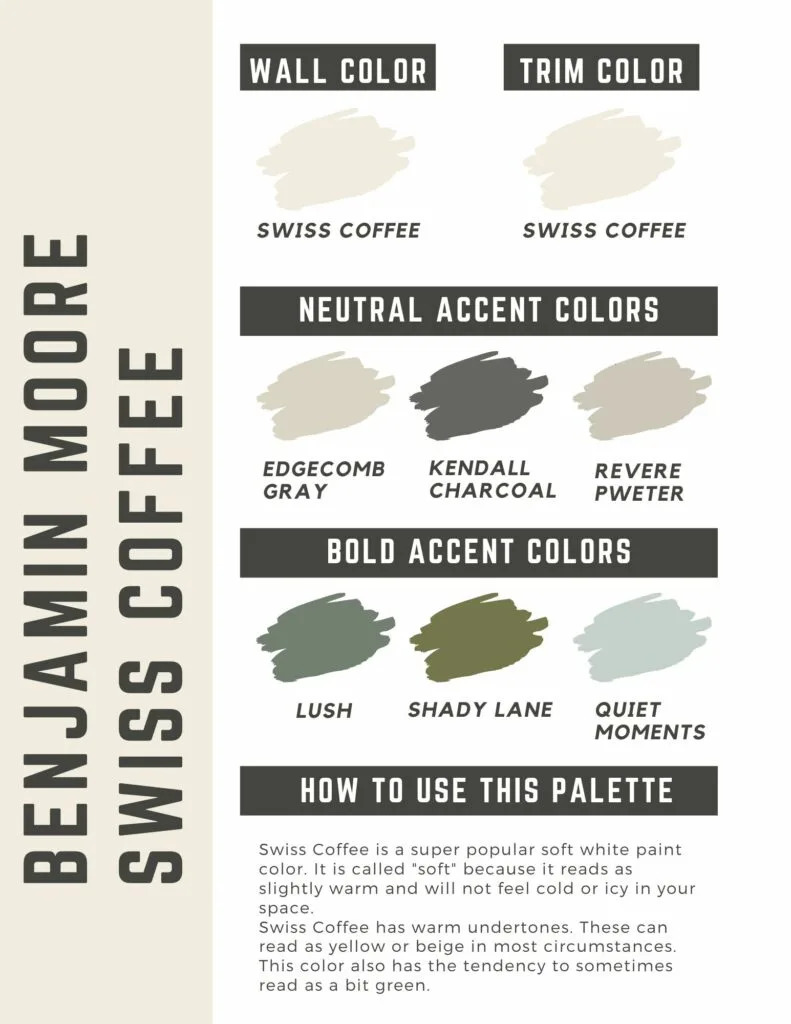 Click here to get a peel and stick sample of Swiss Coffee!
Swiss Coffee FAQs
Is Swiss Coffee warm or cool?
Swiss Coffee is a very warm toned off white paint color. It has yellow and beige undertones. In cool lighting, this can lead to it reading as slightly green.
Click here to get a peel and stick sample of Swiss Coffee!
BM Swiss Coffee vs SW Alabaster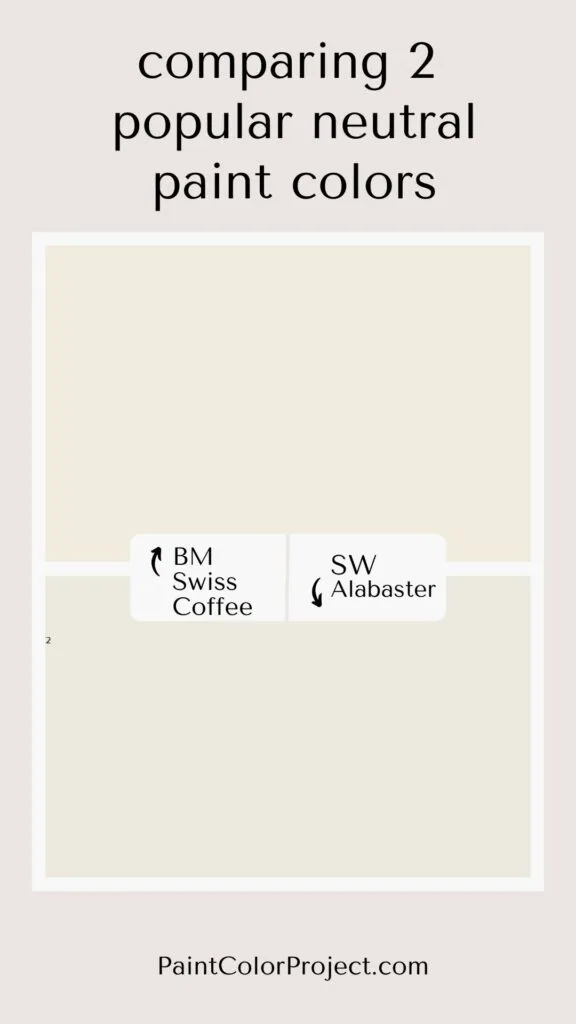 When comparing these two colors, the main difference is in the undertones. Alabaster has a gray undertone, while Swiss Coffee has a beige undertone.
If you prefer a cooler, crisper white, then Alabaster may be the better choice for you.
However, if you want a warmer, creamier white, then Swiss Coffee may be a better option.
Click here for the complete Swiss Coffee vs Alabaster review.
BM Swiss Coffee vs SW Greek Villa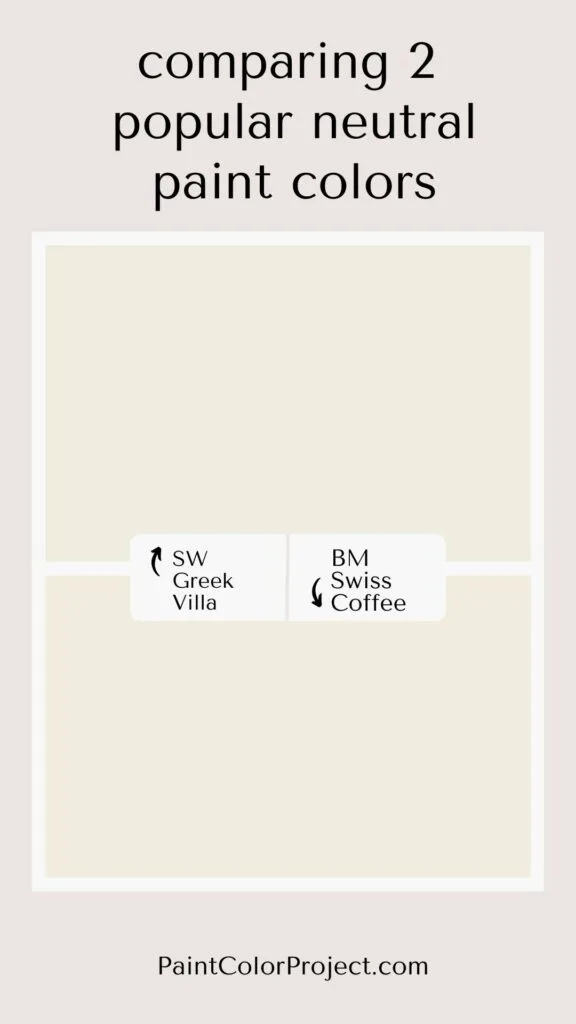 These colors are almost identical – but not quite. Swiss Coffee has a touch more green and is slightly darker compared to Greek Villa!
Click here to see the full BM Swiss Coffee vs SW Greek Villa comparison!
Still not sure what paint color to choose?
My Paint Color Formula ebook walks you through the painless process of expertly testing paint swatches to ensure you have the perfect color for your home.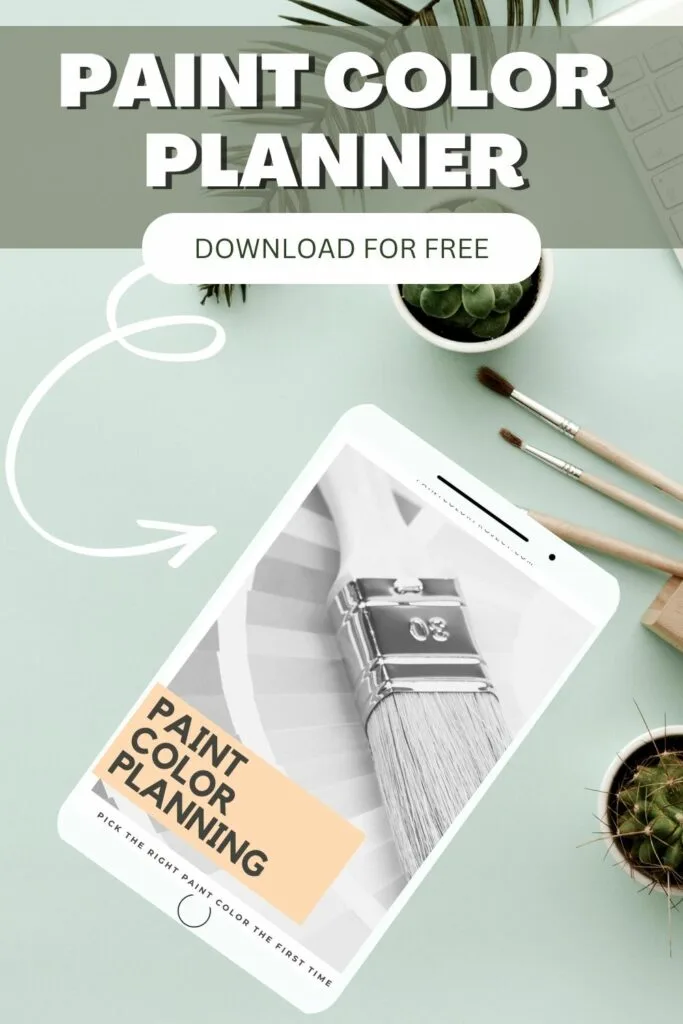 Thanks for reading!