Want to paint your home a soothing light green color? Here are the best eucalyptus green paint colors!
Green paint colors are really having a moment in interior design right now. While green walls might seem really overwhelming and bold, there are certain shades of green that are actually soft on the eyes and easy to decorate with.
One of those colors is eucalyptus green.
Eucalyptus Green has a soothing, natural feel, just like the eucalyptus plant that it is pulled from.
This makes it super appealing and generally universally flattering.
If you want to give your room a serene and refreshing aesthetic, you might want to consider using eucalyptus green as a wall color, accent wall, cabinet color, or even just a color for decor within a more neutral space.
Today I want to talk everything about eucalyptus green paint colors and help you decide if the shade is perfect for your home!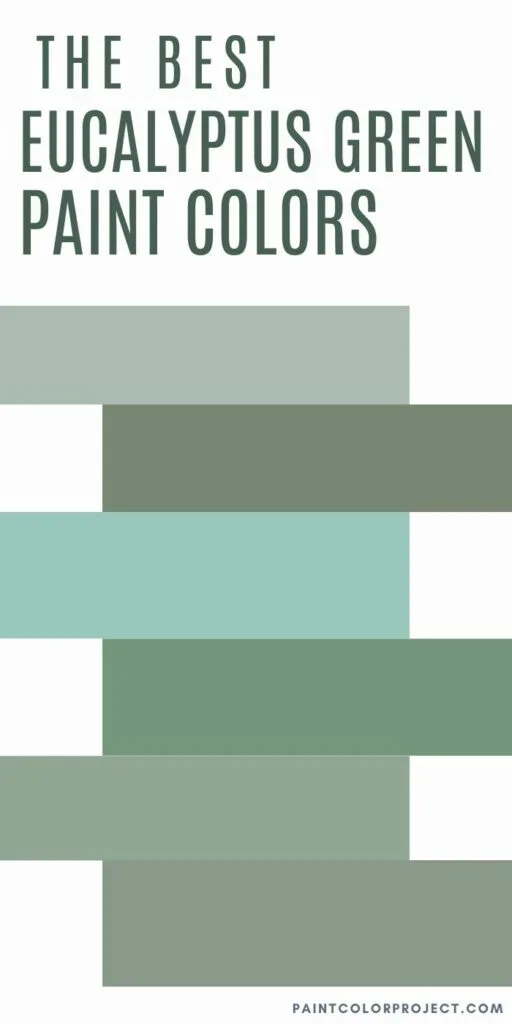 What is eucalyptus green?
Eucalyptus green is a color inspired by the leaves of the eucalyptus tree, which is native to Australia and other parts of the world. This shade typically falls within the green color spectrum but can vary in intensity and undertones.
Eucalyptus green may have subtle gray undertones, slight hints of blue, or even warm brown undertones, which contribute to its unique character.
This color is popular in interior design and can be used for wall paint, furniture, decor accents, and textiles. It's often chosen for its ability to create a tranquil and refreshing atmosphere in homes, evoking a sense of nature and calmness.
Eucalyptus green is versatile and can be incorporated into various design styles, making it a popular choice for those seeking a balanced and harmonious color palette in their living spaces.
Choosing the Perfect Eucalyptus Green Shade
There are a ton of different shades of eucalyptus green paint to choose from. I will share some of my favorites below, but it is essential to remember that you need to pick the perfect color for your specific space and not just based on how it looks on the Internet.
Some of the factors that effect how a shade looks in your room include:
lighting
room size
existing finishes (flooring, tile, etc)
complementary colors in decor
Because these factors vary so greatly, the only way to know which shade is perfect for your room is to narrow it down to a few favorites, and then swatch them in your space, day, and night, for about a week until you can tell which one you really prefer.
Eucalyptus Green in Different Rooms
While you don't typically think of green as a neutral paint color, shades of eucalyptus tend to be very muted, and can play neutral in the right situation. Or, pair them with a lot of stark white to make it feel more like a bold color.
The right shade of eucalyptus is neutral enough to use on the walls of your living room bedroom or kitchen.
It's also a really great color to use on a cabinet in a kitchen or bathroom, especially paired with a white wall. Finally, eucalyptus can be a classic choice for a spa like bathroom paint color.
Benefits of Eucalyptus Green
Eucalyptus green is a versatile and soothing color that can have a significant impact on the psychology and emotions of those in a home. Here are some of the psychological and emotional effects it can evoke:
Calming and Tranquil
Eucalyptus green is reminiscent of nature, particularly the eucalyptus tree's leaves. As such, it often invokes a sense of calm and tranquility.
The color's gentle and muted tones can help reduce stress and anxiety, making it an excellent choice for spaces where relaxation is a priority, such as bedrooms and living rooms.
Connection to Nature
Green hues, including eucalyptus green, are associated with the natural world. This connection to nature can have a grounding effect on occupants, fostering a sense of well-being and balance.
It can also encourage people to spend more time indoors, connecting with the calming essence of the outdoors.
Refreshment and Renewal
Eucalyptus green is refreshing, akin to a breath of fresh air. This revitalizing quality can be particularly beneficial in spaces where rejuvenation and revitalization are desired, such as bathrooms and kitchens.
It can help create a sense of renewal and energy in these areas.
Harmony and Balance
Green is often associated with balance and harmony. Eucalyptus green's balanced blend of blue and green undertones can create a harmonious and inviting atmosphere in various rooms.
Versatility and Adaptability
Eucalyptus green's versatility is one of its standout features. It can adapt to various design styles and color palettes.
Whether your home décor leans towards traditional, contemporary, bohemian, or minimalistic, eucalyptus green can be incorporated seamlessly.
Modern and Minimalist
In modern and minimalist design styles, eucalyptus green can act as a refreshing accent color against neutral backgrounds. Its clean and serene appearance complements the simplicity and functionality often associated with these styles.
Traditional and Classic
Eucalyptus green can add a contemporary twist to traditional and classic spaces. It can be used in upholstery, drapery, or as an accent wall to introduce a touch of freshness while maintaining the timeless elegance of these design styles.
Bohemian and Eclectic
Eucalyptus green harmonizes well with the rich and vibrant colors often found in bohemian and eclectic interiors. It can serve as a unifying color that balances out the eclectic mix of patterns and textures, bringing a sense of cohesion to the space.
Scandinavian
Eucalyptus green complements the clean lines, simplicity, and natural materials found in Scandinavian and Nordic design. It can be used for furniture, textiles, or as wall paint to infuse a sense of tranquility and nature into these spaces.
Coastal and Beachy
Eucalyptus green fits seamlessly into coastal and beach-inspired interiors. It reflects the colors of the sea and the lush foliage of coastal landscapes. Its presence can evoke a coastal breeze and a relaxed, beachy vibe.
How to Paint with Eucalyptus Green
Decorating with eucalyptus green can be really fun, but there are a few things to keep in mind on the practical side when choosing this paint color.
The first thing is that this is generally a lighter paint color. If you are painting over a darker existing surface, you are definitely going to want to use a primer for the best results.
Eucalyptus green paint can sometimes settle or separate, so be sure to stir it well before and during the painting process to ensure an even color distribution.
Green-gray paint can be a bit tricky in terms of coverage, depending on the specific shade. It's common to require multiple coats to achieve the desired depth and richness of color. Allow each coat to dry fully before applying the next.
The last thing to consider is the finish of your paint that you use on your walls. I personally prefer an eggshell finish in most instances.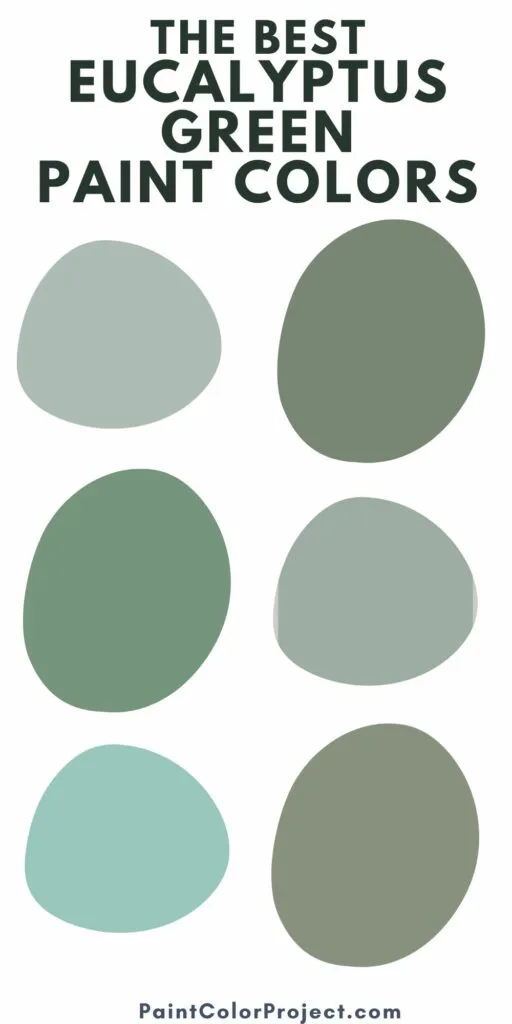 The best eucalyptus green paint colors
Here are some of the best eucalyptus green paint colors to choose from for your home!
Fresh Eucalyptus – Sherwin Williams 9658

LRV: 48
Undertones: Soft gray-green undertones.
Eucalyptus Dreams is a serene and calming green, perfect for bedrooms and bathrooms, evoking a sense of tranquility and nature indoors.
Click here to get a peel & stick sample of Fresh Eucalyptus.
Eucalyptus Leaf – Behr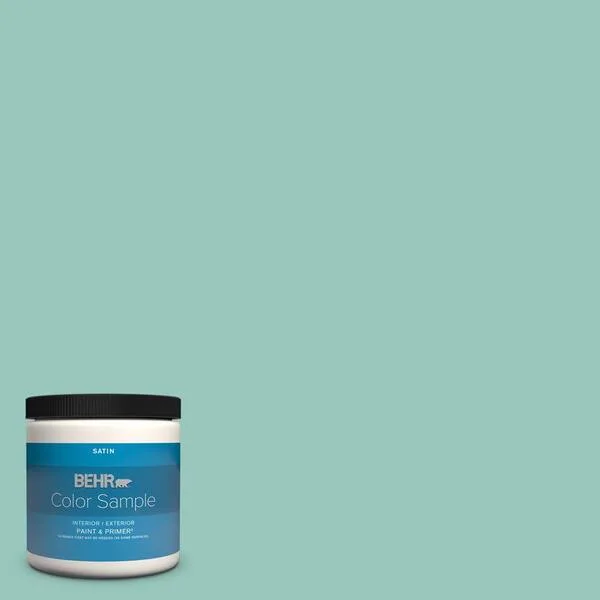 LRV: 51
Undertones: Blue/aqua undertones
Eucalyptus Leaf provides a rich, aqua green that is bright and welcoming. Use it in kitchens to create a warm and inviting space.
Privilege Green – Sherwin-Williams (SW 6193)

LRV: 23
Undertones: Warm green with a hint of gray.
Privilege Green combines the richness of eucalyptus with warm undertones. It's a versatile color that can be used to create a cozy and inviting atmosphere in various design styles, from traditional to contemporary.
Click here to get a peel & stick sample of Privilege Green!
Eucalyptus Wreath – Behr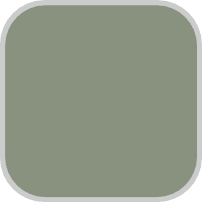 LRV: 27
Undertones: Subtle gray undertones.
Eucalyptus Wreath brings a touch of nature indoors with its calming grayish-green hue, making it an excellent choice for bathrooms to create a spa-like atmosphere.
Parsley Snips – Benjamin Moore (CSP-785)

LRV: 27
Undertones: Soft gray-green undertones.
Parsley Snips is a muted eucalyptus green with gentle gray undertones. This color adds a subtle natural charm to your interiors, creating a harmonious and relaxing ambiance.
Click here to get a peel & stick sample of Parsley Snips!
Grenadier Pond – Benjamin Moore LRV: 34
Undertones: Subtle blue-green undertones.
Grenadier Pond offers a refreshing and slightly aquatic take on eucalyptus green. With its hint of blue, it brings a sense of tranquility and serenity to your space, making it ideal for bedrooms and bathrooms.
Click here to get a peel & stick sample of Grenadier Pond!
Misty Moss – Behr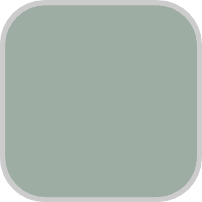 LRV: 40
Undertones: Subtle blue undertones.
Misty Moss is a delicate eucalyptus shade with a touch of blue. It evokes a sense of freshness and airiness, making it suitable for living rooms and dining areas where you want a serene and inviting feel.
Silver Eucalyptus – Valspar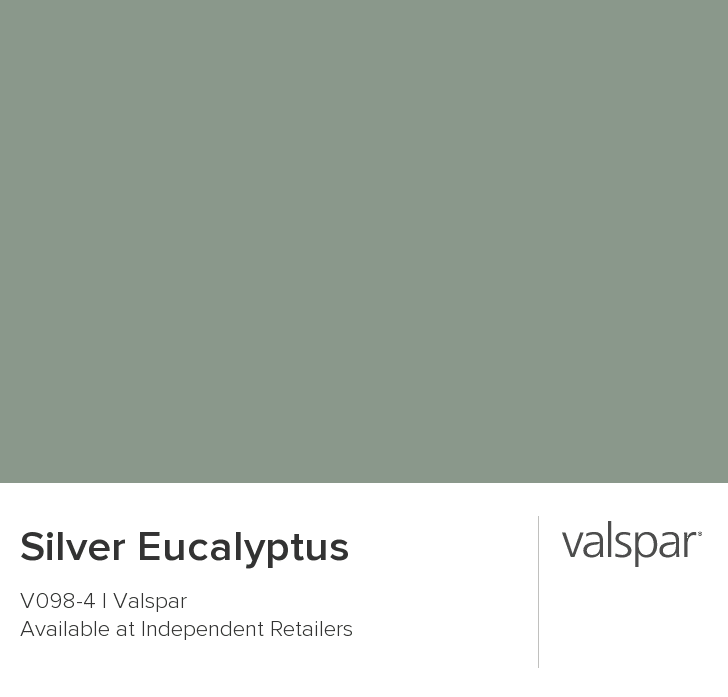 LRV: 27
Undertones: Soft green with gray undertones.
Silver Eucalyptus captures the essence of eucalyptus leaves with its soft green hue and subtle gray undertones. It's a versatile color choice that adds a natural and calming touch to any room in your home.
What's your favorite shade of green?
Still not sure what paint color to choose?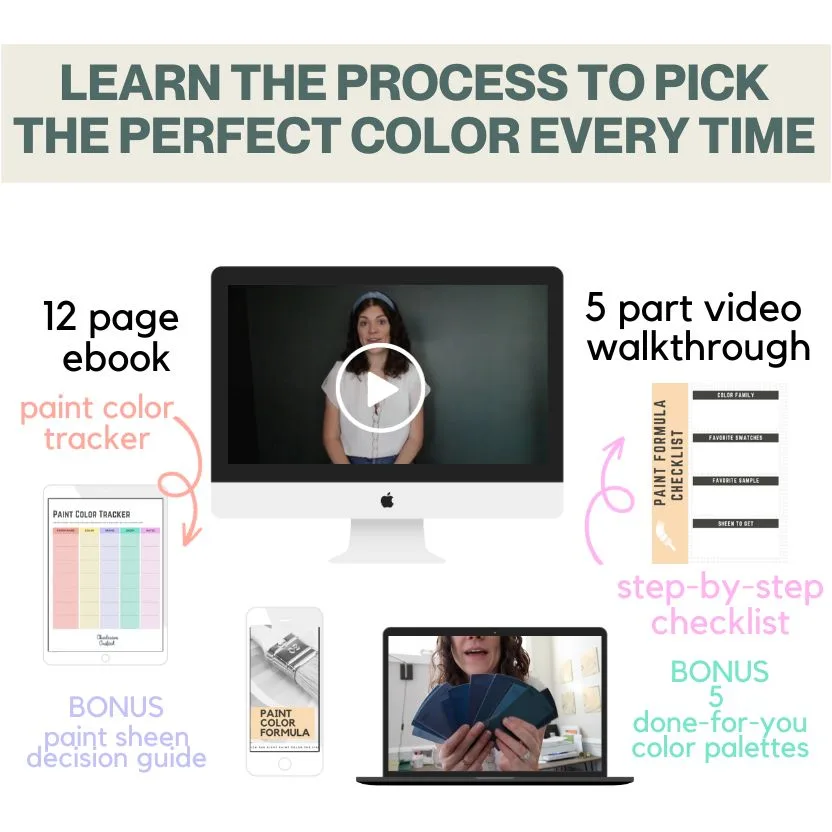 My Paint Color Formula ebook walks you through the painless process of expertly testing paint swatches to ensure you have the perfect color for your home.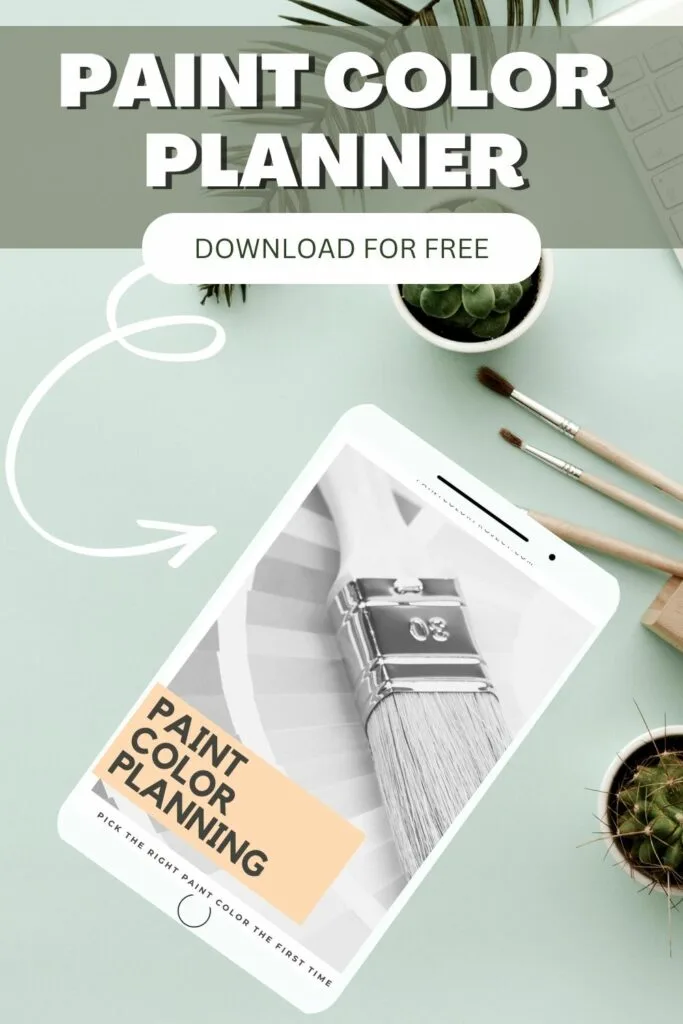 Thanks for reading!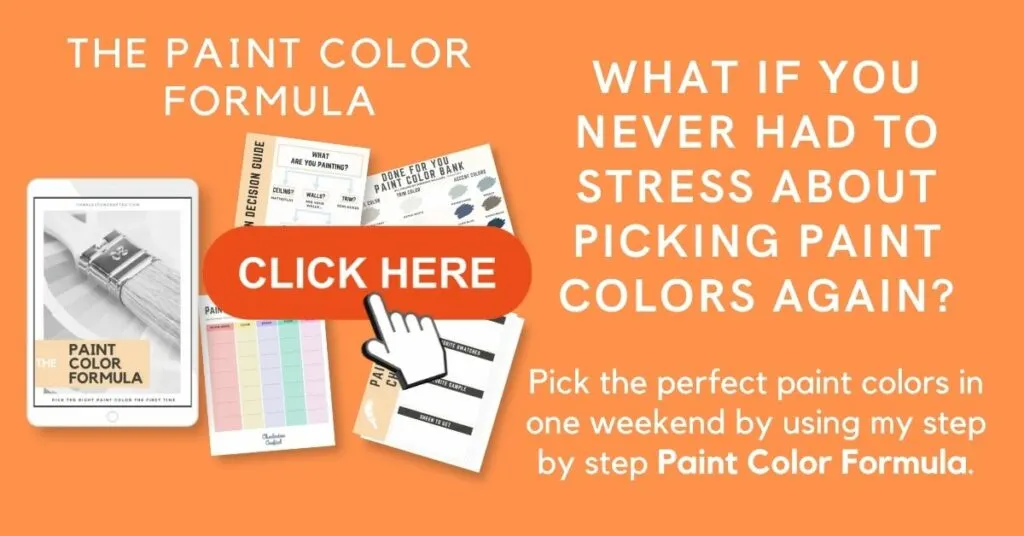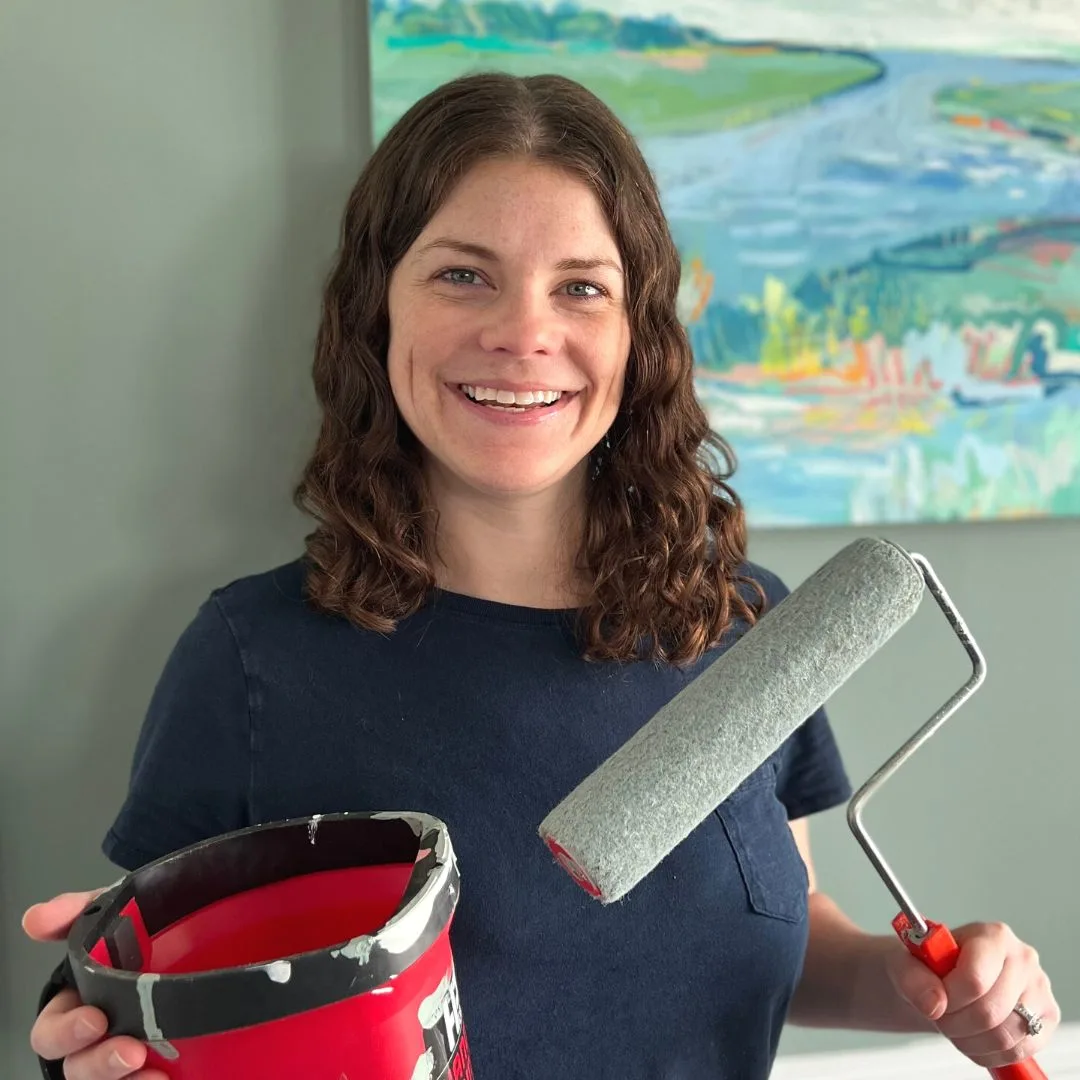 Morgan is passionate about home decor and paint colors. She has been sharing DIY home decor tips since 2012 at CharlestonCrafted.com. From there, she learned to love paint colors, and the Paint Color Project was born in 2022!