Looking for the perfect paint color for a beach house? Here are the best coastal paint colors for walls and accents!
Do you love the feeling of sitting in a chair, drink of choice in hand, staring across the sand into the deep blue ocean?
Whether you live at the beach or just want a beachy aesthetic at home, you can give your home a coastal feel with the right paint colors.
Decorating with shades of blues, greens, and tans can help to easily transform your space into a coastal heaven.
Let's dive into the best paint colors for a beachy vibe!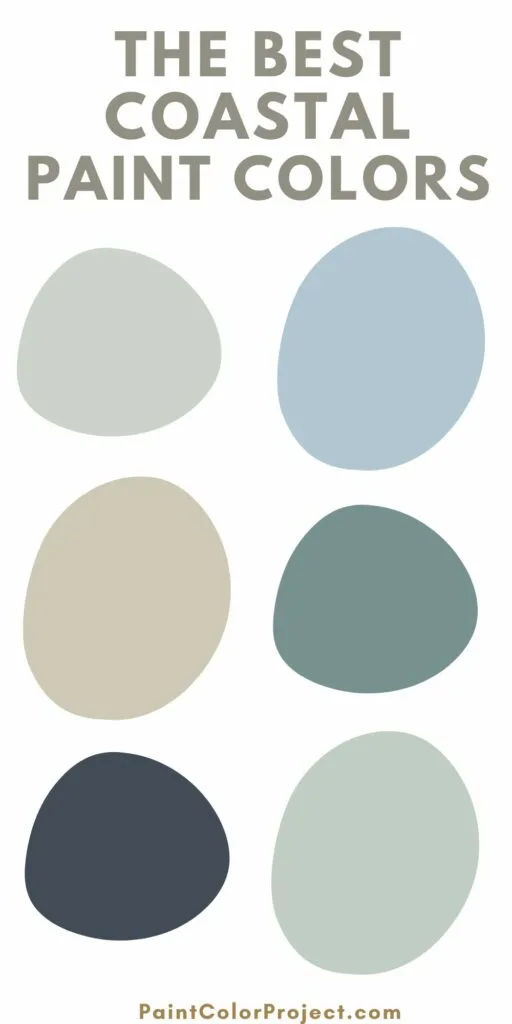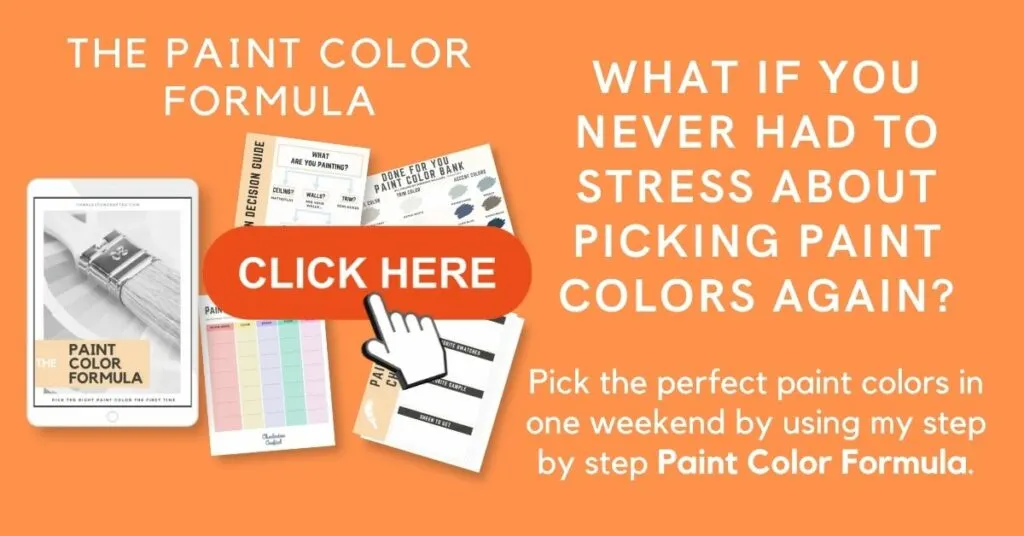 The best coastal paint colors
The most popular beach house paint colors are light blue, light green, sandy neutrals, and creamy white.
A coastal color palette also might have accent colors that are coral pink, sunny yellow, and navy blue.
Let's dive into each color family to see some of my favorite coastal house colors!
Light Blues and Aquas
Light blues and aquas are a classic choice for coastal decor. This is because they remind you of nature – the summer sky and the flowing ocean.
Plus, shades of blue are naturally calming and relaxing to surround yourself with, making them the perfect beach house colors!
When choosing a blue paint color, I always suggest looking at blue-gray shades. They are more muted and won't look neon or too "baby boy blue" on the walls.
Here are all of my favorite blue-gray paint colors.
Some of the best blue beach paint colors are: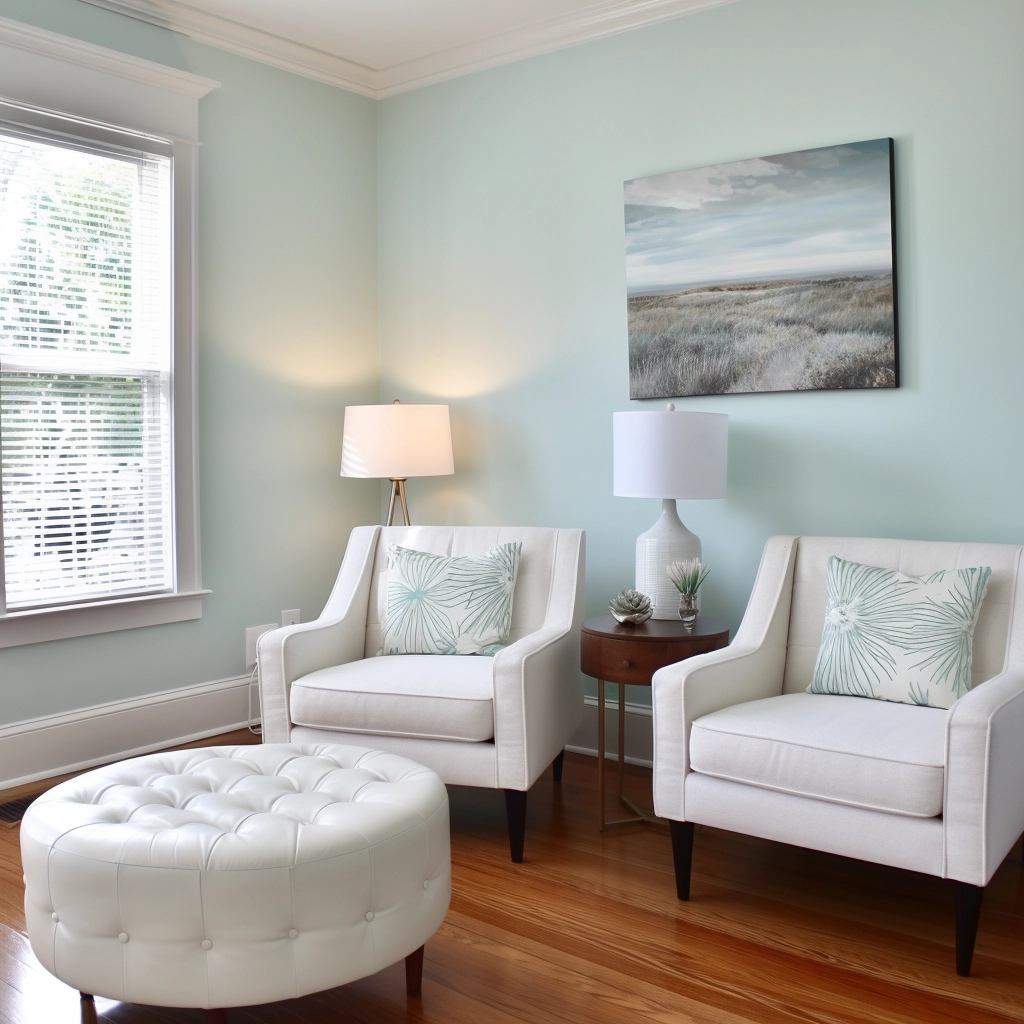 Soft Greens
Green is another classic coastal inspired paint color. Soft greens can evoke the natural beauty of coastal landscapes and are perfect beachy colors.
I highly recommend choosing a blue-green and not a warm green color like olive. Blue-greens just flow more easily with beach color palettes, especially other shades of blue.
Click here for my favorite blue-green paint colors.
Here are some of the best soft green paint colors for coastal designs:
Sandy Neutrals
If you want to add a neutral color to your beach inspired decor, I suggest something sandy. Warm tans will feel like the beach – especially when paired with blues and greens.
Sandy neutrals can create a relaxed, beachy feel in a space.
Here are my favorite sandy neutrals for a beach house: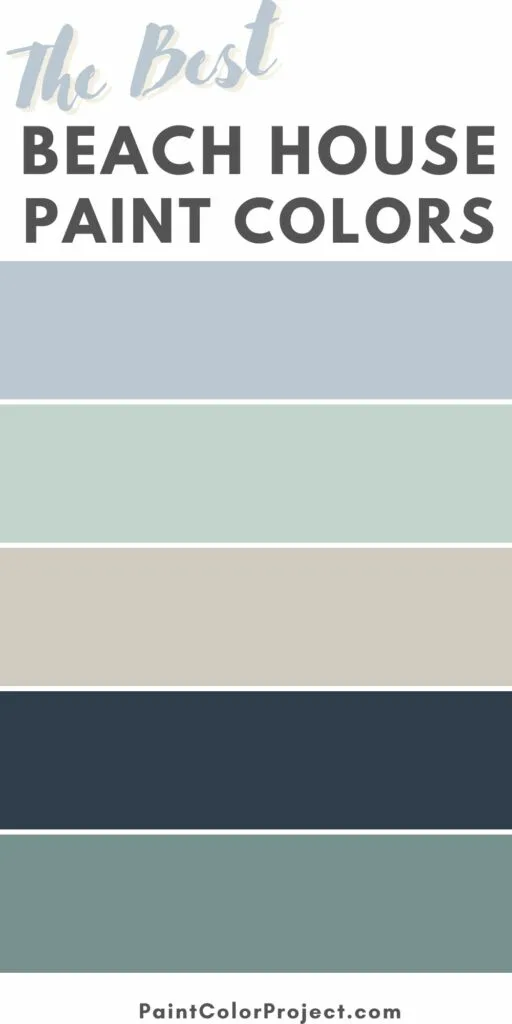 Coastal Accent Colors
My favorite accent colors for a beach house are coral, yellow, and navy blue.
Coral and Peach
If you are looking for an accent color to use in your beach house, coral or peach is a great option. These colors are complementary to blue/green (opposite on the color wheel) and give a great pop of color.
I personally would not use these colors for a whole wall or anything huge – they aren't the right vibe for a beach house that way. However, they are great for accents, furniture, a front door, a kitchen island, or any similar pop.
You can see all of my favorite light pink paint colors here!
Here are my favorite coral accent colors for a coastal color palette:
Sunny Yellows
Another great accent color option for a coastal home is a sunny yellow. This is a bright, cheerful shade that works well overall by contrasting with the blues and greens.
I don't love yellow with the sandy neutrals as much – so if you chose tan walls, I'd skip the yellows.
But, it's a great pop with blues and greens!
Here are the best sunny yellow paint colors to use in a beach house:
Bold Blues and Greens
My final favorite accent color for a beach house is navy blue. Navy is classic for a reason and is a great option if you want a darker neutral.
Navy can be a true navy, or have a good bit of gray to it, or even be almost teal with green undertones. All of those shades work well in a coastal color scheme!
You can see all of my favorite navy blue paint colors here.
Navy works great for cabinets, a front door, or a piece of furniture. It can also be in rugs, art, or accessories!
Here are the best navy blue paint colors for a beach house:
Crisp White
Looking for the perfect trim color for your beach house? I suggest a crisp white paint!
No matter what, it is important to experiment with different colors and find the ones that speak to your personal style and preferences!
What are your favorite colors for a beach house?
Still not sure what paint color to choose?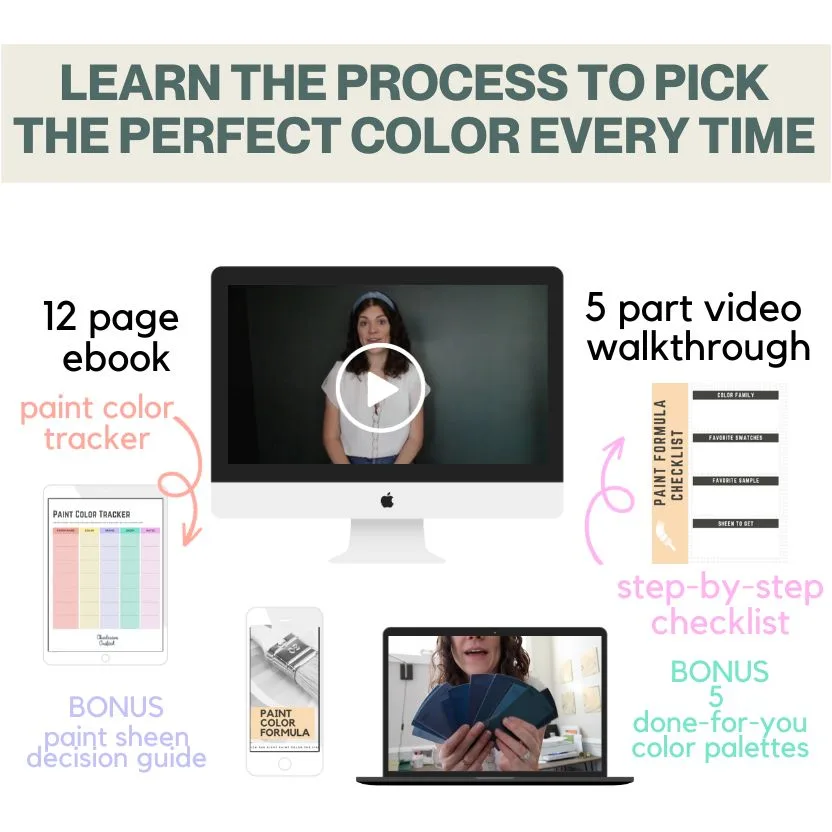 My Paint Color Formula ebook walks you through the painless process of expertly testing paint swatches to ensure you have the perfect color for your home.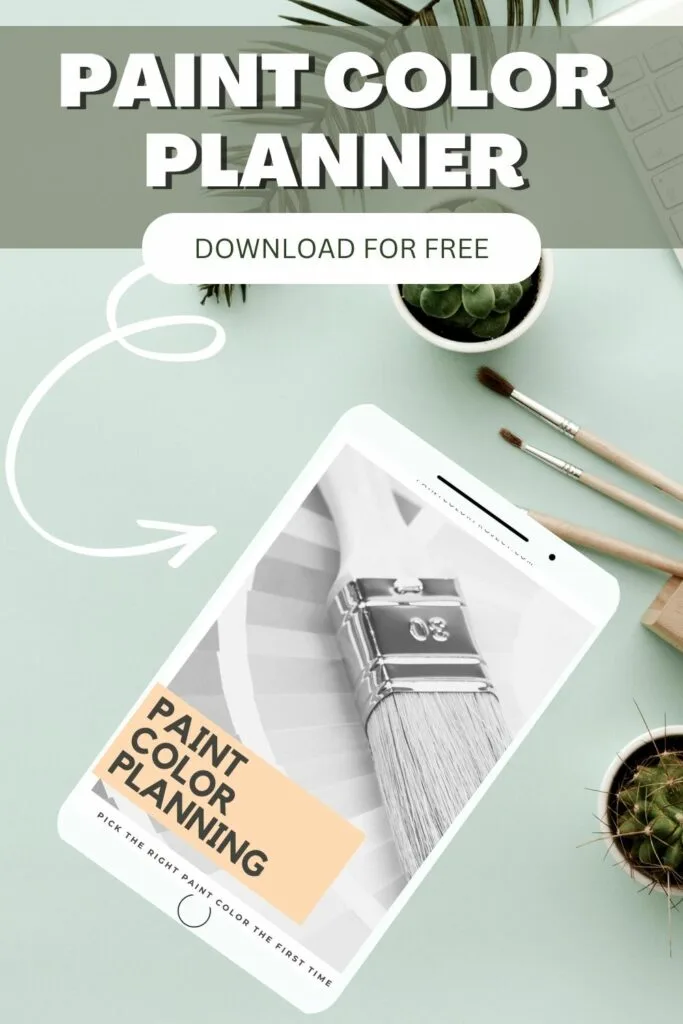 Thanks for reading!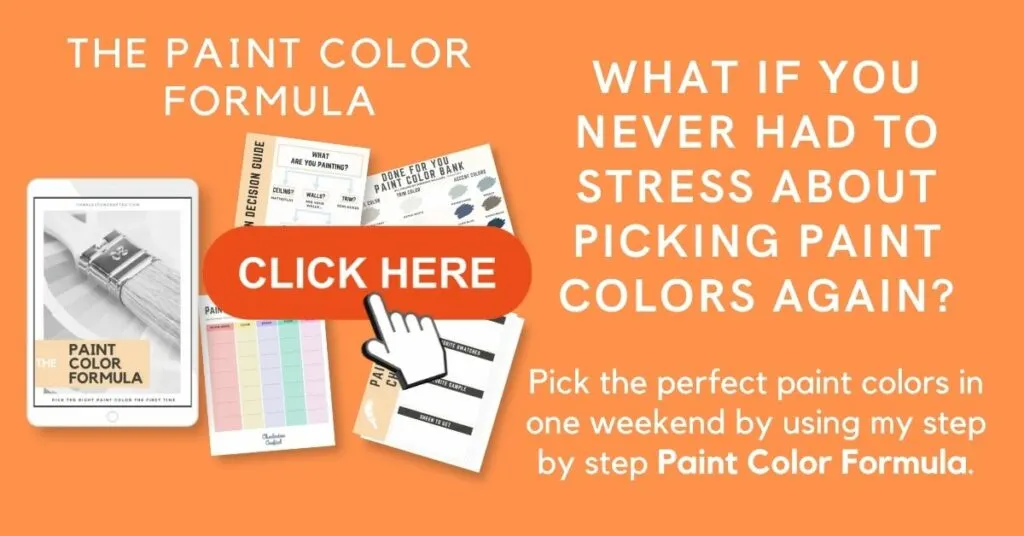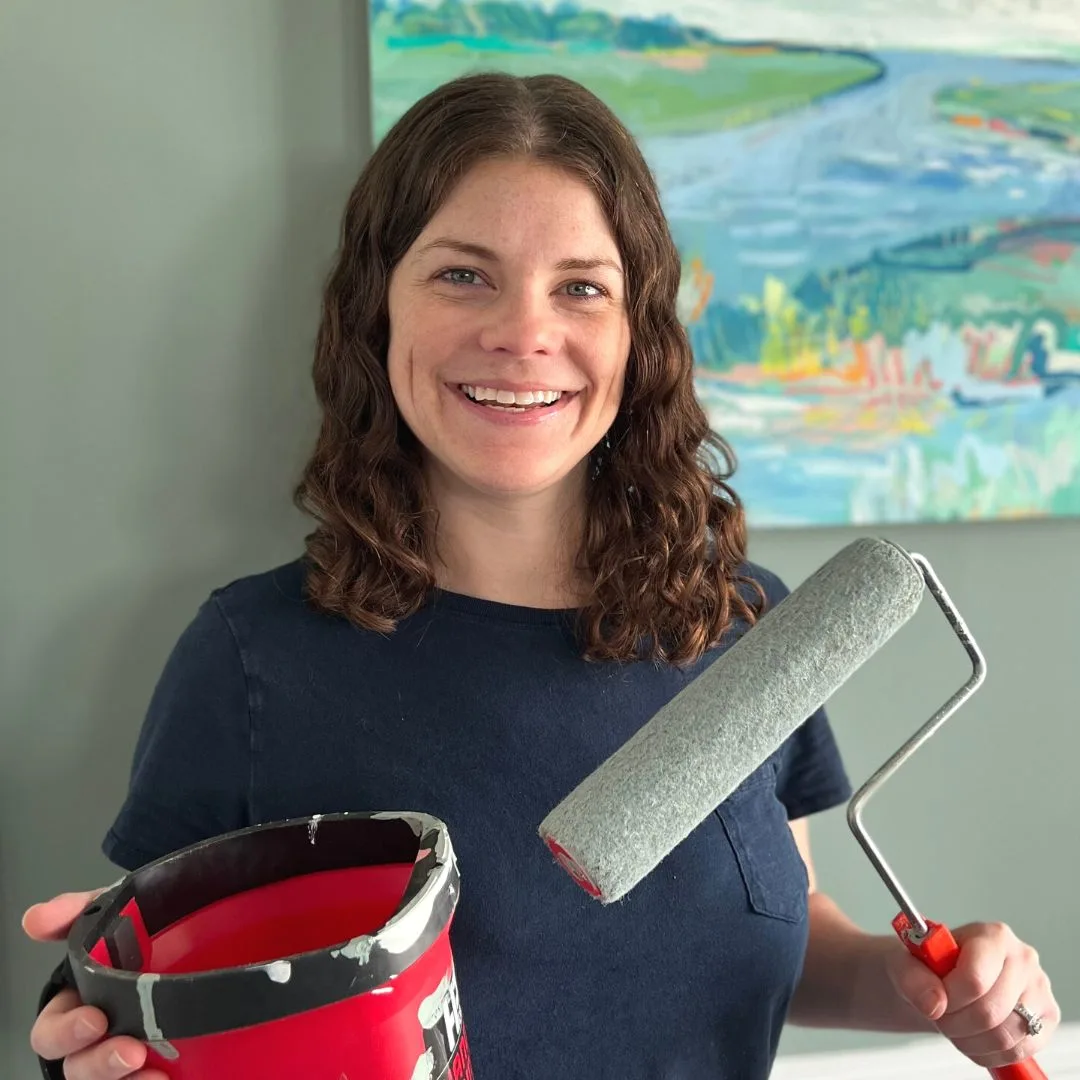 Morgan is passionate about home decor and paint colors. She has been sharing DIY home decor tips since 2012 at CharlestonCrafted.com. From there, she learned to love paint colors, and the Paint Color Project was born in 2022!