Looking for the perfect sage green paint color? Let's talk about Benjamin Moore October Mist and if it might be the perfect green color for your home!
Sage green paint colors are really having a moment. They are earthy, warm, and inviting. Greens play well with a boho style or if you want something nature-inspired.
See all of my favorite sage green paint colors here.
October Mist is a beautiful shade of sage – in fact, Benjamin Moore named it their color of the year for 2022.
Let's dive in to what makes this color so wonderful.
Click here to get a peel & stick sample of October Mist!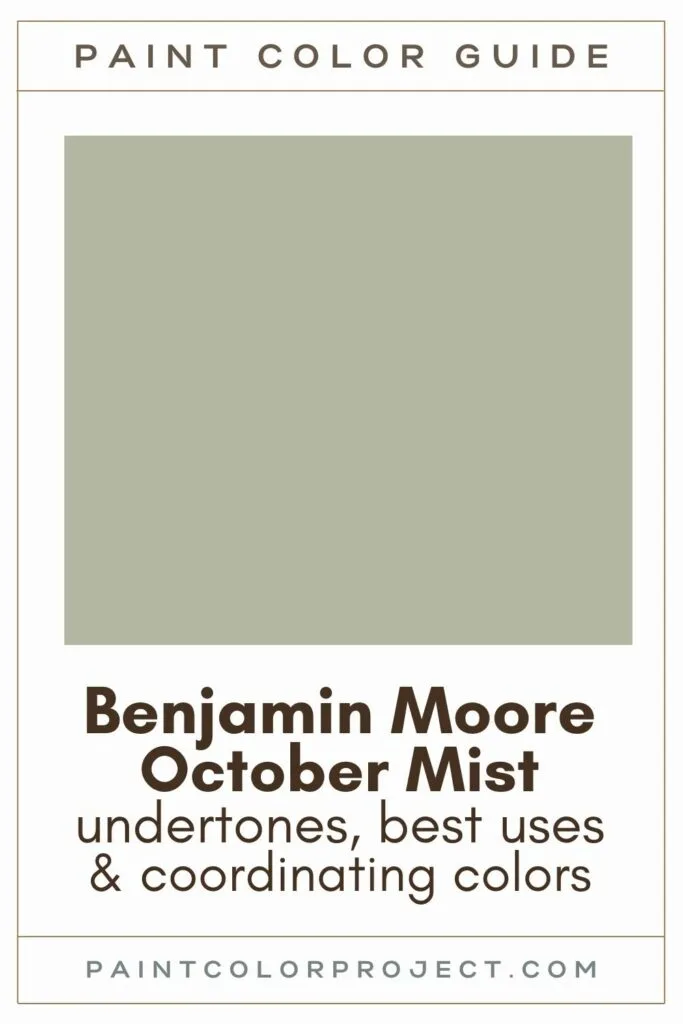 Benjamin Moore October Mist 1495
October Mist is a beautiful, earthy, mid toned sage green color. It can stand on its own or be made to feel neutral with the right natural accents.
Color Family
October Mist is in the green, or sage green, color family.
Light Reflectance Value
46.54
Light Reflective Value is the measurement of how much light a color bounces around. This is on a scale of 0 to 100 with 0 being pure black and 100 being pure white.
With an LRV of 46, October Mist is a solidly mid-toned color. This means that it is not light enough to wash out in bright light, but it is not too dark either. RGB Colors
R:182 B:184 G:165
RGB describes the amount of each color – red, green, and blue – present in a color. This is on a scale of 0 to 255 for each color. This is basically the color mix to make the color!
Hex Code
#b7b9a6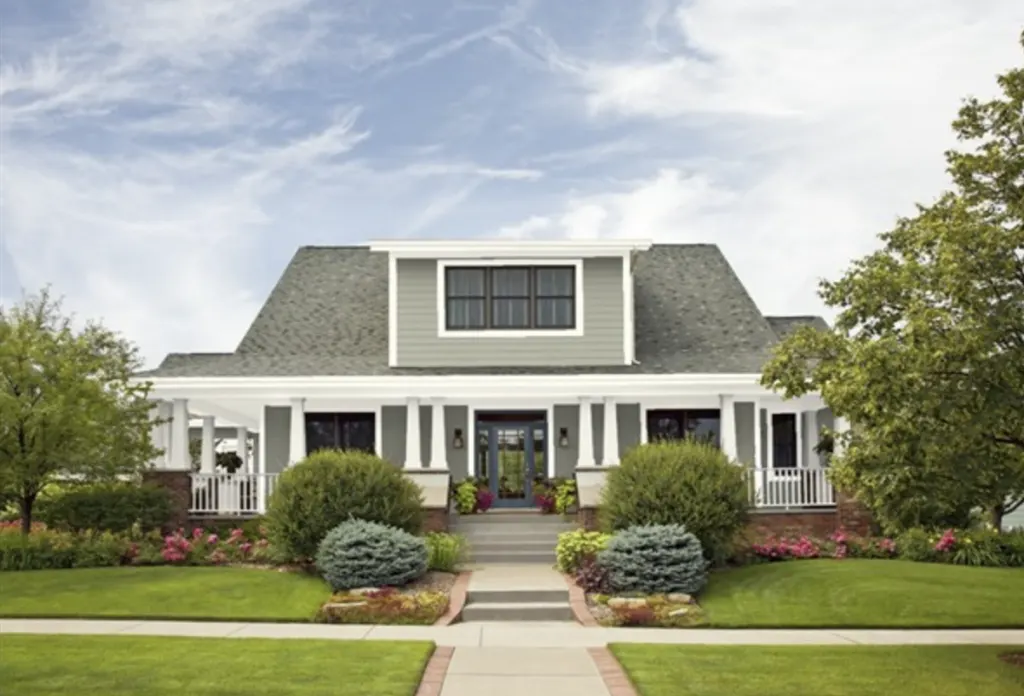 Undertones
October Mist has warm undertones. There is a bit of beige to it, which makes it feel more neutral than a bright green.
Best uses
Our entire downstairs of our home is painted a sage green color, so I definitely think that October Mist can work in any space. If you aren't feeling so bold, consider it for a cabinet or piece of furniture!
Green is a great option to help a room feel calm and relaxing. If you have a space where you like to unwind, this could be the perfect color!
Similar Colors
BM Saybrook Sage
BM Croquet
Behr Drived Chervil
Sherwin Williams Contented
Coordinating Colors
For a neutral look, stick to creamy white as a coordinating color. For a bold look, consider mustard yellow, navy blue, a deeper green, or a rusty red.
Creamy whites:
BM Glacier White
BM Cloud White
Golden Yellow:
BM Pale Moon
BM Heirloom Gold
Navy blue:
BM Hale Navy
BM Mysterious
Deep green:
Rusty red:
BM Venetian Portico
BM Wild Flower
BM High Park
Click here to get a peel & stick sample of October Mist!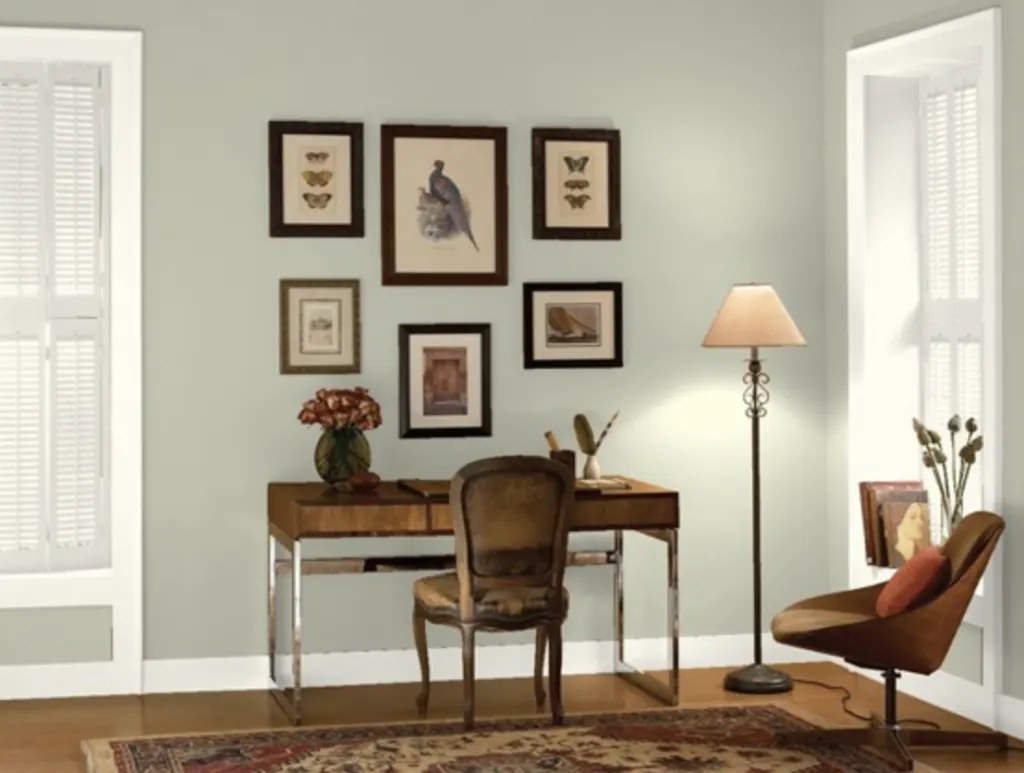 Trim Colors
I'd pair this warm green paint color with a soft white trim color, such as BM White Dove.
Benjamin Moore White Dove
Behr Cameo White
Benjamin Moore October Mist color palette
Join the (free!) PaintColorProject+ community to access this exclusive color palette! Once you join, you can right click & save the palette image!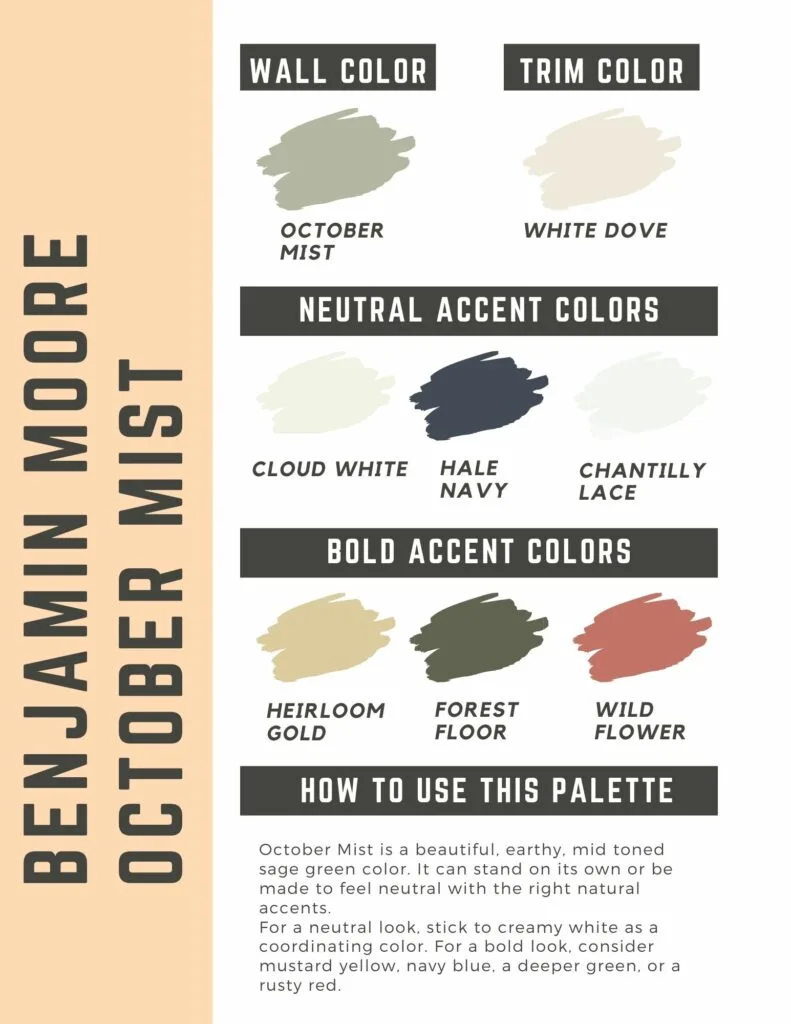 Click here to get a peel & stick sample of October Mist!
October Mist FAQS
What color is October mist?
October Mist is a warm toned sage green paint color. While it is green, it can definitely feel neutral in the right spaces.
Is October mist a warm color?
Yes, as a sage green paint color, October Mist is definitely warm toned.
October Mist vs. Sea Salt
Sea Salt is much lighter than October Mist and more cool toned. Sea Salt has a good bit of blue to it, while October Mist is much warmer and more beige.
October Mist vs. Revere Pewter
White October Mist and Revere Pewter are both green-beige colors, October Mist is much more green while Revere Pewter is much more beige.
Still not sure what paint color to choose?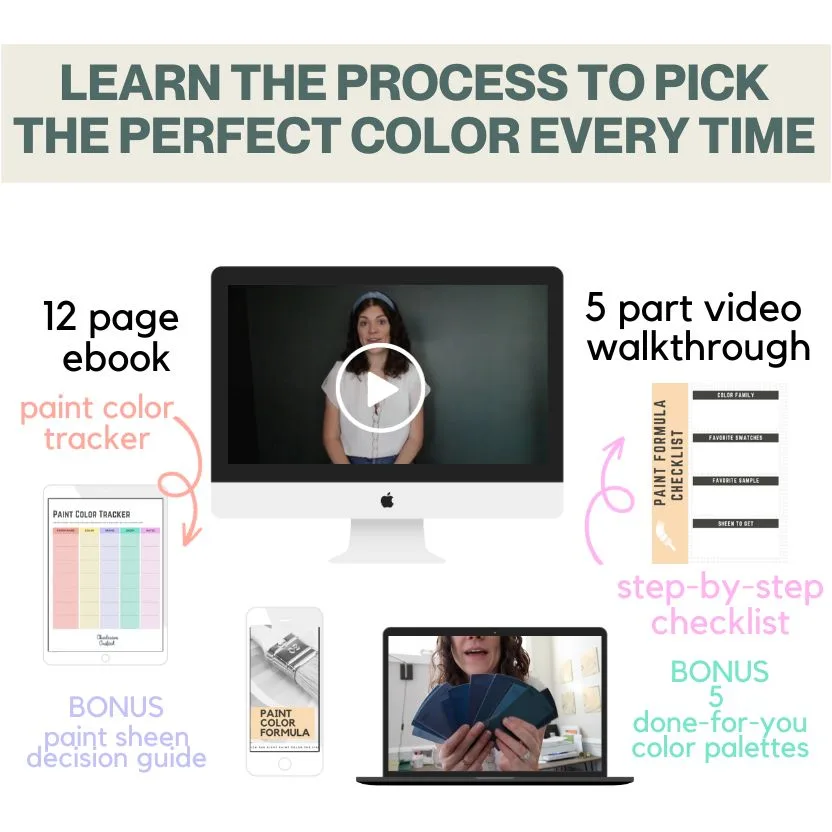 My Paint Color Formula ebook walks you through the painless process of expertly testing paint swatches to ensure you have the perfect color for your home.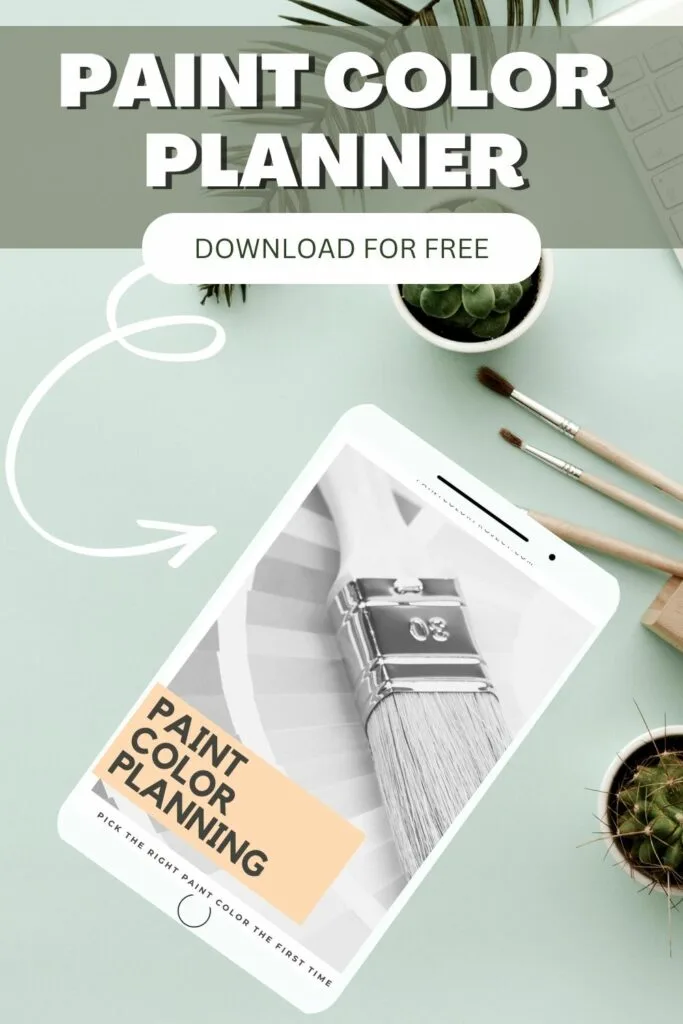 Thanks for reading!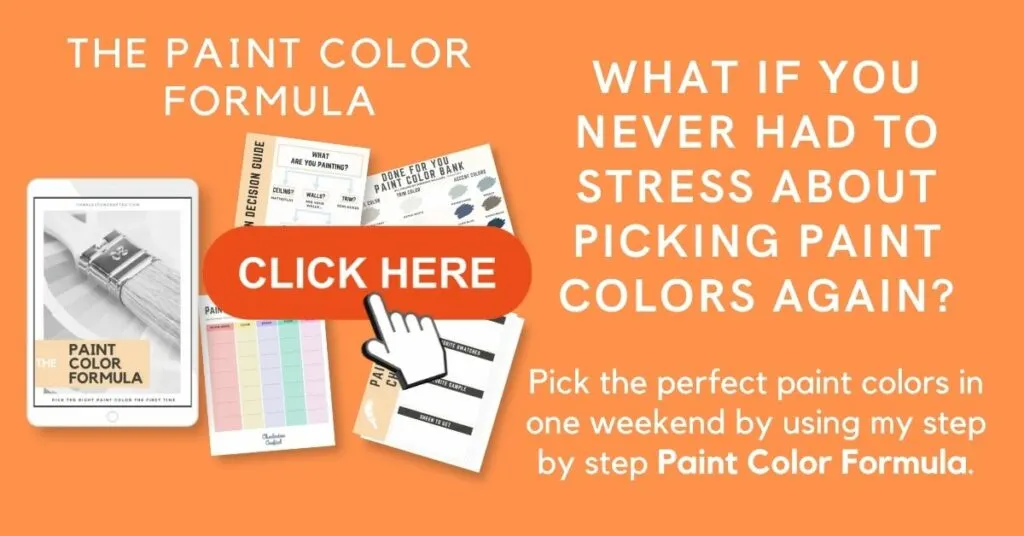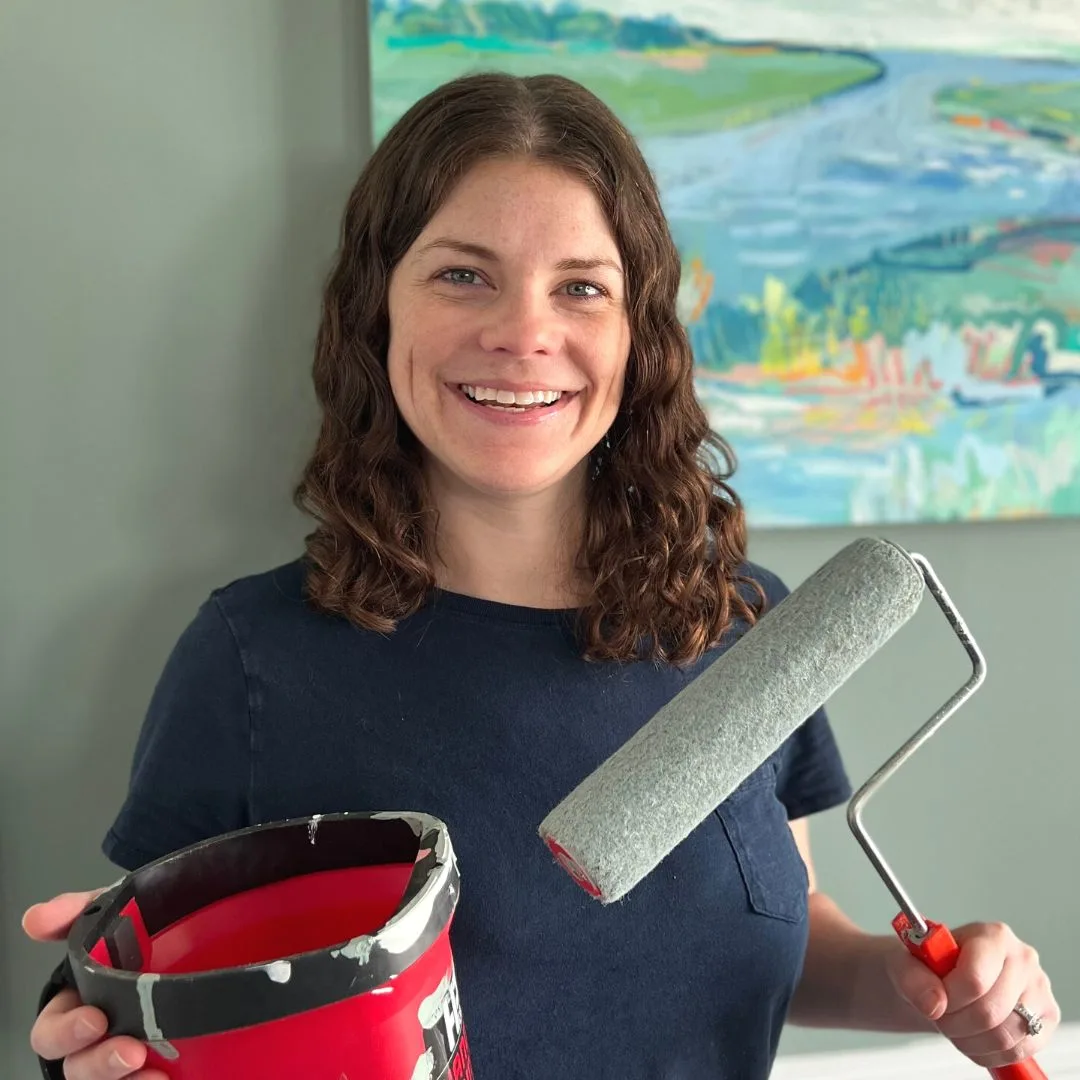 Morgan is passionate about home decor and paint colors. She has been sharing DIY home decor tips since 2012 at CharlestonCrafted.com. From there, she learned to love paint colors, and the Paint Color Project was born in 2022!