Looking for the perfect white paint color? Let's talk about Sherwin Williams Snowbound and if it might be the perfect color for your home!
White paint seems like it should be easy – right?
While white is sure to lighten and brighten any space, there are actually a ton of white paint color options.
My favorite white paint colors
The best way to see this is to go to your local hardware store and grab some white paint swatches. Lay them next to each other and you will quickly see that some look more pink while others skew a touch yellow.
The best white paint colors for cabinets
One really popular white paint color is Sherwin Williams Snowbound. What's interesting is that it's not really white – it's off white. It has a bit more color depth that gives it interest and warmth on your walls!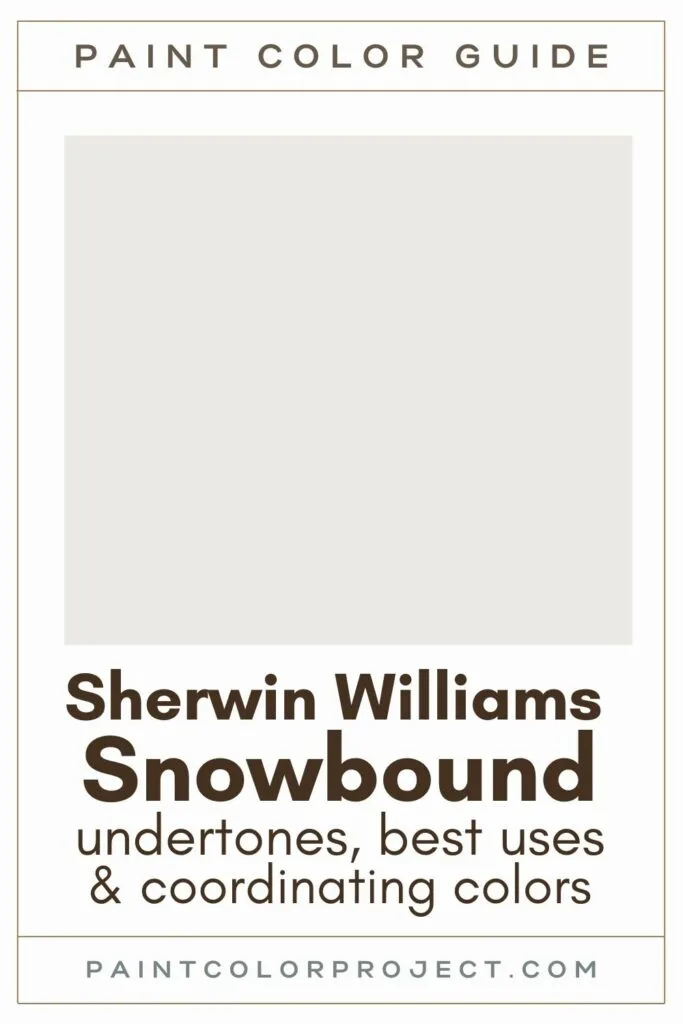 Sherwin Williams Snowbound SW7004
Click here to get a peel & stick sample of Snowbound!

Color Family
Snowbound is in the white color family.
Light Reflectance Value
83
Anything 83 or over is considered white, so this color is just on the cusp of white/off white.
Light Reflective Value is the measurement of how much light a color bounces around. This is on a scale of 0 to 100 with 0 being pure black and 100 being pure white.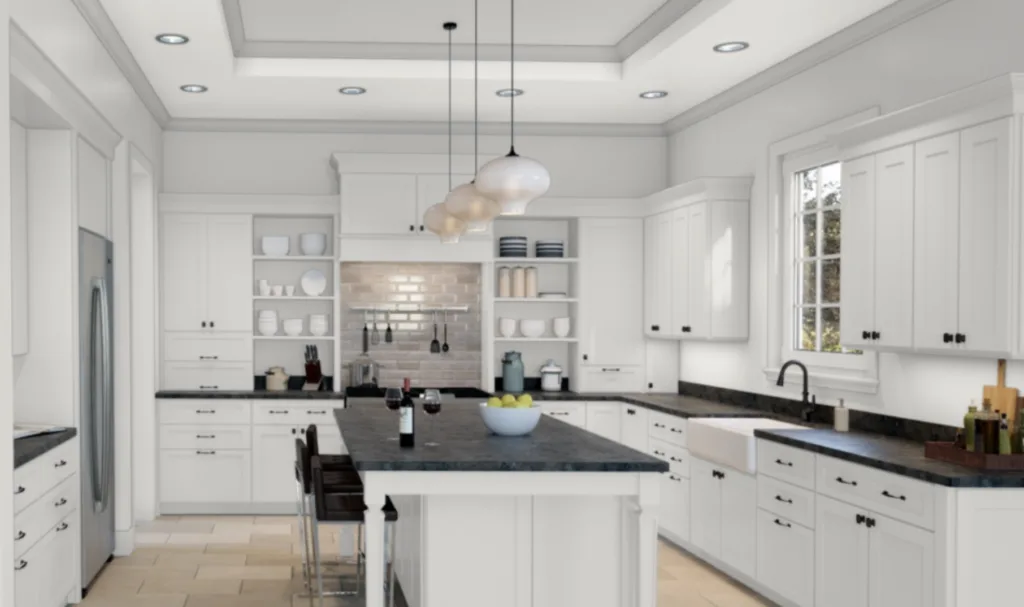 RGB Colors
R:237 G:234 B:229
RGB describes the amount of each color – red, green, and blue – present in a color. This is on a scale of 0 to 255 for each color. This is basically the color mix to make the color!
Hex Code
#edeae5
Undertones
Snowbound has soft, warm undertones. It leans a bit taupe (creamy, pink) or beige.
In rooms with southern facing windows or super bright natural light, the color will look more warm.
In northern-facing rooms or rooms without much light, it will look a little darker and less warm.
Best uses
This color is neutral enough to work in many rooms in your home. Consider it for:
kitchens
bedrooms
living room
dining room
exterior
Click here to get a peel & stick sample of Snowbound!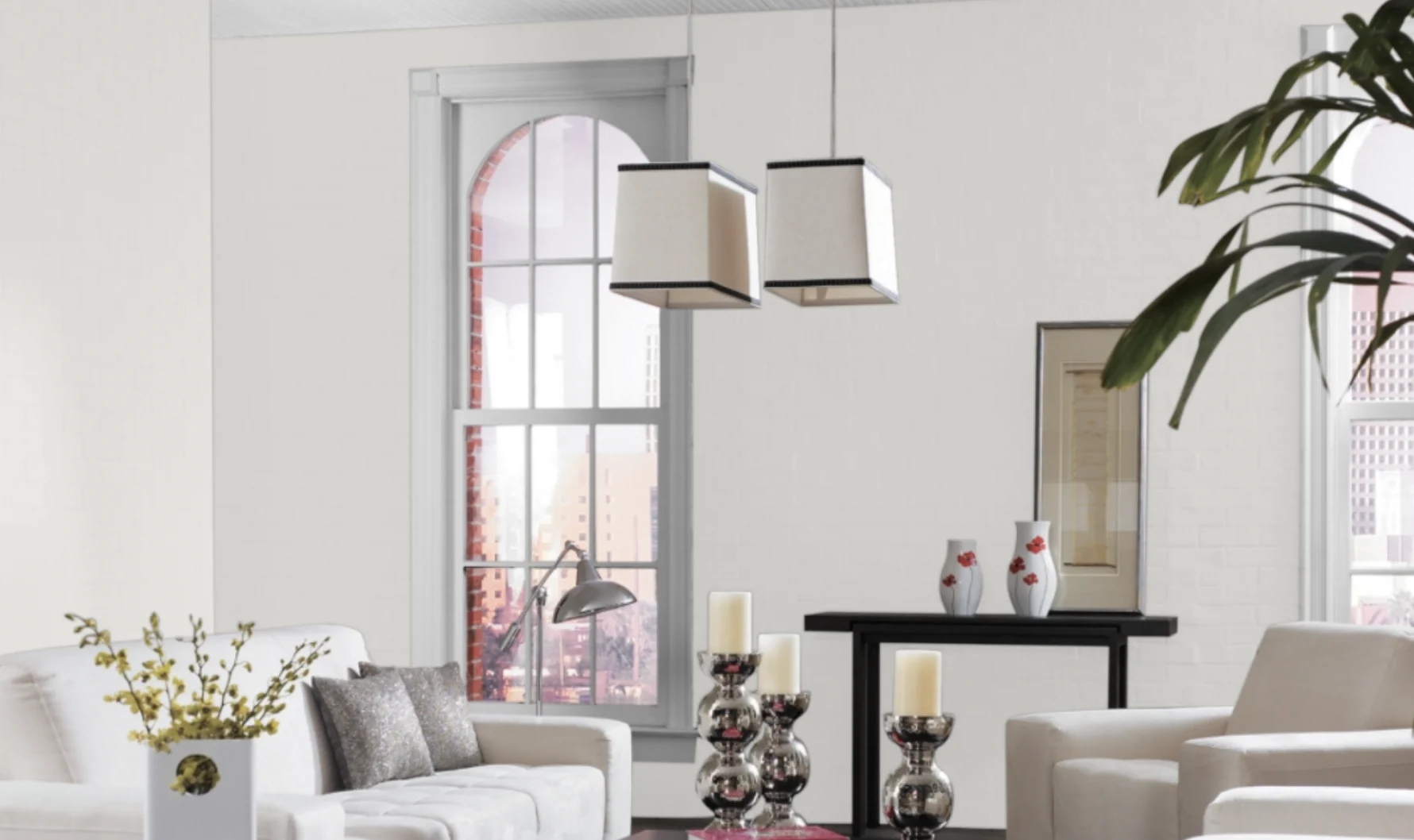 Similar Colors
SW White Sand
SW Pure White
SW Arcade White
Valspar Summer Gray
Valspar Pearly Gates
Behr Diamonds Therapy
Behr Chalk
Benjamin Moore Vanilla Milkshake
Coordinating Colors
Snowbound is super neutral and can work with a bunch of color schemes, but blues, warm grays, and black are popular choices.
Blues:
SW Rain
SW Tradewind
SW Distance
Warm Grays:
Black:
Trim Colors
You have 2 options for trim with Snowbound.
One, my favorite option, is to use snowbound for walls + trim. Just use a semi gloss finish on trim. This will give you a soft, layered look.
If you want more contrast, go with a crisp white. Anything creamy will just look muddy next to snowbound.
Benjamin Moore Simply White
Sherwin Williams Extra White
Behr Ultra Pure White
Click here to get a peel & stick sample of Snowbound!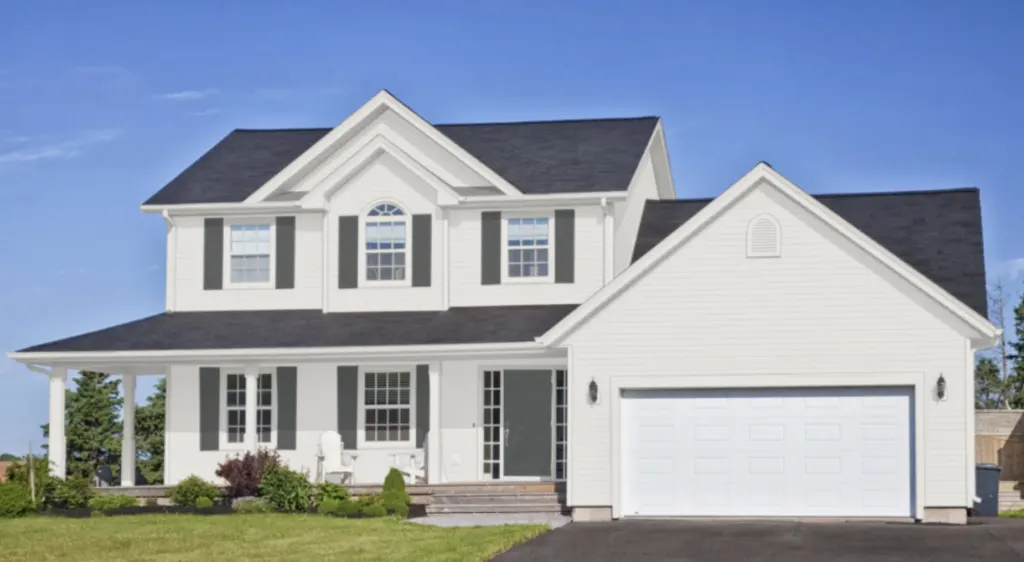 Free printable PDF Snowbound Paint Color Palette
Join the (free!) PaintColorProject+ community to access this exclusive color palette! Once you join, you can right click & save the palette image!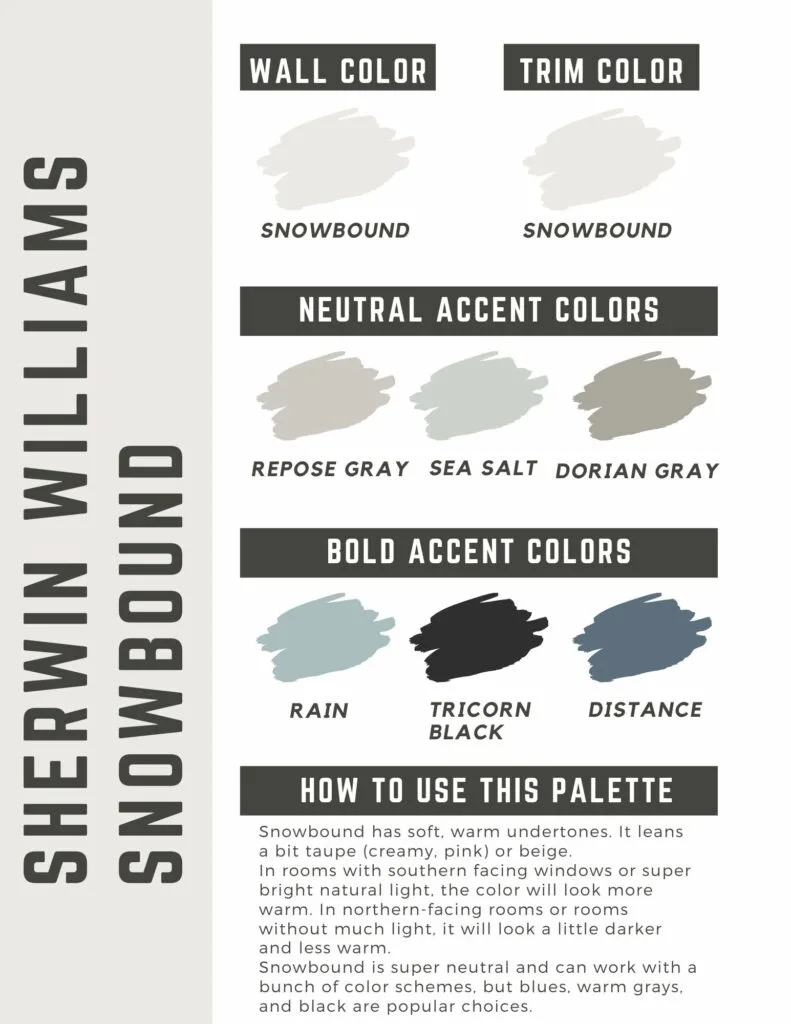 Snowbound FAQs
Is Sherwin Williams snowbound warm or cool?
Snowbound is a warm white, verging on off-white paint color.
What are the undertones in Sherwin Williams snowbound?
Snowbound has taupe, creamy, warm, and slightly pink undertones. You will see this more in darker rooms and less in very bright rooms.
What colors go well with Sherwin Williams snowbound?
Stay away from pinks and reds, which can bring out the pink undertones in Snowbound. Stick to pairings like blue, green, brown, or black.
Is snowbound too white?
No, Snowbound is almost off white – it is just on the cusp of being considered white.
Is snowbound brighter than pure white?
No, with a Light Reflective Value of 83, snowbound is just about as "dark" as a color can be and still be considered white.
What is the difference between alabaster and snowbound?
Alabaster has much more yellow/beige undertones while snowbound reads more pink/taupe.
Who makes the paint color snowbound?
Snowbound is made by Sherwin Williams paints.
Is snowbound too bright for exterior paint?
No, snowbound actually has a good amount of color pigment to it to keep it from looking stark outdoors. However, it's best to not pair it with pure white trim, which can make it look pink. Use snowbound for the siding and the trim for best results.
Does snowbound go with Repose gray?
Yes, Snowbound is actually a frequently recommended trim paint color to pair with Repose Gray. These colors layer nicely!
Snowbound vs Eider White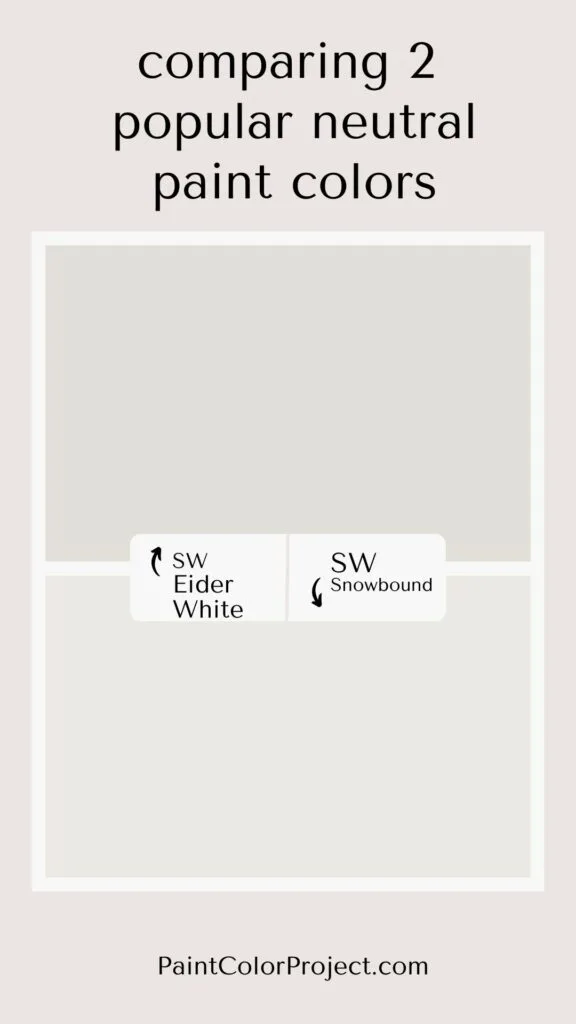 The biggest difference between these colors is their lightness. Snowbound is significantly lighter than Eider White.
Read my complete Sherwin Williams Snowbound vs Eider White comparison post!
Snowbound vs Pure White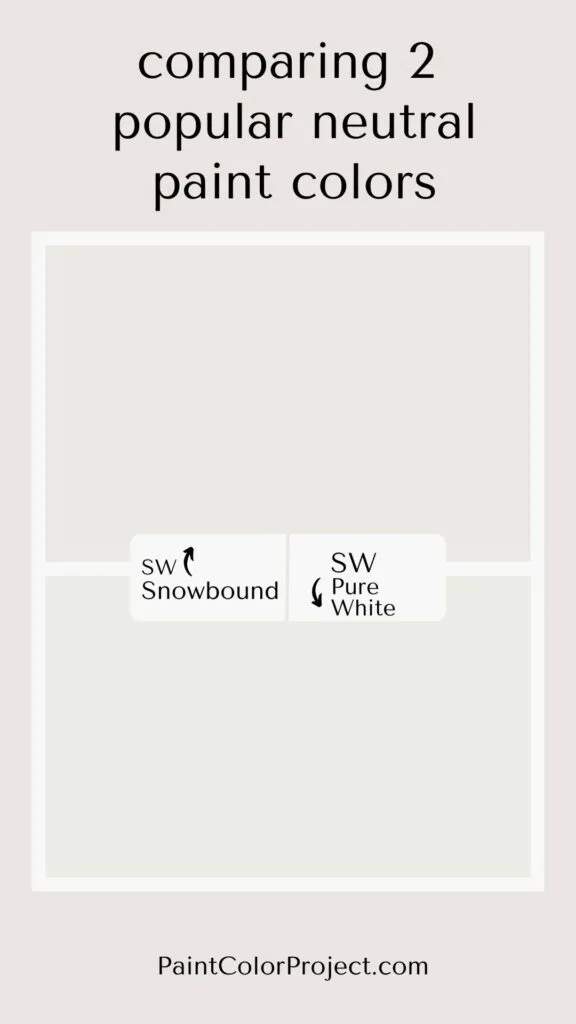 The biggest difference between Pure White and Snowbound comes down to undertones. They are both warm toned white colors but there is some variance between them.
Snowbound has creamy, beige undertones and can lead a little taupe (pink). It has definite gray undertones and can sometimes look a little dirty/dingy next to something more paper white.
Pure White has golden, or slightly yellow, undertones.
Read my complete Sherwin Williams Snowbound vs Pure White comparison post.
Still not sure what paint color to choose?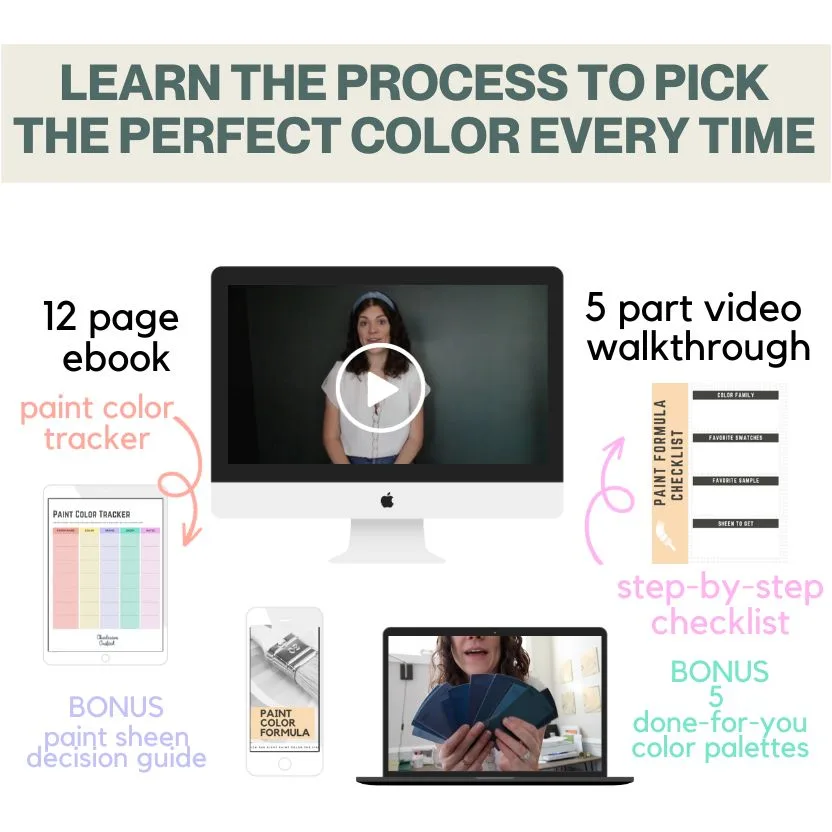 My Paint Color Formula ebook walks you through the painless process of expertly testing paint swatches to ensure you have the perfect color for your home.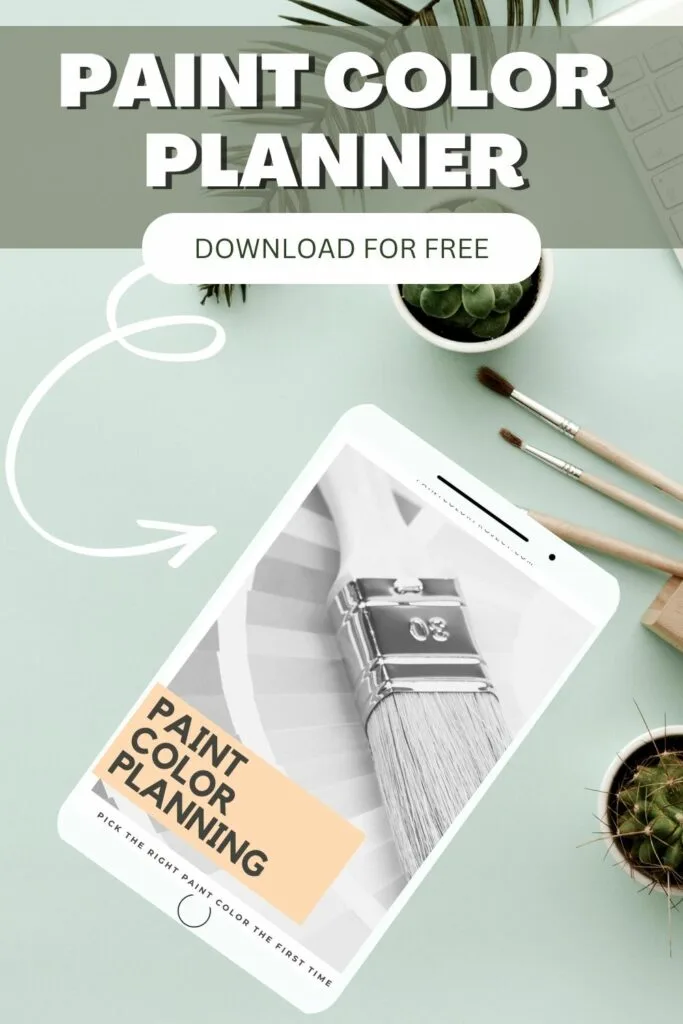 Thanks for reading!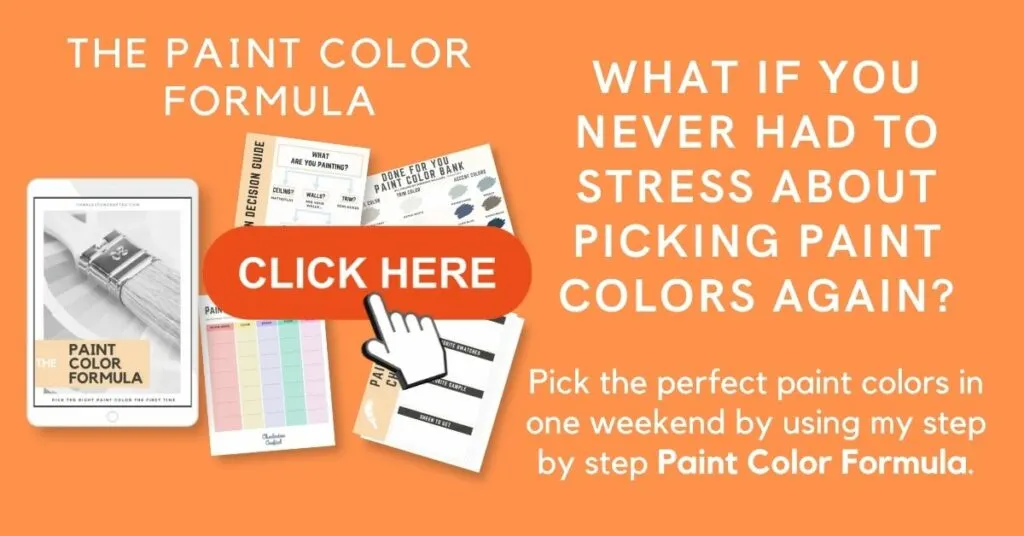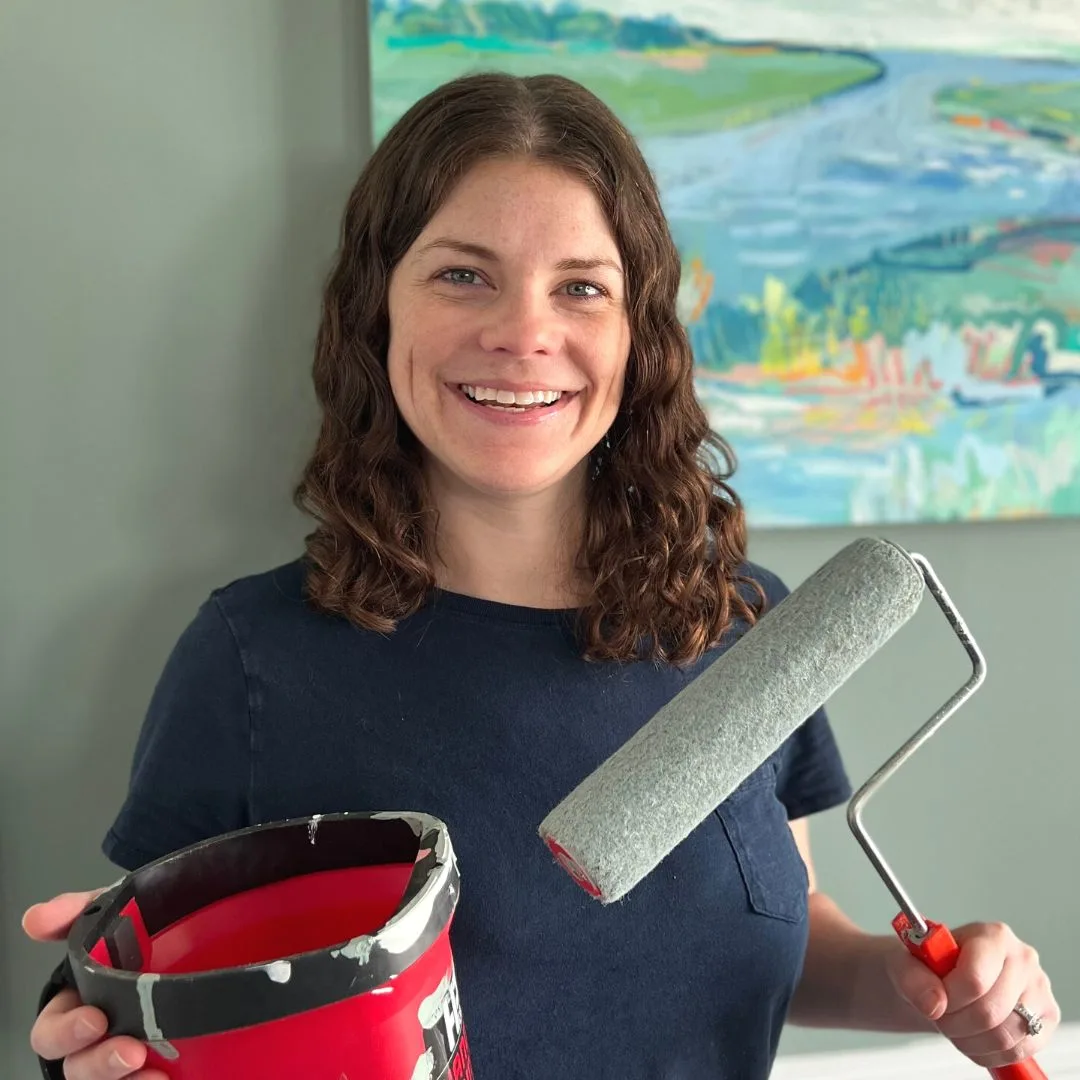 Morgan is passionate about home decor and paint colors. She has been sharing DIY home decor tips since 2012 at CharlestonCrafted.com. From there, she learned to love paint colors, and the Paint Color Project was born in 2022!