Looking for the perfect white paint color? Let's talk about Sherwin Williams Incredible White and if it might be right for your home!
Picking paint colors is a lot of work! If you want a light, bright color with a little more pigment to it than a plain white, you are probably looking at a TON of off white options.
Off whites are great for adding a little depth to your space but still feeling clean and bright.
However, you have to pick the right color with the right undertones.
Let's talk about Sherwin Williams Incredible White and if it might be right for you!
Click here to get a peel and stick sample of Incredible White.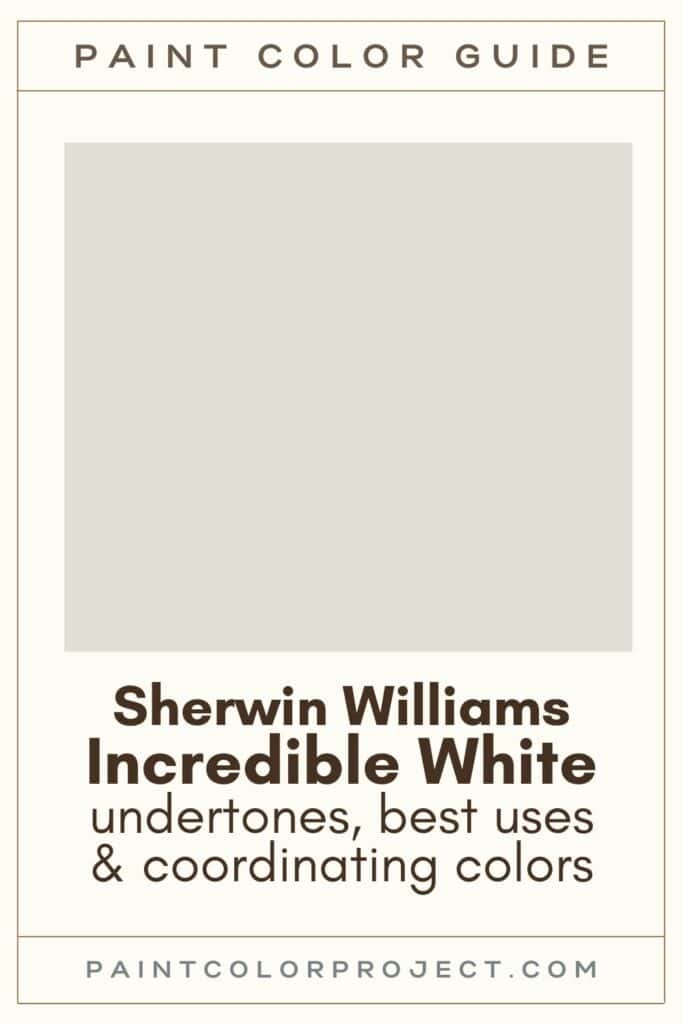 Sherwin Williams Incredible White SW7028
Color Family
Incredible White is in the off-white paint color family.
Light Reflectance Value
74
Light Reflective Value is the measurement of how much light a color bounces around. This is on a scale of 0 to 100 with 0 being pure black and 100 being pure white.
Anything with an LRV between 73-82 is considered "off white". So, Incredible White is actually at the darker end of the off white range.
RGB Colors
R:227 G:222 B:215
RGB describes the amount of each color – red, green, and blue – present in a color. This is on a scale of 0 to 255 for each color. This is basically the color mix to make the color!
Hex Code
#e3ded7

Undertones
Incredible White is a warm toned paint color. However, it doesn't read as yellow or golden. The undertones are more taupe – which means that it can read slightly pink or purple in certain lighting (often warmer, southern facing light).
This is why it's super important to swatch colors and look at them day and night before committing!
If your room is north facing, this color will feel less warm and more neutral. In a south facing room, it will feel even warmer.
Best uses
This color is neutral enough to be used as a whole house color! It's also perfect for light and bright living rooms and bedrooms where you want a hint of light bright neutral color on the wall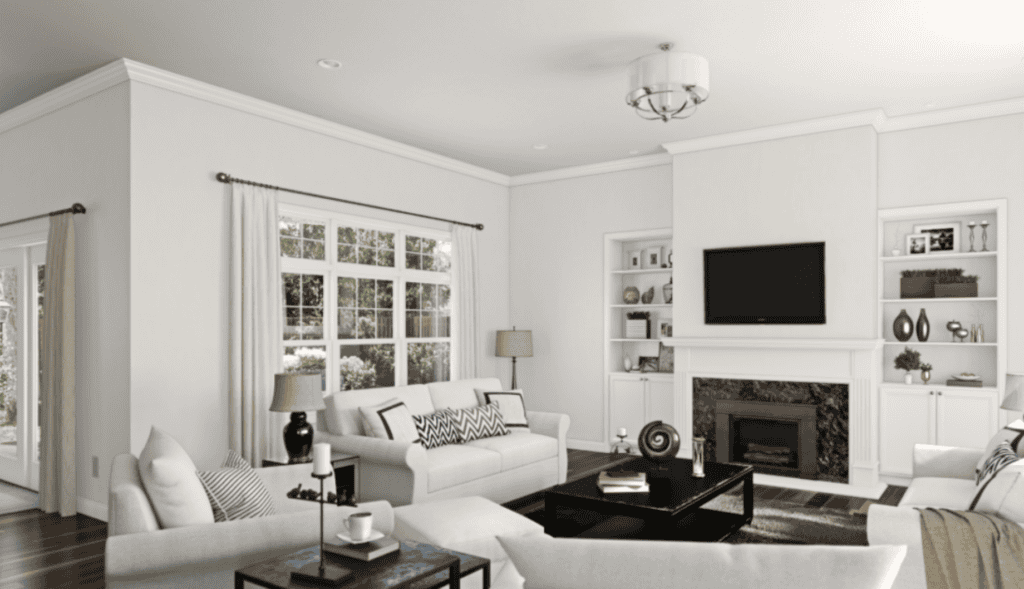 Similar Colors
Sherwin Williams Zurich White
Sherwin Williams Sunbleached
Behr Crème De La Crème
Benjamin Moore Classic Gray
Benjamin Moore Soft Secret
Valspar Gilded Linen
Farrow & Ball Strong White
Coordinating Colors
This color pairs well with darker greige colors, bright white, and navy blue. Avoid anything yellow as it will bring out the pink undertones in Incredible White.
Darker Greige colors:
Sherwin Williams Anew Gray
Sherwin Williams Drift of Mist
Sherwin Williams Mindful Gray
Sherwin Williams Dovetail
Bright white colors:
Sherwin Williams Extra White
Sherwin Williams Snowbound
Sherwin Williams Pure White
Blue colors:
Sherwin Williams In the Navy
Sherwin Williams Naval
Sherwin Williams Searching Blue
See all of my favorite navy paint colors here.
Trim Colors
My first choice for white paint colors is to actually paint the trim the same color as the walls – in this case, Incredible White – just use a semigloss finish on the trim.
This gives a very soft, delicate tone-on-tone look.
For higher contrast, you will want to pair Incredible White with a crisp, bright white trim color. Anything creamy will look dirty next to Incredible White.
Benjamin Moore Simply White
Sherwin Williams Extra White
Behr Ultra Pure White
Click here to get a peel and stick sample of Incredible White.
Incredible White Color Palette
Check out my custom color palette including all of the best Incredible White coordinating colors!
Join the (free!) PaintColorProject+ community to access this exclusive color palette!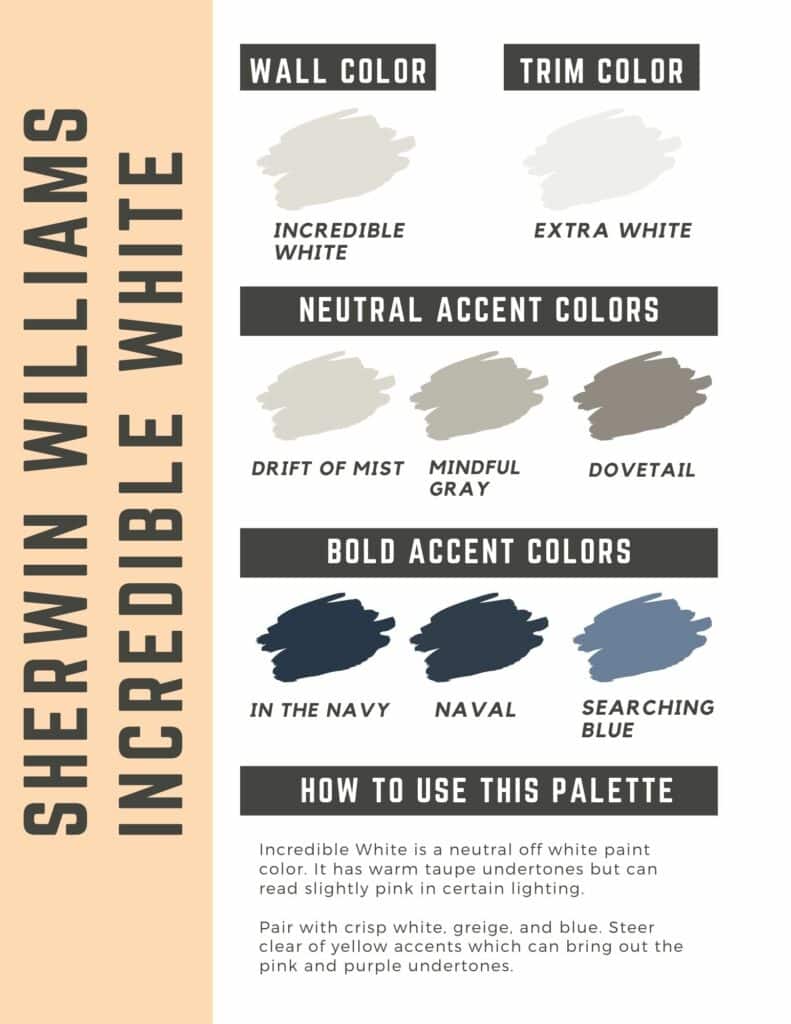 Incredible White FAQs
Is incredible white cool or warm?
Incredible White has warm, gray undertones. It is however very neutral and does not read as yellow at all.
Is Incredible White good for an exterior?
Incredible White is OK for an exterior but not usually a top choice or super popular color pick.
Remember that exterior light is going to be very bright and will wash colors out a bit. So, this color will look less off white and more white white outside.
If your home faces north (or east in the afternoons or west in the mornings) the color could look a bit pink or purple, so be SURE to swatch it and check it out day and night before committing.
Still not sure what paint color to choose?
My Paint Color Formula ebook walks you through the painless process of expertly testing paint swatches to ensure you have the perfect color for your home.
Thanks for reading!