Looking for the perfect creamy, warm white paint color? Let's compare Sherwin Williams Creamy vs Alabaster to see which might be perfect for your home!
Cream paint colors are the epitome of elegance, bringing a timeless and refined charm to any space.
Whether you're looking to create a serene oasis or add a touch of warmth to your home, cream paints offer a versatile palette that can be easily tailored to your desired aesthetic.
I love a good cream paint color because it is light and bright without feeling cold or sterile at all!
Two of the most popular colors in this category are Sherwin Williams Creamy and Alabaster.
Read my full review of Alabaster
Creamy vs Alabaster
Creamy and Alabaster and two super popular cream paint colors. In fact, at a glance they might look the same.
But, when you put them next to each other you will clearly see the difference in color and undertone!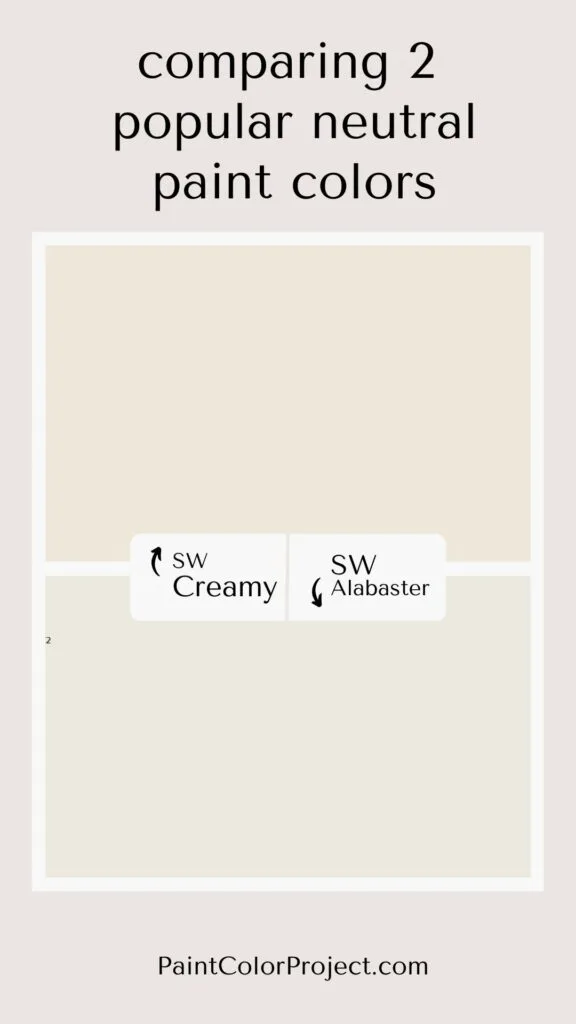 What is similar about Creamy vs Alabaster?
Creamy and Alabaster are both warm toned off white or cream paint colors.
They are both technically considered off white, but can appear to be closer to white, especially in a very bright room.
These are two super popular paint colors and both can be great for giving your room that light, bright, and airy look without feeling cold or icy at all.
What is different about Creamy vs Alabaster?
| | | |
| --- | --- | --- |
| | Creamy | Alabaster |
| LRV | 81 | 82 |
| RBG | R: 239 G: 232 B: 219 | R:237 G:234 B:224 |
| Undertones | warm, beige toned | warm, beige toned, gray |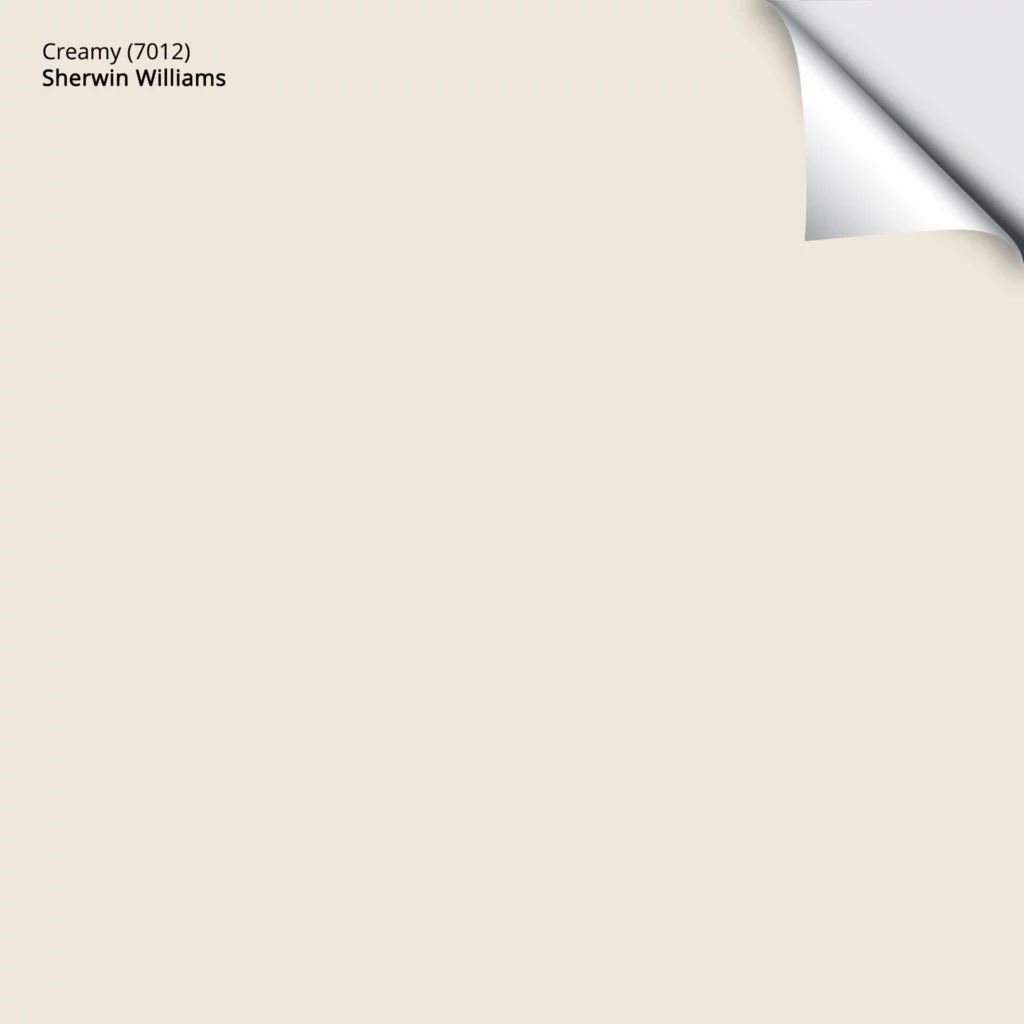 LRV
LRV measures the darkness of a color, with 100 being pure white. With LRVs of 81 and 82, these two colors are very similar in darkness, but Alabaster is slightly lighter and brighter compared to Creamy.
Undertones
These are both warm toned colors with beige undertones. However, when you put the colors next to each other, you will clearly see that Alabaster has a lot more gray to it compared to Creamy.
How do I decide between these two colors?
Take a good look at the lighting in your room. Do you have bright, south facing light? This warm light will make Creamy look a bit yellow. Alabaster, with it's gray tones, will feel a little more neutral.
On the other hand, if you have north facing windows or cool, LED lighting in the room, Alabaster could start to read as a light gray. So, Creamy might be a better option!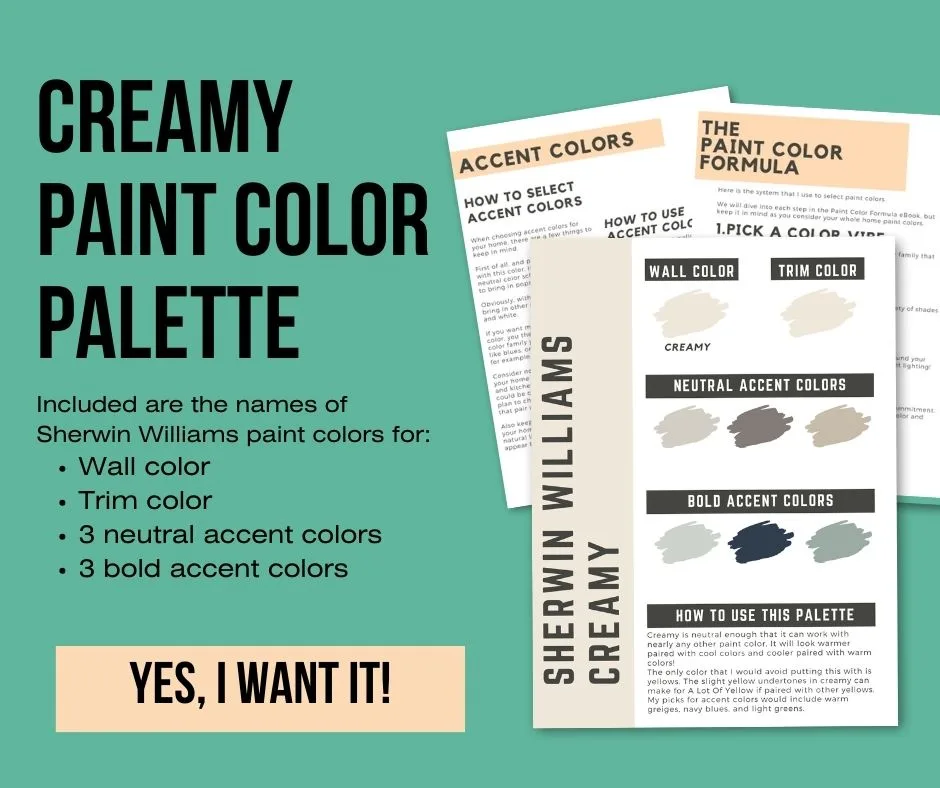 Before you go…
Still not sure which cream paint color is right for you? Let's look at all of your options by exploring the best cream paint colors for your home!
Still not sure what paint color to choose?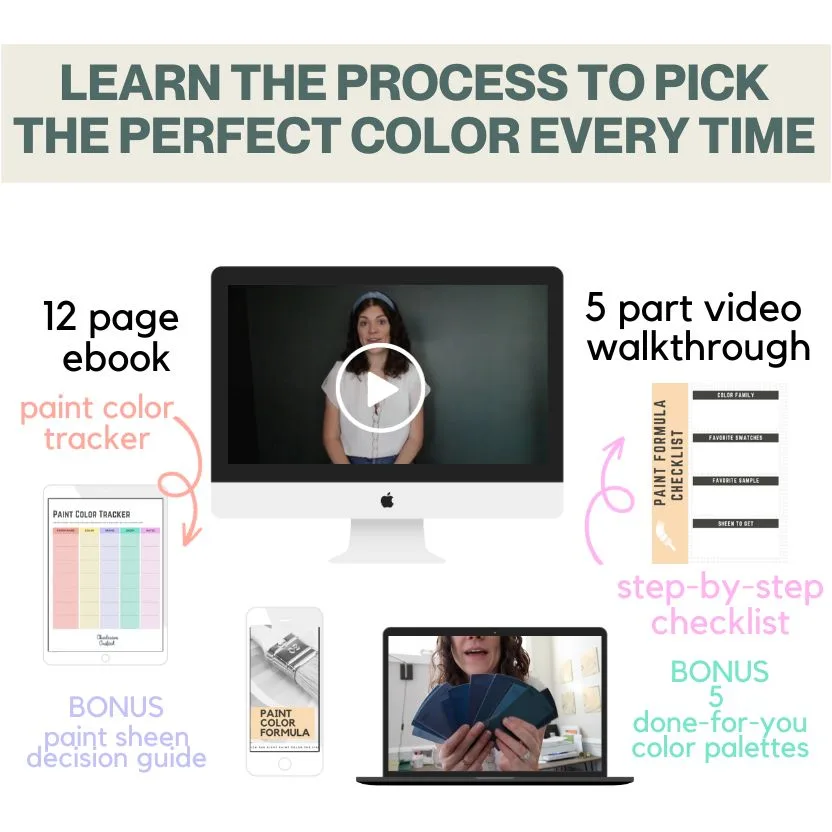 My Paint Color Formula ebook walks you through the painless process of expertly testing paint swatches to ensure you have the perfect color for your home.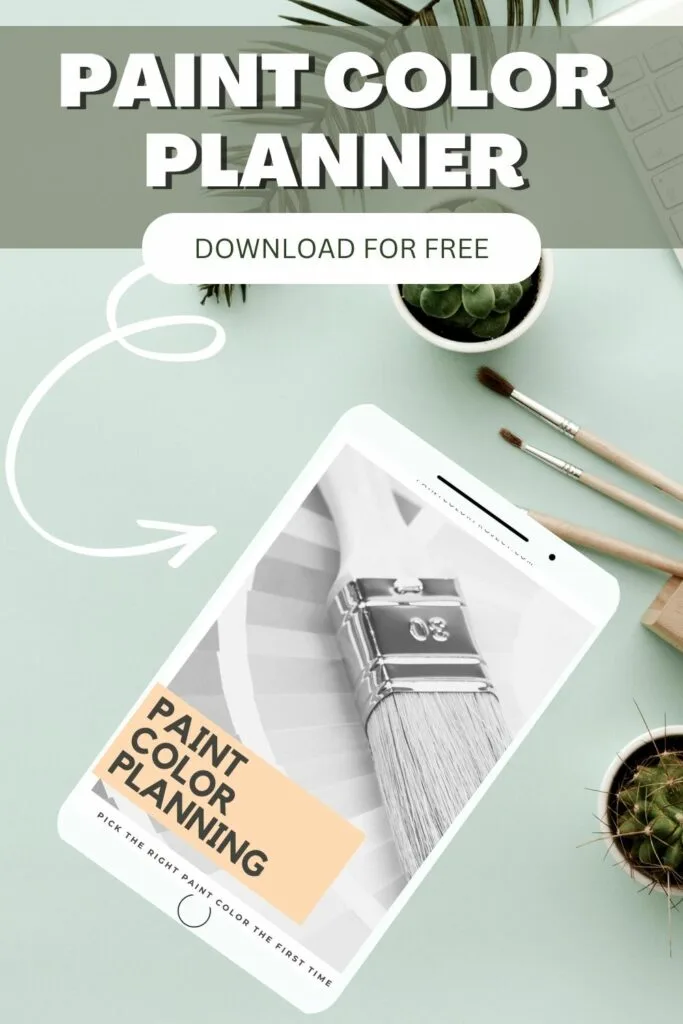 Thanks for reading!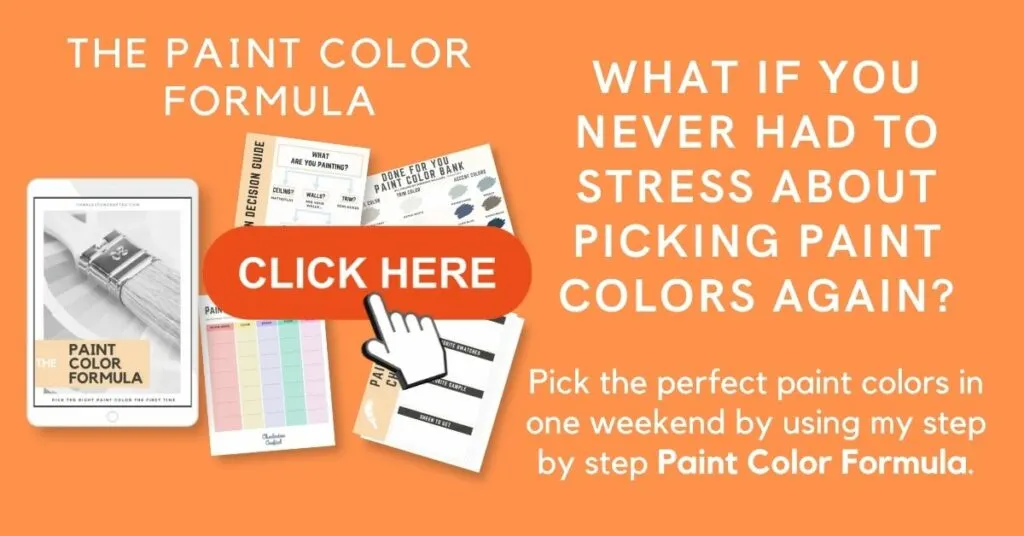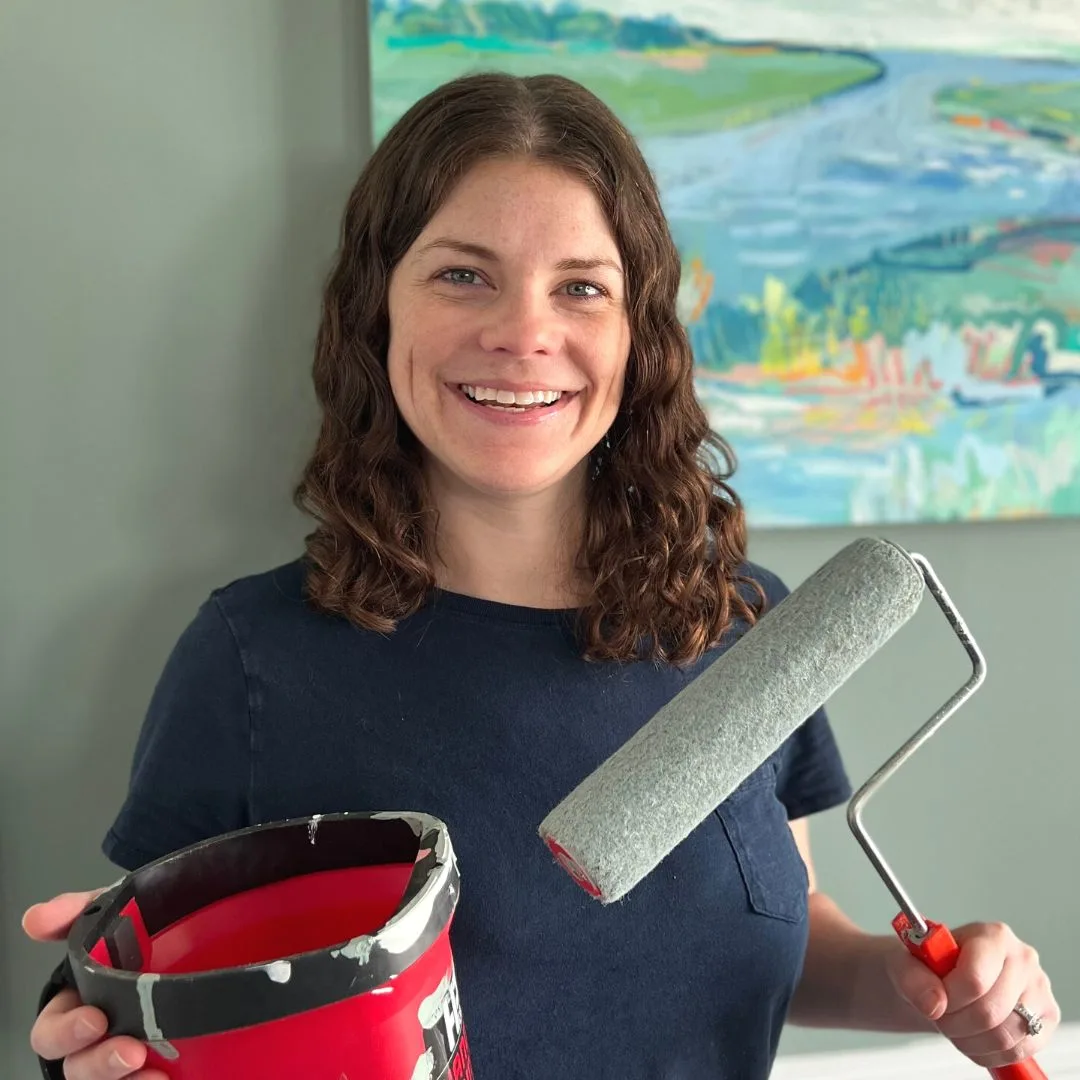 Morgan is passionate about home decor and paint colors. She has been sharing DIY home decor tips since 2012 at CharlestonCrafted.com. From there, she learned to love paint colors, and the Paint Color Project was born in 2022!