Want to paint your laundry room? Here are the best laundry room paint colors to inspire you in picking a color!
Laundry rooms are an essential part of many homes. They are hard working spaces – and aren't exactly where you take guests on a tour, but who says they can't be beautiful.
While it might be a fantasy to totally renovate your laundry room, that isn't always in the budget.
But, putting up a new coat of paint in your laundry room is an easy and inexpensive way to five the space a new look.
Things to keep in mind when selecting your laundry room paint color
There are a few things to remember when you are selecting the paint color for your laundry area.
Lighting
How much light does your room get? Is there a window? Overhead lighting? Most laundry rooms don't have much in the way of natural light, so be sure to test your colors with the overhead lights on!
Cabinetry
Do you have laundry room cabinets? Do you want to paint it or keep the cabinet color? White cabinets can go with anything but wood tones might not.
Flooring
What flooring do you have? Do you plan to keep it or change it? Add a rug?
Washer and dryer
What color are your washer and dryer? They are usually black or white, sometimes chrome. You will want to coordinate.
Trim
Does your room have trim? Is it white trim? Wood? Another color? Do you plan to paint it?
The rest of your home
In general, you want your laundry room to flow with the rest of your home. If you decorate with a lot of white, stick to that color scheme. If you choose more moody, bold colors, stay there. Your laundry room can be an accent color, but it should usually be in the same color family as any adjoining hallways or rooms.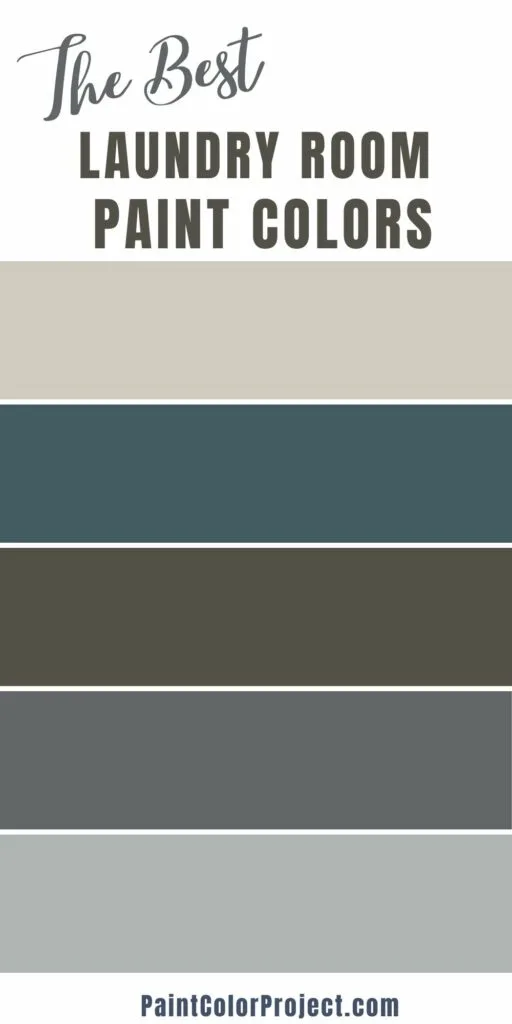 The best laundry room paint colors
There are basically two ways to play your laundry room paint color – light, bright and neutral (like crisp white laundry!) or colorful and bold.
On the one hand, you cannot go wrong with neutral.
On the other hand, laundry rooms are usually small rooms that are not visited by anyone outside of your household. It's not unlikely that only one family member really frequents the laundry room.
So, why not go bold and dramatic?!
The most important thing to do is whatever makes you happy!
But, here's some inspiration for you.
Neutral paint colors
Agreeable Gray by Sherwin Williams

This is one of the most popular paint colors and there's a reason why! It is a warm, neutral, tannish gray.
Our builder painted our entire home Agreeable Gray and you can read about it and see it for yourself!
Click here to order a 12″x12″ peel and stick sample of Agreeable Gray.
Repose Gray by Sherwin Williams (SW 7015)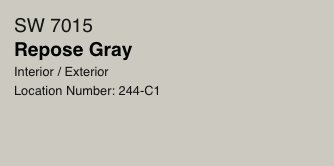 If you are looking for a more cool gray color, Repose Gray might be the perfect shade for your laundry room.
This gray has purple undertones and sometimes even reads green so be sure to test it with your lighting to be sure of how it looks in your space.
Read our complete Repose Gray review.
Click here to order a 12″x12″ peel and stick sample of Repose Gray.
Online by Sherwin Williams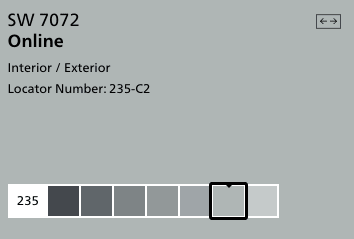 This is another favorite gray paint color of mine and the color of our whole last house!
It is a cool gray that is ever so slightly darker than light gray. It paired really well with the white trim, blue accents, and coastal vibe in our whole house!
Read our complete Online paint color review.
Click here to get a 12″x12″ peel and stick sample of Sherwin Williams Online paint color!
Front Porch by Sherwin Williams (SW 7651)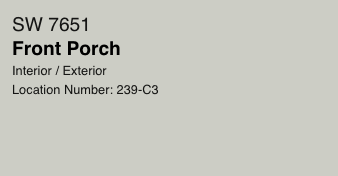 Front Porch is a true gray color that reads cool with slightly blue undertones.
This shade is a little darker than a "light gray" and is perfect if you want a neutral color with a little more color to it.
Click here to order a 12″x12″ peel and stick sample of Front Porch.
Iced Cube Silver by Benjamin Moore (2121-50)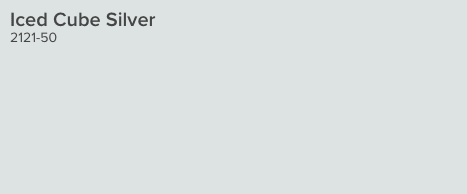 This gray color has a lot of blue to it and can easily read as a baby blue. It's really easy to work with if you want a little bit of color and personality without being overwhelming whatsoever.
This color pairs really well with white cabinetry and trim. It also looks great with marble counters or tile!
Click here to order a 12″x12″ peel and stick sample of Iced Cube.
Bold paint colors
Trailing Vine by Behr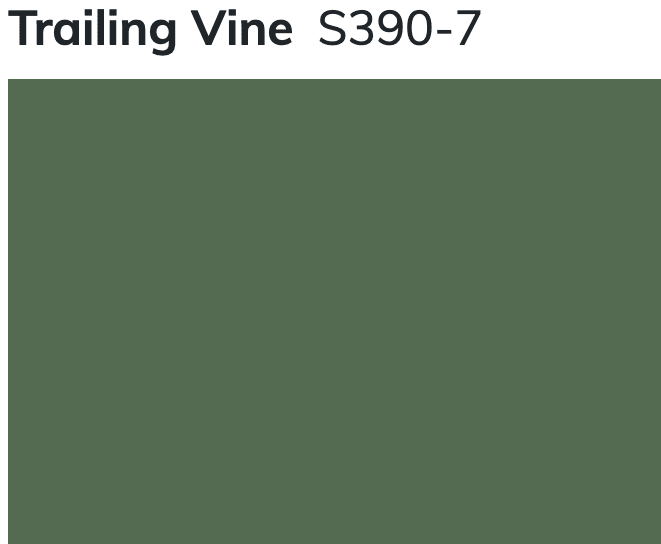 This green is highly pigmented but muted so it brings a lot of earthiness and bold color to the space without being overwhelming or too colorful
Pairs very well with natural elements like natural wood or house plants!
Read our complete Trailing Vine color review.
Van Deusen Blue by Benjamin Moore (HC 156)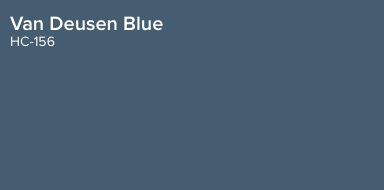 This bold navy blue color has slightly muted, gray undertones.
In some light, this shade might appear as a very dark navy, while in other lighting it is more of a medium toned blue.
This is a great option if you want to paint your laundry room a navy blue that reads definitely blue and not black.
Click here to get a 12″x12″ peel and stick sample of Van Deusen Blue.
Newburg Green by Benjamin Moore (HC-158)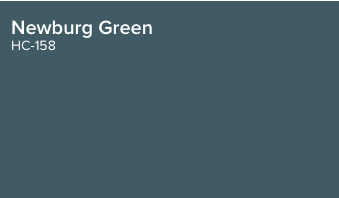 If you love teal and are looking for a jewel toned paint color, consider this one! It is a beautiful dusty deep teal shade.
This color would look truly stunning if you have or add molding to your laundry room walls and paint the whole thing this color for some tone-on-tone texture.
Click here to get a 12″x12″ peel and stick sample of Newburg Green.
Stormy Sky by Benjamin Moore (1616)

This is a charcoal gray color with blue undertones – in some light it can almost read as navy. It is really deep and rich and would be beautiful painted on the ceiling, too.
Click here to get a 12″x12″ peel and stick sample of Stormy Sky.
Urbane Bronze by Sherwin Williams SW 7048

This 2021 Color of the Year is a deep brown color. I know, yuck brown. But it is really rich and luscious.
It has an almost velvety color that transforms in different lighting to take on grays and browns for a really complex shade.
Read our complete Urbane Bronze color review.
How do you make a small laundry look bigger?
Clean up clutter to instantly make a space feel bigger. Put things away in bins or cabinets if possible.
Add a large folding surface like a wood countertop to create long horizontal lines.
Hang mirrors or large art pieces to give your eye somewhere to settle.
What is a good color to paint a small laundry room?
Very light colors are always safe and known for brightening small spaces.
Whatever color you choose, consider painting the ceiling the same color. It actually can draw the eye up in smaller spaces!
How do I brighten my laundry room?
White walls, light cabinets, light flooring, and multiple light sources will instantly brighten a dark laundry room!
What type of lighting is best for laundry room?
In any room, I recommend at least 2 lighting sources.
If you have a window that gets good light – that counts as one!
If not, consider: overhead lighting, under cabinet/shelf lighting, wall sconces, or even a lamp on a shelf!
Lower lighting makes a room feel more cozy and can be easy to cut on at night, too.
What color is your laundry room?
Still not sure what paint color to choose?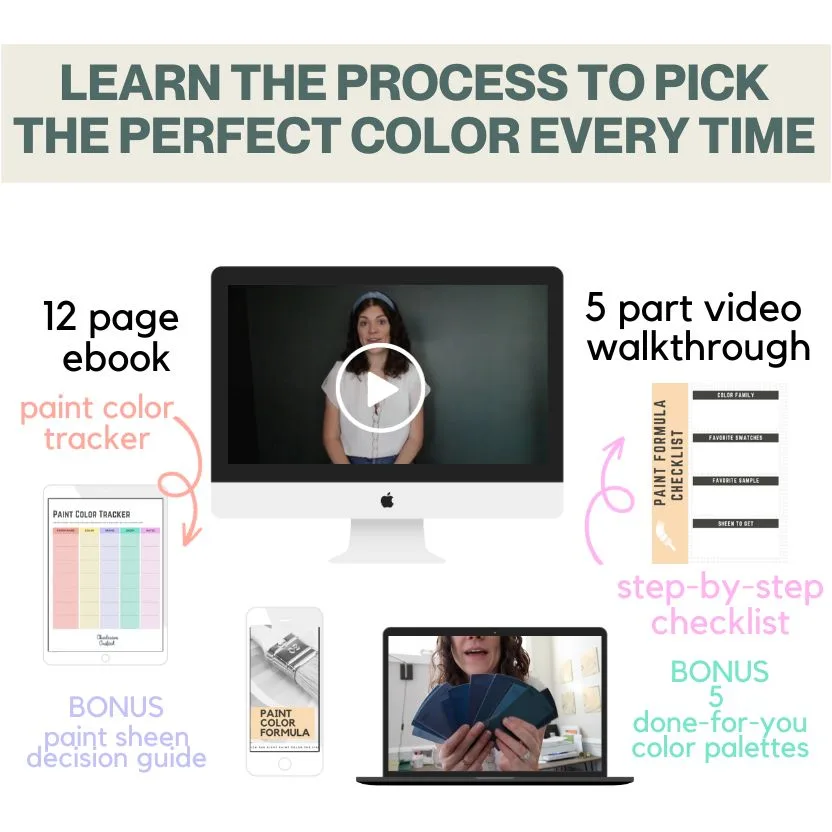 My Paint Color Formula ebook walks you through the painless process of expertly testing paint swatches to ensure you have the perfect color for your home.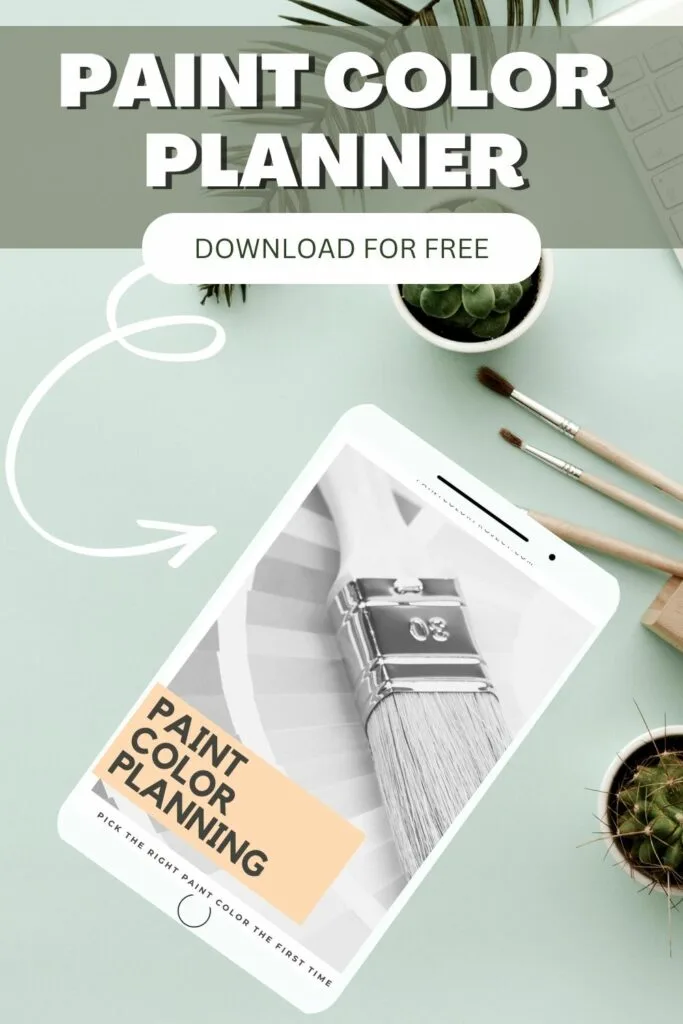 Thanks for reading!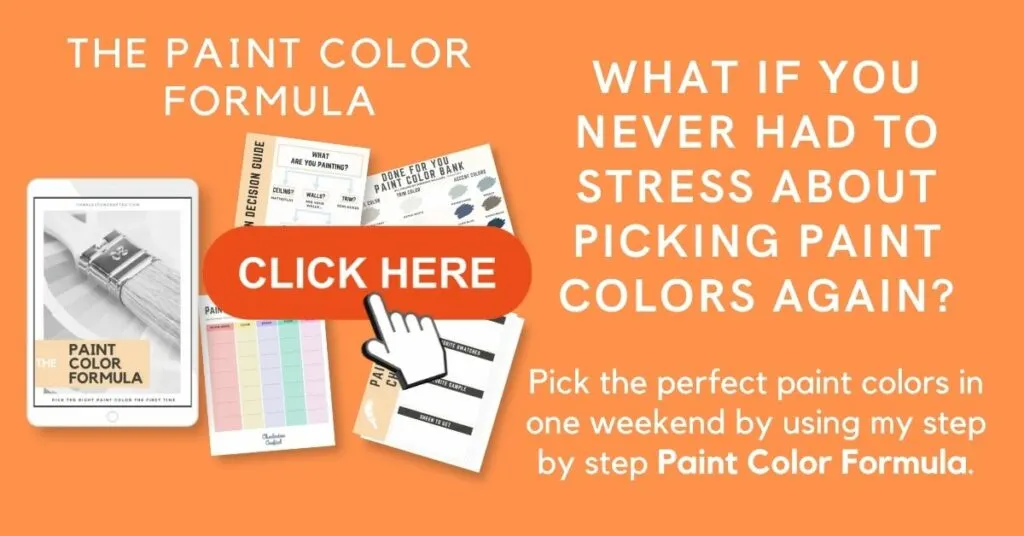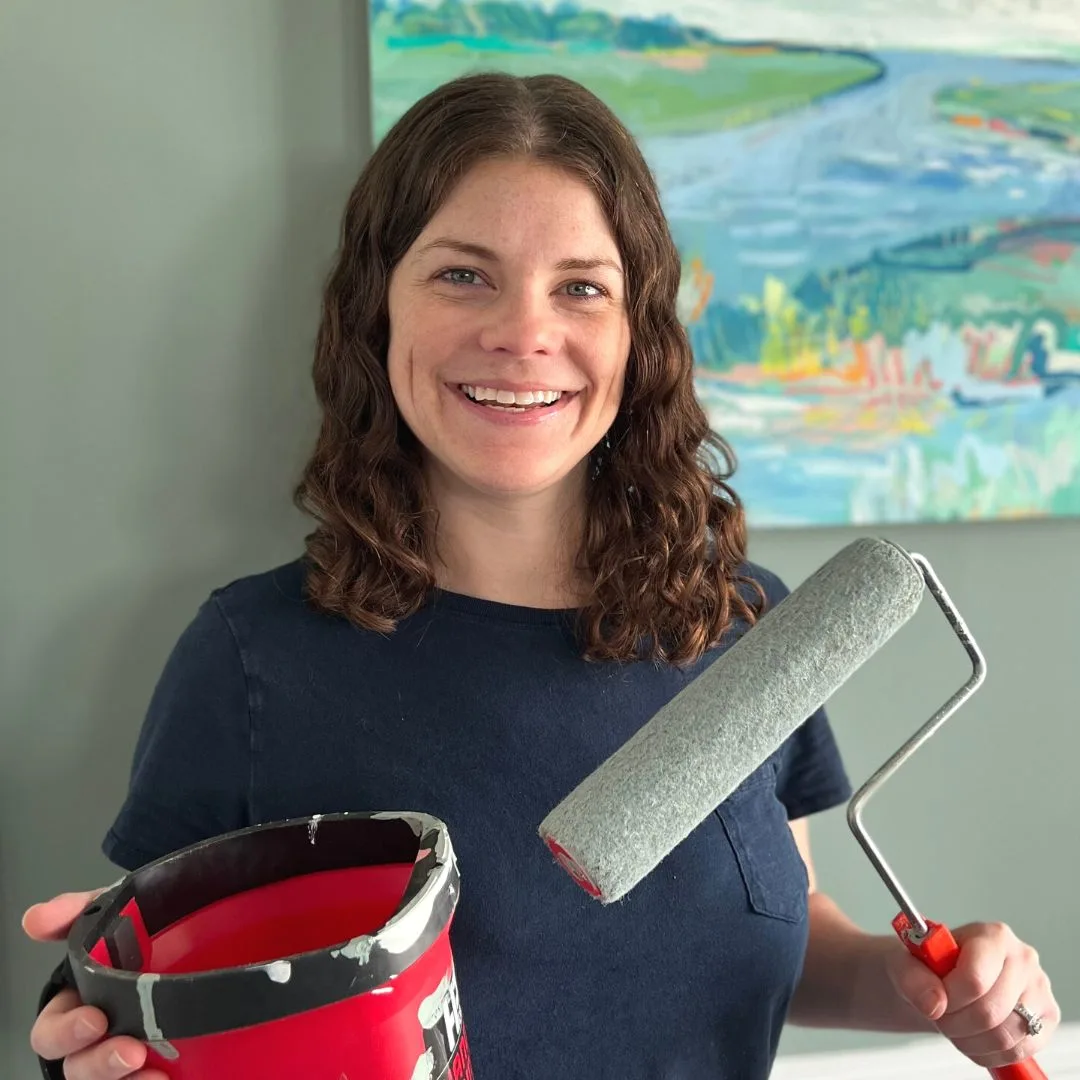 Morgan is passionate about home decor and paint colors. She has been sharing DIY home decor tips since 2012 at CharlestonCrafted.com. From there, she learned to love paint colors, and the Paint Color Project was born in 2022!