Looking for an earthy dark green paint color? Let's chat about Behr Trailing Vine – undertones, coordinating colors, and trim colors!
Green paint colors are having quite the moment – and I am here for it.
Dark green paint can seem scary, but the right green paint color won't feel bright and overwhelming. Instead, it can instantly transform a room into a jewel box of luxurious color.
Dark green paint is also great for accent pieces in your home. I personally used Trailing Vine as a backdrop for a jungle mural in my son's bedroom!
Anyways, let's talk about this gorgeous green paint color and if it might be the right fit for your home!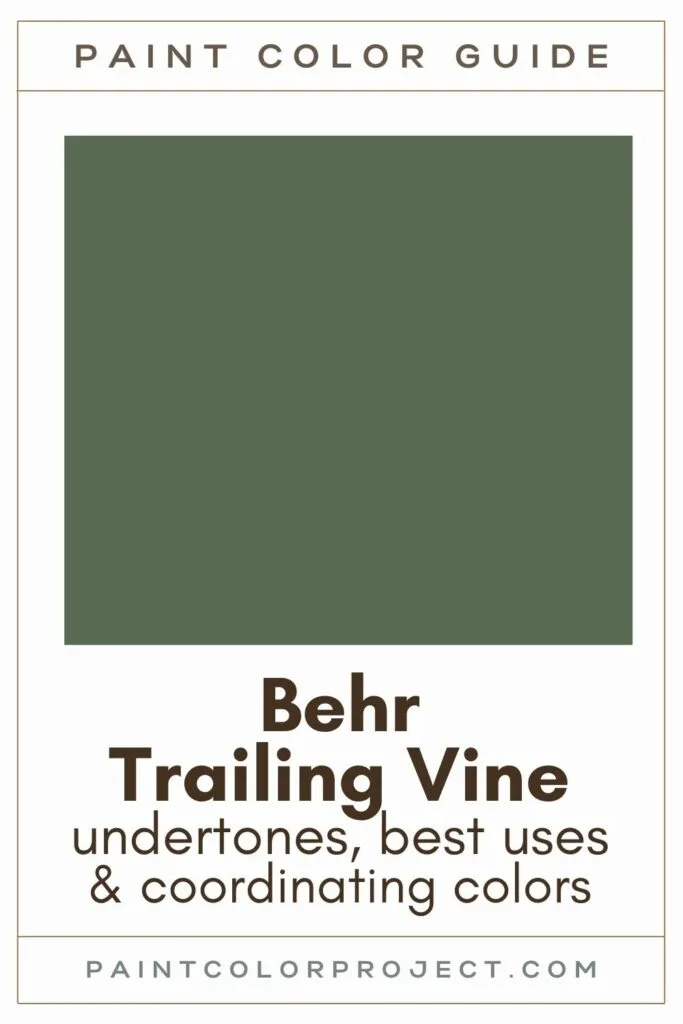 Behr Trailing Vine S390-7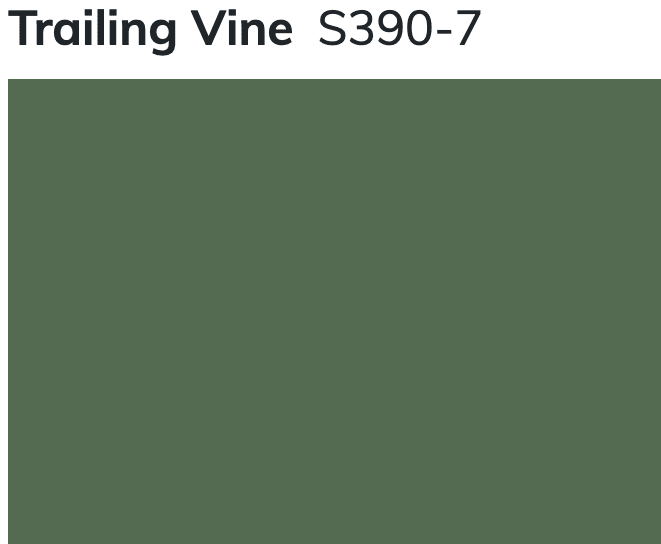 Color Family
Trailing Vine is a dark green paint color.
Light Reflectance Value
13 – this is an extremely dark color, getting pretty close to black on the LRV scale!
Light Reflective Value is the measurement of how much light a color bounces around. This is on a scale of 0 to 100 with 0 being pure black and 100 being pure white.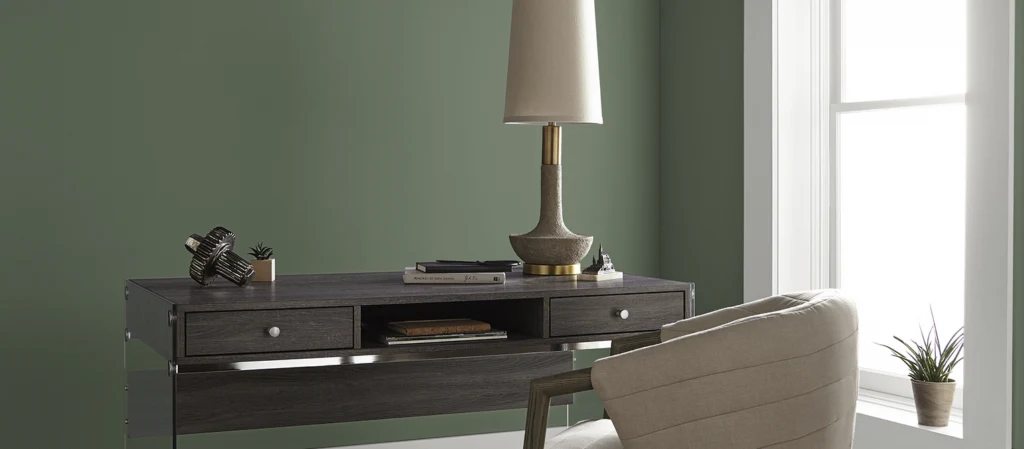 RGB Colors
R: 90 G: 105 B: 82
RGB describes the amount of each color – red, green, and blue – present in a color. This is on a scale of 0 to 255 for each color. This is basically the color mix to make the color!
Hex Code
#4F6249
Undertones
This color looks pretty green on it's own, but pair it with other green paint colors with a similar LRV and you will see that it is actually quite muted. This comes from gray undertones which tone down the green pigment. That makes it easier on the eyes than a bright more emerald green paint color.
Trailing Vine has warm, golden undertones to it. It's not at all yellowed – but it definitely is a warmer green paint color.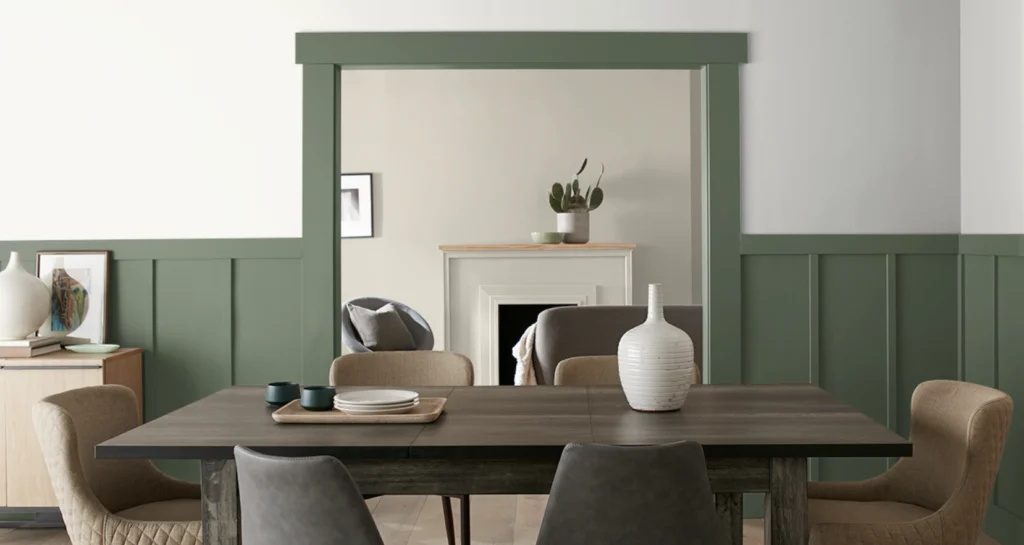 Best uses
For a bold look, you can paint all of the walls in a room Trailing Vine. It looks really nice on walls with trim molding for a lush look.
For a very small room like a half bathroom, consider painting the ceiling as well for a very cozy, all encompassing look.
If you don't want all of the walls of your room dark, consider using Trailing Vine for:
One accent wall
The portion of a wall with trim (or above wainscoting)
Painting a piece of furniture
Shutters or front door of a house
Trim or doors when paired with white walls
Similar Colors
Behr Royal Orchard
Behr Equestrian Green
Ralph Lauren Awning
Benjamin Moore Peale Green
Sherwin Williams Kale Green
Looking for a slightly lighter green color? Behr Laurel Tree is another favorite of mine and a couple shades lighter on the same paint strip!
Coordinating Colors
Use this dark green paint color almost like a neutral. It can pair well with both warm and cool accents. Just look for something much lighter – with a higher LRV – than this color for best contrast.
You can see the mural below that I used this paint color for – all of the bright, lighter colors really pop off of it well!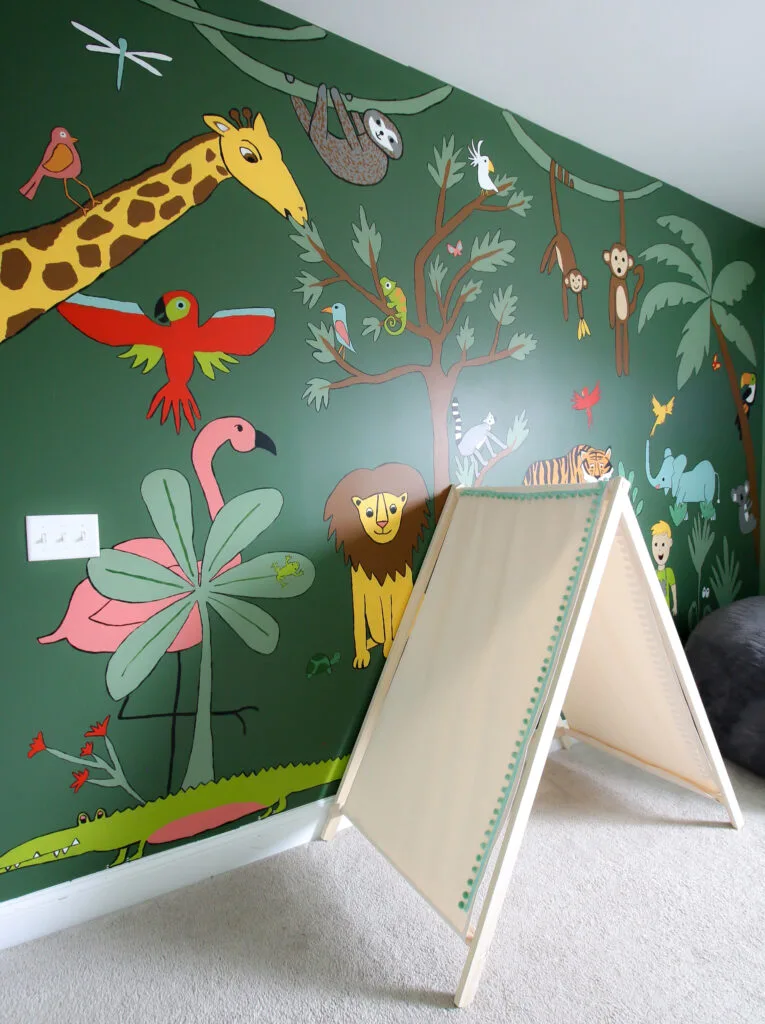 Trim Colors
I'd pair Trailing Vine with softer, warm white for trim and other accents.
Benjamin Moore White Dove
Behr Cameo White
Still not sure what paint color to choose?
My Paint Color Formula ebook walks you through the painless process of expertly testing paint swatches to ensure you have the perfect color for your home.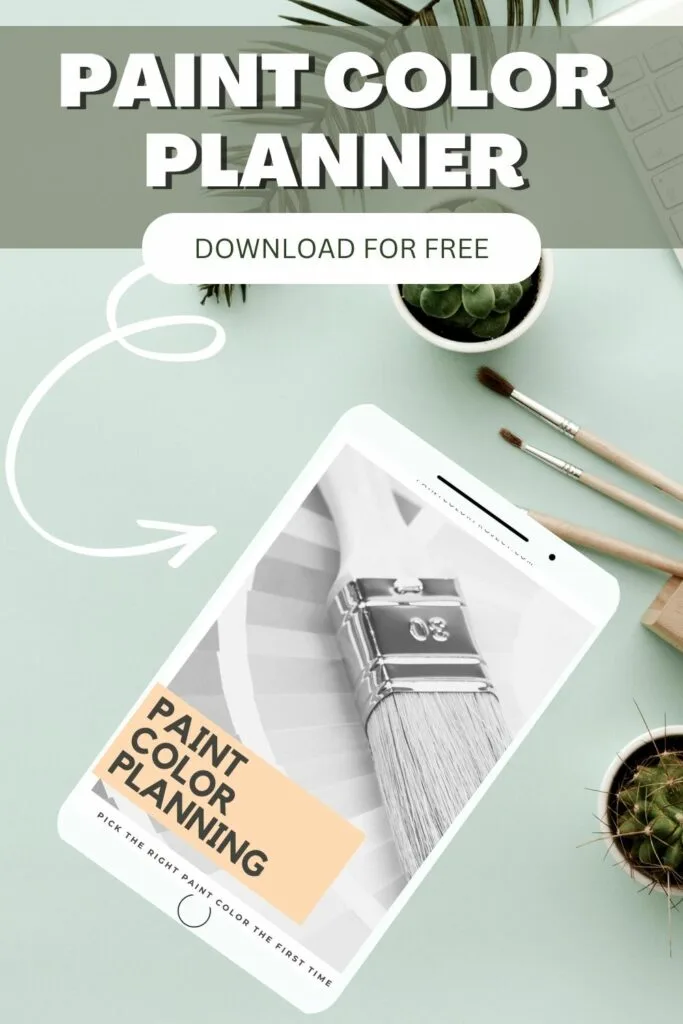 Thanks for reading!