Want to create a whole house paint color scheme around the color Online? Here are the best Sherwin Williams Online coordinating colors!
If you are looking to paint your home a cool, crisp gray paint color, Online is an awesome option!
We loved it so much that we painted the entire first floor of our last home Online!
You can see our full review of the Online paint color + tons of pictures of it in our home here!
But, today I want to talk about creating a color scheme to go with Online walls. Let's chat about the best coordinating colors to pair with Sherwin Williams Online color.
Click here to get a 12″x12″ peel and stick sample of Sherwin Williams 7072 Online paint color!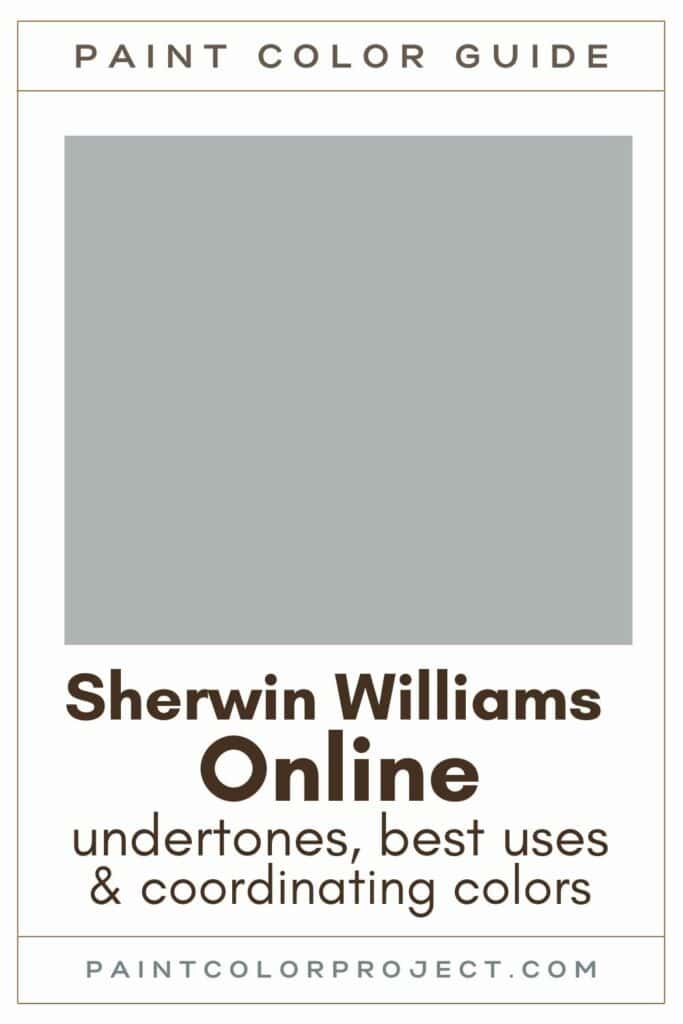 How to select your accent colors
When choosing accent colors for your home, there are a few things to keep in mind.
First of all, and probably the biggest with this color, is if you want a neutral color scheme or if you want to bring in pops of color.
Obviously, with neutrals you will bring in other shades of gray, beige, and white.
If you want more of a bold pop of color, you then need to decide what color family you want – cool tones like blues, or warm tones like golds for example.
Consider non-changeable things in your home like trim color, flooring and kitchen cabinets. Sure, they could be changed, but if you don't plan to change them, select colors that pair well with those tones.
Also keep in mind the lighting in your home. If your room gets a lot of natural light, darker colors might appear to be lighter and brighter.
Lighting really effects wall colors and you should look at all colors in daytime and night time to be sure you still like them.
How to use accent colors
Accent colors can be used to paint accent walls or painted furniture.
They can also be used for curtains, rugs, pillows, or accents like lamps and home decor.
How to shop for accent colors
When looking for the perfect accent pieces to match your home, try this hack!
Get a paint sample or paint swatch of Agreeable Gray and stick it in your car or bag.
When you are shopping, you can quickly pull out the sample and compare it to make sure you like how the colors coordinate!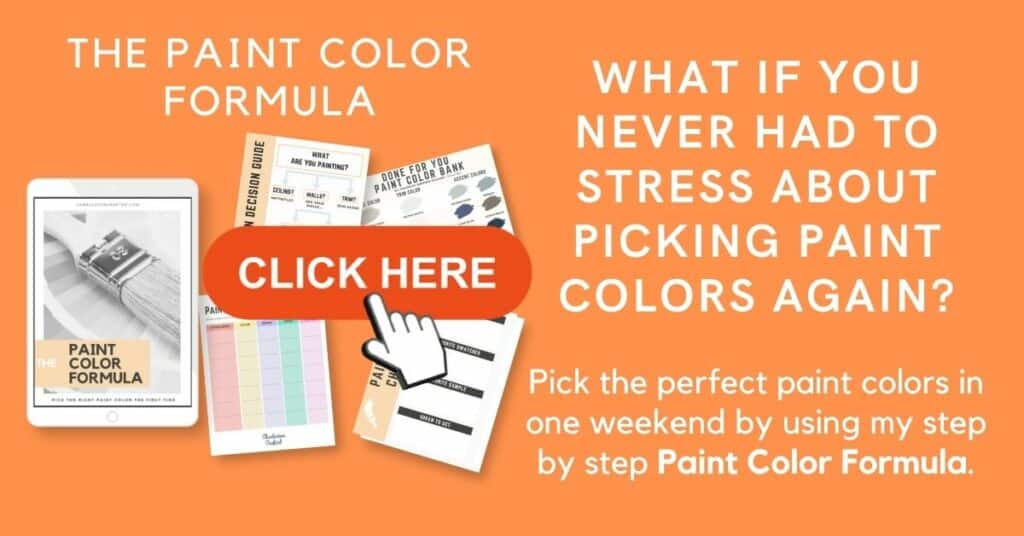 Online SW 7072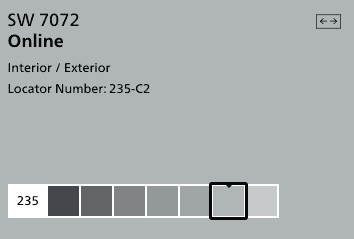 What color is Sherwin Williams online?
Online is a cool gray Sherwin Williams paint color. It is a mid toned gray that reads as a lighter – but not washed out – gray in bright homes.
The Light Reflective Value or LRV of Online is 45.30%. This means that it bounces back forty five percent of light shone at it.
The smaller the LRV, the darker the color. So, Online is actually closer to 1 (pure black) than 100 (pure white), meaning it's not THAT light of a gray color.
The Online HEX# is B0B4B4.
The Online RGB is 176 180 180.
Click here to get a 12″x12″ peel and stick sample of Sherwin Williams Online paint color!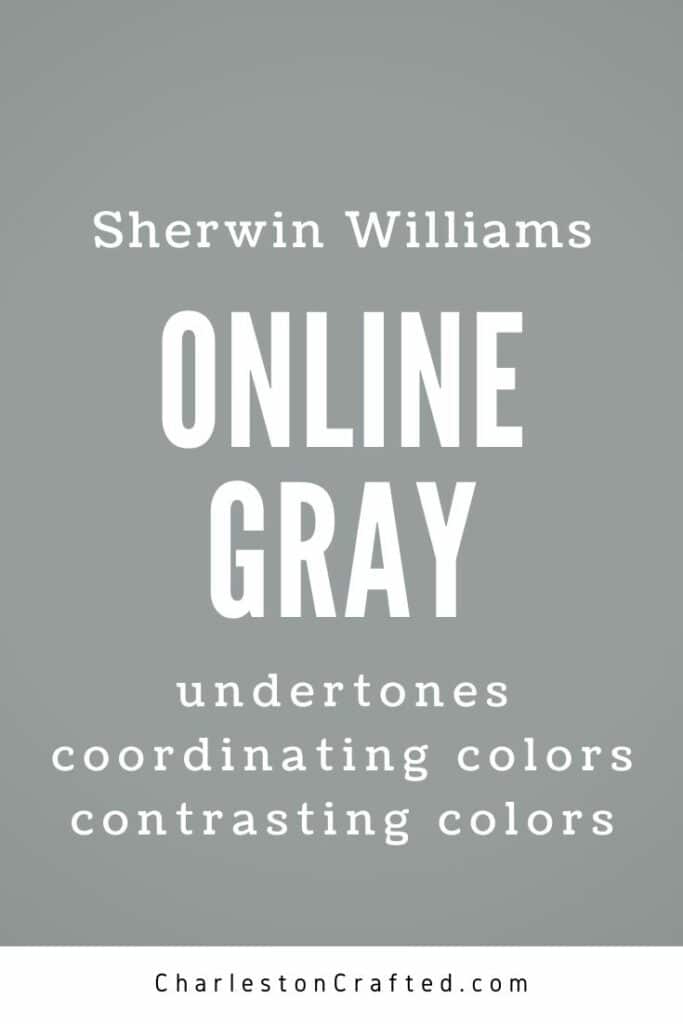 Sherwin Williams Online undertones
Online has crisp, cool undertones. There are notes of blue and a cool green to it in certain light. It definitely can go a bit icy, especially in bright natural light!
What trim paint color should I use with SW Online?
I would (and did!) pair Online with a crisp, cool white. A warm white would look yellowed next to the blue undertones.
My pick for a trim color to pair with Online is SW Extra White. SW Pure White is another great option.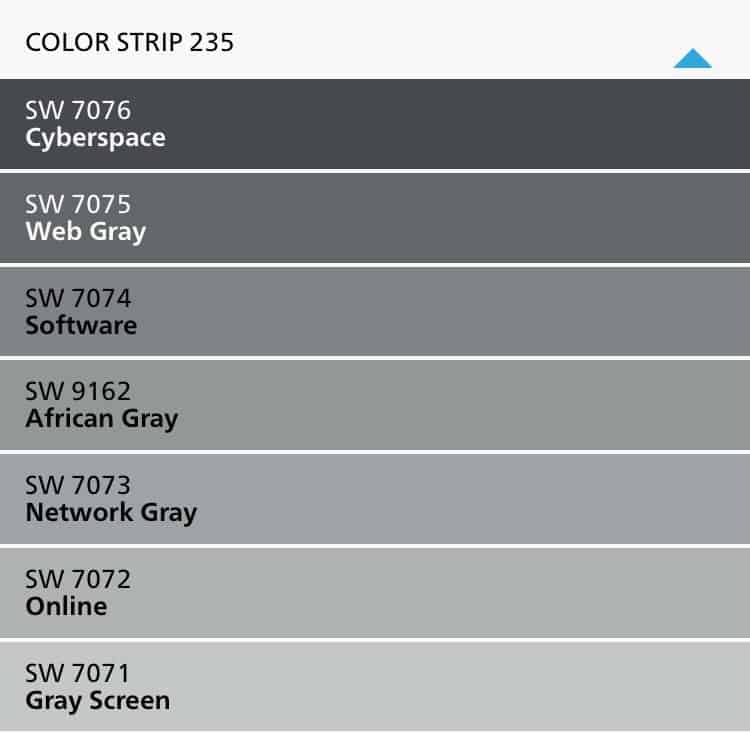 What accent colors work best with SW Online?
For accent colors, you can look for either other shades of cool gray tones or pops of accent colors.
Neutral accent colors
Any of the following gray colors make good tone-on-tone accent colors for Online:
Gray Screen
Ice Cube
Charcoal Blue
Cyberspace
Web gray
Software
Bold accent colors
I like to accent Online with shades of blue to complement the cool color scheme:
Blustery Sky
Gale Force
Watery
Grays Harbor
Leisure Blue
Click here to get a 12″x12″ peel and stick sample of Sherwin Williams Online paint color!
Sherwin Williams Online Color Palette
Check out our custom color palette of the best Online coordinating colors
Join the (free!) PaintColorProject+ community to access this exclusive color palette!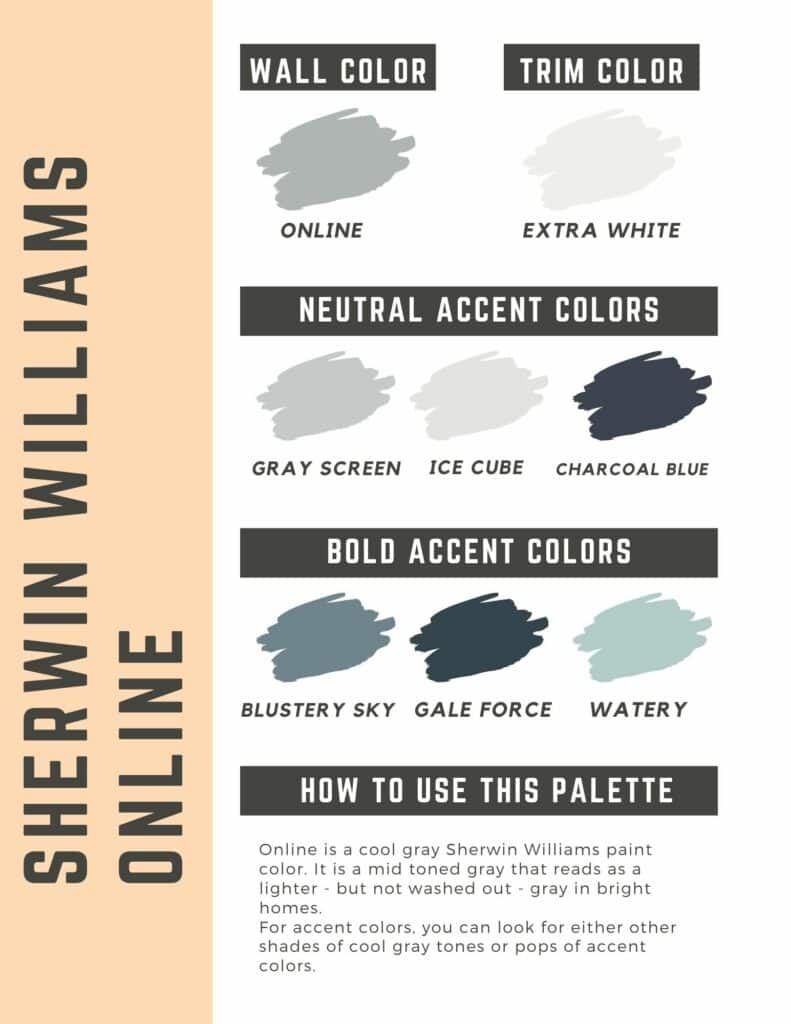 Still not sure what paint color to choose?
My Paint Color Formula ebook walks you through the painless process of expertly testing paint swatches to ensure you have the perfect color for your home.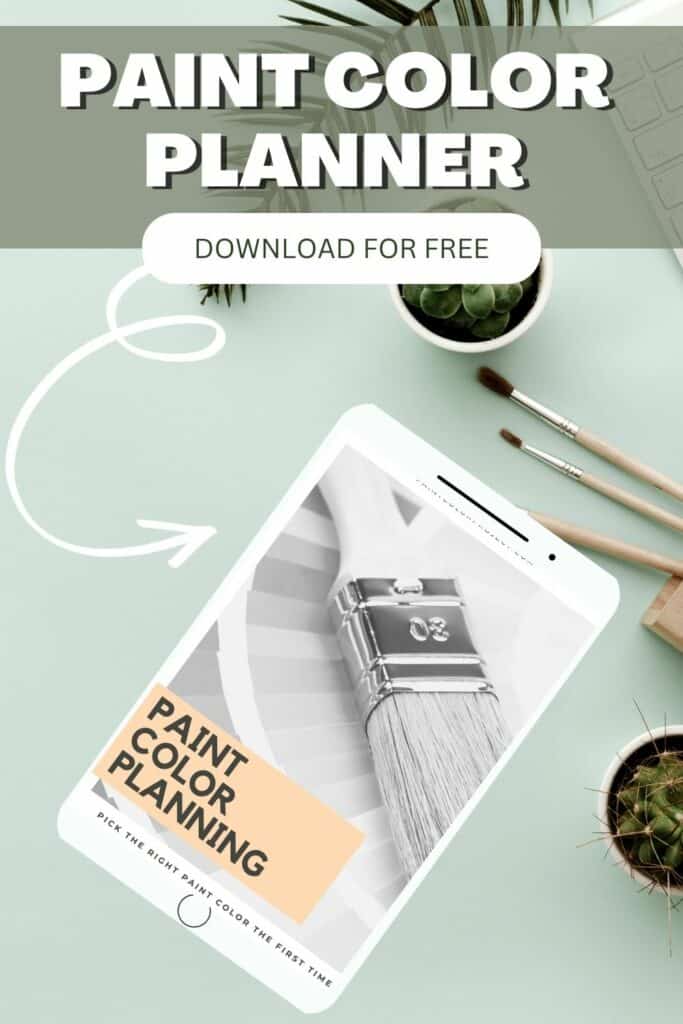 Thanks for reading!