Looking for the perfect accent colors to use in your home? Here are the best coordinating colors for Sherwin Williams Misty!
Picking paint colors is hard! If you've tested and tried everything out and finally settled on Sherwin Williams Misty for your room – congrats! That's an awesome color!
Now, it's time to pick accent colors. This can be JUST as overwhelming as picking your main wall color!
Let's chat and make this process as easy as possible for you!
Click here to get a 12″x12″ peel and stick sample of Sherwin Williams 6232 Misty paint color!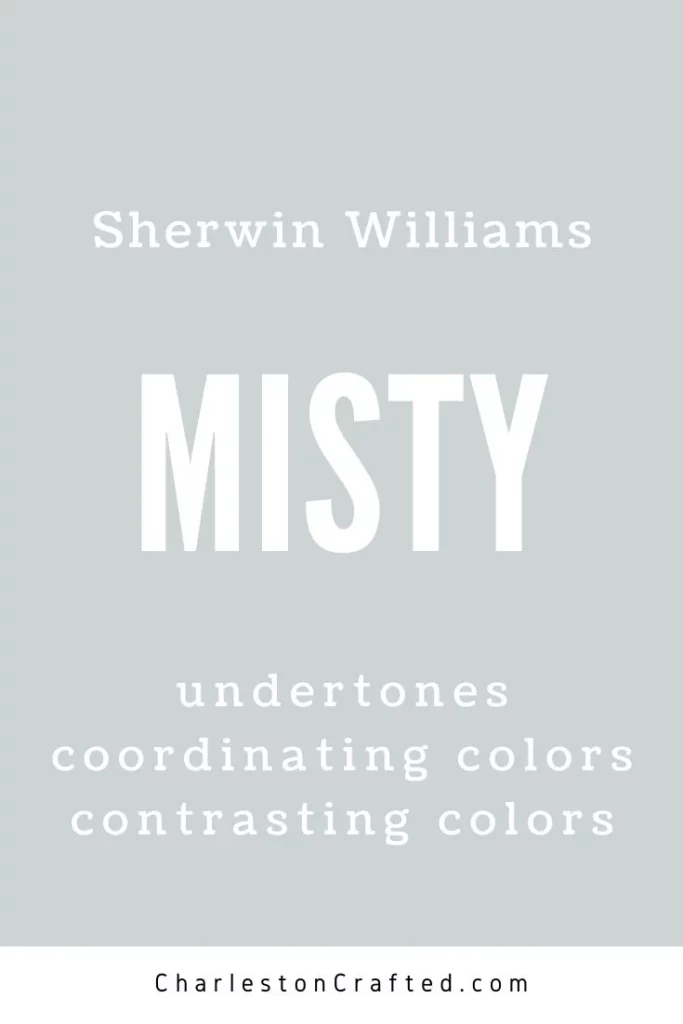 How to select your accent colors
When choosing accent colors for your home, there are a few things to keep in mind.
First of all, and probably the biggest with this color, is if you want a neutral color scheme or if you want to bring in pops of color.
Obviously, with neutrals you will bring in other shades of gray, beige, and white.
If you want more of a bold pop of color, you then need to decide what color family you want – cool tones like blues, or warm tones like golds for example.
Consider non-changeable things in your home like trim color, flooring and kitchen cabinets. Sure, they could be changed, but if you don't plan to change them, select colors that pair well with those tones.
Also keep in mind the lighting in your home. If your room gets a lot of natural light, darker colors might appear to be lighter and brighter.
Lighting really effects wall colors and you should look at all colors in daytime and night time to be sure you still like them.
How to use accent colors
Accent colors can be used to paint accent walls or painted furniture.
They can also be used for curtains, rugs, pillows, or accents like lamps and home decor.
How to shop for accent colors
When looking for the perfect accent pieces to match your home, try this hack!
Get a paint sample or paint swatch of Agreeable Gray and stick it in your car or bag.
When you are shopping, you can quickly pull out the sample and compare it to make sure you like how the colors coordinate!
Click here to get a 12″x12″ peel and stick sample of Sherwin Williams 6232 Misty paint color!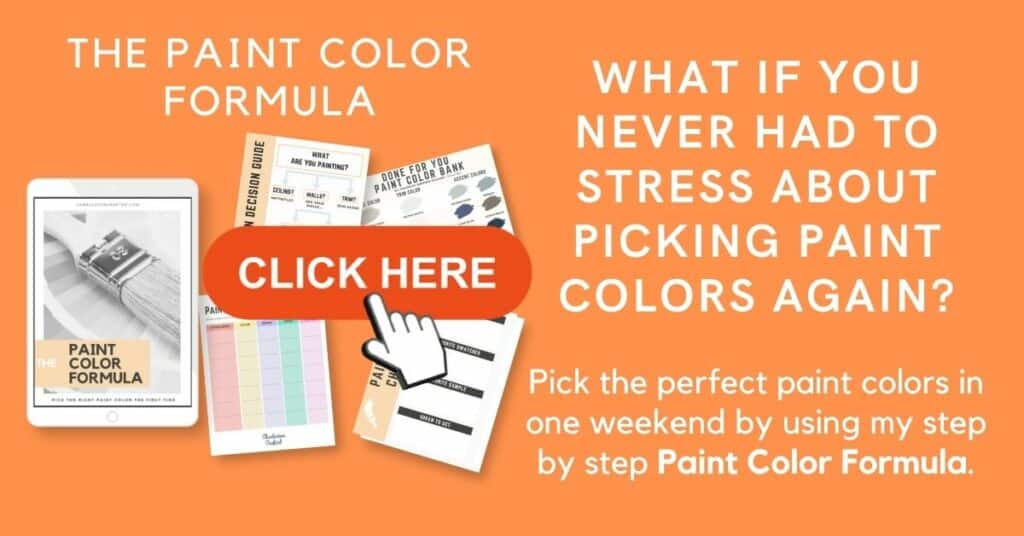 Sherwin Williams Misty SW6232
Misty is a super popular blue-gray paint color. It is soothing and "spa-like"!
I really love it for light and bright bathrooms, especially. It's also great for guest bedrooms that you want to feel hotel-like and luxurious.
In artificial or southern light, this color will feel like more of a gray. In cool light, especially from north-facing windows, it will look much bluer.
See my full SW Misty review here!
What color is Sherwin Williams Misty?
Misty is a light blue-gray color. It is heavier on the blue than the gray.
What is the LRV of Sherwin Williams Misty?
The LRV for Misty is 62%. This is on a scale with 0 being black and 100 being as pure white as possible. So, it's on the lighter, brighter side, but still has some color to it!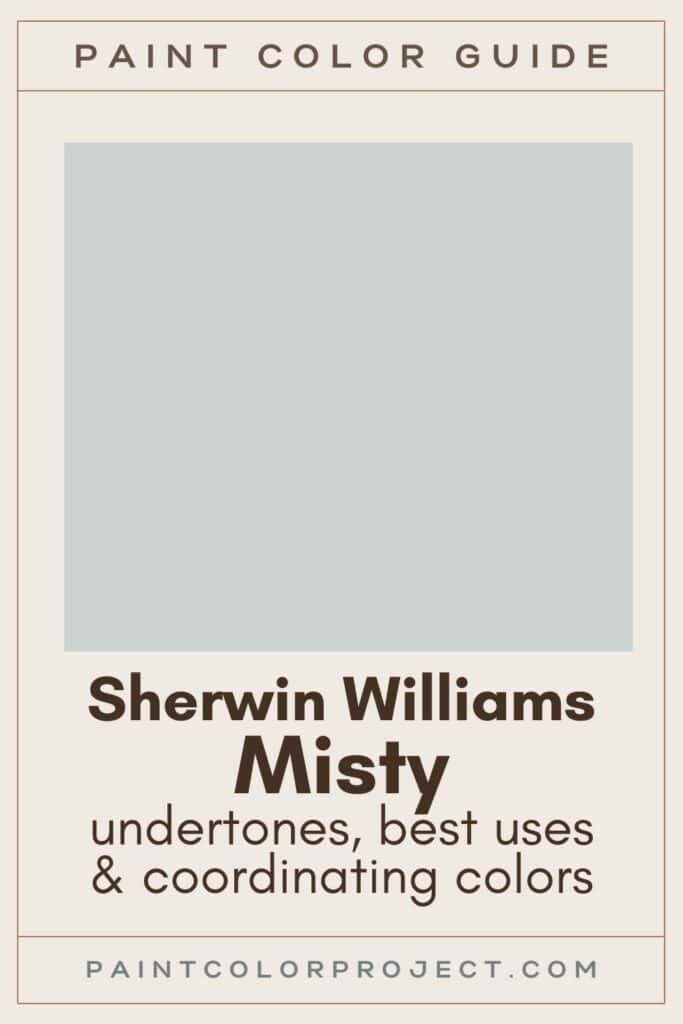 Misty Coordinating Colors
You can choose to pair Misty with neutral colors to make it look bluer or with bold blues to make it look more neutral!
Neutral Accent Colors for SW Misty
If you want to bring out the blue in Misty, set it amongst neutrals. Try:
Bold Accent Colors for SW Misty
Bring out the color in Misty with a bold blue accent color. My favorites include:
See all of my favorite blue-gray paint colors here!
Misty Trim colors
I like to pair blue/gray paint colors with a nice crisp trim color. Extra White is the perfect choice!
Sherwin Williams Misty vs Sea Salt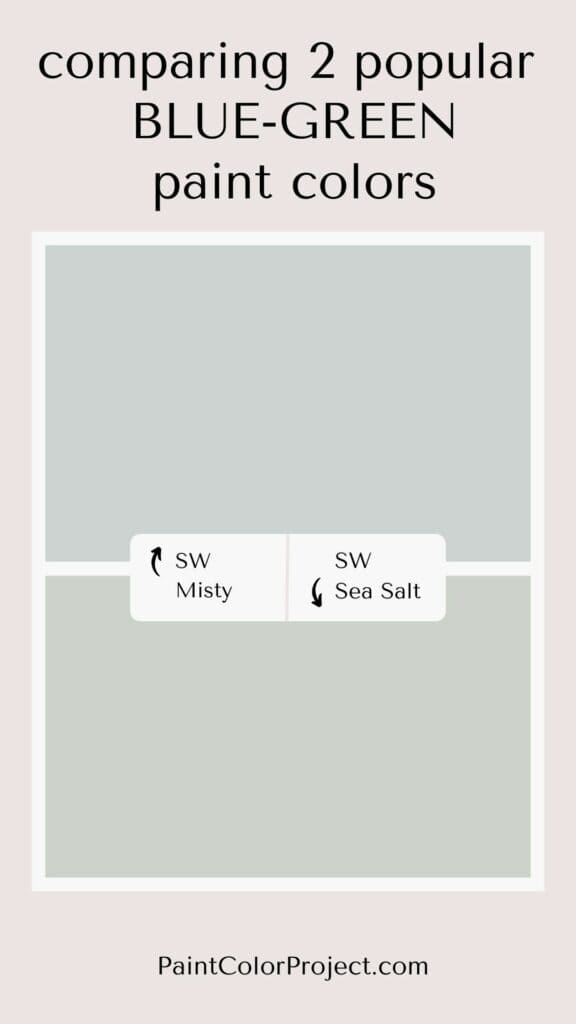 Sea Salt looks quite green next to Misty, with Misty looking much more gray.
Sea Salt also has much cooler tones. Sea Salt has a LRV of 63, which is almost identical to Misty at 62. This means they have about the same amount of color to them!
See my full comparison of Misty vs Sea Salt here!
Sherwin Williams Misty vs Silver Strand
Misty has a lot more blue/green to it compared to Silver Strand has more of a hint of those colors. Also, Silver Strand has a LRV of 59, making it slightly darker compared to Misty (LRV 62).
Click here to get a 12″x12″ peel and stick sample of Sherwin Williams 6232 Misty paint color!
Sherwin Williams Misty Color Palette
Check out my custom made color palette featuring my favorite Sherwin Williams Misty coordinating colors.
Join the (free!) PaintColorProject+ community to access this exclusive color palette!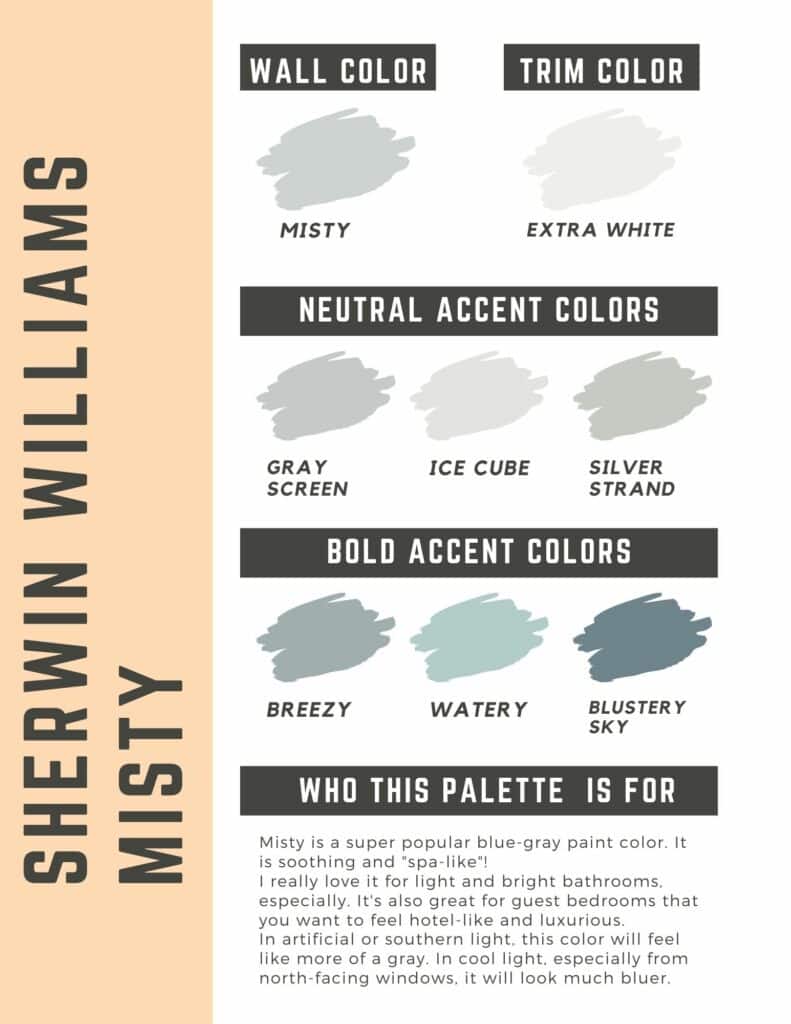 Still not sure what paint color to choose?
My Paint Color Formula ebook walks you through the painless process of expertly testing paint swatches to ensure you have the perfect color for your home.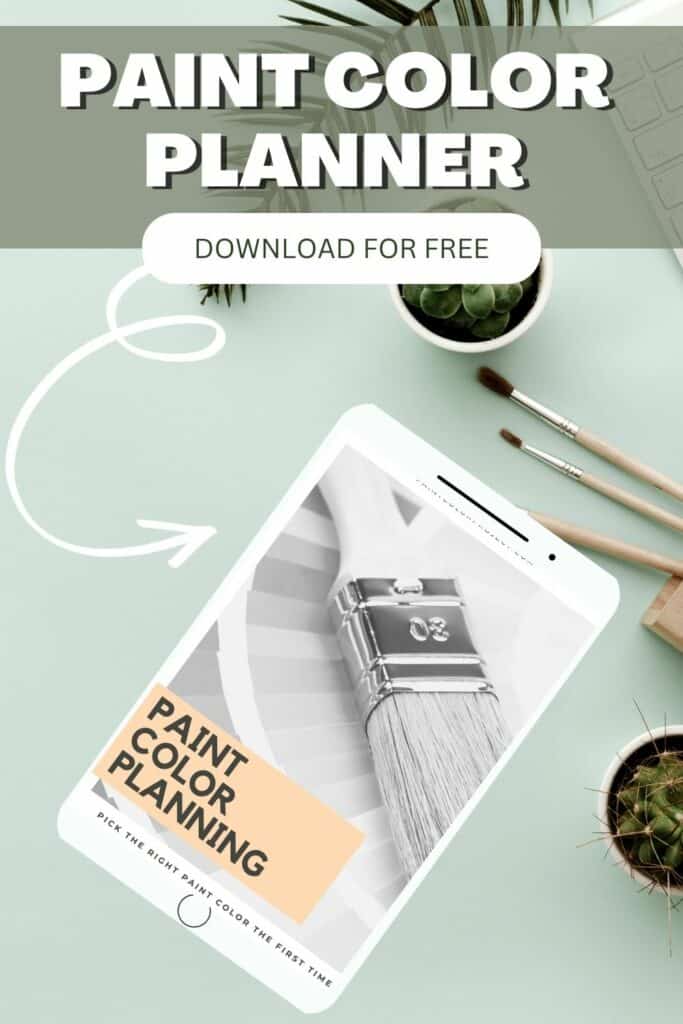 Thanks for reading!