Considering using Sherwin Williams Misty in your home? Here is our complete review of this blue-gray paint color!
Finding the perfect paint color is rough!
I am a huge advocated of a cohesive color palette and a great way to do that is by using one paint color for your whole house – or at least the open, continuous areas of your home.
If you want a coastal or cottage feeling home, sticking with a cool color palette is a great way to achieve that look. Sherwin Williams Misty is a cool, blue-gray color that can work well for this purpose!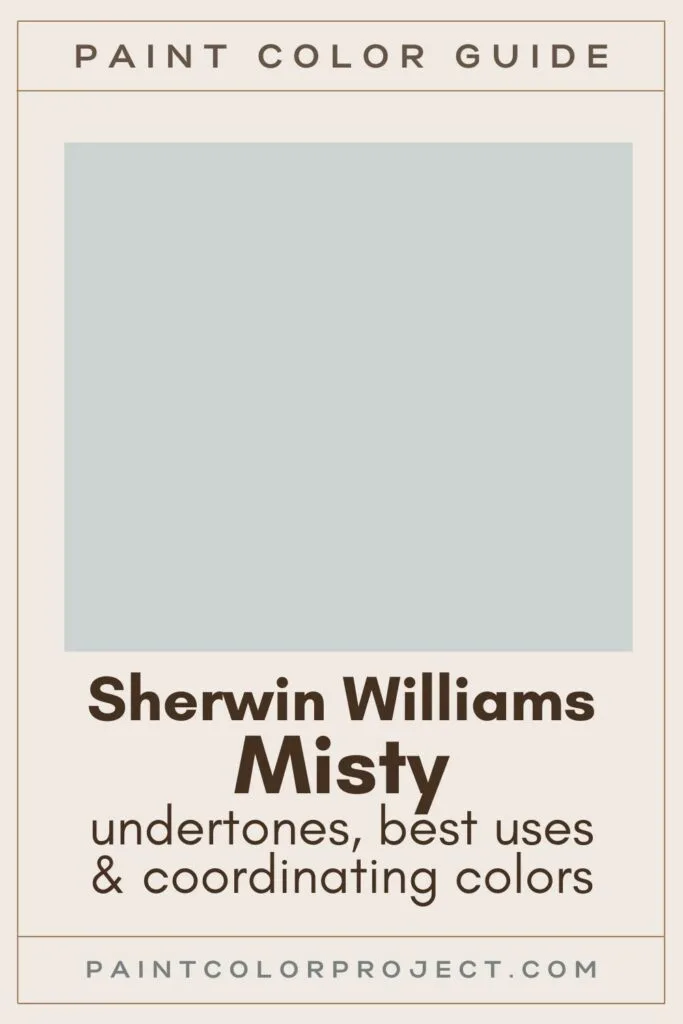 Misty is a light blue-gray color. It is heavier on the blue than the gray.
Click here to get a 12″x12″ peel and stick sample of Sherwin Williams 6232 Misty paint color!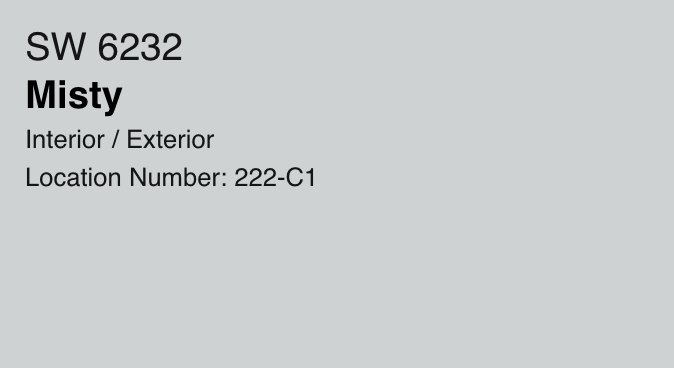 Sherwin Williams Misty (SW6232)
Color Family
Misty is in the blue color family. There's so much gray to it, you might say that it is in the gray color family, too!
Light Reflectance Value
64 – on the lighter side, but still with plenty of color to it.
Light Reflective Value is the measurement of how much light a color bounces around. This is on a scale of 0 to 100 with 0 being pure black and 100 being pure white.
RGB Colors
R:205 G:210 B:210
RGB describes the amount of each color – red, green, and blue – present in a color. This is on a scale of 0 to 255 for each color. This is basically the color mix to make the color!
Hex Code
#CCD1D0
Undertones
This color has cool undertones. Both the blue and gray are cool tones, making this a clear cool toned color. There are slight green undertones that are especially visible in artificial light or paired with something more yellow (like oak wood tones!)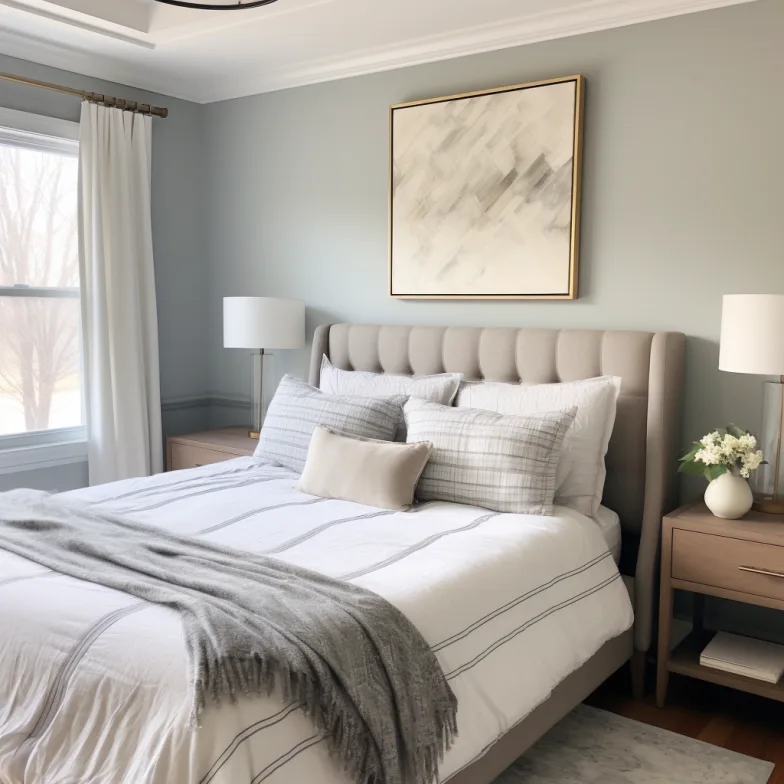 Best uses
One of the great things about this color is that it is neutral enough to easily pull off on all the walls of a room, while still having a bit of color to it.
I love this color for cottage or beach style homes. The blue gray undertones give that coastal feel in a refined way.
I also love it for a bathroom that you want to have spa-like vibes.
Finally, you can always use this color for a piece of furniture, accent wall, or small space in your home. You really can't go wrong!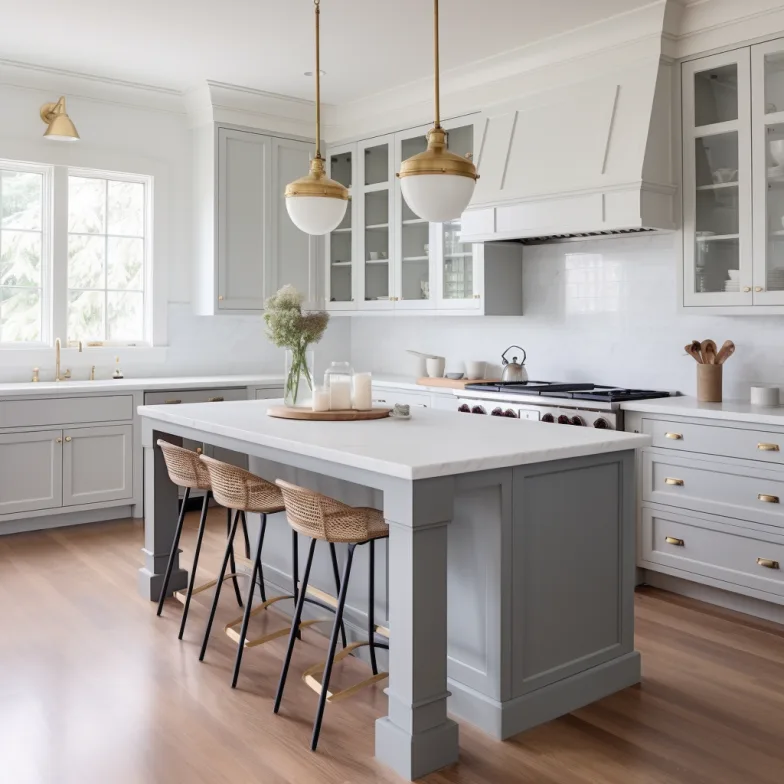 Similar Colors
Sherwin Williams North Star
Sherwin Williams Lullaby
Behr Silver Shadow
Benjamin Moore Silvery Moon
Coordinating Colors
You can choose to pair Misty with neutral colors to make it look bluer or with bold blues to make it look more neutral!
See all of my favorite Misty coordinating colors here.
Neutral Accent Colors for SW Misty
If you want to bring out the blue in Misty, set it amongst neutrals. Try: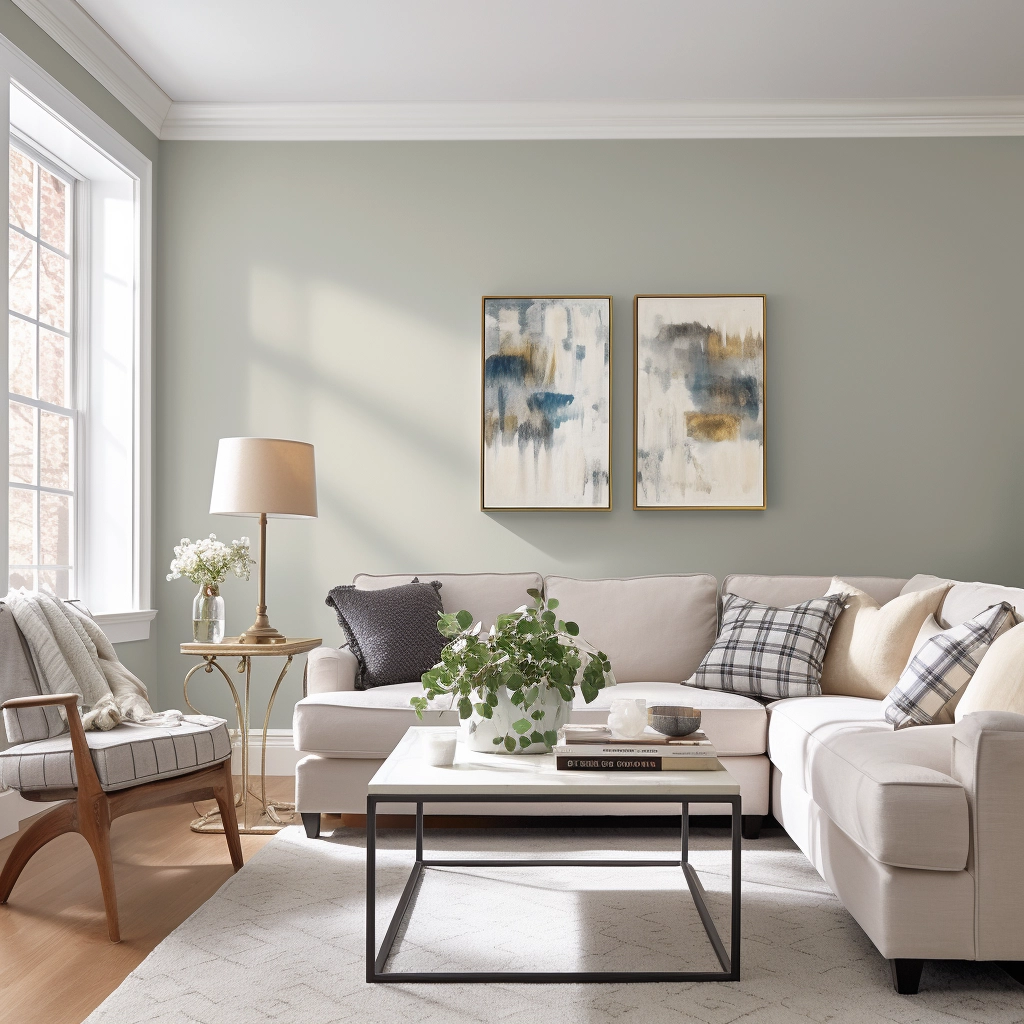 Bold Accent Colors for SW Misty
Bring out the color in Misty with a bold blue accent color. My favorites include:
See all of my favorite blue-gray paint colors here!
Trim Colors
I personally prefer to pair cooler toned wall colors with crisp, cool white trim colors.
Bright white trim colors:
Benjamin Moore Simply White
Sherwin Williams Extra White
Behr Ultra Pure White
Click here to get a 12″x12″ peel and stick sample of Sherwin Williams 6232 Misty paint color!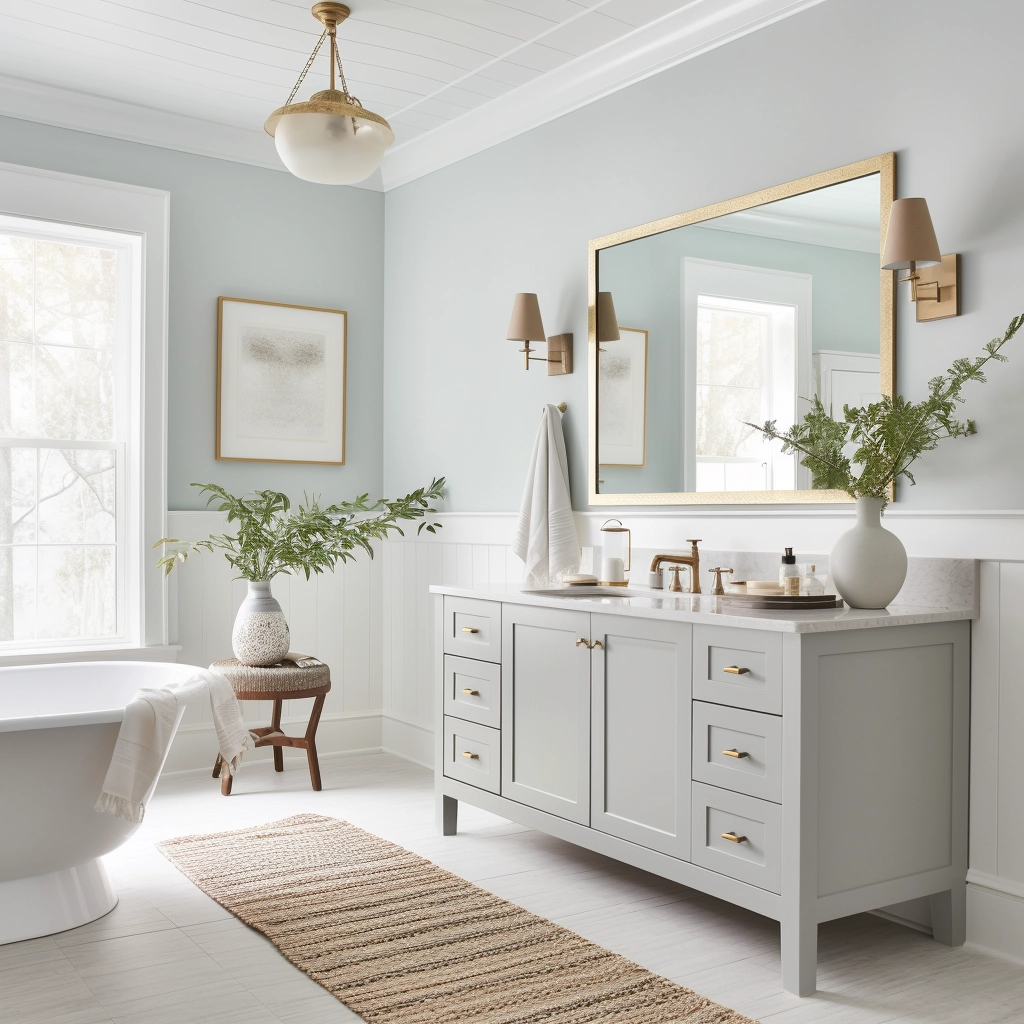 Sherwin Williams Misty Color Palette
Check out my custom made color palette featuring my favorite Sherwin Williams Misty coordinating colors.
Join the (free!) PaintColorProject+ community to access this exclusive color palette! Once you join, you can right click & save the palette image!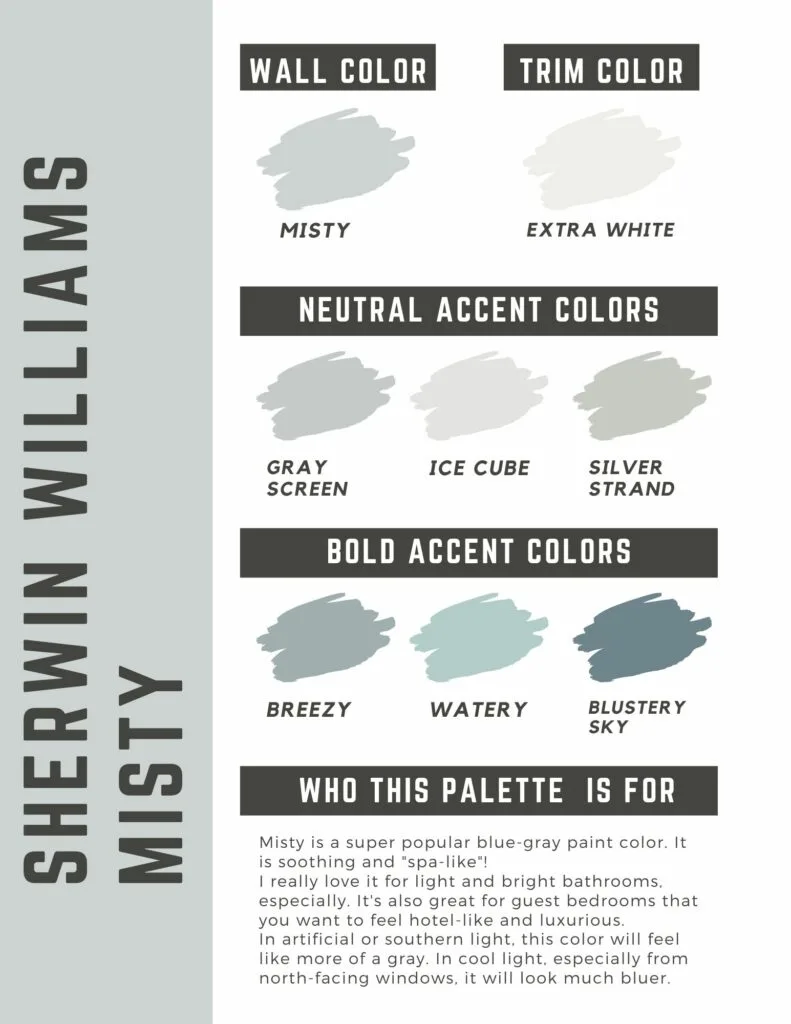 Sherwin Williams Misty vs Sea Salt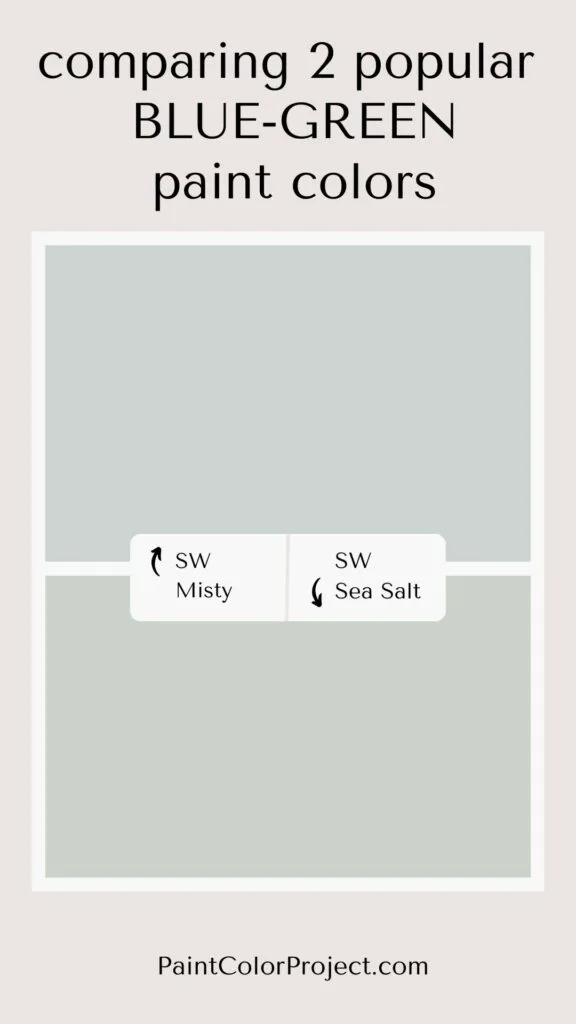 Sea Salt looks quite green next to Misty, with Misty looking much more gray.
Sea Salt also has much cooler tones. Sea Salt has a LRV of 63, which is almost identical to Misty at 62. This means they have about the same amount of color to them!
See my comparison of Sea Salt vs Misty here!
Sherwin Williams Misty vs Silver Strand
Misty has a lot more blue/green to it compared to Silver Strand has more of a hint of those colors. Also, Silver Strand has a LRV of 59, making it slightly darker compared to Misty (LRV 62).
Still not sure what paint color to choose?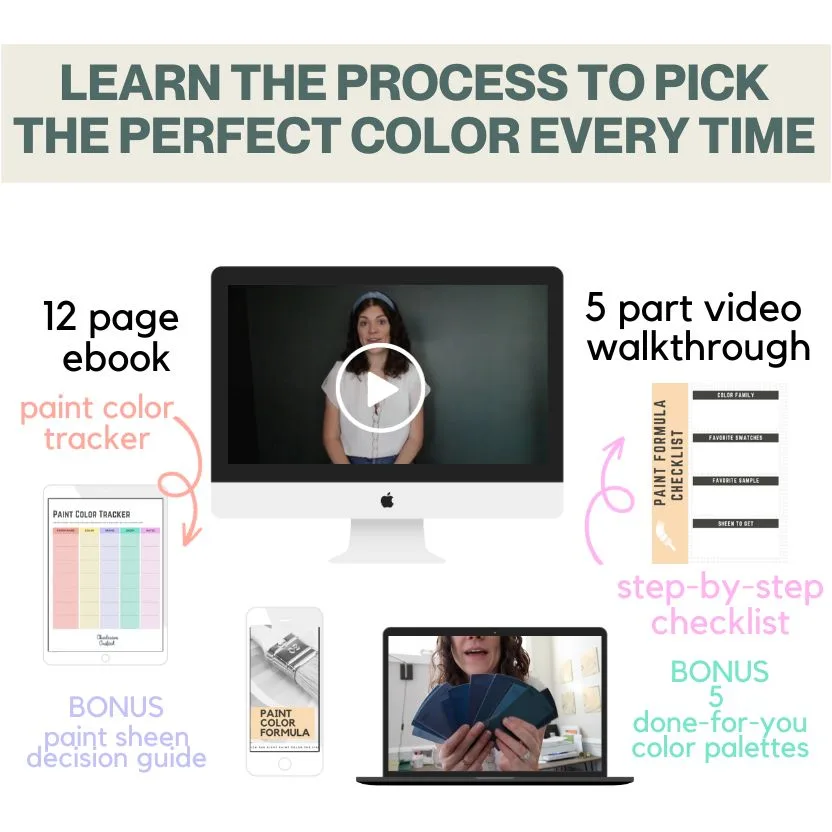 My Paint Color Formula ebook walks you through the painless process of expertly testing paint swatches to ensure you have the perfect color for your home.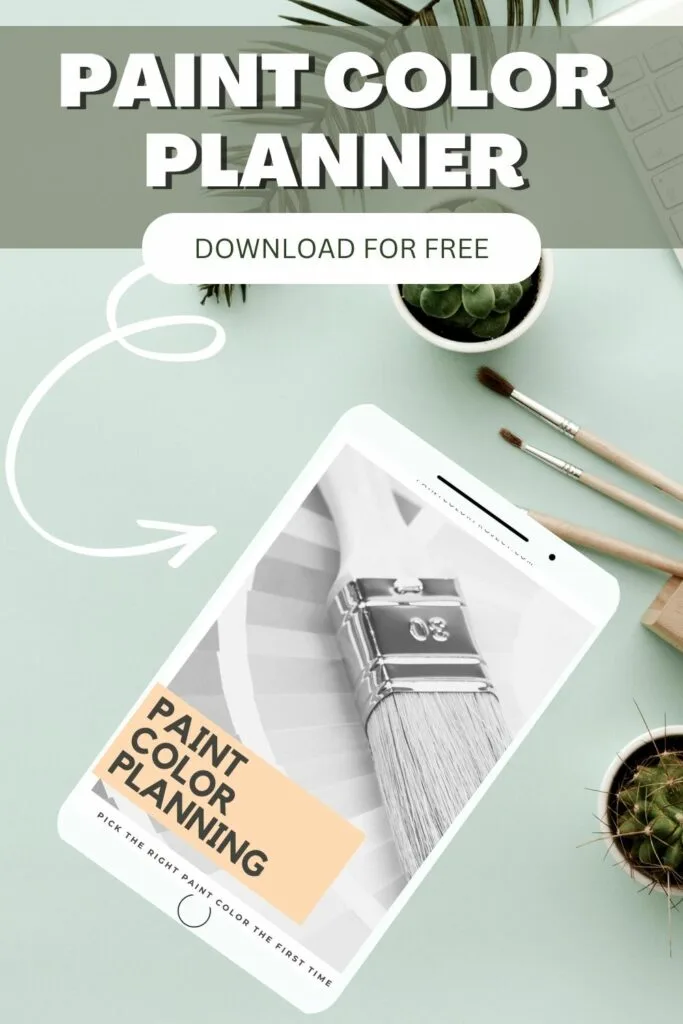 Thanks for reading!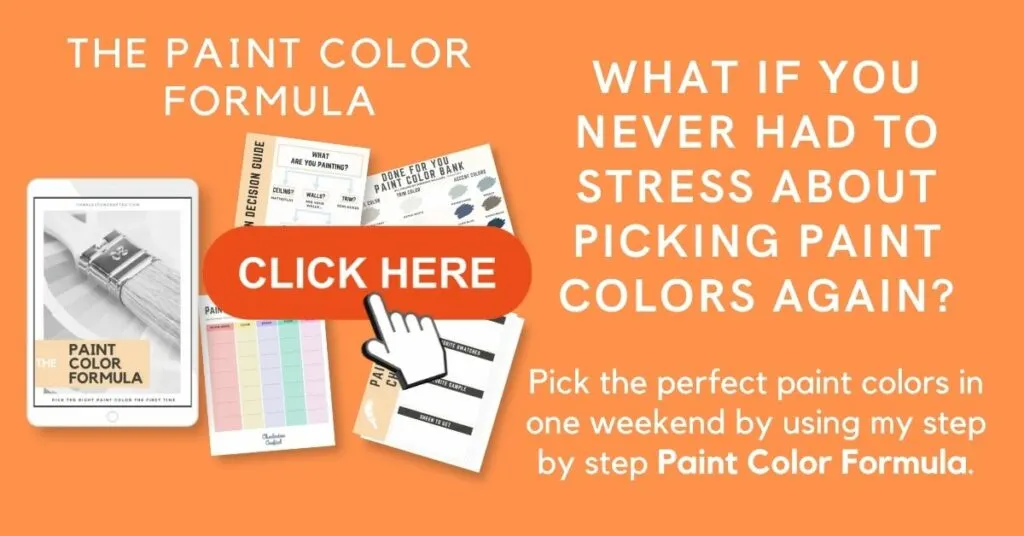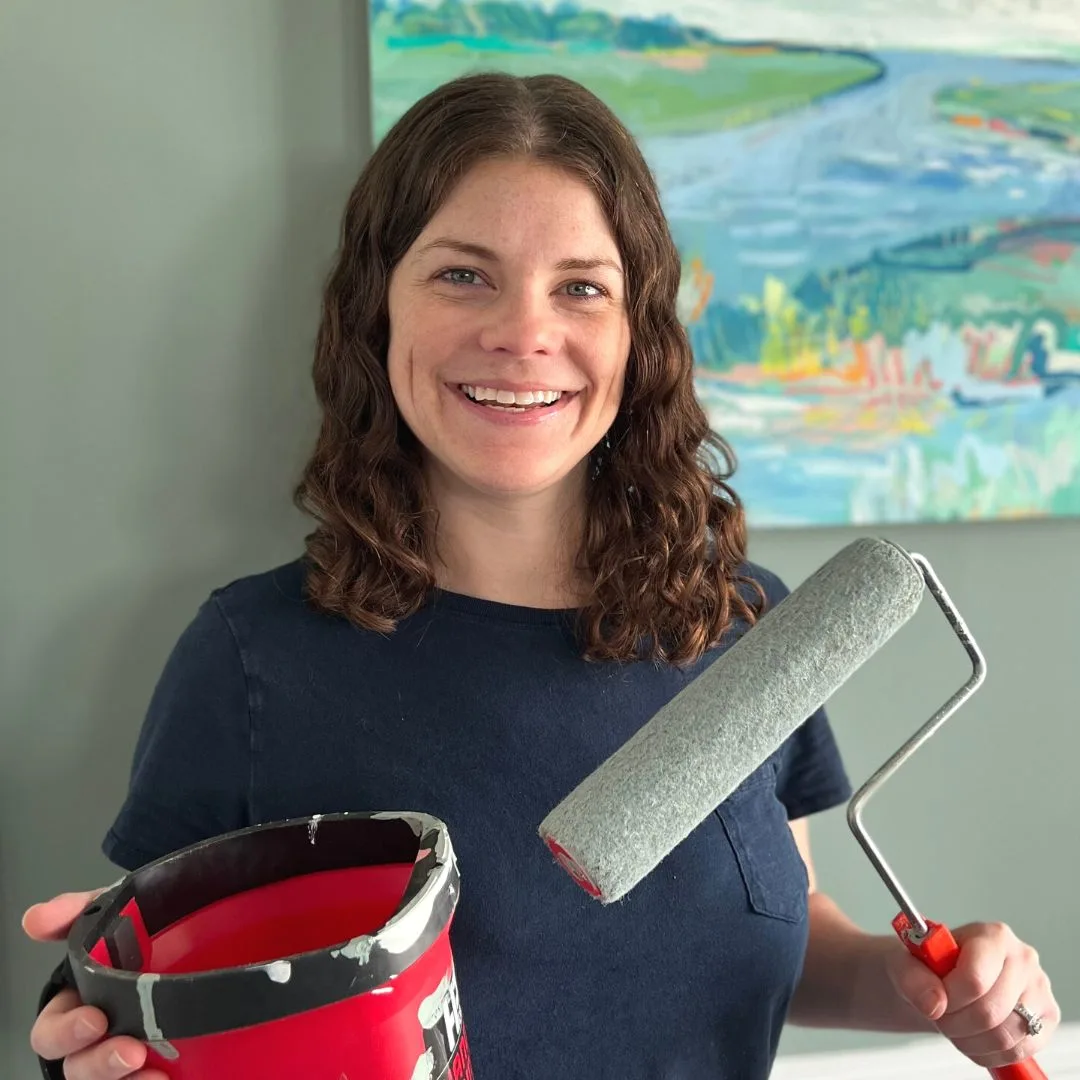 Morgan is passionate about home decor and paint colors. She has been sharing DIY home decor tips since 2012 at CharlestonCrafted.com. From there, she learned to love paint colors, and the Paint Color Project was born in 2022!