Looking for the perfect navy paint color for your home? Let's talk about Sherwin Williams Naval and see if it might be right for your home!
Navy has been a popular paint color for a while now.
While navy is especially popular among those who like coastal and traditional decor, navy goes with virtually any decor style and any finish.
This makes it a top choice for many people's homes!
One of the most popular navy paint colors is Naval, which was named as Sherwin Williams' 2020 Color of the Year. Let's dive into the details of this popular color.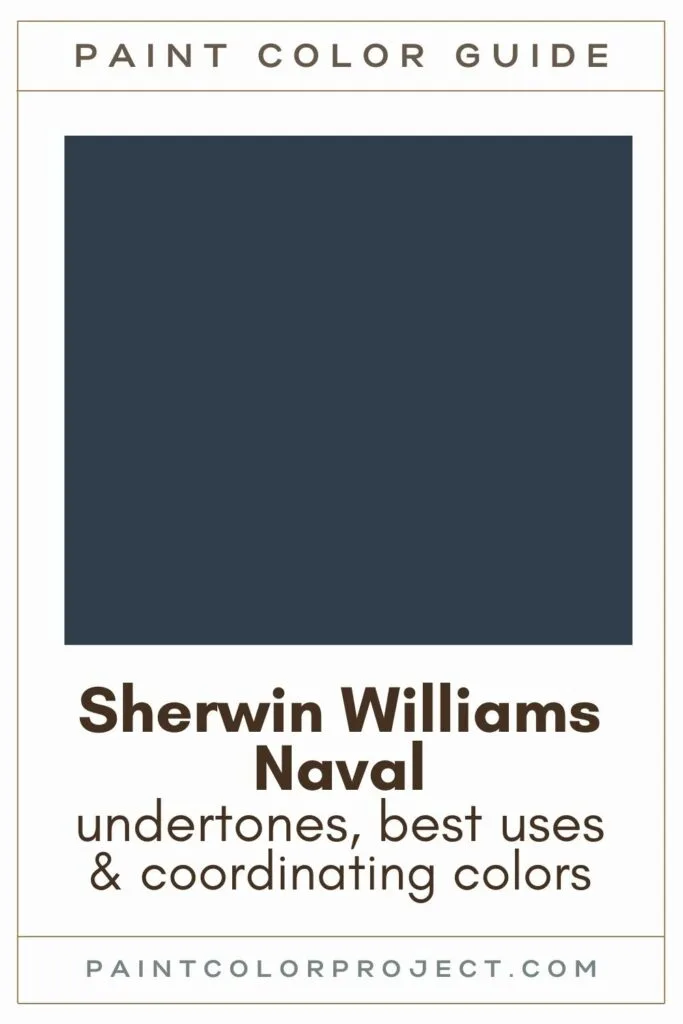 Naval, Sherwin Williams 6244
Naval is an extremely popular navy paint color.
It's very dark and can work well as either a neutral or a sophisticated accent color. It gives a room a moody, calming, and cozy feel all at once.
While it's a blue paint color, Naval's gray undertones mute it a bit, so overall, Naval appears a bit more subdued.
Click here to get a peel and stick sample of Naval
Color Family
Naval is in the blue family.
Light Reflectance Value
4
Light Reflective Value is the measurement of how much light a color bounces around. This is on a scale of 0 to 100, with 0 being pure black and 100 being pure white.
With an LRV of 4, Naval is an extremely dark paint color.
If you were to use Naval in a bathroom or closet without any natural light, it may even look slightly black-ish.
It will also look very dark in corners of rooms far from natural light.
RGB Colors
R: 47 G: 61 B: 76
RGB describes the amount of each color – red, green, and blue – present in a color.
This is on a scale of 0 to 255 for each color. This is basically the color mix to make the color!
Hex Code
#2F3D4C

Undertones
Naval has gray-green undertones, making it a cool paint color. Its undertones mute the color a bit, stopping it from being a bright, bold blue.
Naval will look quite dark in almost all spaces.
However, it may appear slightly lighter and warmer in south-facing rooms. In some rooms with lots of natural light, it may even appear slightly teal.
In north-facing rooms, Naval may appear darker and bolder, giving the room a cozy vibe. Its gray-green undertones may be more apparent.
Best uses
I like to use dark paint colors like Naval for:
Walls of a room you want to feel cozier such as a bedroom, living room, or den (you can even paint the trim and moldings for a more sophisticated feel)
Creating a focal point, such as a fireplace
Built-ins
Interior or exterior doors
Home exterior
Shutters
Accent wall
Furniture
Click here to get a peel and stick sample of Naval
Similar Colors
Behr Soulful
Benjamin Moore Deep Royal
Sherwin Williams In the Navy
Benjamin Moore Hale Navy
Sherwin Williams Anchors Aweigh
Sherwin Williams Mountain Fig
Sherwin Williams Sea Mariner
Coordinating Colors
Naval is a dark enough paint color that it's considered neutral by some.
This means it plays well with almost all other paint colors, including beiges, warm and cool grays, blues, crisp whites, greens, golds, reds, violets, and pinks.
Mid-toned beiges:
Ramie
Favorite Tan
Crewel Tan
Relaxed Khaki
Threaded Loom
Light cool blues:
Breezy
Aqua-Sphere
Tradewind
Rain
Languid Blue
Light to mid-toned grays:
Trim Colors
As a cool paint color, Naval pairs well with bright white colors for trim.
Sherwin Williams Naval color palette
Join the (free!) PaintColorProject+ community to access this exclusive color palette! Once you join, you can right click & save the palette image!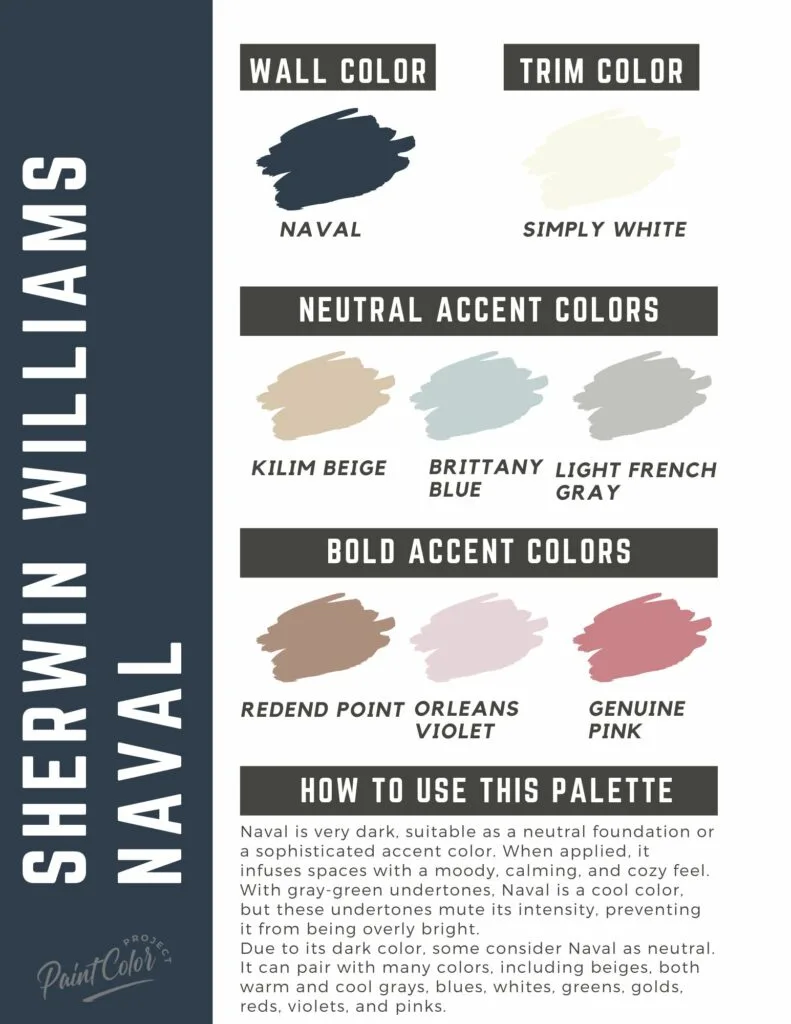 Click here to get a peel and stick sample of Naval
FAQS
Here are some common frequently asked questions about Naval.
What are the undertones of SW Naval?
SW Naval has gray-green undertones, which mute the color a bit. Naval is a subdued deep blue versus a bright navy.
Does SW Naval work for the exterior of a home?
Yes! SW Naval is a great choice for a deep, sophisticated look for a home's exterior. If you don't want to commit to a whole house in Naval, it also looks great on shutters and exterior doors.
What color trim goes with Naval?
As a cool paint color, Naval works well with bright white trim colors, such as BM Simply White, SW Extra White, and Behr Ultra Pure White.
Is SW Naval warm or cool?
SW Naval is a cool navy paint color with gray-green undertones.
Is Naval a bold blue or more subtle?
Naval is a subtle navy blue paint color due to its gray undertones.
What was the 2020 Sherwin Williams Color of the Year?
Naval was the 2020 SW Color of the Year.
What is a lighter shade of SW Naval?
If you love SW Naval but can't commit to the darkness, try SW Salty Dog or Dress Blues. Always swatch a color before committing!
Does SW Naval look black?
SW Naval typically does not look black. However, it is a very dark paint color, and if used in a room without any natural light, it may look slightly black-ish. It's always important to swatch colors in your space before committing!
What is the difference between BM Hale Navy and SW Naval?
The two are similar. Hale Navy has an LRV of 8, and Naval has an LRV of 4, which means Naval is darker than Hale Navy. Naval has green-gray undertones, and Hale Navy has gray undertones. In both colors, the gray undertones mute the overall color, preventing each from being a bold navy color.
Before you go…
So, you've found the perfect paint color, but here's the thing – there's another big decision you have to make: picking the right paint sheen. Seriously, the level of glossiness can totally change how your color looks on the walls and how long the paint lasts!
Check out our complete guide to understanding paint sheens.
Still not sure what paint color to choose?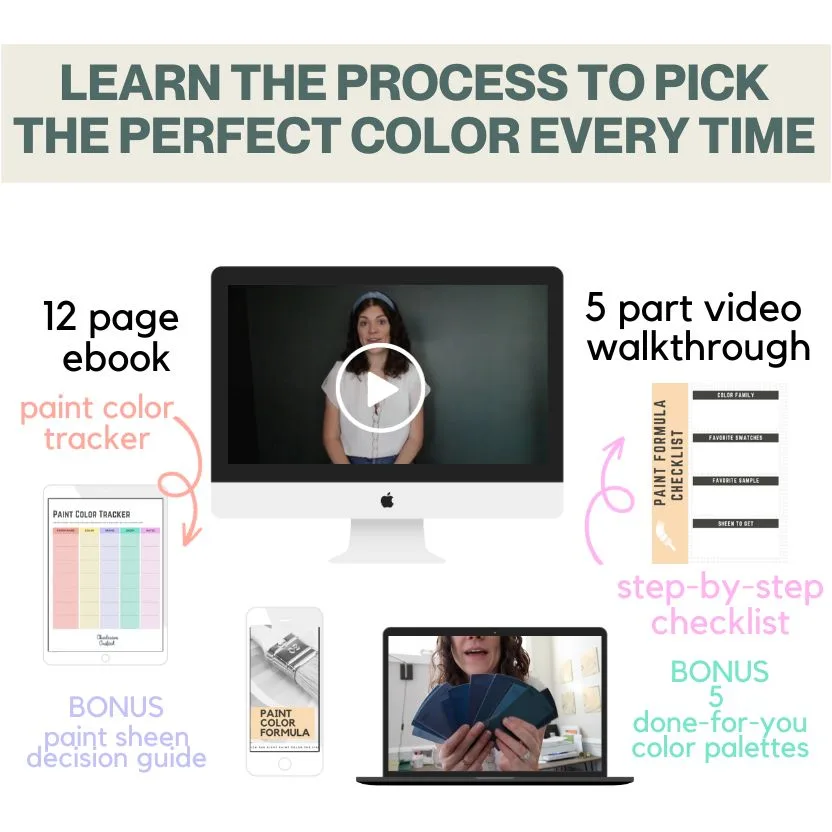 My Paint Color Formula ebook walks you through the painless process of expertly testing paint swatches to ensure you have the perfect color for your home.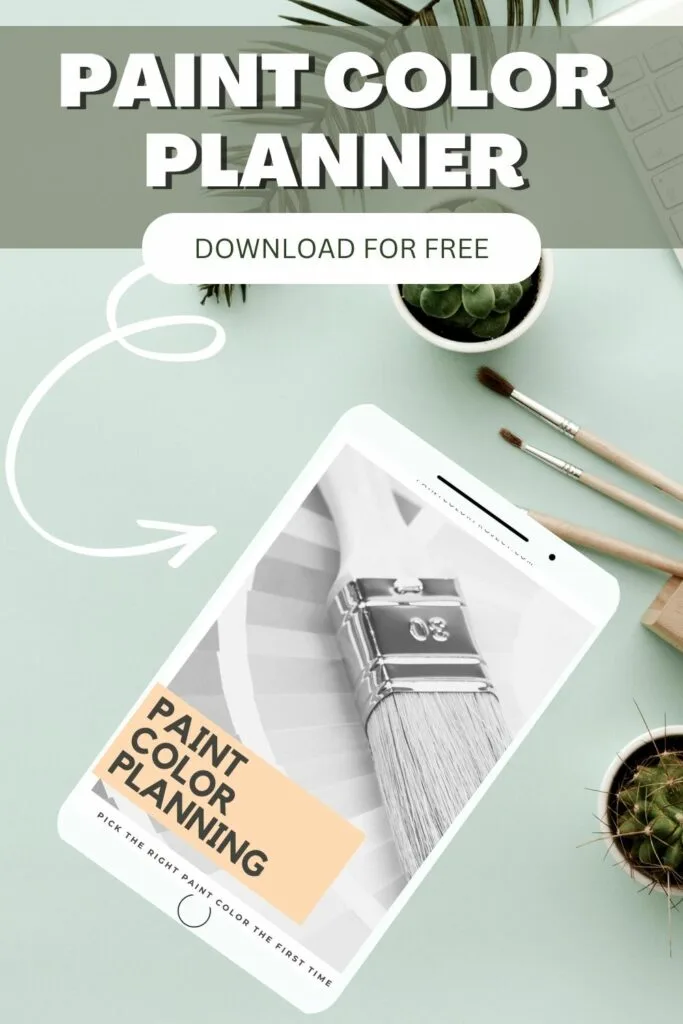 Thanks for reading!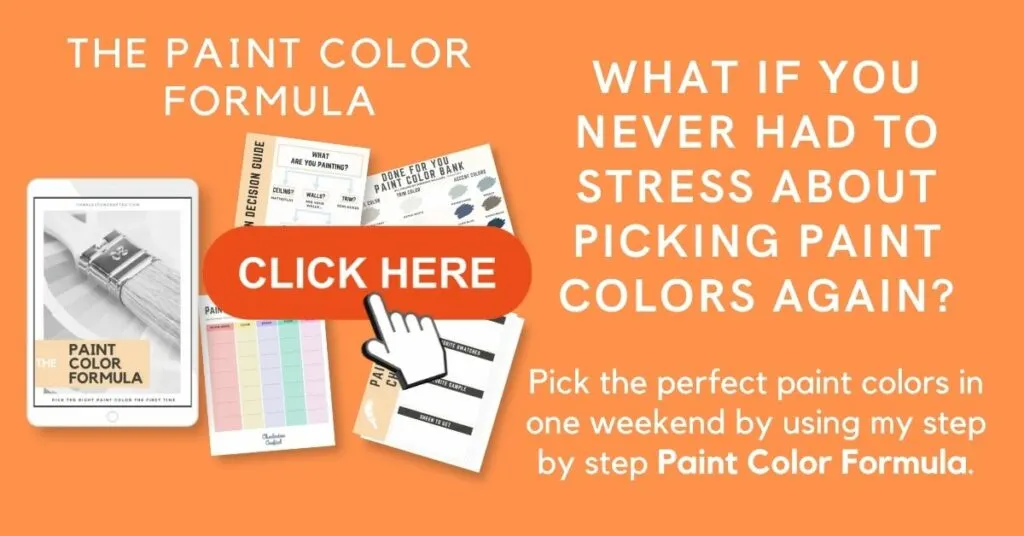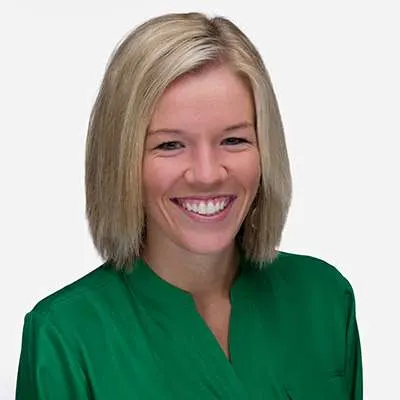 Meg Hemmelgarn is a freelance writer and home decor + DIY blogger who loves to talk about paint colors. She and her husband are currently renovating their third fixer upper. You can see their projects on her blog, Green With Decor.