Want to paint your home with a light blue paint color? Here are the best Benjamin Moore Light Blue Paint Colors to consider!
Ever dreamed of giving your space a fresh, light blue makeover? Well, you're in for a treat because we've got the scoop on the best Benjamin Moore Light Blue Paint Colors that will instantly transform your rooms into cozy, stylish retreats.
Choosing a paint color might seem a bit overwhelming, but don't worry – we've made it super easy for you. We've handpicked these light blue shades that are not only beginner-friendly but also incredibly versatile.
Imagine clear skies, tranquil lakes, and early morning fog – these colors capture the essence of calm and sophistication.
So, if you're ready to add a touch of serenity and elegance to your home, join us on this exciting journey into the world of Benjamin Moore Light Blue Paint Colors. Let's make your home decor dreams a reality!
If you are deciding on a paint color, be sure to check out our Paint Color Formula for the best process to ensure that a paint color works in your home!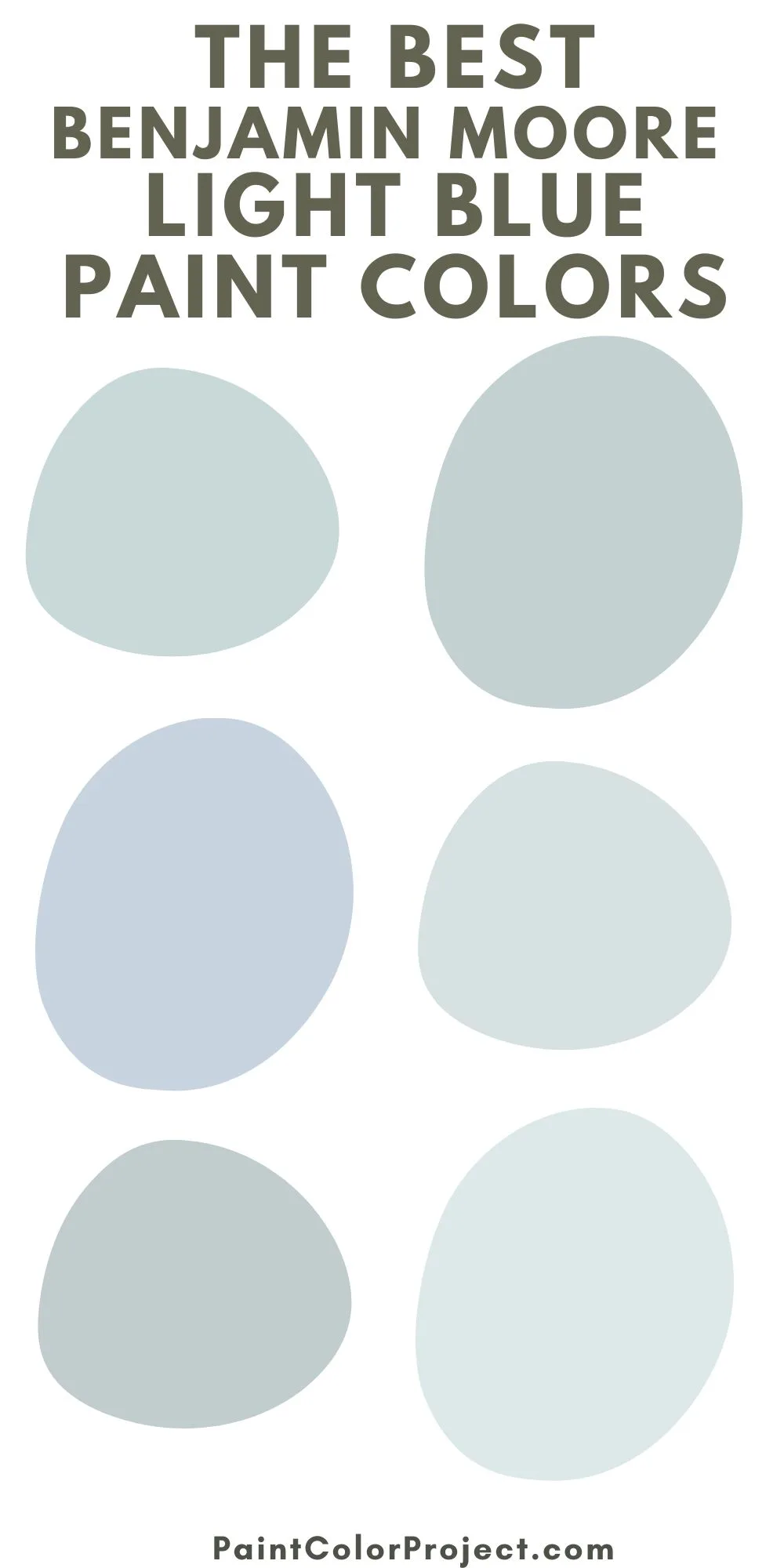 Best Benjamin Moore light blue paint colors
Here are all of my favorite light blue paint colors by Benjamin Moore!
Click here to get peel and stick samples of all of my favorite light blue paint colors, so you can easily compare them in your actual home!
Windy Sky by Benjamin Moore (1639)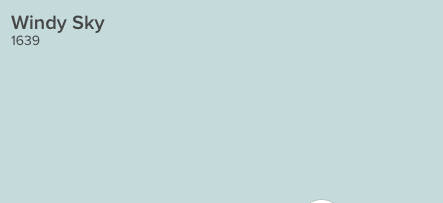 Windy Sky is a stunning light blue-gray paint color that exudes brightness and cheerfulness. Imagine the vibrant hue of aqua, but with a mature and sophisticated twist.
This shade captures the essence of a clear, sunny day, filling your home with warmth and inviting vibes. Its subtle balance between blue and gray tones creates a calming atmosphere, making it an excellent choice for various rooms in your home.
Whether you're looking to create a cozy living room or a welcoming bedroom, Windy Sky adds a touch of elegance while maintaining a friendly ambiance.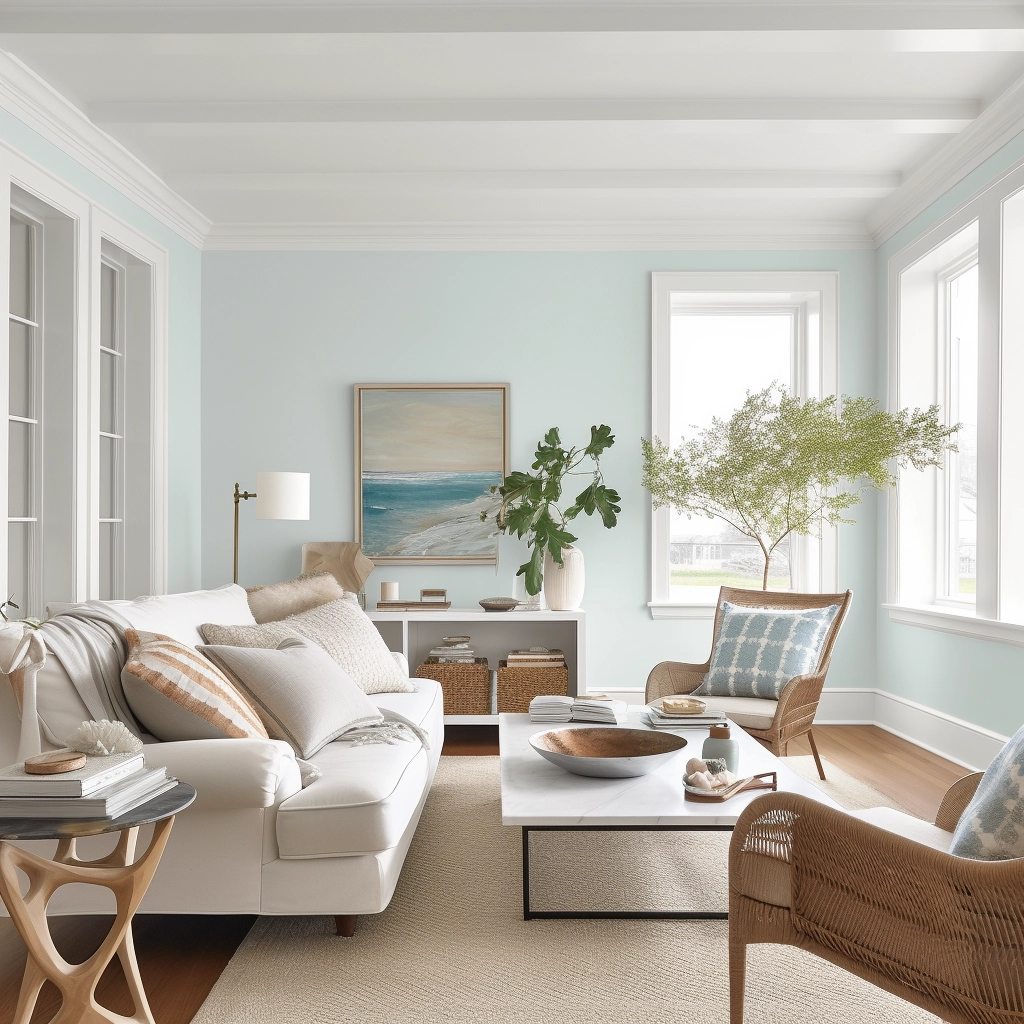 Click here to get a 12″x12″ peel and stick sample of Benjamin Moore Windy Sky!
Iceberg by Benjamin Moore (2122-50)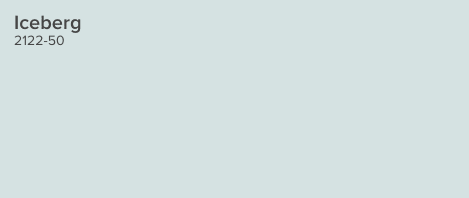 Iceberg is a delicate and versatile light blue shade with prominent gray undertones. This hue strikes a perfect balance between softness and sophistication, resembling a subdued baby blue with a muted quality.
Unlike typical pastel tones, Iceberg's gray undertones add depth and richness, eliminating any overly sweet or sugary feel.
What makes Iceberg so popular is its neutral appeal. This color can effortlessly cover every wall in your home, bringing a sense of tranquility and elegance to any room. Despite its neutrality, Iceberg doesn't fade into the background; instead, it adds an intriguing layer to your space.
Whether you're redesigning your living room, bedroom, or kitchen, Iceberg offers a timeless backdrop that complements various decor styles.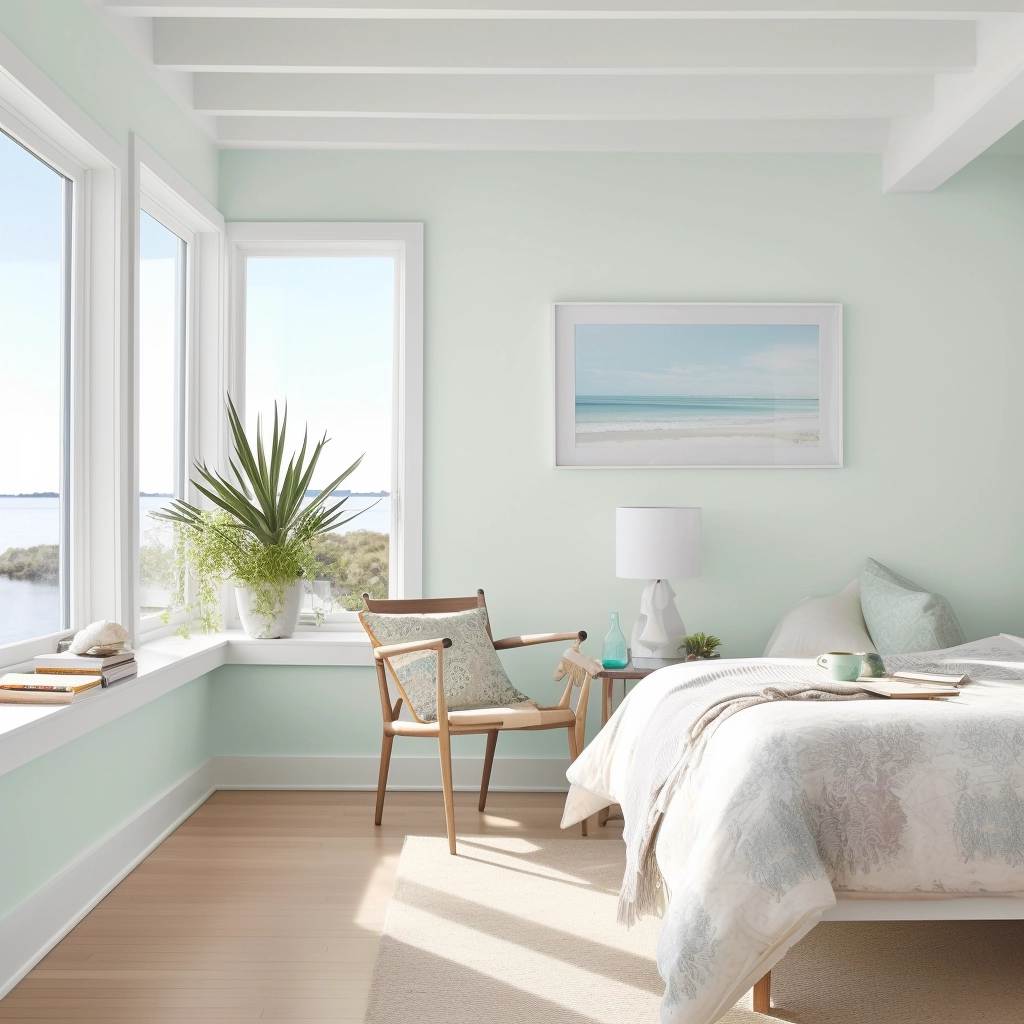 Click here to get a 12″x12″ peel and stick sample of Benjamin Moore Iceberg!
Brittany Blue by Benjamin Moore (1633)

Brittany Blue is a refreshing and crisp light blue-gray color that embodies a cool and serene atmosphere. This shade boasts icy undertones that lend it a distinct chilliness while maintaining its blue essence.
Imagine the clear, calming sky on a brisk morning – Brittany Blue captures that aesthetic perfectly.
Brittany Blue strikes a delicate balance, offering a subdued yet noticeable presence in any room. Its cool undertones create a calming ambiance, making it an ideal choice for spaces where relaxation and tranquility are desired.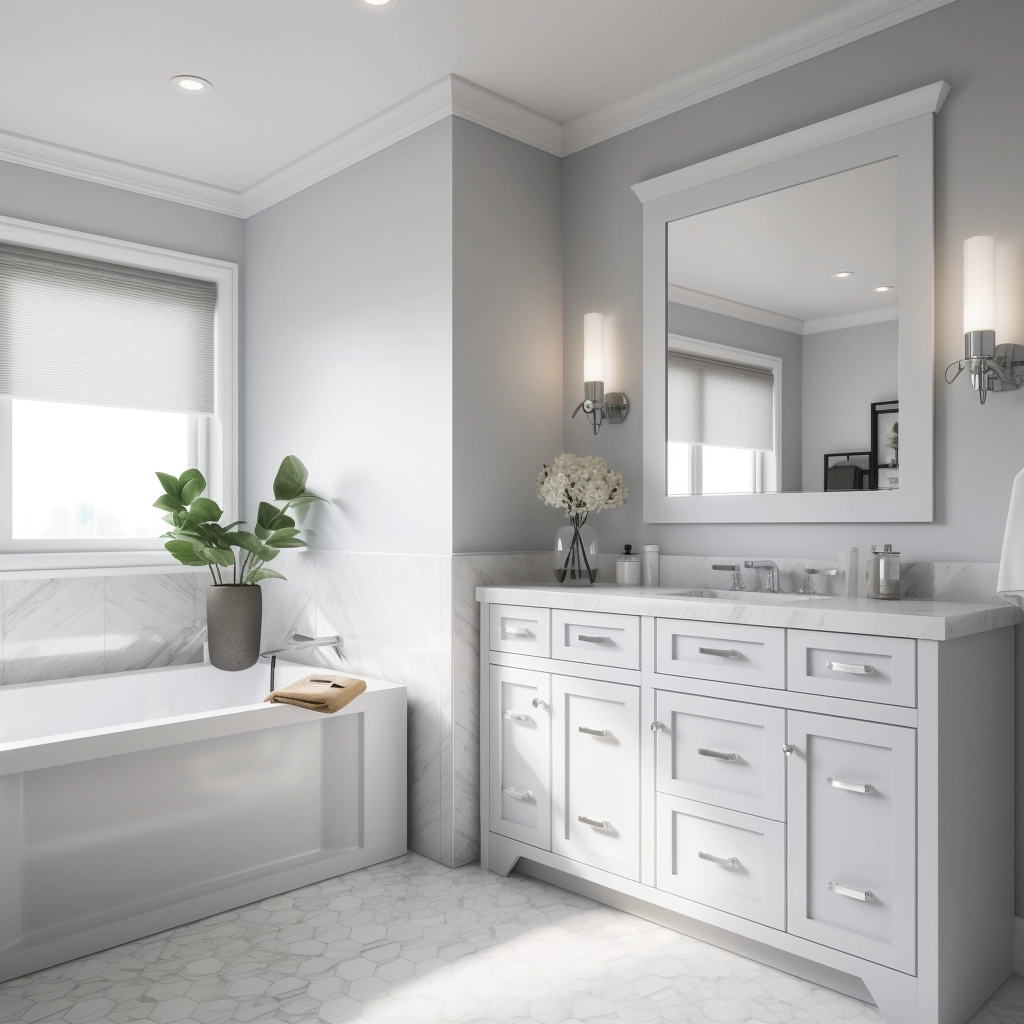 Click here to get a 12″x12″ peel and stick sample of Benjamin Moore Brittany Blue!
Lake Placid by Benjamin Moore (827)
Lake Placid is a vibrant and contemporary blue hue with hints of purple undertones, giving it a unique and sophisticated character. This color exudes a sense of depth and richness, reminiscent of the deep waters of a tranquil lake. While it leans towards purple, its predominant blue tone ensures a cool and icy quality.
Imagine the modern interpretation of a classic baby blue – that's precisely what Lake Placid offers. It retains the lightness and innocence of baby blue while infusing it with a mature and elegant twist. This balance between playful charm and modern sophistication makes Lake Placid a standout choice for interior spaces.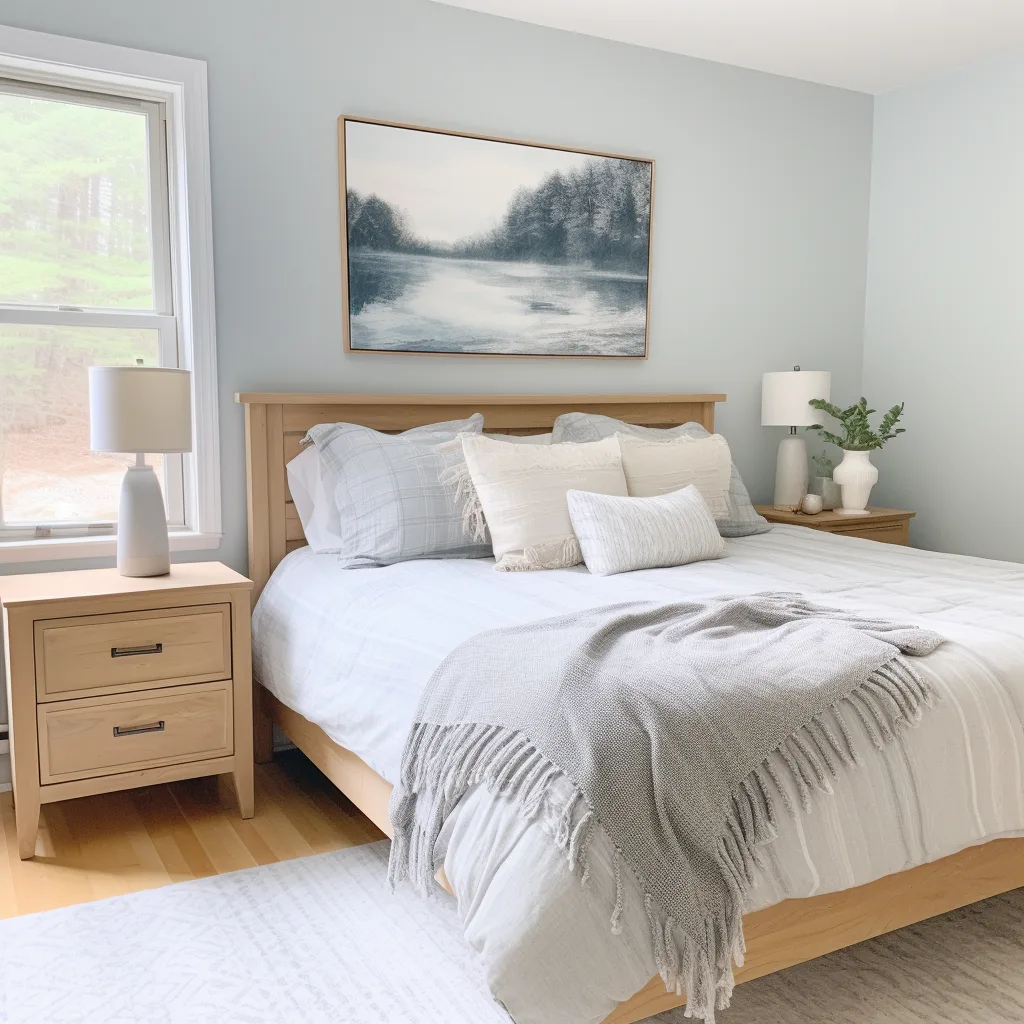 Click here to get a 12″x12″ peel and stick sample of Benjamin Moore Lake Placid!
Whispering Spring by Benjamin Moore (2136-70)

Whispering Spring is a delicate and frosty blue hue that exudes a sense of airiness and tranquility. Despite its pale appearance, this color surprises with its saturation, maintaining a distinct blue presence. Its ethereal quality creates a serene feeling, reminiscent of a clear sky on a crisp spring morning.
What sets Whispering Spring apart is its ability to remain distinctly blue while embracing lightness. The subtle gray undertones prevent it from veering into pastel territory, ensuring it retains a cool and sophisticated demeanor.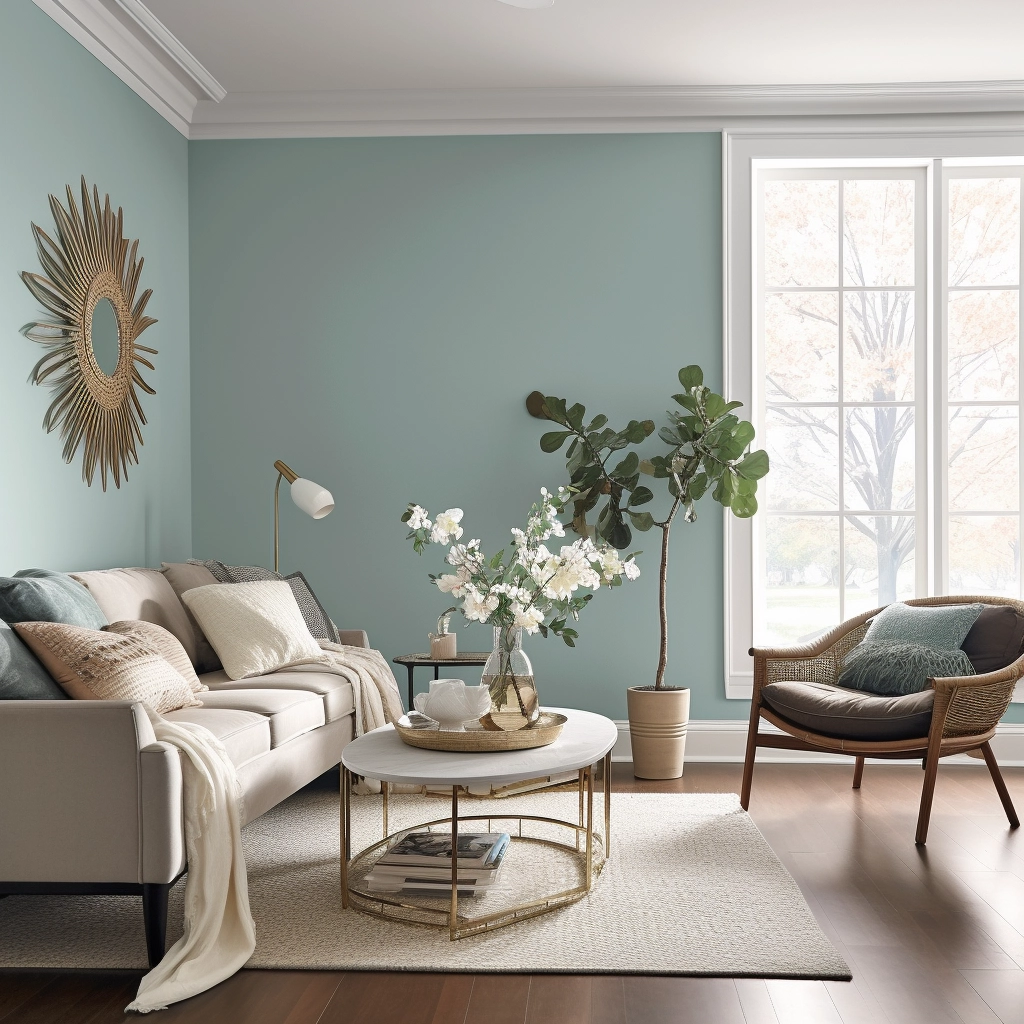 Click here to get a 12″x12″ peel and stick sample of Benjamin Moore Whispering Spring!
Manor Blue by Benjamin Moore (1627)

Manor Blue is a captivating mid-tone blue-gray hue with subtle violet undertones, adding depth and complexity to its true blue essence. This color strikes a harmonious balance between blue and gray, infusing a room with a moody and sophisticated aura.
The violet undertones in Manor Blue lend it a unique character, making it more than just a standard blue. Imagine the rich hues of twilight, where the sky transitions from bright blue to dusky gray, creating a serene and contemplative atmosphere.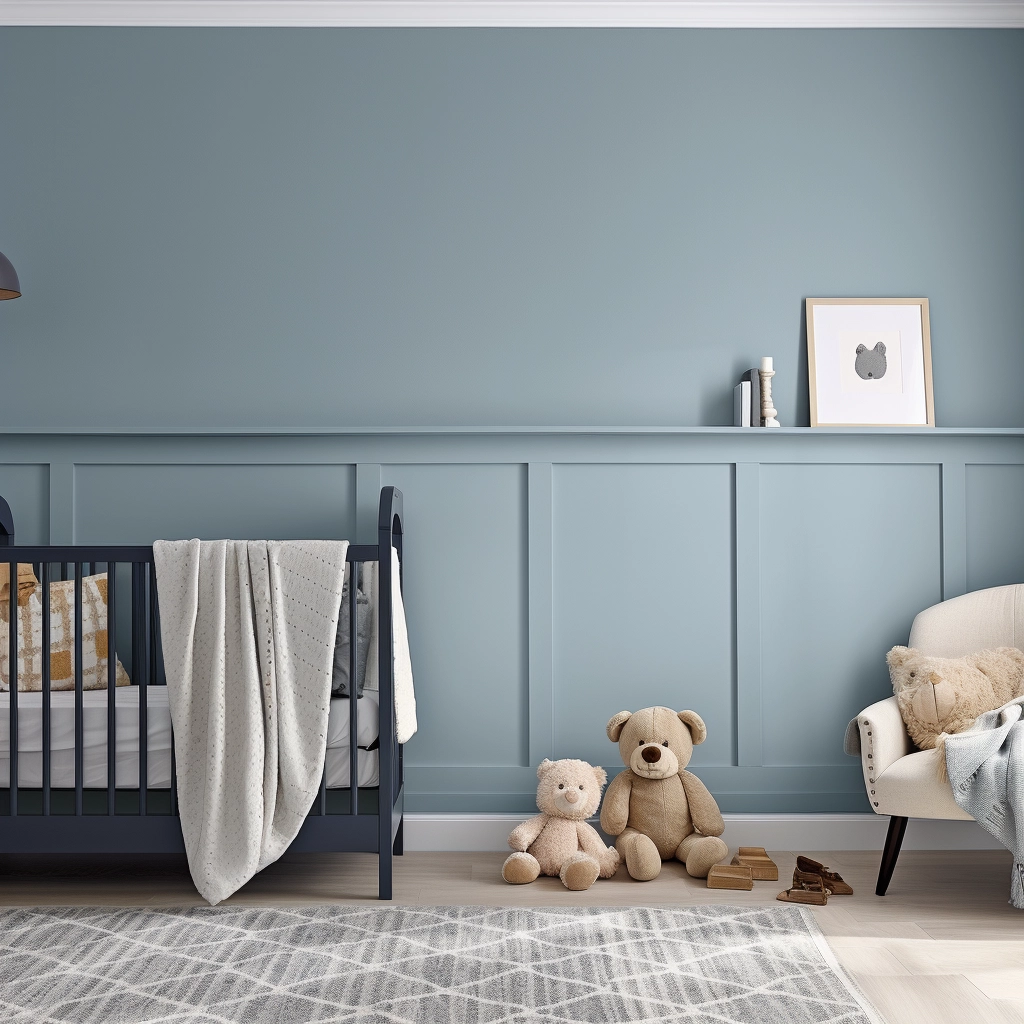 Click here to get a 12″x12″ peel and stick sample of Benjamin Moore Manor Blue!
Gentle Gray by Benjamin Moore (1626)

Gentle Gray has the serene essence of a gentle early morning fog, casting a soft blue-gray hue that evokes tranquility and calmness. This versatile color serves as a neutral backdrop, creating a soothing atmosphere in any room it graces.
The soft blue-gray tone of Gentle Gray makes it incredibly adaptable, allowing it to seamlessly integrate into a wide range of interior styles and color palettes.
Its understated elegance pairs beautifully with various accent colors, from muted pastels to bold jewel tones, offering endless possibilities for décor and furnishings.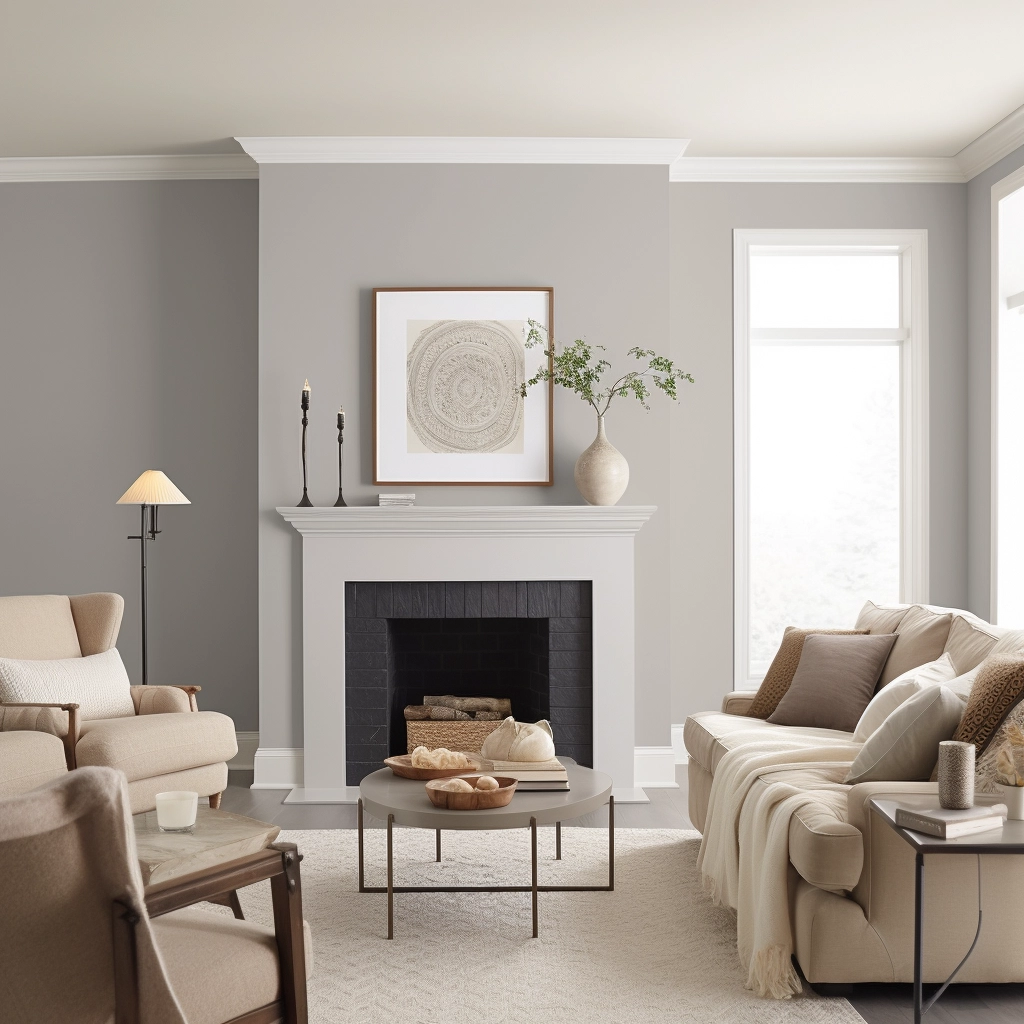 Click here to get a 12″x12″ peel and stick sample of Benjamin Moore Gentle Gray!
What colors pair best with light blue?
Light blue has a lot of great accent colors!
Gray that is either 2 shades lighter OR darker than the blue
Pastel colors such as peach, blush, pale yellow, pastel green
Still not sure what paint color to choose?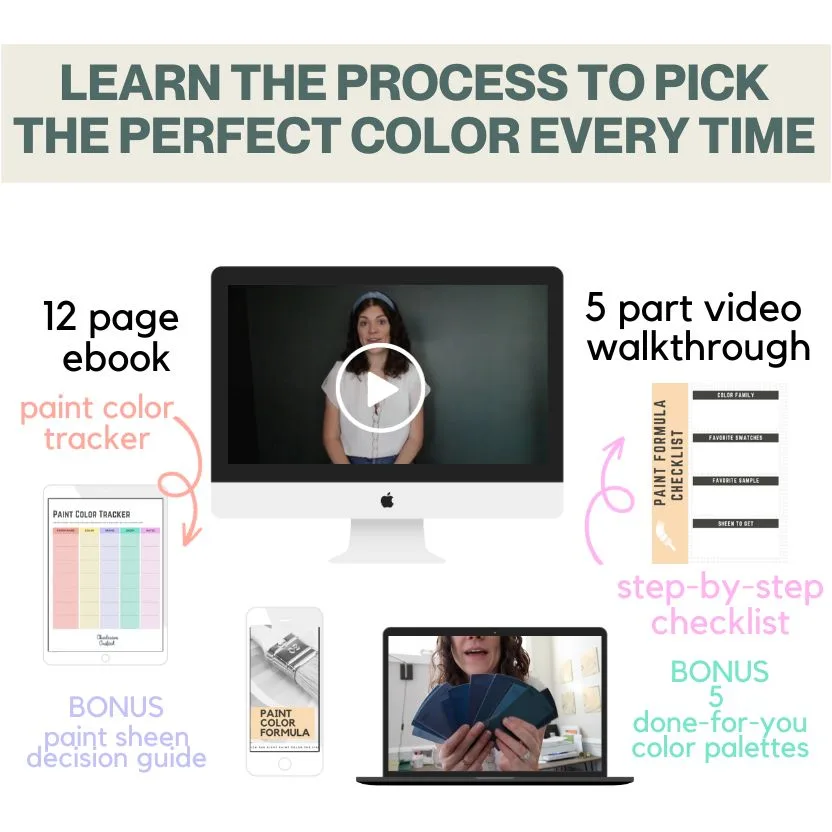 My Paint Color Formula ebook walks you through the painless process of expertly testing paint swatches to ensure you have the perfect color for your home.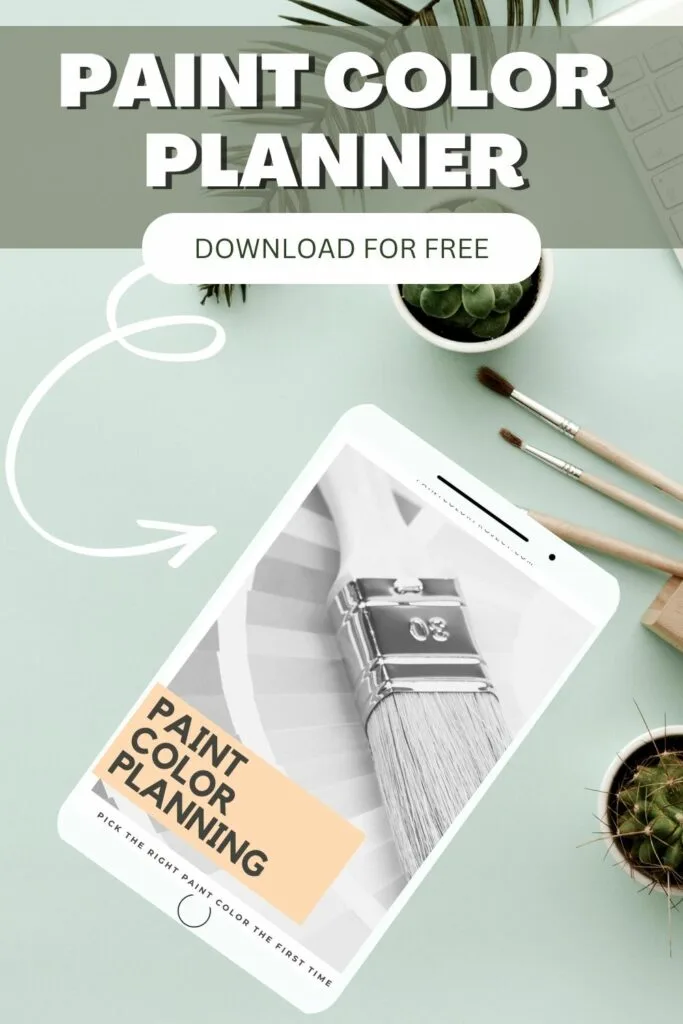 Thanks for reading!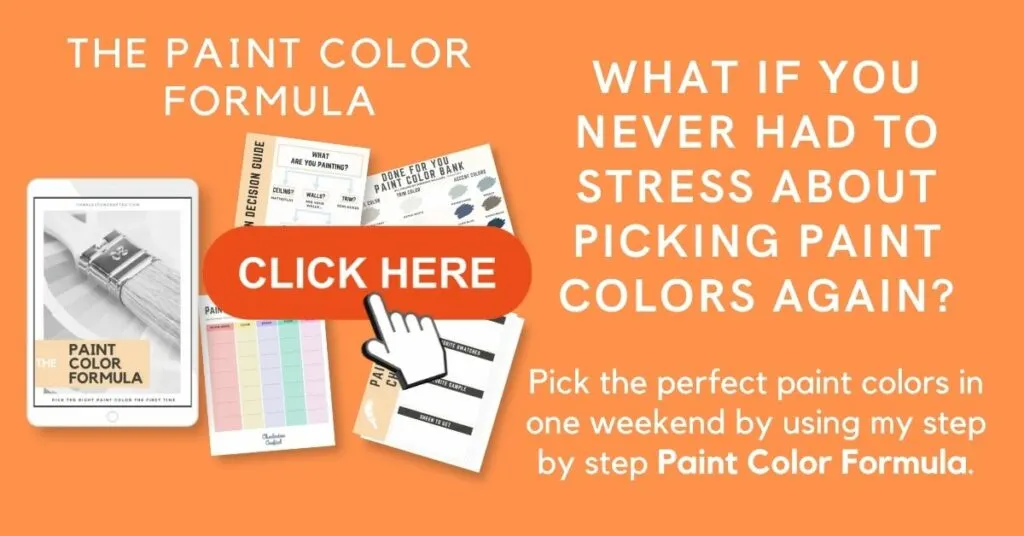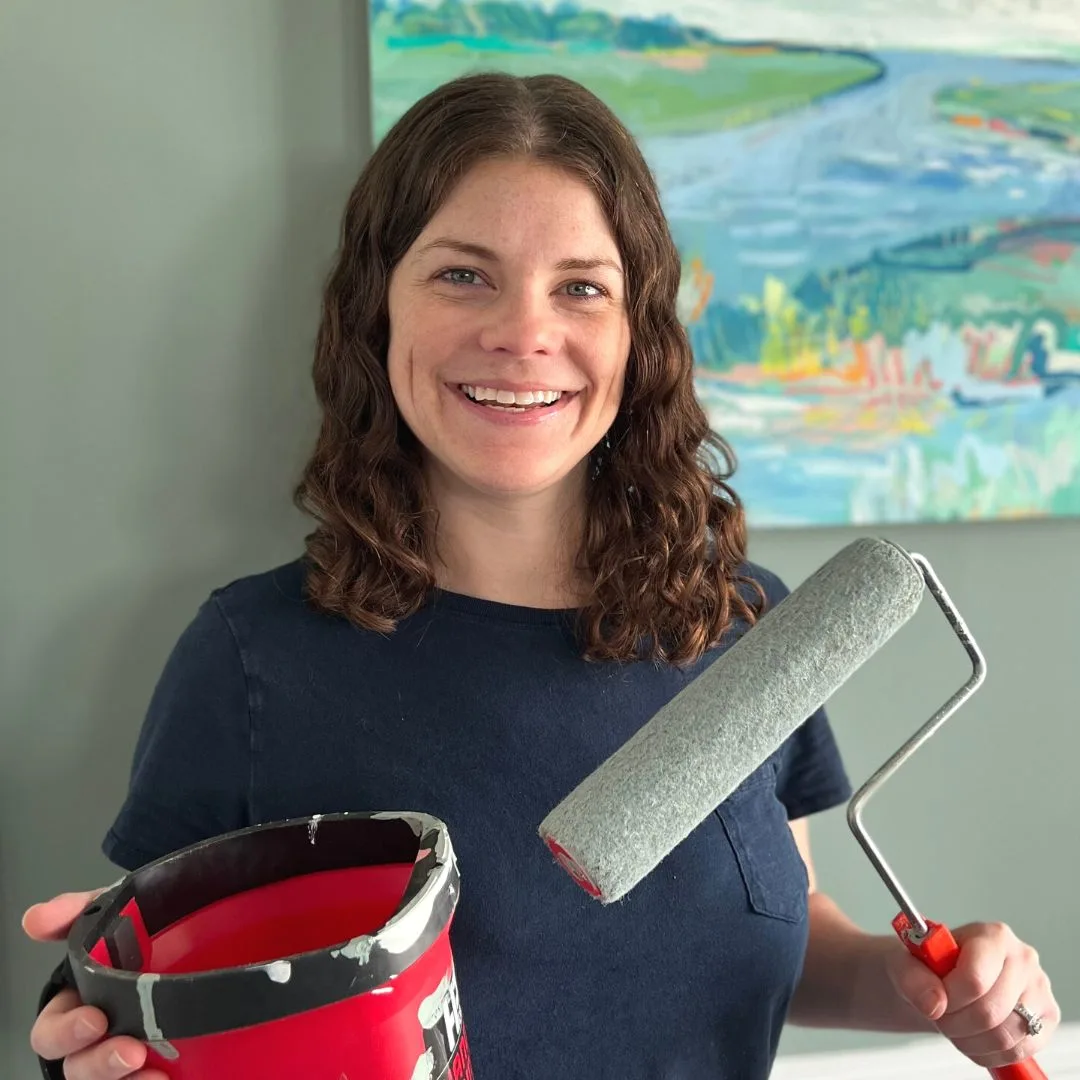 Morgan is passionate about home decor and paint colors. She has been sharing DIY home decor tips since 2012 at CharlestonCrafted.com. From there, she learned to love paint colors, and the Paint Color Project was born in 2022!