Want to transform your bedroom into a modern, moody space? How about painting the walls black! Here are the Best Black Paint Colors for Bedrooms & how to decorate with them!
A bedroom is one of the most important rooms in a house, and I always suggest that new homeowners decorate their bedroom first.
Whether you are new to your home or just looking to do a little makeover, paint can go along way and transforming a bedroom space.
Today I want to talk about a slightly unexpected bedroom paint color – black.
A lot of people are scared to paint their walls black, but I actually love a good black paint color.
Black rooms can feel modern, cozy, and surprisingly inviting.
Today I want to dive in the best black paint colors for bedrooms in my tips for decorating your bedroom with a lot of the color black.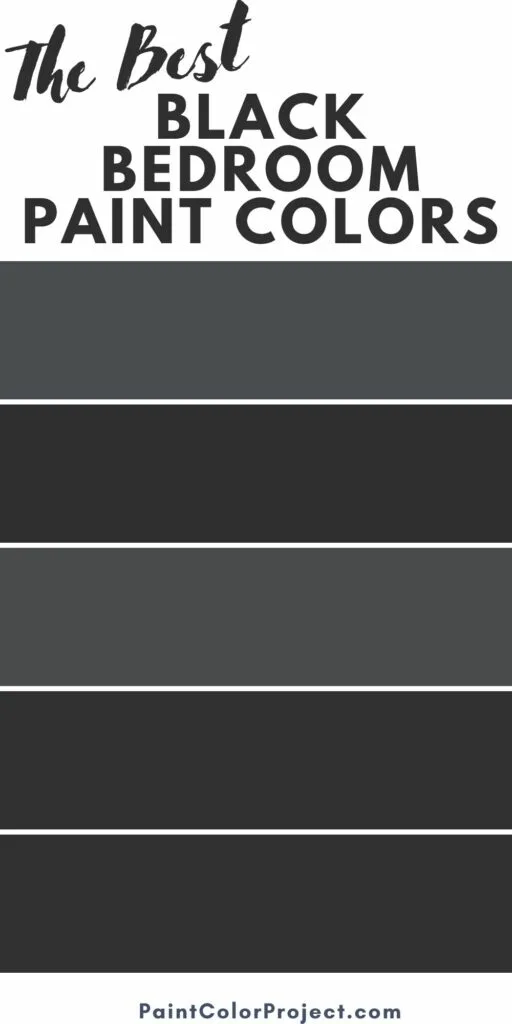 The Enchanting Effect of Black in Bedrooms
While for many years, everyone was painting, every wall white, recently people have been leaning back towards color.
You might think that black walls are a bit extreme, but a nice deep wall color can instantly make a room – especially a large and well lit room – feel very cozy.
Black paint can create a sense of opulence, intimacy, and relaxation in the bedroom.
Of course, if you are decorating by painting your walls black you are going to want to keep the rest of the decor in the room lighter.
This means light colored textiles, light wood finishes, and lots of literal light with open windows and bright light fixtures.
It's also super important to pick the right shade of black for your space.
Selecting the Perfect Undertone
not all black paint colors are the same and one of the biggest differences between different shades of black comes from the different undertones.
Undertones are the colors mixed in to give your specific color it's specific make up.
A shade of black pink could have warm brown undertones, cool blue undertones, charcoal gray undertones, or even red undertones.
My biggest suggestion is to look at the fixtures in your room that will not be changing. In a bedroom this is most likely to be flooring or any large decor or furniture you will be keeping.
Does it have warm tones like Golden Oak, is it cool and gray? Stick to the same undertone of your existing fixtures for best results.
Best Accent Colors to Complement Black Bedrooms
Here are some of my favorite accent colors to pair with black walls.
Crisp Whites
White accents create a stunning contrast against black walls, adding brightness and sophistication.
Simply White (OC-117) – Benjamin Moore
Soft Grays
Pale gray tones provide a subtle, elegant complement to black, maintaining a balanced and calming atmosphere.
Classic Gray (OC-23) – Benjamin Moore
Repose Gray (SW 7015) – Sherwin-Williams
Blush Pink
Blush pink adds a touch of femininity and warmth, creating a soft and cozy ambiance in contrast to black walls.
First Light (2102-70) – Benjamin Moore
Warm Blush (SW 6333) – Sherwin-Williams
Earthy Neutrals
Warm earthy neutrals blend harmoniously with black, creating a grounded and inviting feel in the bedroom.
Forest Green
Deep forest green tones provide a rich and luxurious feel when paired with black, evoking a sense of opulence.
Hunter Green (2041-10) – Benjamin Moore
Ripe Olive (SW 6209) – Sherwin-Williams
Warm Metallics
Incorporate warm metallic accents, such as gold or brass, to add a touch of glamour and sophistication.
Antique Brass (SW 6228) – Sherwin-Williams
Champagne Gold (K18-2) – Behr
Jewel Tones
Deep jewel tones like sapphire, emerald, or amethyst create a striking contrast and add a luxurious feel.
Blue Danube (2062-30) – Benjamin Moore
Loyal Blue (SW 6510) – Sherwin-Williams.
Tips for Painting with Black
If you are painting your walls yourself just know that black paint can be a little bit difficult, just like any other super dark color.
If you are painting over light colored walls, then you need to go ahead and plan to do three coats.
Also, don't use this as a chance to cheap out on paint. Talk to the paint desk and buy a nice quality paint and primer in one. It will be a little bit more expensive per can but I promise that it will save you coats and hours of time, and possibly money on having to buy an extra can of paint.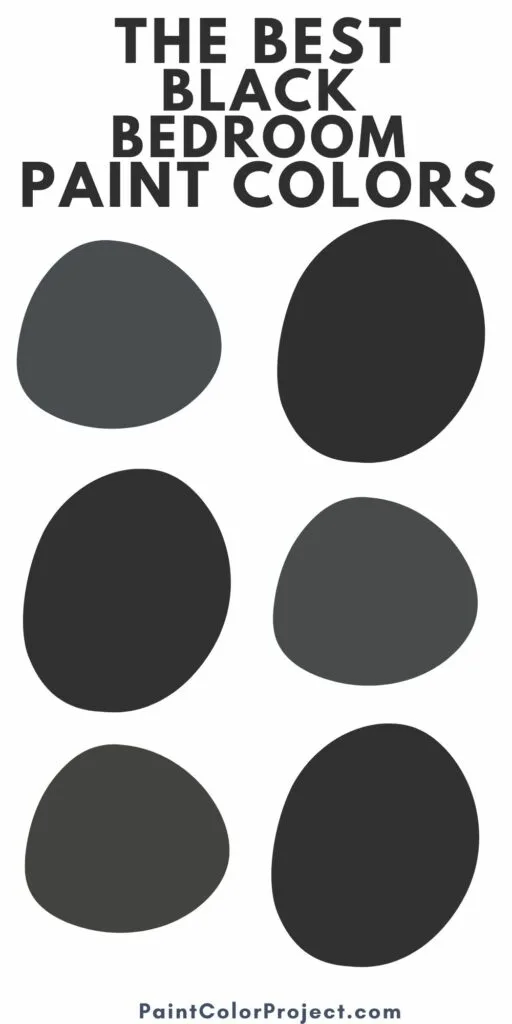 The Top Black Paint Colors for Bedrooms
Here are my favorite black paint colors for bedrooms, broken up based on their undertones.
Pure Black
Dark Charcoal
Dark Navies
Warm Blacks
What's your favorite black paint color?
Still not sure what paint color to choose?
My Paint Color Formula ebook walks you through the painless process of expertly testing paint swatches to ensure you have the perfect color for your home.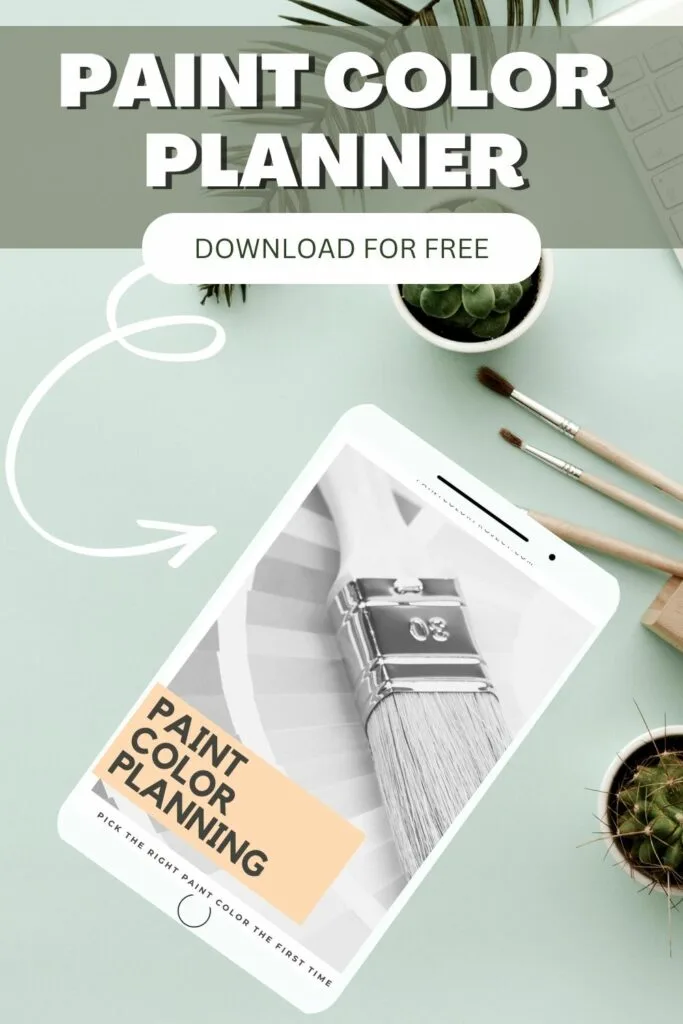 Thanks for reading!