Considering Sherwin Williams Redend Point and wondering if it might work in your home? Let's talk about this Sherwin Williams Color of the Year for 2023, the undertones, and a sample color palette!
Sherwin Williams has released their color of the year for 2023 and it is exactly what I would have imagined. Warm toned, muted but a pop of color, and a new take on neutrals.
Yes, we are talking about Redend Point! Let's dive into this color and if it might be something you could use in your home.
Click here to get a peel and stick sample of Redend Point.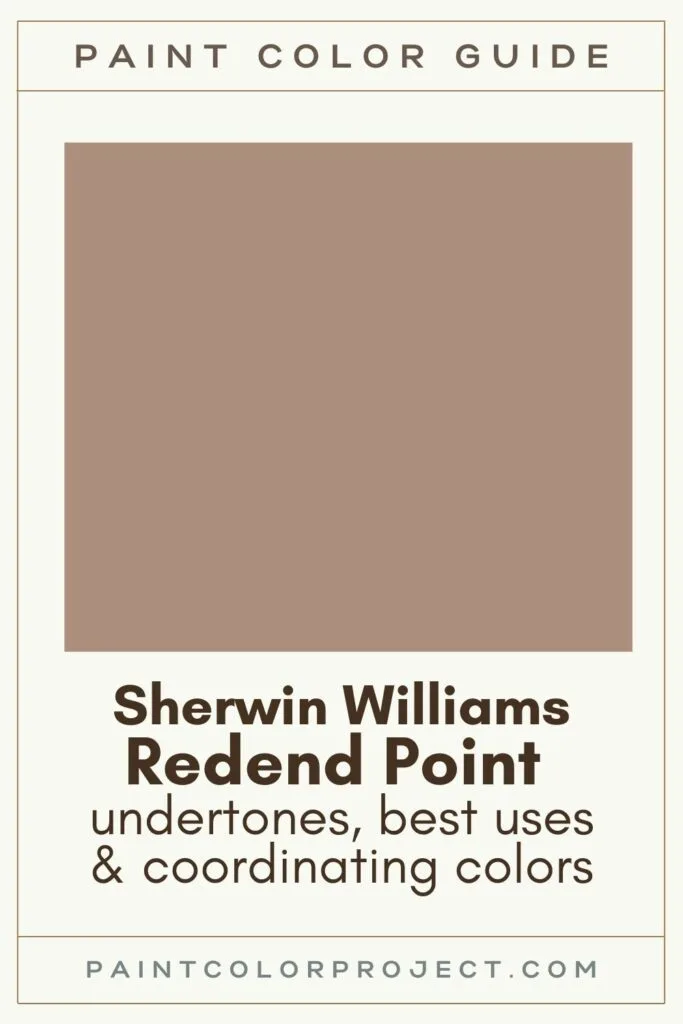 Sherwin Williams Redend Point SW 9081
Redend is a medium toned beige color with heavy pink or blush undertones. It is a warm and cozy color with a punch of pink, but a lot of beige and cocoa brown to mute the pink.
Color Family
Redend Point is in the beige color family.
Light Reflectance Value
30
Light Reflective Value is the measurement of how much light a color bounces around. This is on a scale of 0 to 100 with 0 being pure black and 100 being pure white.
With an LRV of 30, Redend Point is actually on the darker side of things. It's got a lot of depth to it. Remember that the color will feel darker in darker spaces and lighter in brighter rooms.
RGB Colors
R:174 G:142 B:126
RGB describes the amount of each color – red, green, and blue – present in a color. This is on a scale of 0 to 255 for each color. This is basically the color mix to make the color!
Hex Code
#ae8e7e

Undertones
Redend Point has very strong pink undertones. This color really reads as a mauve or darker blush in most spaces.
However, it is a very muted shade, with lots of beige to it as well.
Within that beige there is a lot of brown and almost a cocoa color. This is what helps to keep it from reading PINK pink and just a blush neutral.
Best uses
Sherwin Williams wants Redend Point to help redefine neutrals and show that they can still have color and interest.
I think that this is right along with color trends – people are getting bolder with paint colors and what was once considered wild is now a bit tame.
I love this color for a bedroom, dining room, or formal living room. It's great for any space that you want to elevate and let feel a bit special.
Click here to get a peel and stick sample of Redend Point.
Similar Colors
Sherwin Williams Chocolate Powder
Sherwin Williams Renwick Rose Beige
Benjamin Moore Chadwick Brown
Behr Cozy Cocoa
Valspar Canyon Earth
Valspar Tea Time
Coordinating Colors
Redend Point is perfect to pair with terra cotta, earthy greens, and warm neutrals.
Remember that pairing Redend Point with a true beige will make this color appear more pink. Pairing it with a terra cotta or blush will draw out the beige and make it look more neutral!
Terra Cottas:
Coral Clay
Cavern Clay
Smoky Salmon
Baked Clay
See all of my favorite terra cotta paint colors here.
Earthy Greens:
Rookwood Dark Green
Verde Marron
See all my favorite warm green paint colors here.
Warm Neutrals:
Renwick Beige
Diverse Beige
Cocoa Whip
Angora
Likeable Sand
Trim Colors
Because of the warm tones to Redend Point, I'd pair it with softer whites with a bit of a creamy or warm tone to them.
Benjamin Moore White Dove
Behr Cameo White
Click here to get a peel and stick sample of Redend Point.
Sherwin Williams Redend Point color palette
Join the (free!) PaintColorProject+ community to access this exclusive color palette! Once you join, you can right click & save the palette image!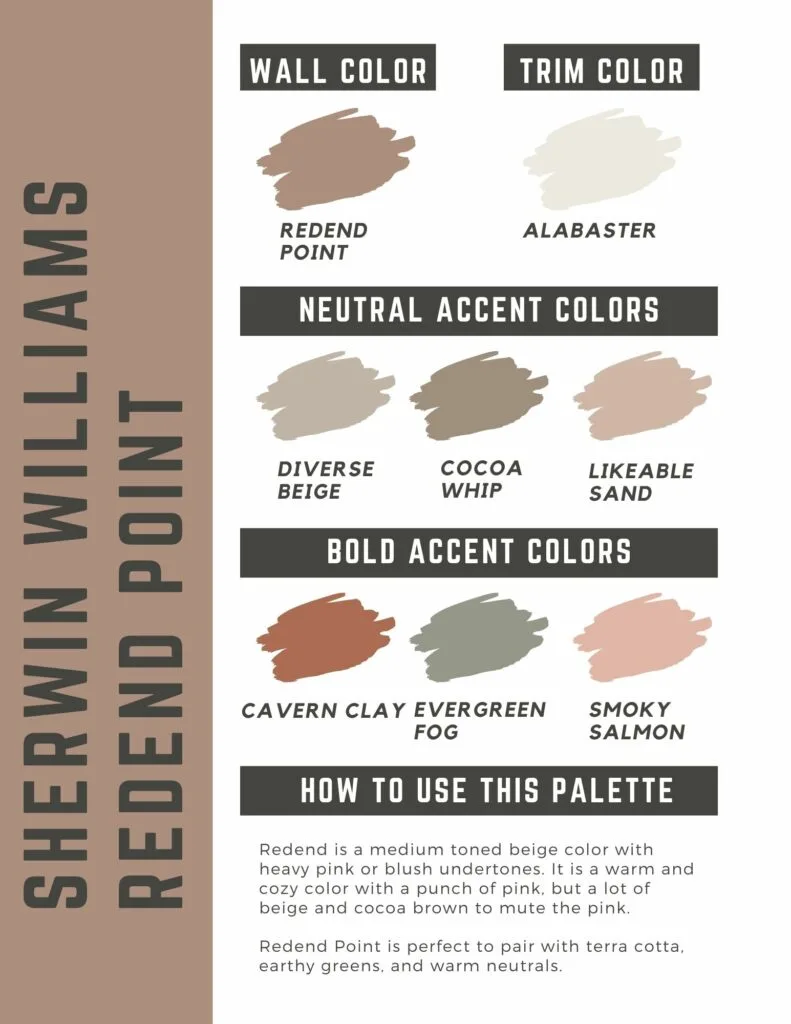 Still not sure what paint color to choose?
My Paint Color Formula ebook walks you through the painless process of expertly testing paint swatches to ensure you have the perfect color for your home.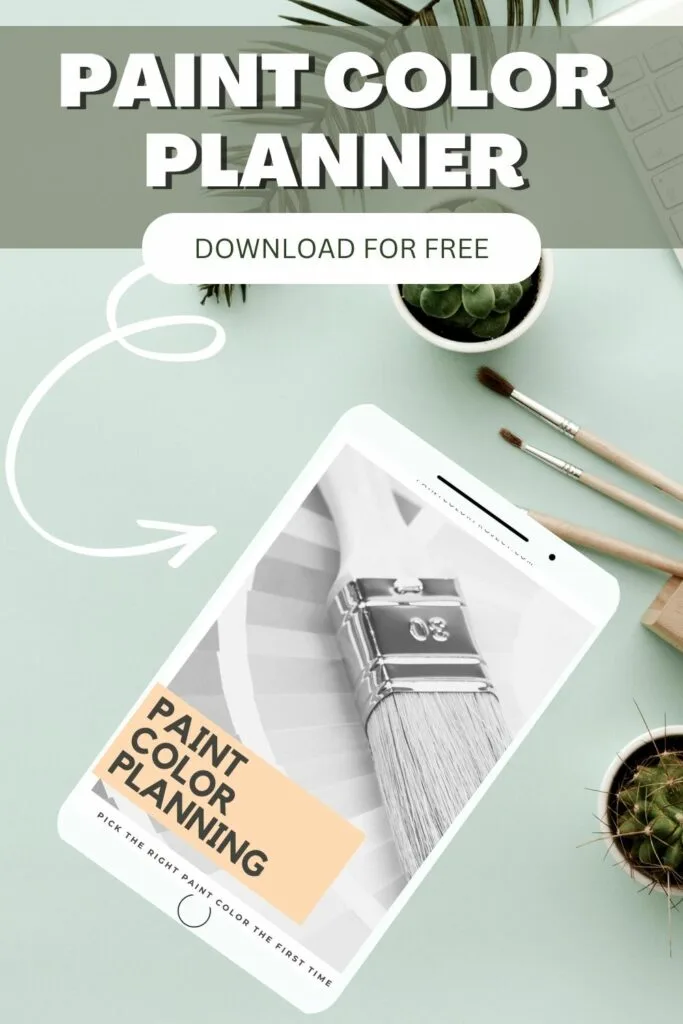 Thanks for reading!