Looking for the perfect cool light gray color? Let's talk about Sherwin Williams First Star and if it might be right for your home!
Picking paint colors can be very overwhelming.
What if you want your room to just feel… as neutral as possible? You might not even want a color, but you have to choose something to go on the walls.
This is when light, bright, neutral gray colors are perfect to work with. And as far as those go, Sherwin Williams First Star is an excellent option.
Let's talk about First Star and if it might work in your home!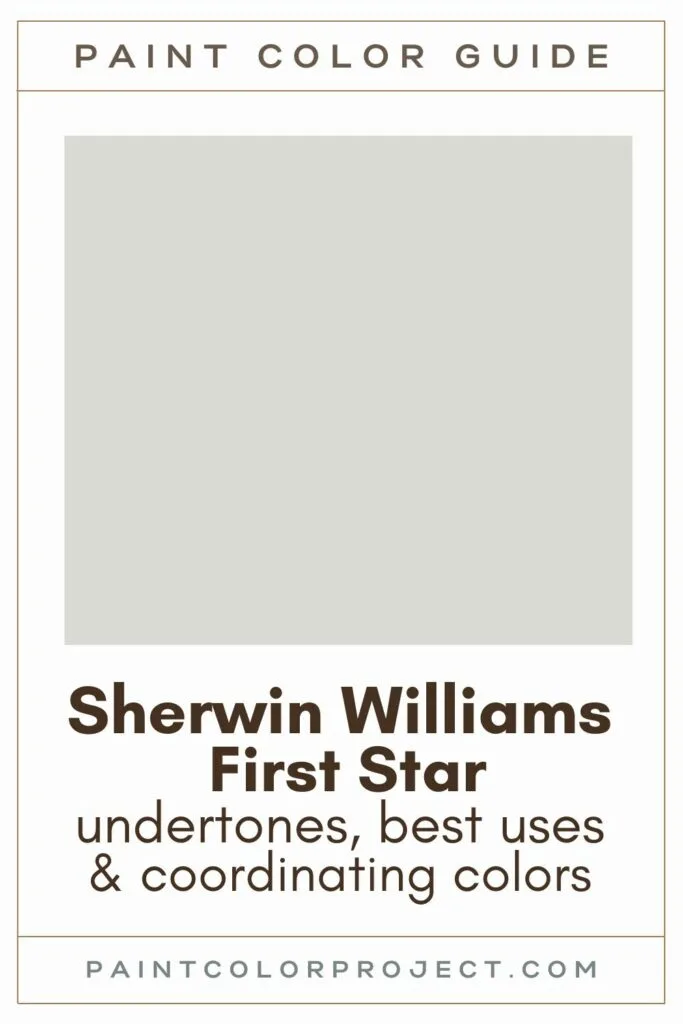 Sherwin Williams First Star SW7646
First Star is a color that Sherwin Williams describes as white with a hint of gray. It is, however, a bit dark to be considered truly white and some consider it a light gray instead.
Whichever way you call it, First Star is a clear, bright neutral that works in many applications in many homes.
Click here to get a peel and stick sample of First Star.

Color Family
First Star is in the cool gray color family.
Light Reflectance Value
69
Light Reflective Value is the measurement of how much light a color bounces around. This is on a scale of 0 to 100 with 0 being pure black and 100 being pure white.
With an LRV of 69, First Star is a bit darker than off-white and more of a light gray. That being said, it is still a light and bright color, especially in a room with lots of natural light.
Because of this colors shade – it will definitely look darker/more gray in dark rooms and light, bright, and almost white in very bright rooms.
RGB Colors
R: 218 G: 217 B: 212
RGB describes the amount of each color – red, green, and blue – present in a color. This is on a scale of 0 to 255 for each color. This is basically the color mix to make the color!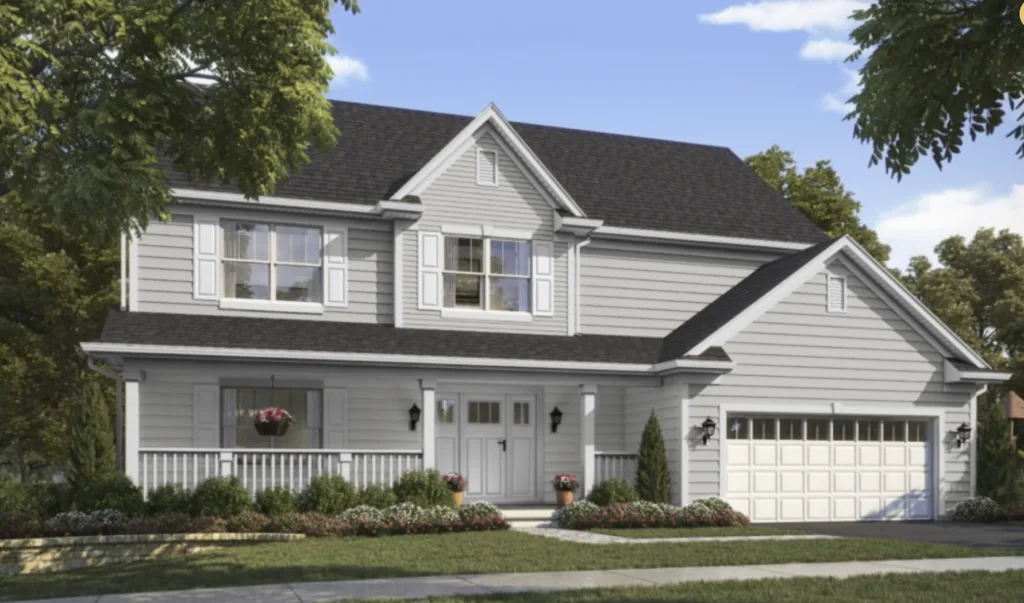 Hex Code
#DAD9D4
Undertones
First Star has cool undertones. The coolness of this color comes from a touch of blue.
These undertones are subtle. You are really going to only notice it if paired next to a pure white (like extra white trim) or next to a more creamy off-white/light greige.
Best uses
First Star is light and neutral enough to work as a whole house paint color. It also looks great in bedrooms, living rooms, and bathrooms.
you can even use First Star as a cabinet color – just know that paired with a white wall, it will read as gray. When paired with a darker or bold wall, it will read as more of a soft white.
Click here to get a peel and stick sample of First Star.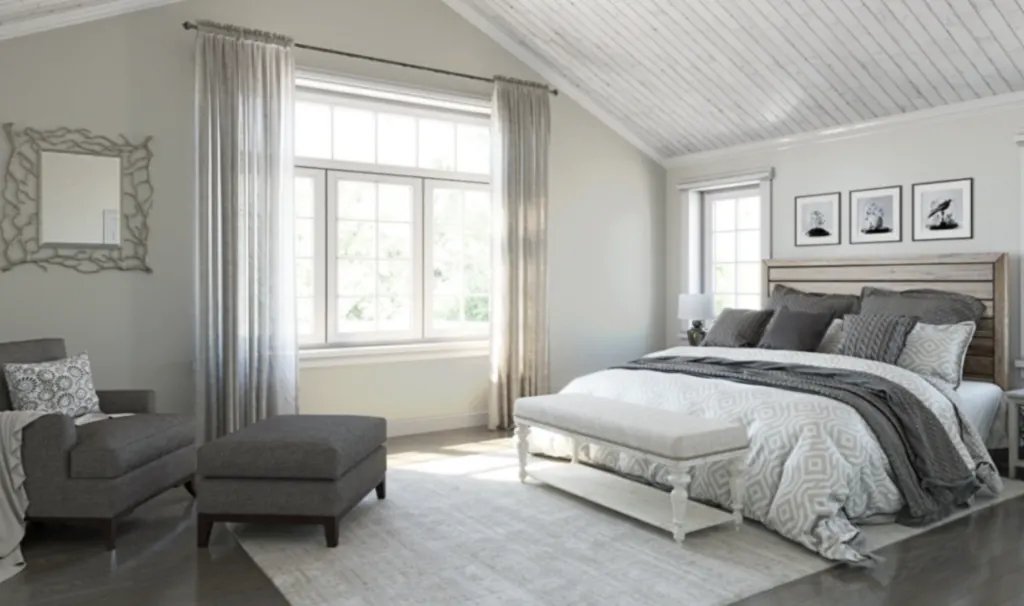 Similar Colors
Sherwin Williams Big Chill
Sherwin Williams Nimbus
Sherwin Williams Crushed Ice
Behr Silver Tradition
Benjamin Moore Shoreline
Farrow and Ball Dimpse
Valspar Mr Kitty
Coordinating Colors
First Star pairs easily with mid toned grays and dark grays for a monochromatic look. Because of the blue undertones, I like a blue for an accent color!
Mid Toned Grays
Ellie Gray
Tinsmith
Gris
Network Gray
Dark Grays
Deep Forest Brown
Earl Gray
Steely Gray
Black Bean
Blues
Smoky azurite
Breezy
Riverway
Indigo Batik
Solitude
See all of my favorite blue-gray colors here!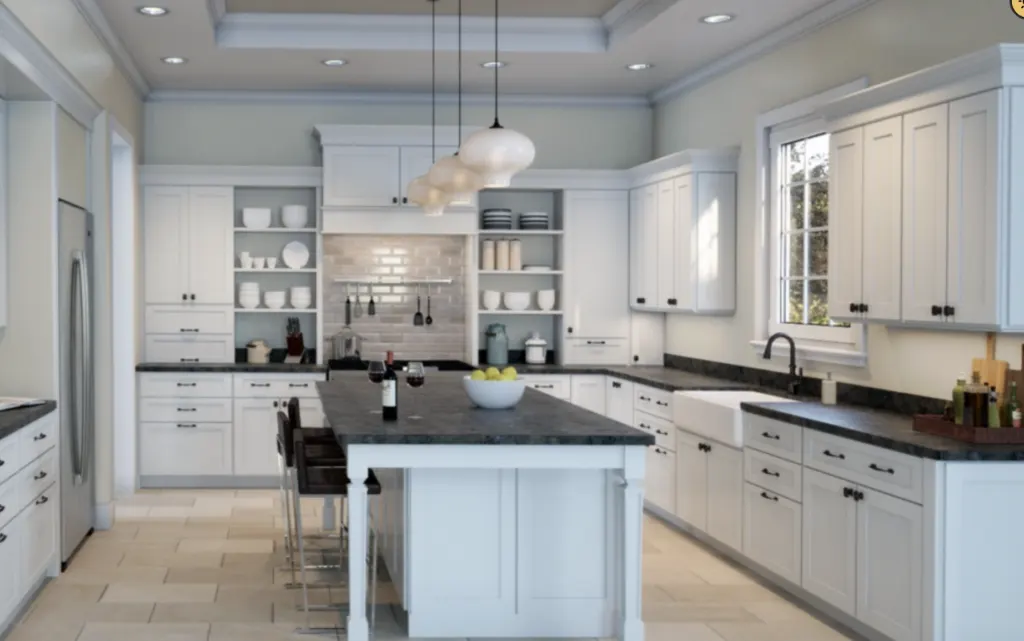 Trim Colors
You have two options when choosing a trim color to pair with First Star. For a soft look, I would actually recommend using First Star for the walls AND trim. Use an eggshell finish on the walls and semigloss on the trim.
If you want more contrast, you should choose a crisp, pure white for the trim color. Some of my favorites are listed below.
Benjamin Moore Simply White
Sherwin Williams Extra White
Behr Ultra Pure White
Sherwin Williams First Star color palette
Join the (free!) PaintColorProject+ community to access this exclusive color palette! Once you join, you can right click & save the palette image!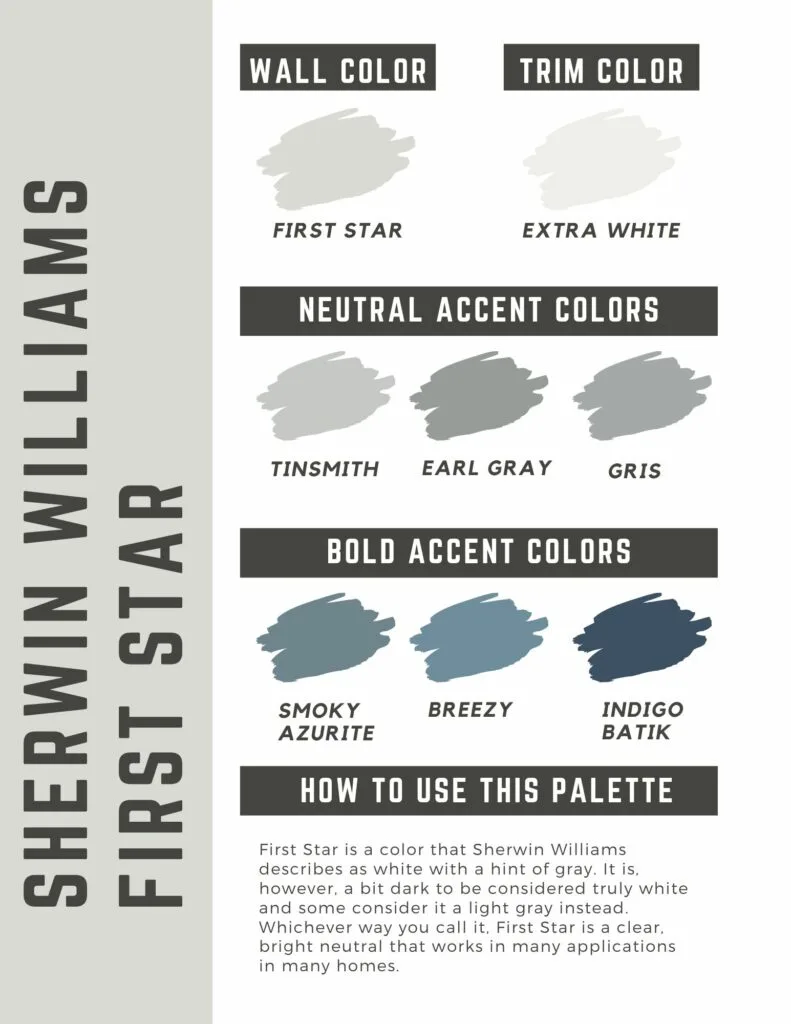 Click here to get a peel and stick sample of First Star.
SW First Star FAQs
What color is Sherwin Williams first star?
First Star is a cool white with gray undertones.
What undertones does SW First Star have?
First star has cool, gray undertones.
Is first star a greige?
First Star is a cooler toned greige paint color and a great neutral paint option.
First Star vs Agreeable Gray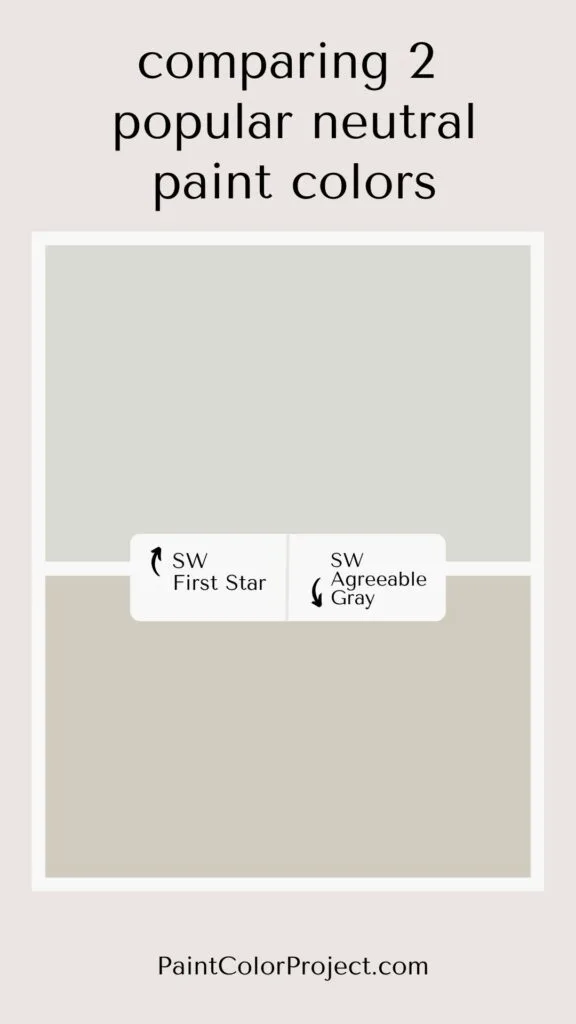 These are both popular light gray paint colors. However, Agreeable Gray is significantly darker with more color depth, while First Star is lighter and brighter.
Additionally, First Star has cool, blue undertones while Agreeable Gray has warmer, pink undertones!
Read my complete First Star vs Agreeable Gray comparison here!
Still not sure what paint color to choose?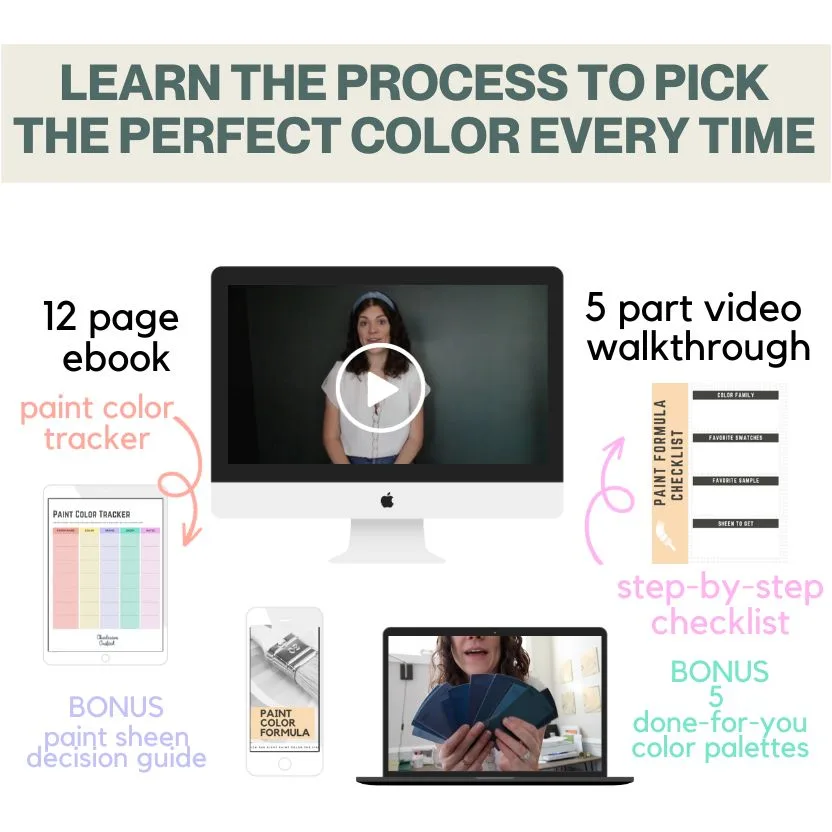 My Paint Color Formula ebook walks you through the painless process of expertly testing paint swatches to ensure you have the perfect color for your home.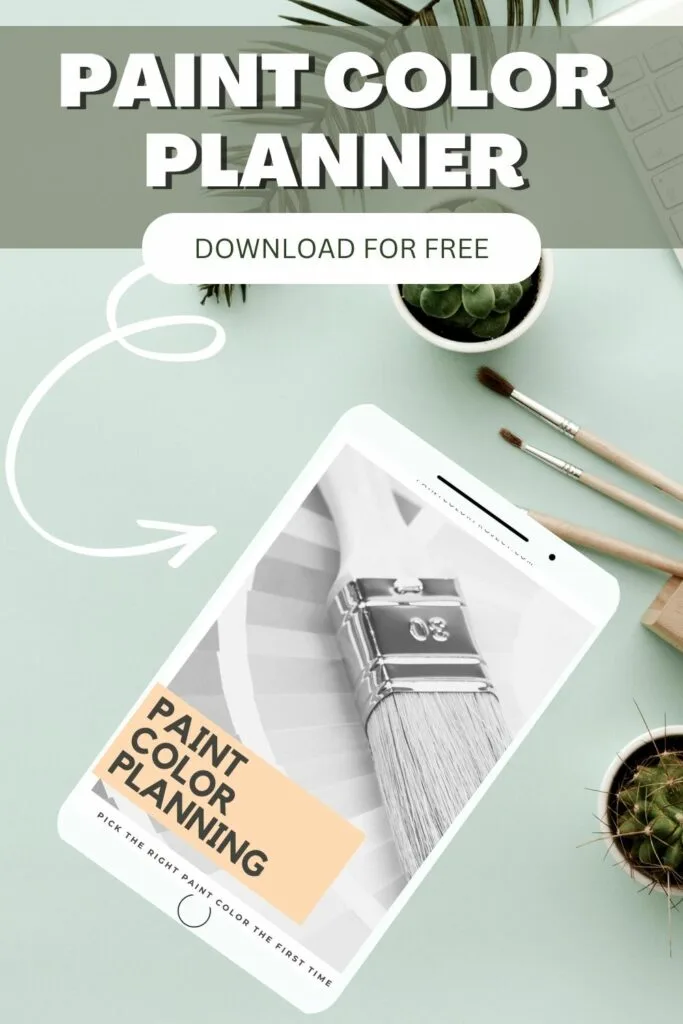 Thanks for reading!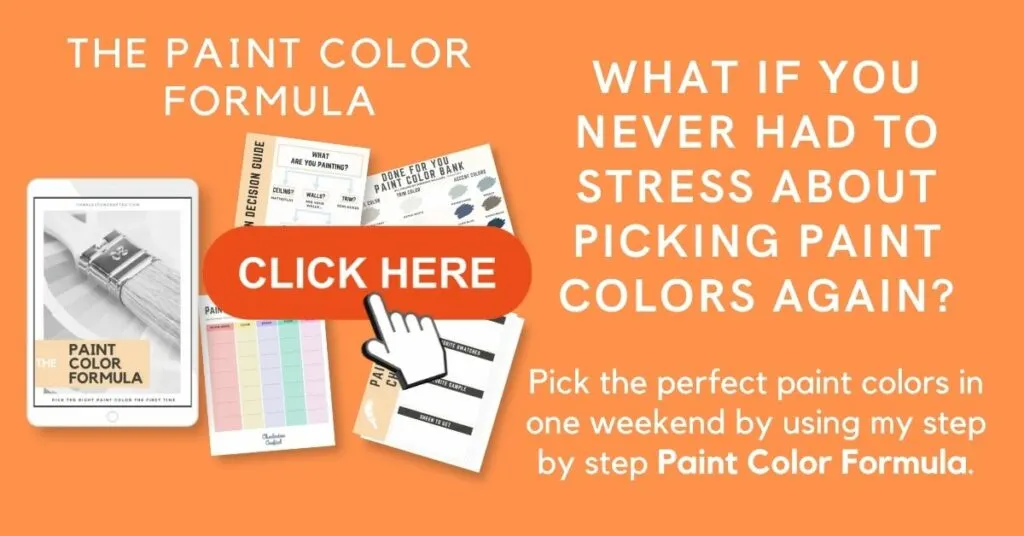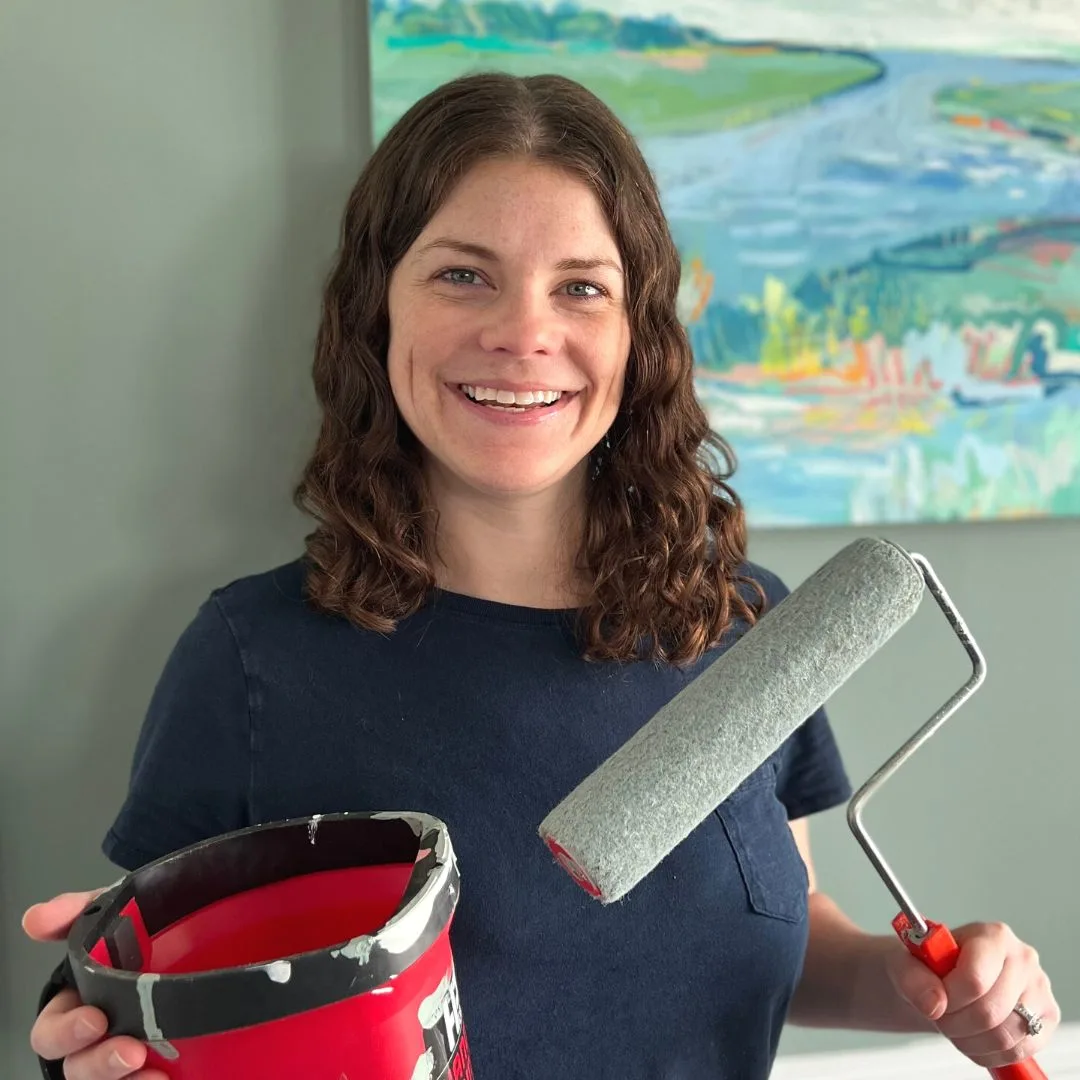 Morgan is passionate about home decor and paint colors. She has been sharing DIY home decor tips since 2012 at CharlestonCrafted.com. From there, she learned to love paint colors, and the Paint Color Project was born in 2022!