Looking for the perfect light, bright neutral paint colors? Let's compare Sherwin Williams Eider White vs Alabaster to see if one might be right for your home!
White paint colors are extremely popular. But, stark white can read as cold or clinical.
So, most people who are looking for a white paint color for their home actually prefer a warm white paint color.
Two of the most popular colors in this category are Sherwin Williams Eider White and Alabaster.
Read my full review of Eider White.
Read my full review of Alabaster.
Sherwin Williams Eider White vs Alabaster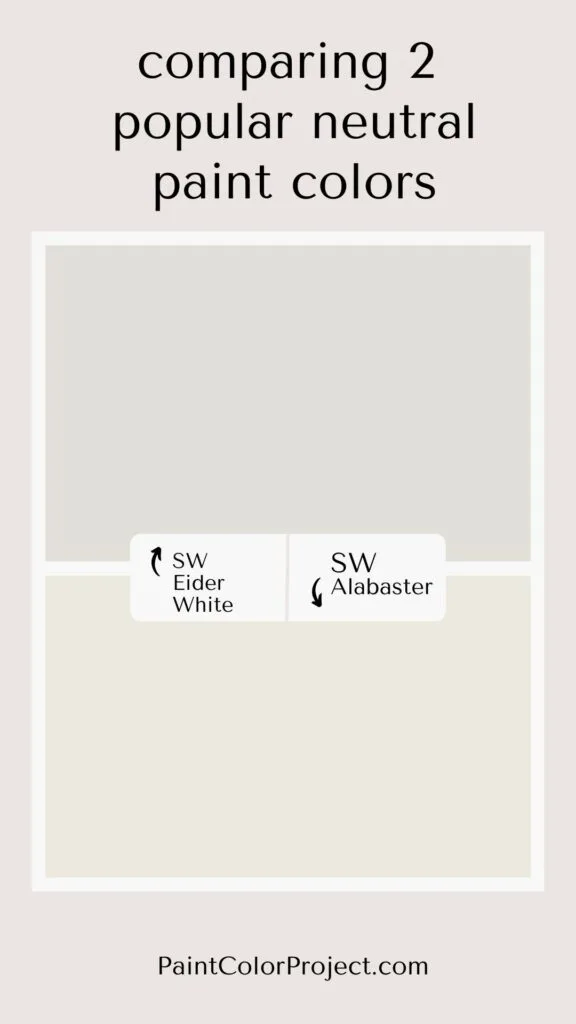 What is similar about Eider White vs Alabaster?
These are both light, bright, neutral colors. They both vaguely fall into the "off white" category, though Alabaster is on the whiter end and Eider White on the grayer end of that spectrum.
Both of these colors are classic and timeless and will lighten and brighten any space and are super popular for that reason.
However, there is more different about them than the same.
What is different about Eider White vs Alabaster?
Overall, Alabaster is a creamy white paint color while eider white is a beigey gray.
Alabaster is super popular as a wall color – but is often suggested as a trim color, too. This is because it's a nice white that isn't too stark. Eider White would never be used for trim because its darker and more gray – not a true white at all.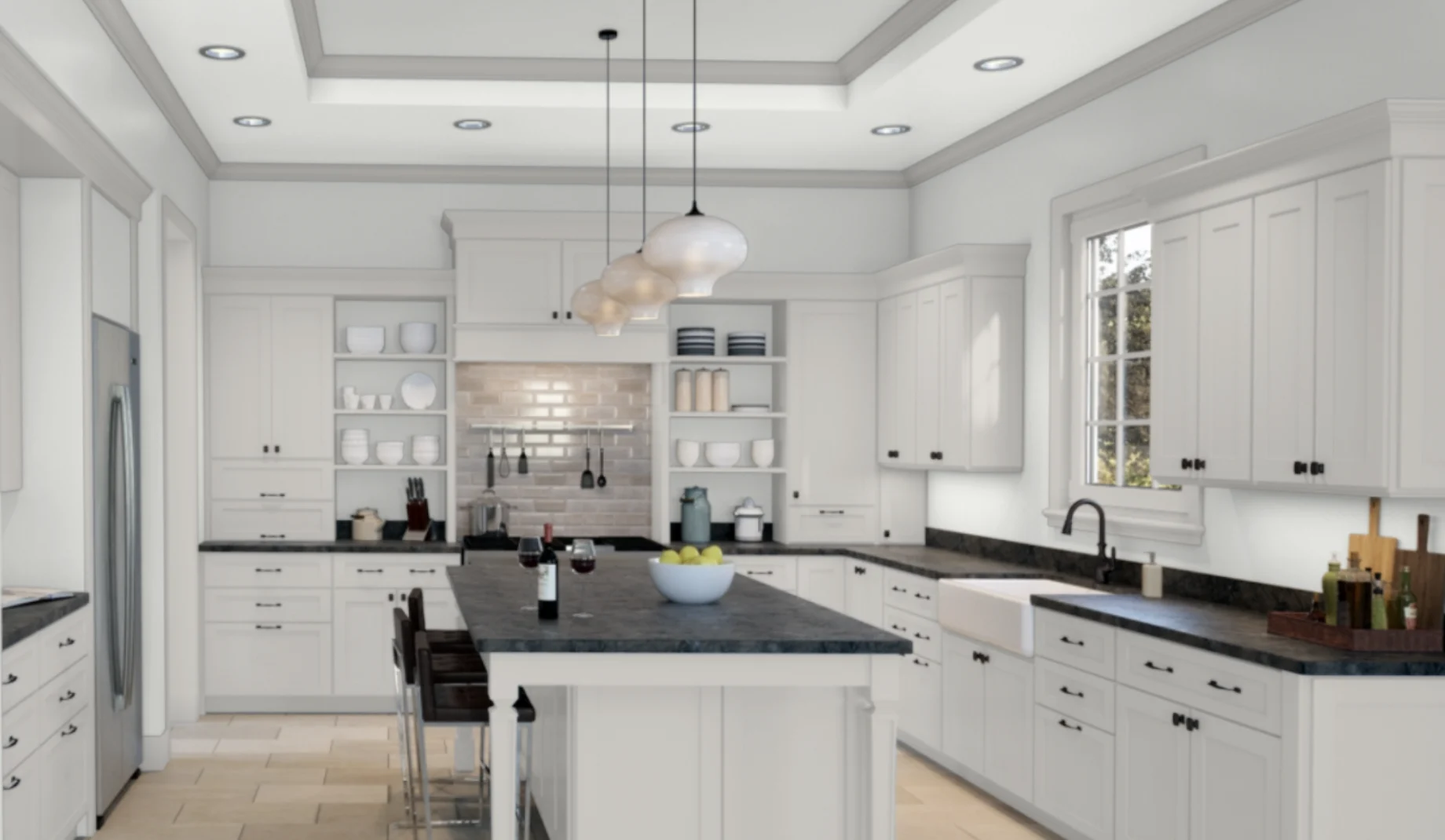 LRV – lightness
One thing you will notice in the chart below is the difference in LRVs between Eider White and Alabaster.
Light Reflective Value is the measurement of how much light a color bounces around. This is on a scale of 0 to 100 with 0 being pure black and 100 being pure white.
Typically, anything about 80 is considered a white paint color.
With Eider White sitting at an LRV of 73, it's decidedly NOT white. Alabaster is much lighter at 82 and technically falls into the white category.
Undertones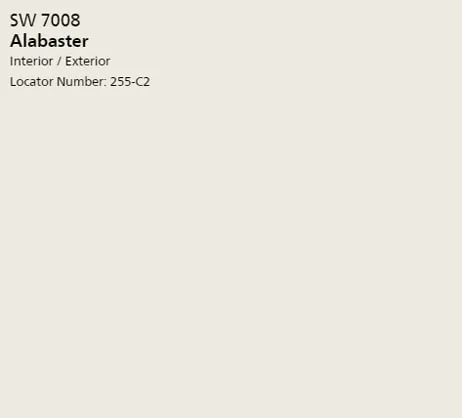 Looking at these colors side by side, you can really see the difference in their undertones.
Eider white has MUCH more purple and pink to it. This almost makes it feel cool toned! Next to crisp white, it reads as warm, but when paired with warm tones (like Alabaster) it looks much less warm.
You can also really see the beige and almost golden undertones of Alabaster in this pairing!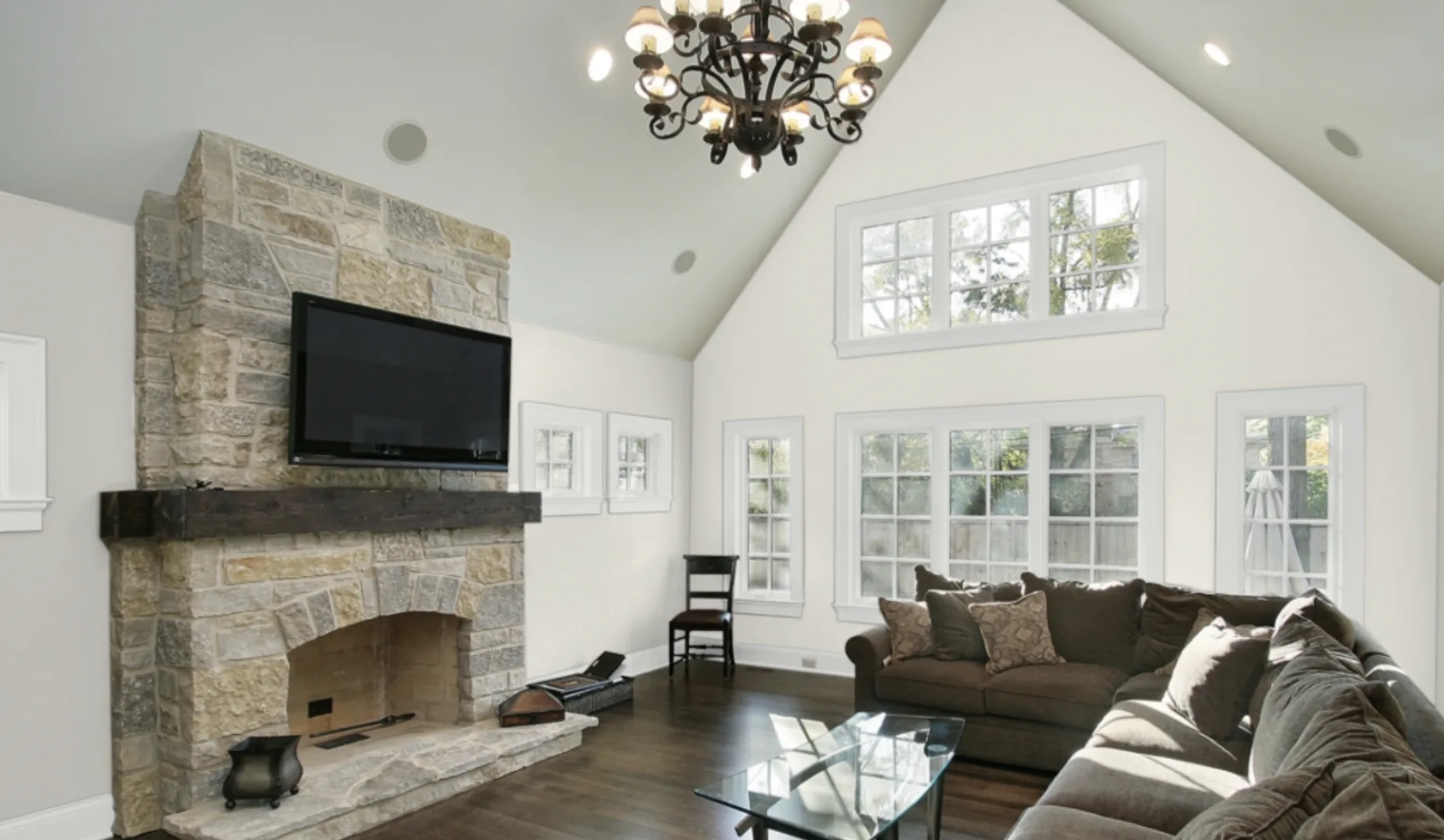 How do I decide between these two colors?
Alabaster is an easier color to decorate with than Eider White. Eider White has a lot of undertones (read my full review here) that can rear their [purple] head in the wrong lighting.
Now, assuming that you swatch your colors and like how Eider White looks in your room – it could be better for you. It has more color depth – meaning it's not so white and washed out compared to Alabaster. It's subjectively a more interesting, if temperamental, color.
Does Alabaster go with Eider White?
Personally, I would not pair these colors together – pick one or the other. I think they each favor a cool, crisp white trim color better than another greige.
I also probably wouldn't use these colors in adjoining rooms – they are too similar yet almost clash due to the very different undertones. Pick one or the other! For a layered look, pair either one with a color 2 shades darker on the same color strip.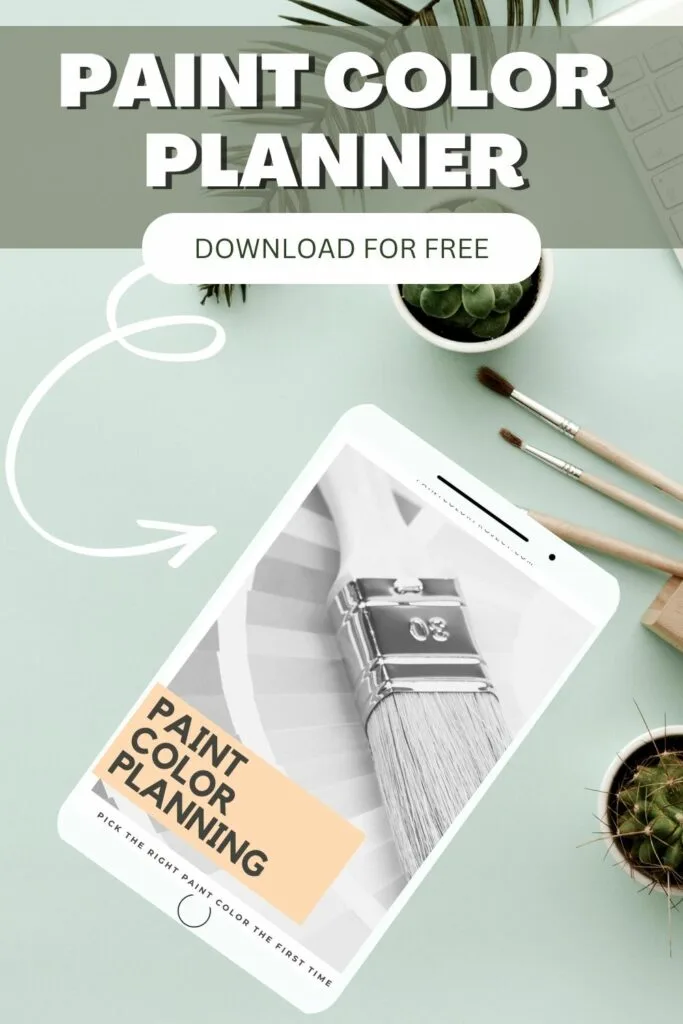 Thanks for reading!