Want to paint your home terra cotta? Or have a large piece of terra cotta decor? Here are the best accent colors to pair with terra cotta walls or bold accent pieces!
When you think of terra cotta, your mind probably instantly relates to the red/orange-hued ceramic material used for planters.
The color has been so popular recently that many of you even consider it the ultimate new neutral.
But if you want to refresh your space by adding some accents, we're here to give you the best colors to pair with terra cotta!
See all of my favorite terra cotta paint colors here!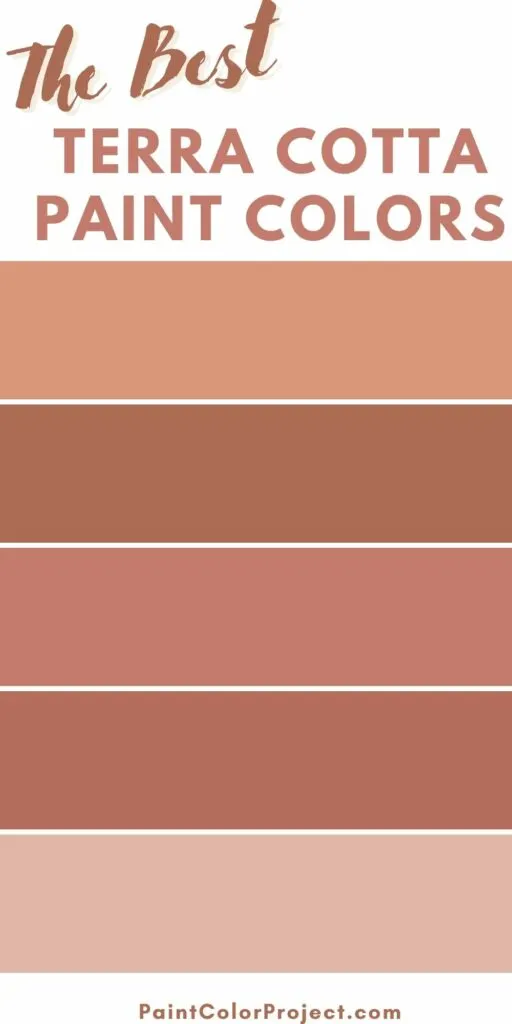 What is Terra Cotta?
Before we go into more detail about the pain combinations you can use, let's delve deeper into this gorgeous hue.
Namely, terra cotta is a relatively warm and earthy shade, mixing burnt orange and tints of brown. Depending on its exact shade or lighting, you may notice that it can appear more brown, orange, or even pink.
You can use it as a predominating color in your home, or as an accent hue that can liven up your whole space.
Still, this is an incredibly versatile color, which means that you can implement it in every room and combine it with plenty of other color options.
Depending on how you've woven it into your home (whether through accent walls or decor), you'll have to choose the most appropriate way to include one or more of the following colors to pair with terra cotta.
So, without further ado, let's get into it!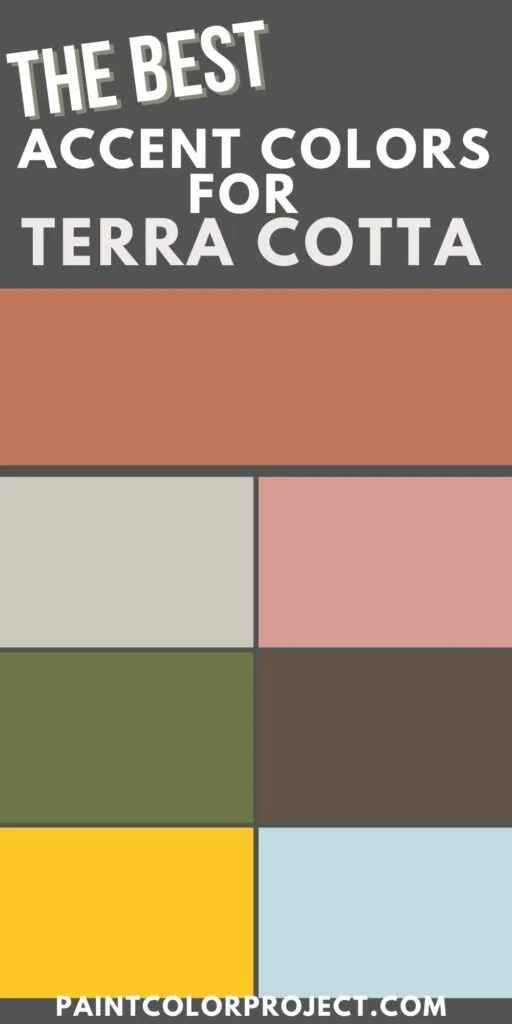 What colors go with terra cotta
It's worth noting that paying attention to details is, without a doubt, the best approach to making beautiful color combinations. In addition, you better get creative because the final result should reflect your own idea of how you want your space to look and feel.
You might be surprised to discover that many hues make a lovely pair with terra cotta. However, we don't want you to feel overwhelmed, so we decided to review your options individually. Starting with…
BLUE
You've probably already seen this combination somewhere, which is no surprise. Terracotta and blue are natural combos because they go so well together.
They're great for introducing contrast to your room, especially if you want to achieve a more dramatic effect. Still, the blue palette is as great as it gets, so these are our top 3 choices for blue terra cotta accent colors: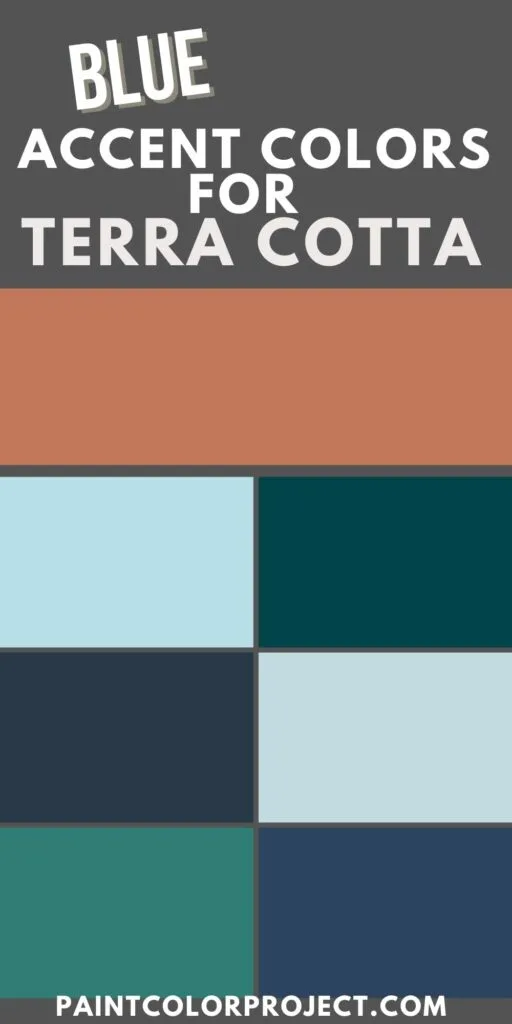 Light blue
See all of my favorite light blue paint colors here!
Navy Blue
See all of my favorite navy blue paint colors here!
Teal
See all of my favorite blue-green paint colors here.
GREEN
There's no better way to introduce a soothing effect than pairing terracotta with green.
Although quite opposing, green is a more harmonious pair to terracotta than blue, allowing you to make a contrast that won't be strikingly bold.
These two work great across plenty of material, especially paints. So here are the best green colors to pair with terra cotta: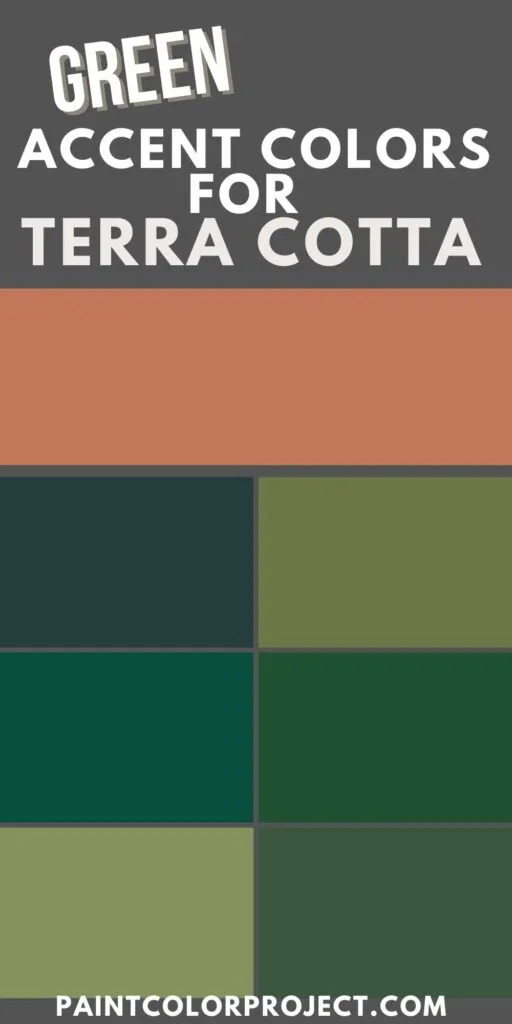 Forest green
Olive Green
See all of my favorite olive green paint colors here!
Hunter Green
PINK
Although you might think that choosing complementary hues (those that sit opposite to each other on the color wheel) is the best recipe for making a great color combination, the reality is quite different.
You can opt even for colors placed next to one another on the wheel for more of a tone-on-tone look. And the following pinks are certainly some of the best colors to pair with terra cotta.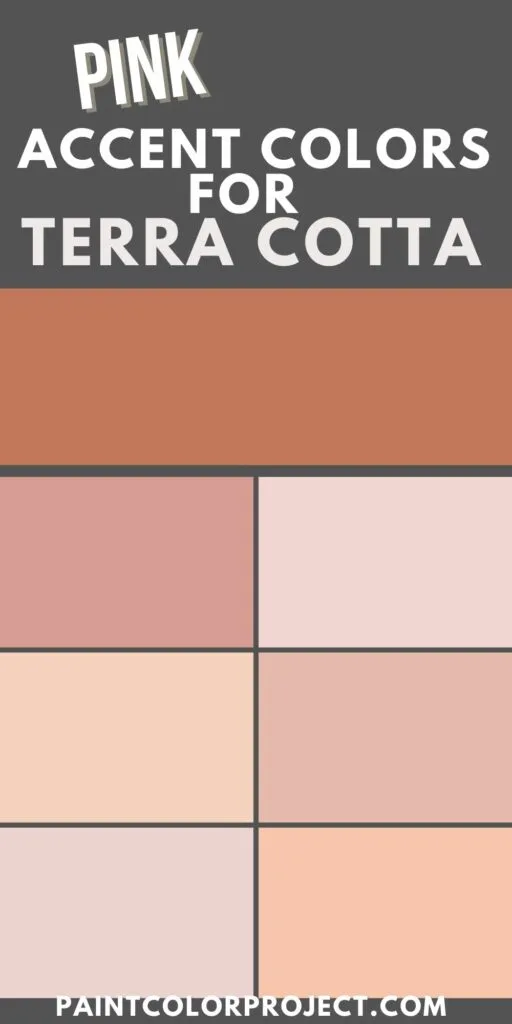 Pastel peach
See all of my favorite light pink paint colors here.
Earthy Pink
Blush
YELLOW
Yellow is yet another shade that can be used as terra cotta accent colors. This cheerful hue will liven and brighten up your space, giving your terracotta shade the playfulness it lacks.
If you're looking to accentuate your space and give it a chill, calm vibe, opt for one of the following shades: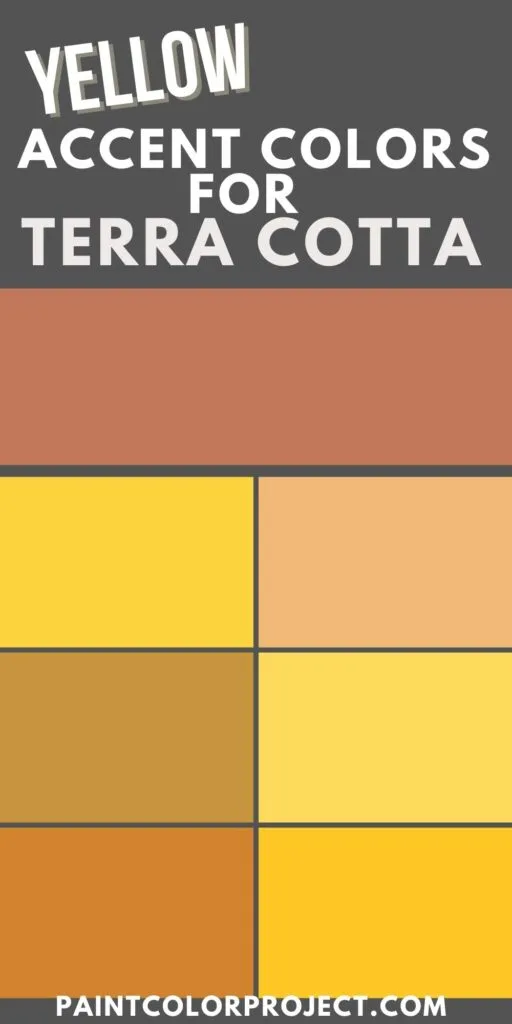 Marigold
Mustard Yellow
Sunny Yellow
DARK BROWN
For those wondering what colors go with terracotta, but would prefer a more dramatic scheme, dark browns would be the best solution.
This will make your space enjoy the bold contrast without it looking like "too much". Here are the shades we recommend: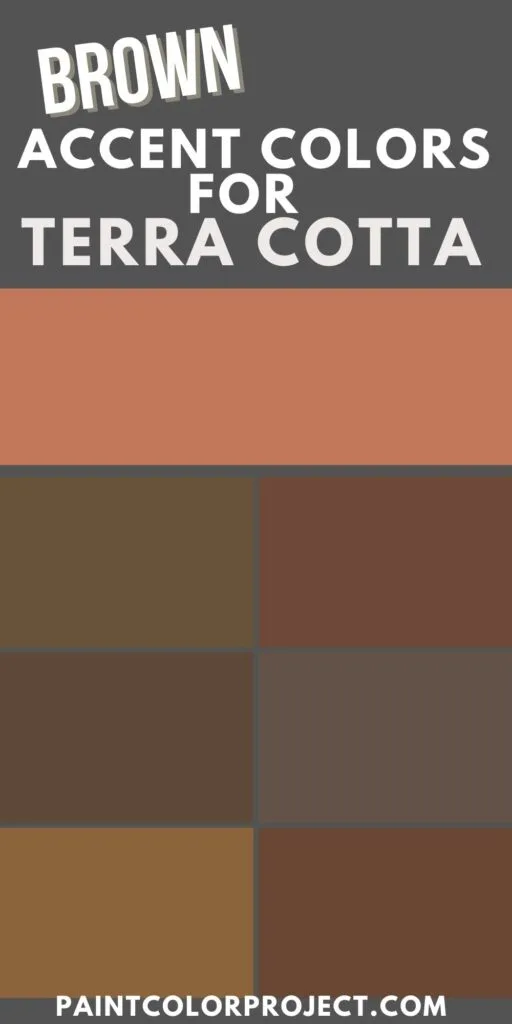 Chocolate brown
Cognac brown
Earthy Brown
WHITE/NEUTRAL
White tones and neutrals are perfect to pair with your terracotta details if you want to tone down the atmosphere, introduce more balance to your space, and give it a neat look.
This way, your terracotta details would serve as grounding elements, transitioning the room's palette from sharp to earthy.
In general, stick to soft or warm toned neutrals. Anything cool or stark will clash with terra cotta's warm undertones.
Here are the paints you can consider using: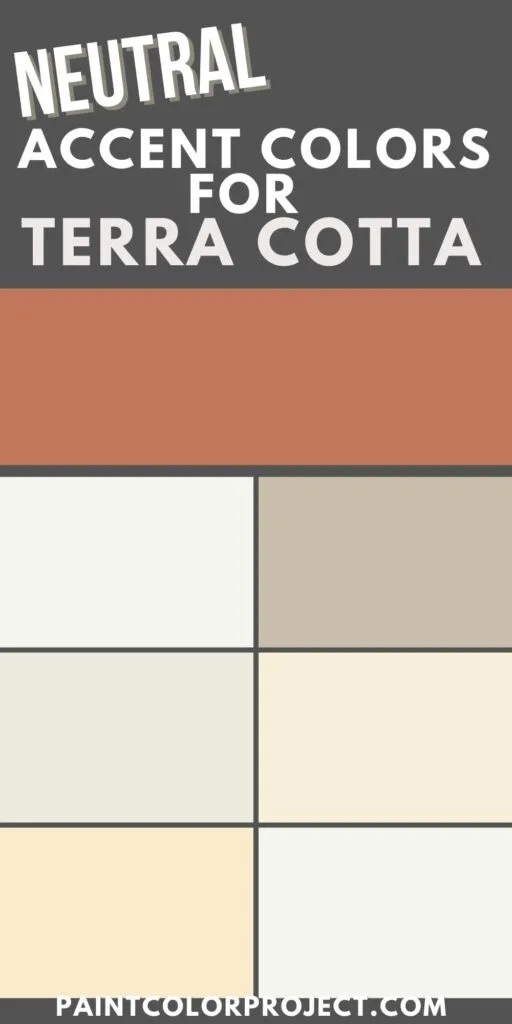 White
Cream
See all of my favorite cream paint colors here.
Beige
GRAY
Gray is a great in-between option that comes as a light alternative to black, and it's the perfect choice if you're not very keen on white details.
There is still quite some space to experiment with different hues, from lighter to darker, depending on what would make the best fit for your home. Here are some shades to guide you:
Charcoal gray
Greige
Warm gray
Ready to pick your accent colors? It's time to commit!
To help you with that, we prepared a free paint color planning worksheet, so you'll have no trouble deciding on the hue that best matches your aesthetics.
Still not sure what paint color to choose?
My Paint Color Formula ebook walks you through the painless process of expertly testing paint swatches to ensure you have the perfect color for your home.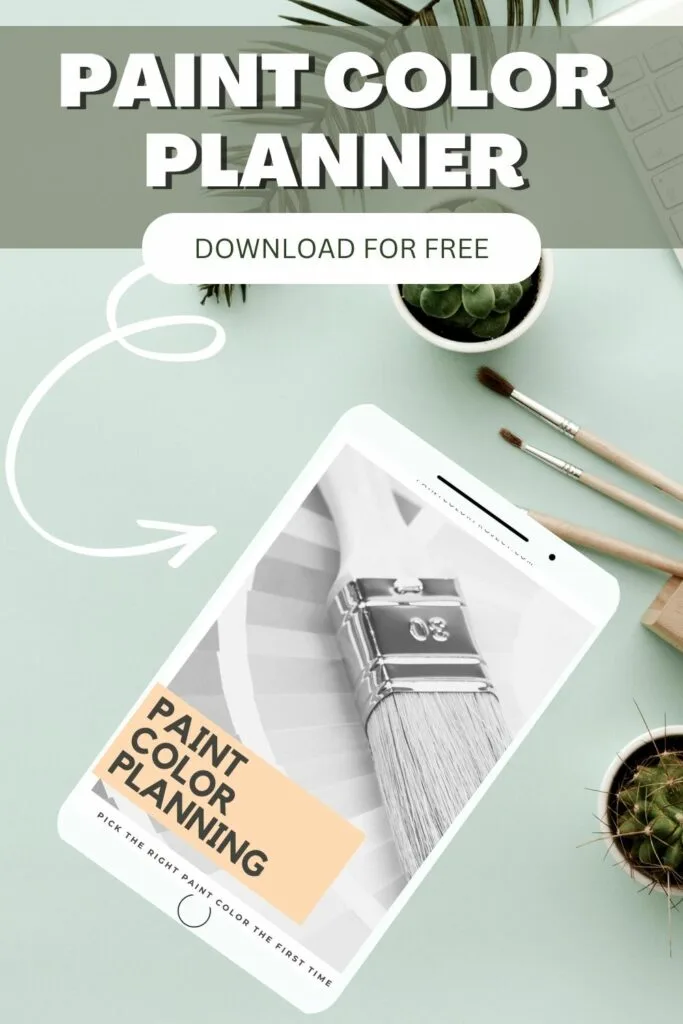 Thanks for reading!