Love the paint color Brooklyn by Behr? Here is everything that you need to know about this green paint color!
I am on a mission to find all of the best paint colors for you to potentially use in your home. Today I am diving into the color Brooklyn by Behr paint.
What I like about Behr Brooklyn
I am really feeling dark moody greens at the moment. Brooklyn is a deep green with a lot of gray undertones. These undertones make it feel muted despite how dark it is. It's not at all bright or overwhelming.
This green color really makes me think of fresh plants. It has an outdoorsy and natural feel to it that pairs really well with neutrals and shades of wood. Brooklyn could work with a natural pine or a dark stained walnut – or anything in between!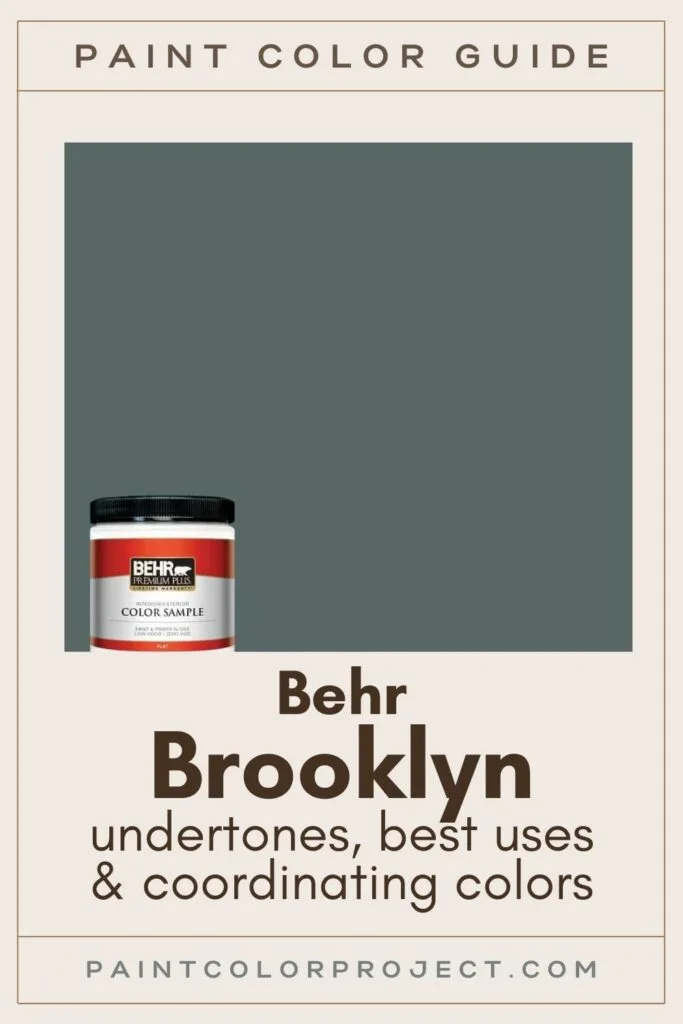 Behr Brooklyn (N440-6)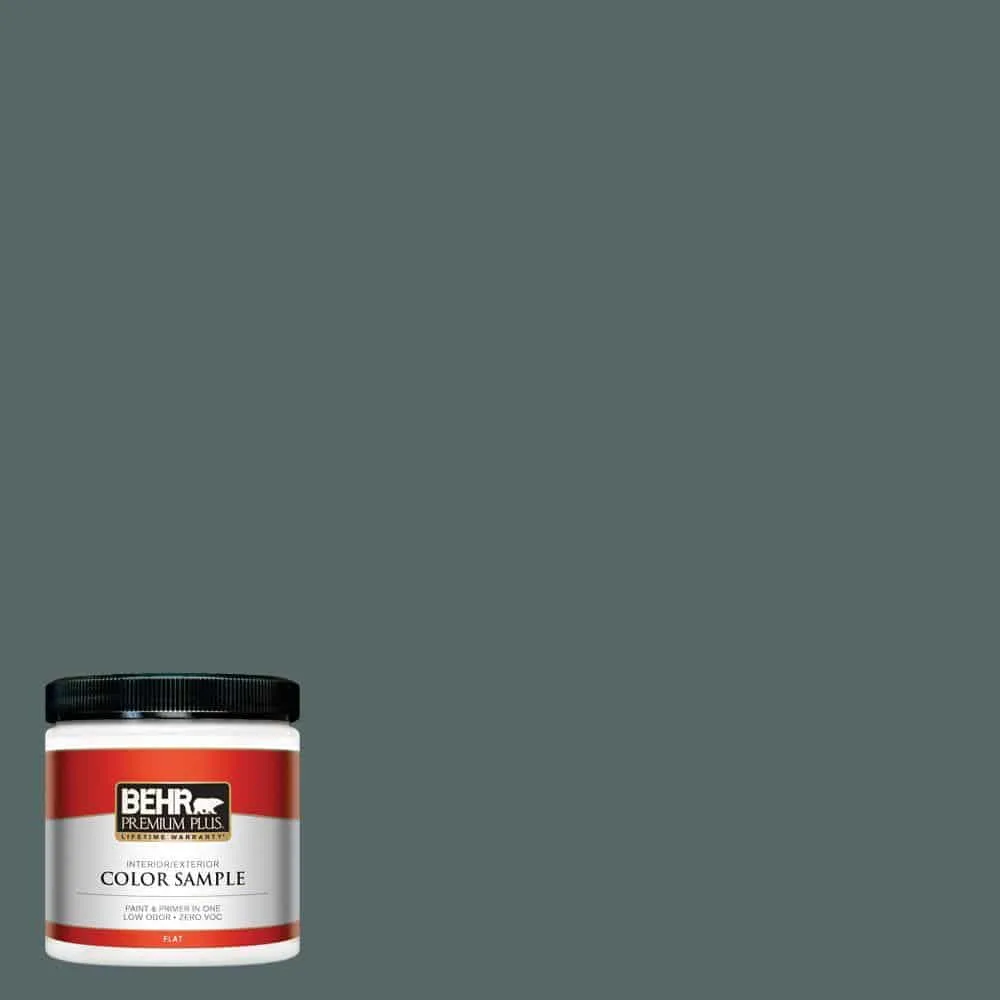 Color Family
Brooklyn is in the green color family, with heavy gray undertones.
Light Reflectance Value
13 – this is a low LRV and a dark color!
Light Reflective Value is the measurement of how much light a color bounces around. This is on a scale of 0 to 100 with 0 being pure black and 100 being pure white.
RGB Colors
R: 88 G: 103 B: 102 – this color is a very nice mix of blue and green!
RGB describes the amount of each color – red, green, and blue – present in a color. This is on a scale of 0 to 255 for each color. This is basically the color mix to make the color!
Hex Code
#556362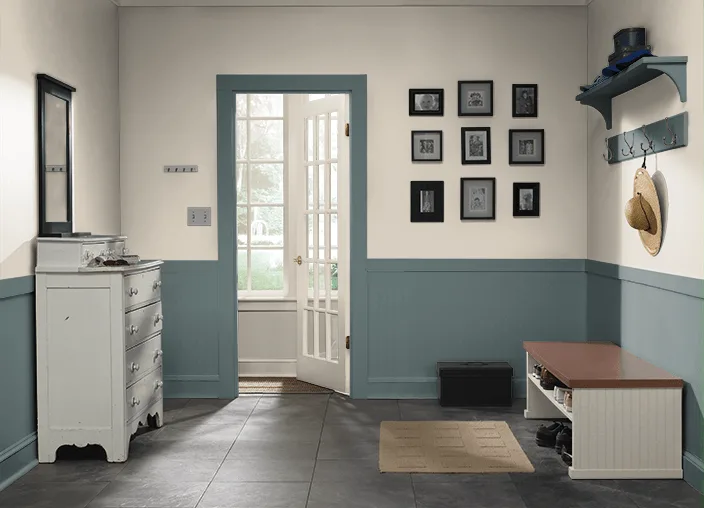 Undertones
Brooklyn is a green paint color with gray and blue undertones. It can read a bit teal in certain bright lights. The gray tones keep it from feeling too bright or neon.
Similar Colors
Behr Coney Island
Olympic Juniper Berry
Benjamin Moore Knoxville Gray
Krylon Smoke Gray
Sherwin Williams Riverway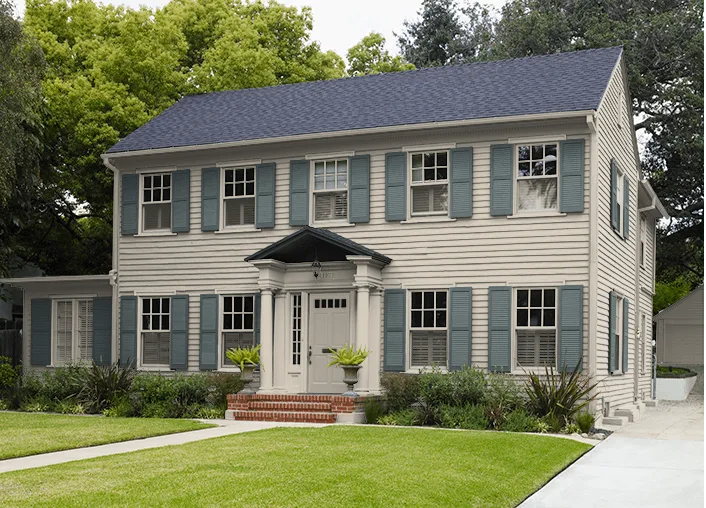 Coordinating Colors
Brooklyn pairs really nicely with a creamy white, deep navy, or warm mustard color. Neutral colors are going to let the greens of Brooklyn really pop. A brighter color, like the neutral or an aqua, will actually allow Brooklyn to fade into more of a neutral shade itself, playing off of those grey undertones.
70's colors seem to really be making a comeback right now. Mustard and coral are two examples of this, and both pair really well with this green shade, Brooklyn.
My favorite coordinating Behr paint colors are:
Tumeric M290-7
Bakery Box BL-W09
Dark Navy S530-7
Dragonfly PPU12-03
Brooklyn can pair with a lot of different finishes, as well. A light, metallic finish like nickel or brass would really pop against the deeper green. It would also look great with black fixtures – the contrast between the two could read as really modern and beautiful.
Trim Colors
For trim, I'd stick to a creamy white color. Stark white will really look cold against this dark color.
Some of my favorite creamy white trim colors include:
Benjamin Moore Antique White
Sherwin Williams Creamy
Behr Coastal Beige
Benjamin Moore White Dove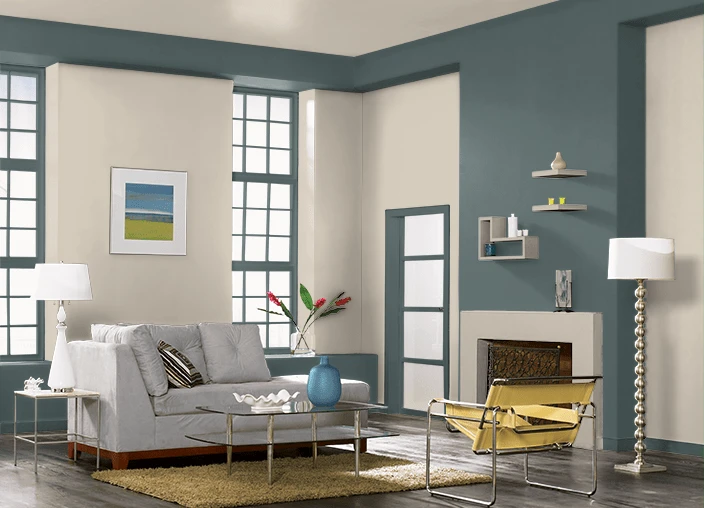 Best Uses for Behr Brooklyn
I would love to use Brooklyn as an accent color in a room. While it could work for all the walls of a space, it would be easier to pull off in smaller quantities. The beauty in this color is in the contrast, so it needs other colors of varying shades to really make it pop.
It would look great as:
An accent wall
The ceiling – especially if it came 18-24″ down the wall, too!
A large piece of vintage furniture
Doors or window frames in a white room
Shutters on a light colored home
Accent molding in a light colored room
A kitchen island with light or dark counter tops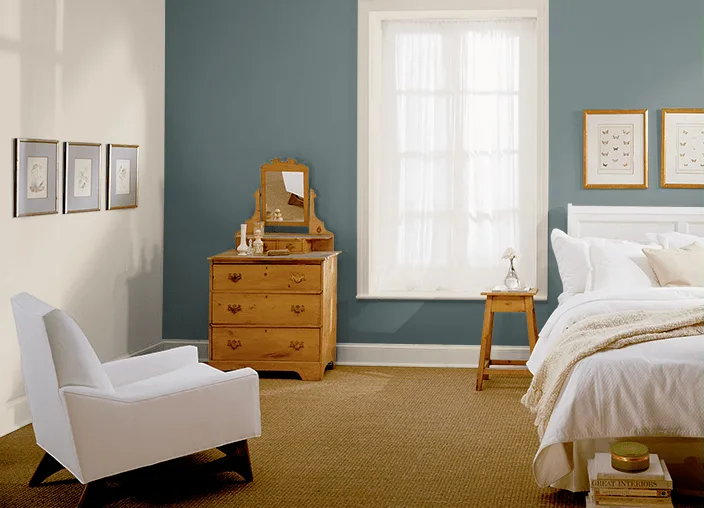 I love Behr's Brooklyn paint color and think that it would really work fabulously in a lot of different applications. I have to figure out a way to get it into my home!
Still not sure what paint color to choose?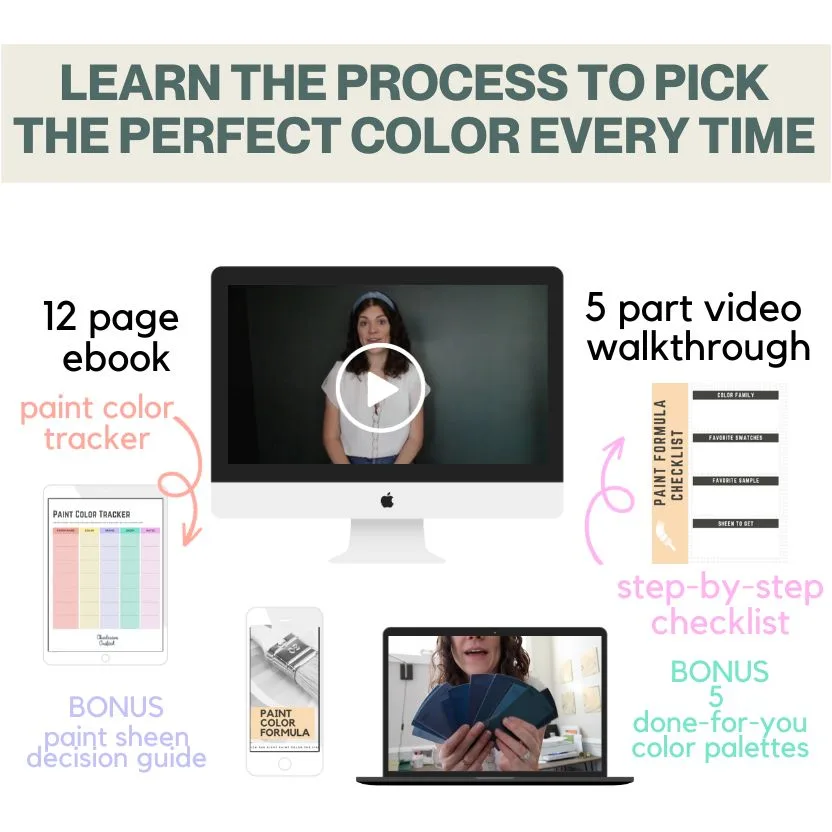 My Paint Color Formula ebook walks you through the painless process of expertly testing paint swatches to ensure you have the perfect color for your home.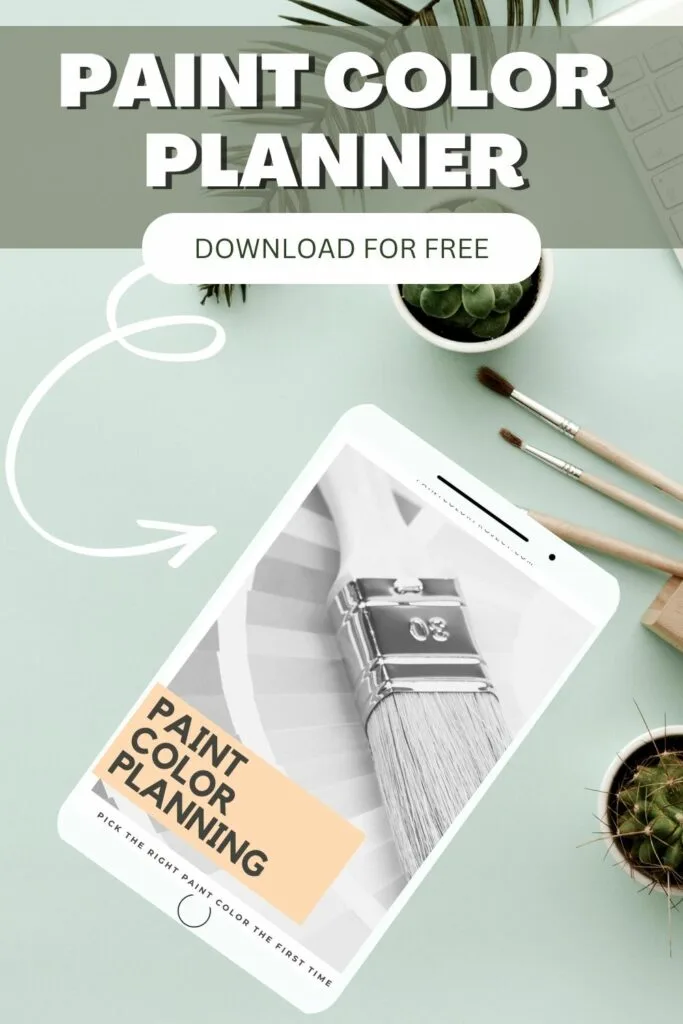 Thanks for reading!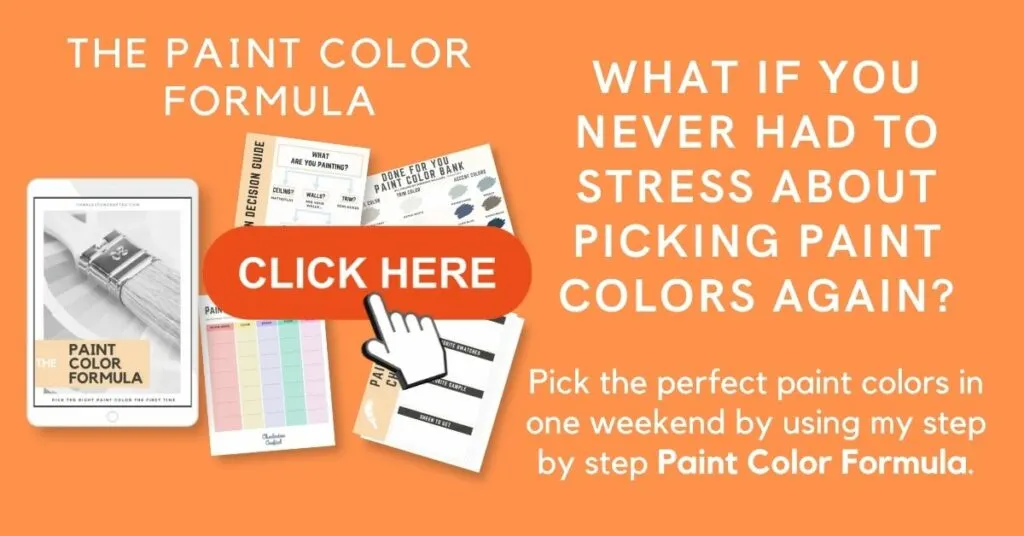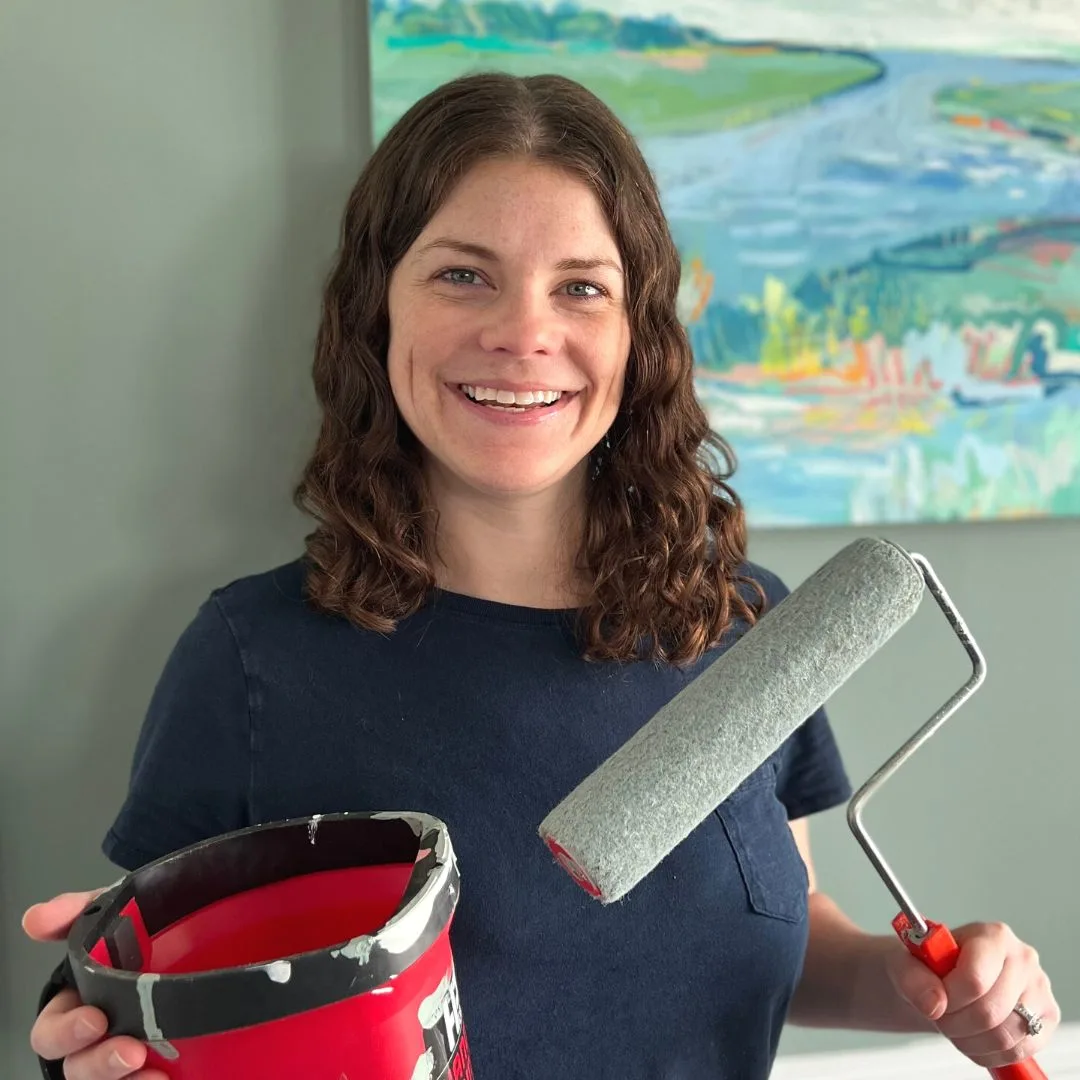 Morgan is passionate about home decor and paint colors. She has been sharing DIY home decor tips since 2012 at CharlestonCrafted.com. From there, she learned to love paint colors, and the Paint Color Project was born in 2022!