Want to update your home office? Here are the best home office paint colors to choose from for your home!
Home offices are a great space to have in your house, especially if you work remotely.
If you are spending a lot of time in your home office, it makes sense that you would want to make it as beautiful as possible.
We recently completely redid our home office (after 2 full years of 2 full time adults working from what was essentially a folding table in the dining room).
I love the new space and am so glad we took the time to give it a makeover.
One of the cheapest and easiest ways to update a space is with paint.
But – it gets expensive and hard if you are repainting frequently!
So, it is important to put thought into selecting the perfect paint color for your home office.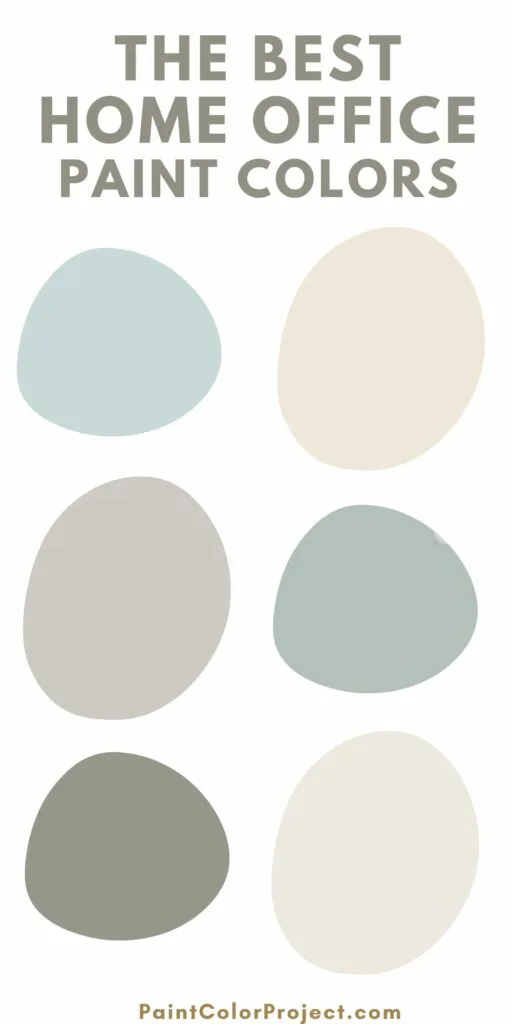 Factors to consider when choosing a paint color for your home office
While it is great to seek out inspiration online, remember that paint colors will not look exactly like a magazine in your home.
Factors that effect your perfect paint color include:
Lighting in the room
Cool lighting makes wall colors look cooler, while warm lighting makes colors look warmer.
The difference between natural sunlight and the overhead light can be significant.
Always swatch colors with the lights on and off, day and night, to be sure you like the way it looks!
Mood and productivity
What aesthetic do you want the space to have? How do you want it to make you feel?
Personal preference
Do you prefer light or dark walls? Accent colors or neutrals?
Color psychology
Color psychology tells us that colors can effect your mood. Color psychologists generally recommend blues and greens for thoughtful, calm home office spaces.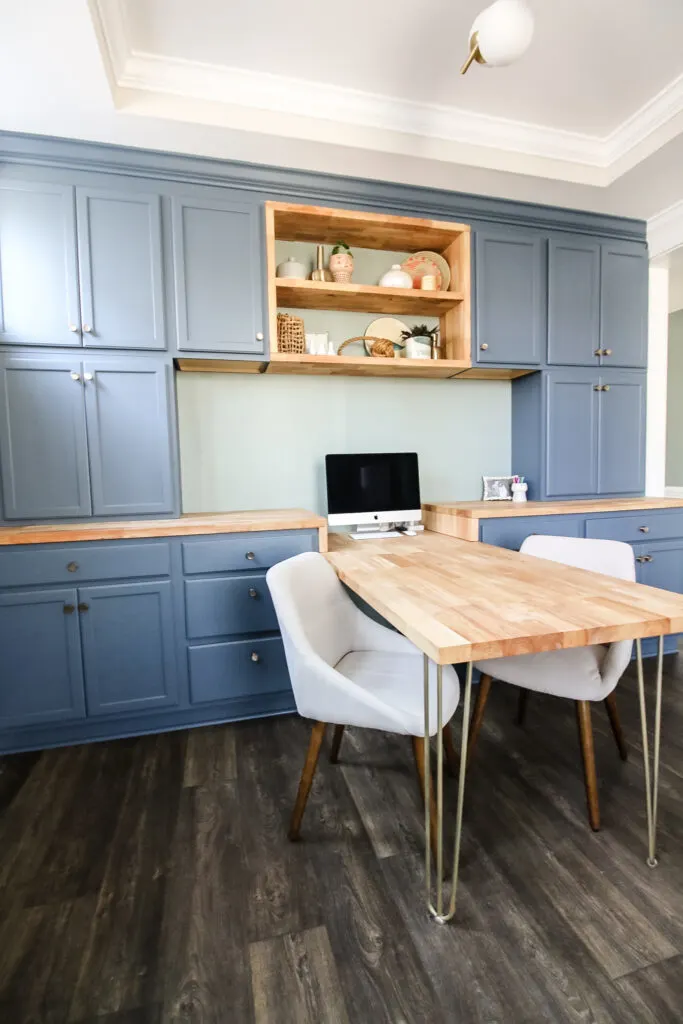 Popular paint colors for home offices
Here are the most popular office paint colors, by color family.
Blue
Green
Gray
Beige
White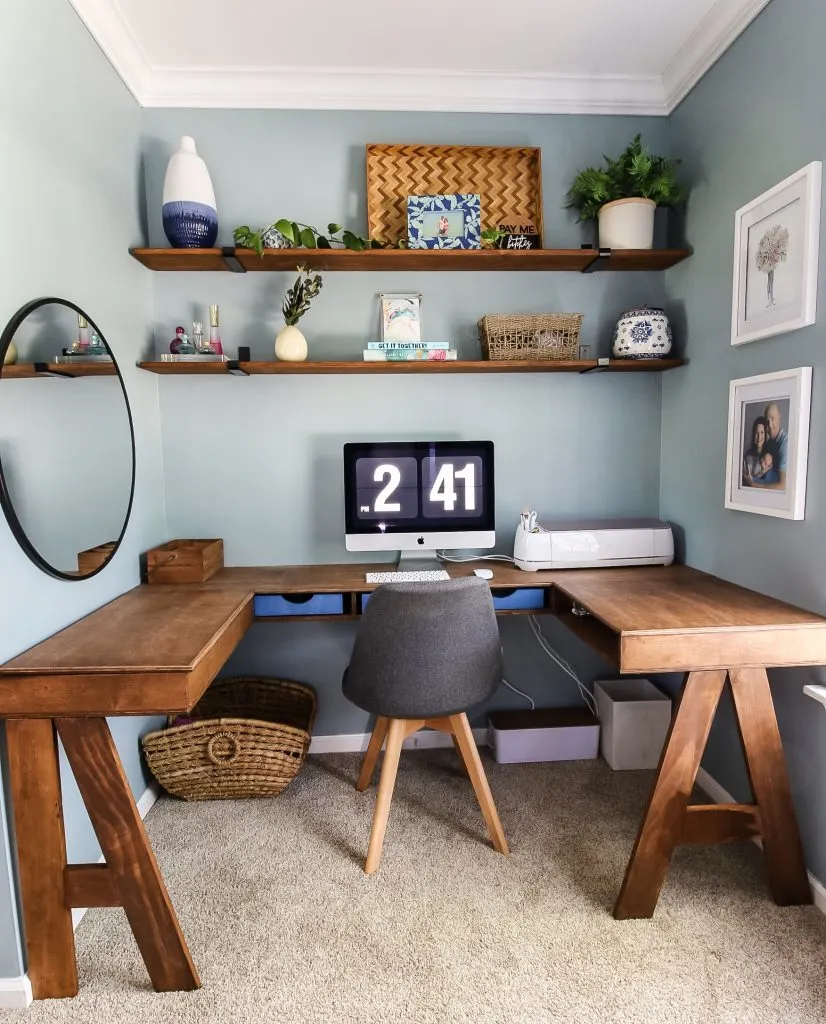 Tips for using paint color to enhance your home office
Here are a few fun ways to use color to decorate your home office!
Accent walls
Accent walls are a fun way to add color or texture to your home office. You generally want the accent wall to be the wall that you face when you open the door to or enter the room.
You could use wall paper, molding, or a contrasting paint color for a dramatic accent wall.
Accessories and décor
Whether you go with a monochromatic look or a vibrant color palette, keep your accessories and decor in line with the wall color.
If you want to mix colors, I suggest identifying the undertones of your wall color – for example if it has warm or cool tones – and sticking to that color family! This makes it easier for colors to mesh together.
Choosing the right paint finish
I always recommend an eggshell finish for a home office. If you prefer a completely matte look, go flat. Do NOT go satin or semi-gloss on the walls.
Combining colors for a cohesive look
When combining colors, you have a few options.
Complementary colors are directly opposite each other on the color wheel. They provide contrast and a colorful vibe.
Analogous colors are next to each other on the color wheel. They have more subtle contrast and flow together nicely.
Monochromatic colors are shades of the same wedge on the color wheel. This provides a tone-on-tone, monochromatic look.
Monochromatic color schemes are softer on the eyes, complementary color schemes appear more bold.
What's your favorite home office paint color?!
Still not sure what paint color to choose?
My Paint Color Formula ebook walks you through the painless process of expertly testing paint swatches to ensure you have the perfect color for your home.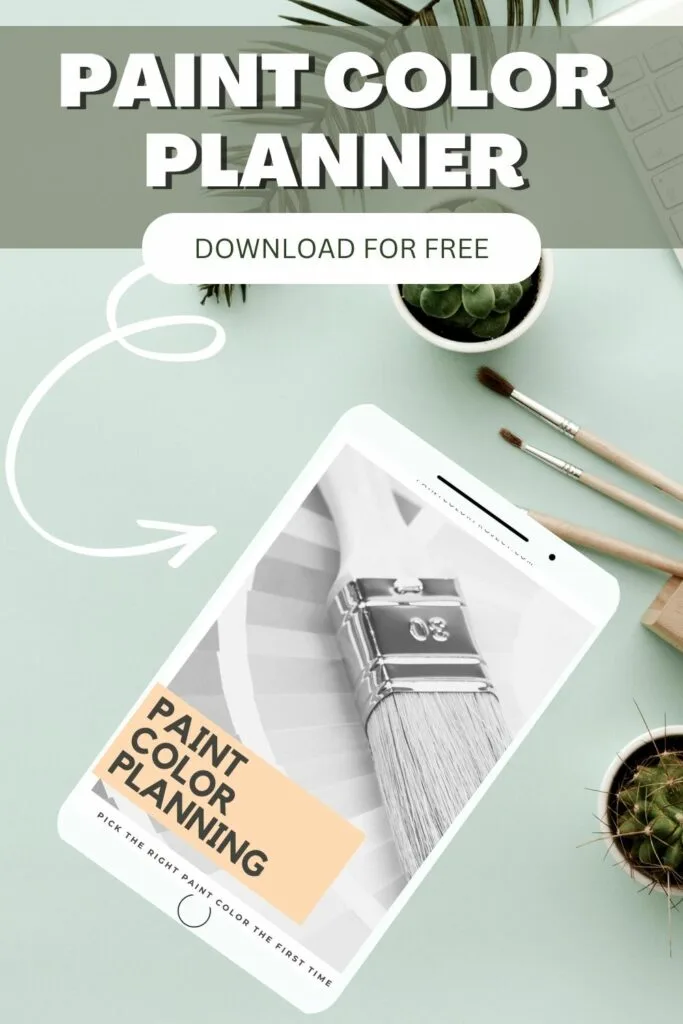 Thanks for reading!