Looking for the perfect deep and moody paint color for your home? Let's talk about Behr Cracked Pepper and if it might be the perfect charcoal paint color for your space!
Deep and moody paint colors have been having a moment for a while, so I wasn't completely shocked when Behr paint announced that they're 2020 for paint color of the year is Cracked Pepper.
This is a deep charcoal, paint color, sometimes described as a soft black. And it can feel moody, modern, and very cozy.
Let's dive into what makes this color of the year so popular.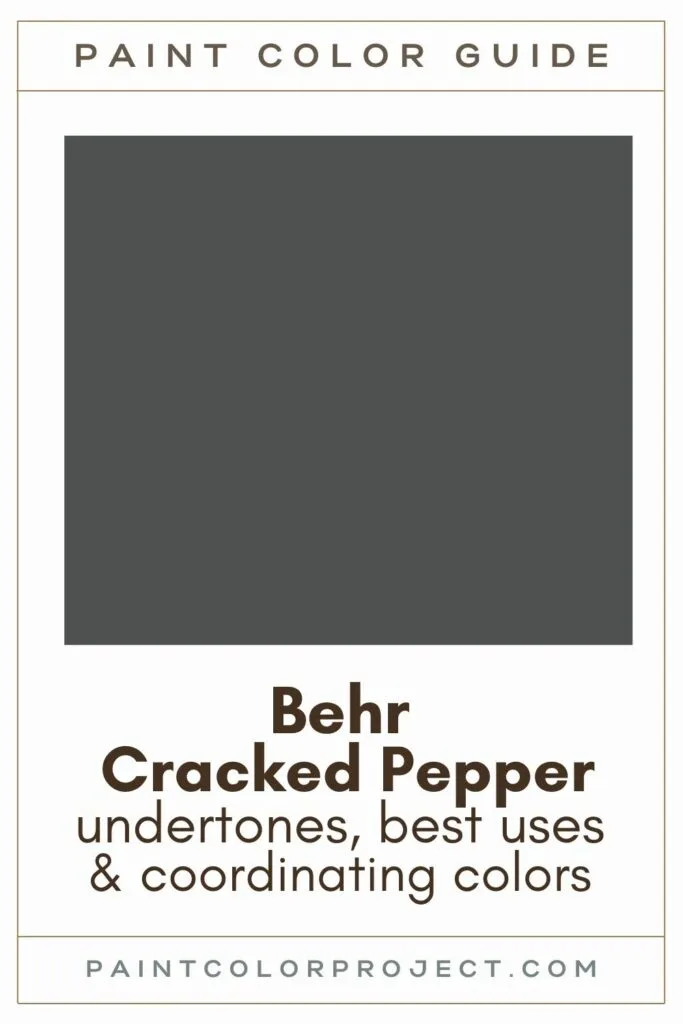 Behr Cracked Pepper
Cracked Pepper is a dark charcoal paint color. It is soft, meaning it doesn't read as too harsh on the eyes, and has slightly cool undertones.
Color Family
Cracked Pepper is in the black color family.
Light Reflectance Value
8
Light Reflective Value is the measurement of how much light a color bounces around. This is on a scale of 0 to 100 with 0 being pure black and 100 being pure white.
With an LRV of 8, Cracked Pepper is a VERY dark paint color!
RGB Colors
R: 79 G: 81 B: 82
RGB describes the amount of each color – red, green, and blue – present in a color. This is on a scale of 0 to 255 for each color. This is basically the color mix to make the color!
Hex Code
#4C4D4F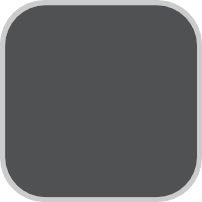 Undertones
Cracked Pepper has slight cool blue undertones.
However, they are slight. It is really neutral enough to pair well with warm or cool accents. Remember that warm lighting will make it feel warmer, and cool toned lighting will bring out those blue tones!
One of the best ways to see these undertones is to look at the color swatches Behr puts out. All of the lighter shades are blue – indicating the strong blue undertones in this color.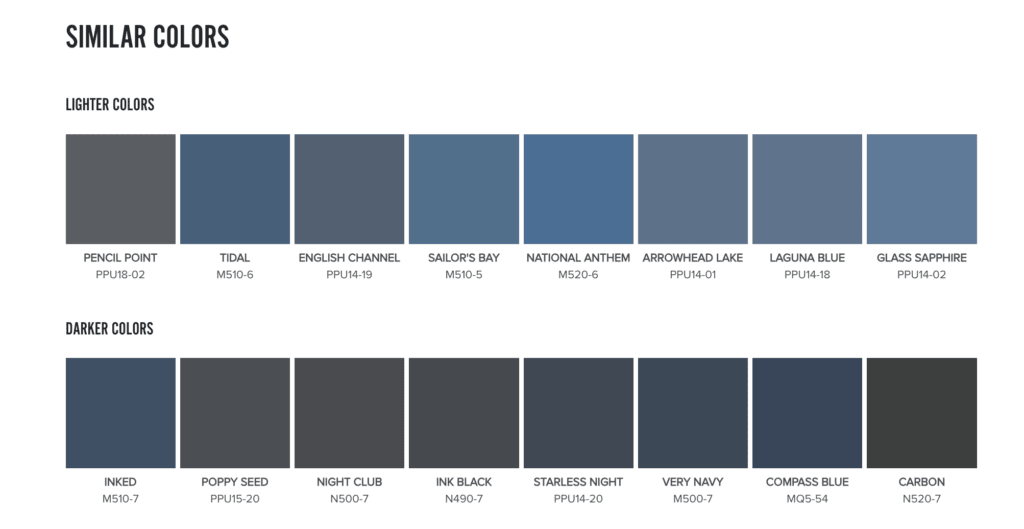 Best uses
Because this color is so dark, it can be a bit much for the walls. I love it for:
an accent wall
furniture
trim
doors
shutters
Similar Colors
Benjamin Moore French Beret
Sherwin Williams Dramatic Black
Benjamin Moore Nightfall
Sherwin Williams Perle Noir
Behr Deep Charcoal
Valspar Muted Ebony
Coordinating Colors
Honestly, Cracked Pepper is neutral enough to work with almost any color scheme. Layer it with cool grays for a soft look, blues for gentle contrast, and muted warm shades for bold contrast.
Cool grays
Platinum
Silver Feather
Sterling
Misty Coast
Falcon Gray
Blues
Glass Saphire
Monet
Sailor's Bay
Laguna Blue
Muted warm shades
Cornstalk
Sunwashed Brick
Lingonberry Punch
Perfect Penny
Trim Colors
Since this color is slightly cool, I prefer to pair it with a crisp white trim color.
Cracked Pepper color palette
Join the (free!) PaintColorProject+ community to access this exclusive color palette! Once you join, you can right click & save the palette image!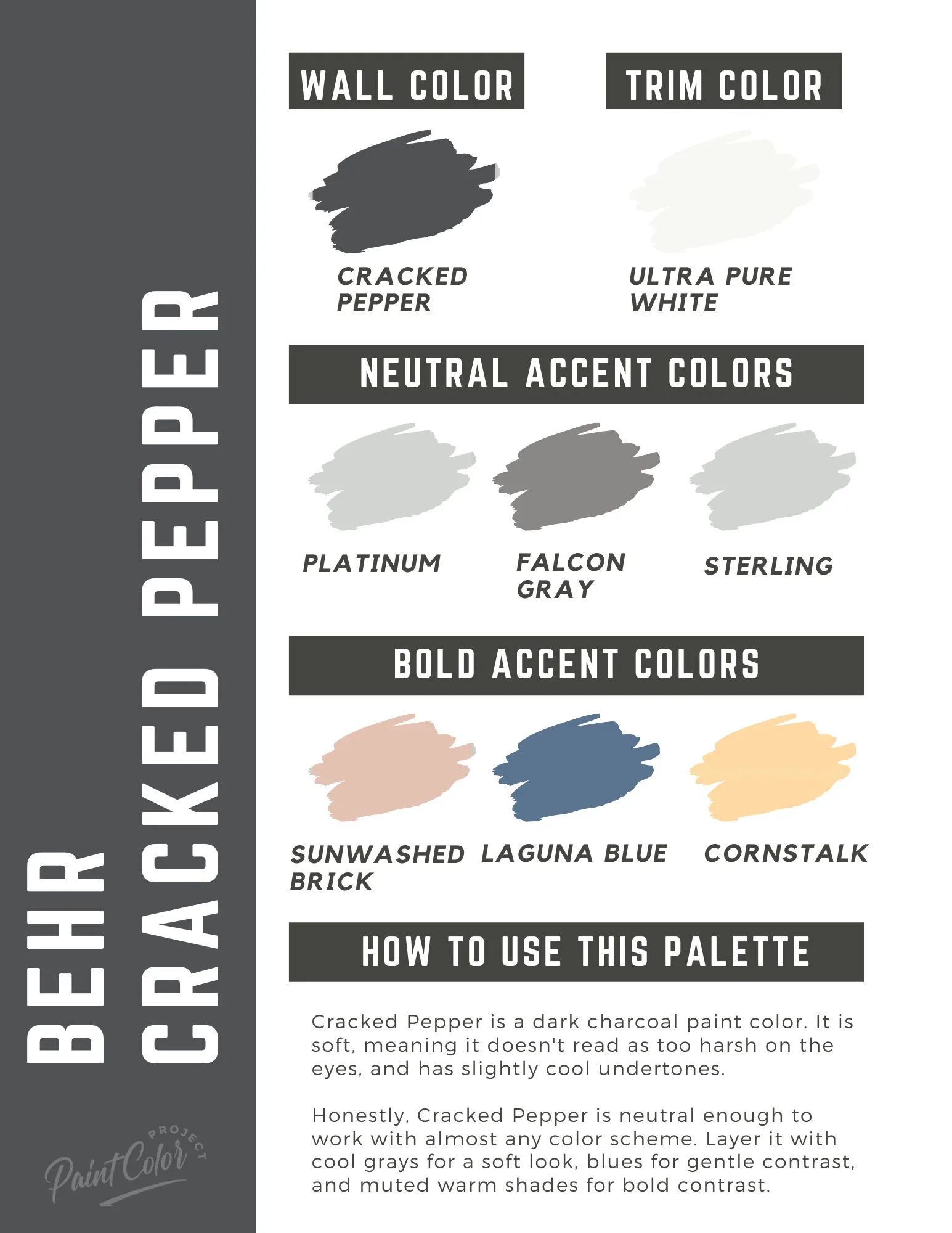 Still not sure what paint color to choose?
My Paint Color Formula ebook walks you through the painless process of expertly testing paint swatches to ensure you have the perfect color for your home.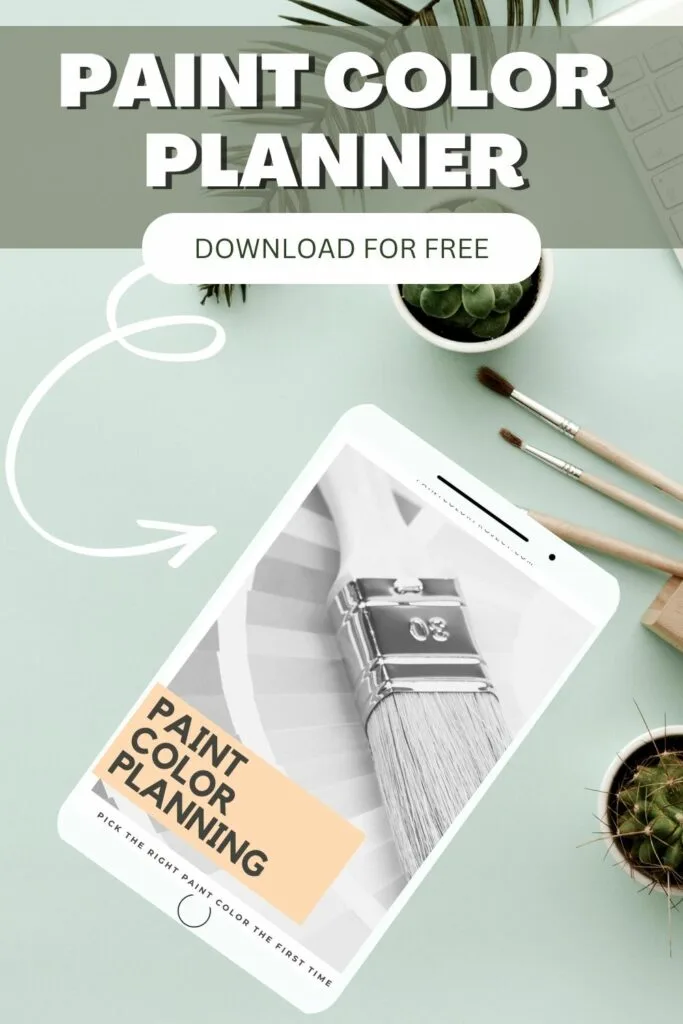 Thanks for reading!