Wondering does house paint ever go on sale? Here's what to know about buying paint for a discount – and when most sales happen!
It's no secret that I love the power of paint – hello, I started this whole website just to talk about house paint!
While I firmly believe that painting is the cheapest and easiest way to completely change the feel of a room, that doesn't mean that it's super cheap.
In fact, I always recommend buying high quality paint whenever you can, and high quality paint can be quite expensive.
As the cost of all raw materials has increased, paint prices have really gone up. It's hard to find a gallon of paint under $50 these days.
So, I wanted to take this blog post to explore when and where paint goes on sale, and to share some money-saving tips when it comes to buying house paint!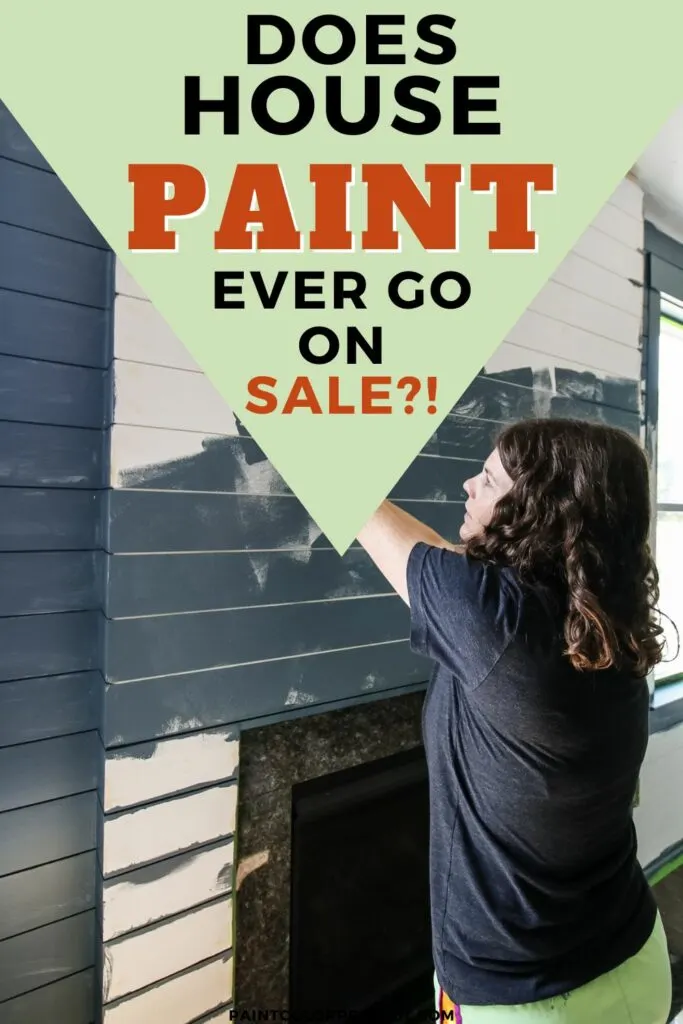 Understanding House Paint Pricing
Paint prices fluctuate significantly, even amongst a single brand. This is because brands have multiple lines of paint.
The cheapest paint will usually be their "economy" version. This is what mass builders and people on a budget tend to pick.
The problem with economy paint is that it is usually thinner and lower quality compared to higher end paints.
Cheaper paints will take more coats to get full coverage, and tend to be less scrubbable compared to higher quality paints.
If a cheaper paint needs 3-4 coats, compared to 1-2 for a premium paint, it might actually end up more expensive (due to needing an extra can of paint for the extra coats.)
We had a huge issue with the paint on our walls when we moved into our home – if you wiped it even gently with a magic eraser, the paint literally wiped off the walls.
This is because our builders used the cheapest possible flat paint.
Once we repainted with a premium, scrubbable paint, the walls are much easier to keep looking new!
Speaking of flat paint, there is also a price difference based on paint finish.
Usually flat/matte paints are the cheapest, and the glossier the paint, the more expensive it is.
This is because glossier paints have certain ingredients to make the paints harder and shinier, which also makes them more expensive.
You can read my complete guide to picking the perfect paint finish here!
It's important to balance price and quality when shopping for paint. You might not need the most expensive option- but you might not want the cheapest one, either!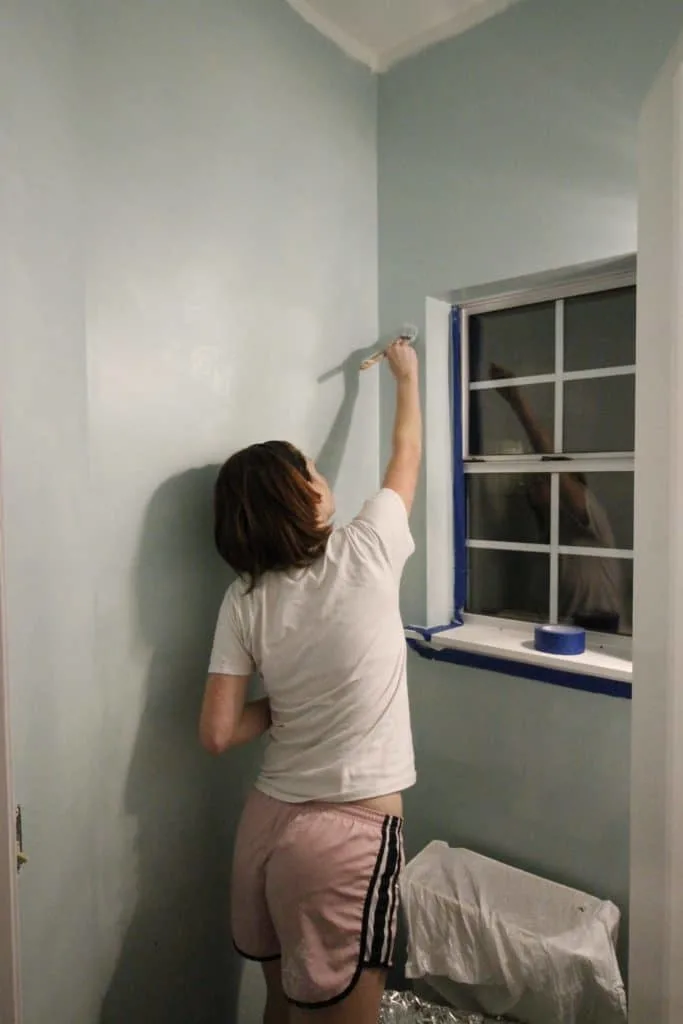 Seasonal Discounts and Sales
Paint brands often run sales tied to certain holidays. The most common paint sales in the USA run around:
Memorial Day
4th of July
Labor Day
You can call your paint store or paint desk and they should be able to give you a pretty good idea of the last sale or any sales coming soon.
Retailers Offering Discounts
Paint supply stores like Sherwin Williams and Benjamin Moore often offer contractor discounts.
You may have to create a contractor account online, but many people have success by just asking at the desk – do you have a contractor discount I could use? These discounts can be as much as 40% at certain times of the years.
You can also sign up for the paint company's email lists to get notifications of sales and deals.
Be sure to check the following pages for any current sales:
Finally, look out for rebates! I have noticed particularly that Behr at Home Depot does a lot of rebates, and they are easy to redeem online.
Basically, if you can wait to paint, do so and wait for a great sale or rebate to pop up!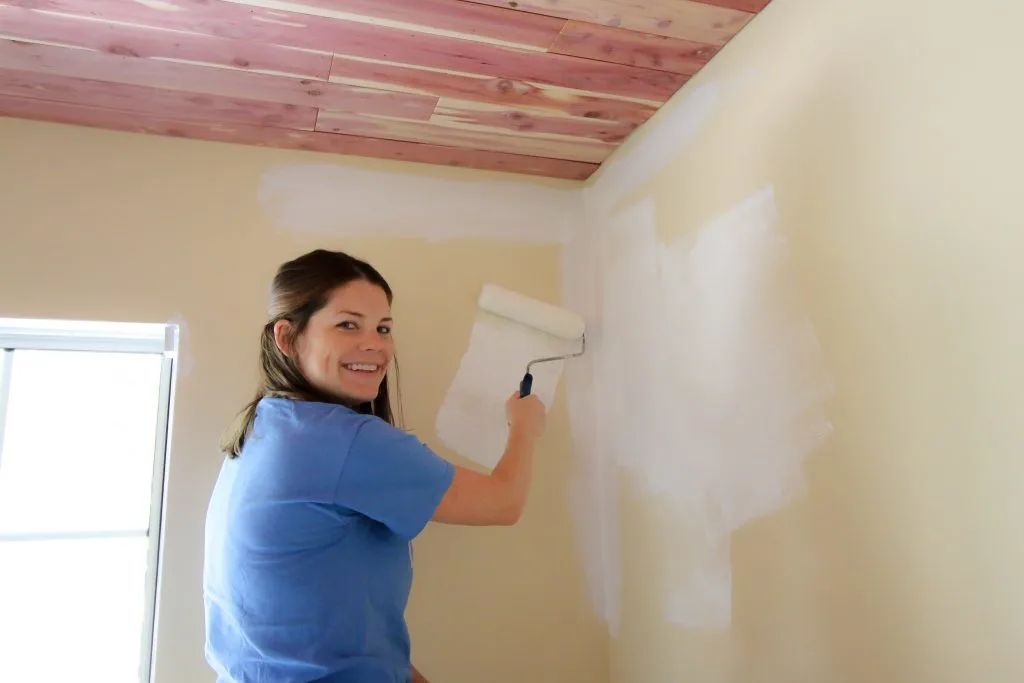 Ways to save money on paint when it's not on sale
There are a few ways to save money on paint if you need it when it's not on sale.
Stockpiling Paint
You can choose to purchase paint when it is on sale and hold it for when you actually need to use it. There are a few ways to do this.
The first option is to buy untinted base paint and then go back and have it tinted when you are ready to pick a color and paint.
It's important to recognize that there are multiple colors of base paint, mostly based on how dark the color is, and so you will need the right one for the paint color to turn out.
If you plan to have paint tinted later, be sure to save your receipt and talk to your specific store to ensure they will tint it later!
The other option is to go ahead and buy your paint mixed. Just know that some paints can separate over time, and you might need to stir it very very well before using it if it has sat for a while.
Always store paint in climate-controlled conditions.
Buying in bulk
Another important technique for getting a deal on paint is to buy in bulk. You can buy a 5 gallon bucket of paint often for the price of 3-4 gallons.
This is when picking one whole house paint color really comes in handy – your home will feel cohesive and you will save on paint!
Clearance paints
Many paint stores or paint desks will offer a mis-tine clearance rack. This is paint that others had tinted and then decided not to buy.
A lot of times it is WACKY colors, but sometimes you can luck out.
If you need only 1 can and are flexible on color, a mistint can could be a good option for you.
Discontinued colors
Sometimes, discontinued colors or paint types will be discounted. This is on a case by case basis.
If you choose to purchase a discontinued color, be absolutely sure that you buy enough for your entire project at once. You cannot go back and get more later!
While paint is expensive, there is still the potential for homeowners to save money on house paint. But, you have to balance the cost savings with quality of paint and the value of your time!
Any more questions on how to save money on paint?
Still not sure what paint color to choose?
My Paint Color Formula ebook walks you through the painless process of expertly testing paint swatches to ensure you have the perfect color for your home.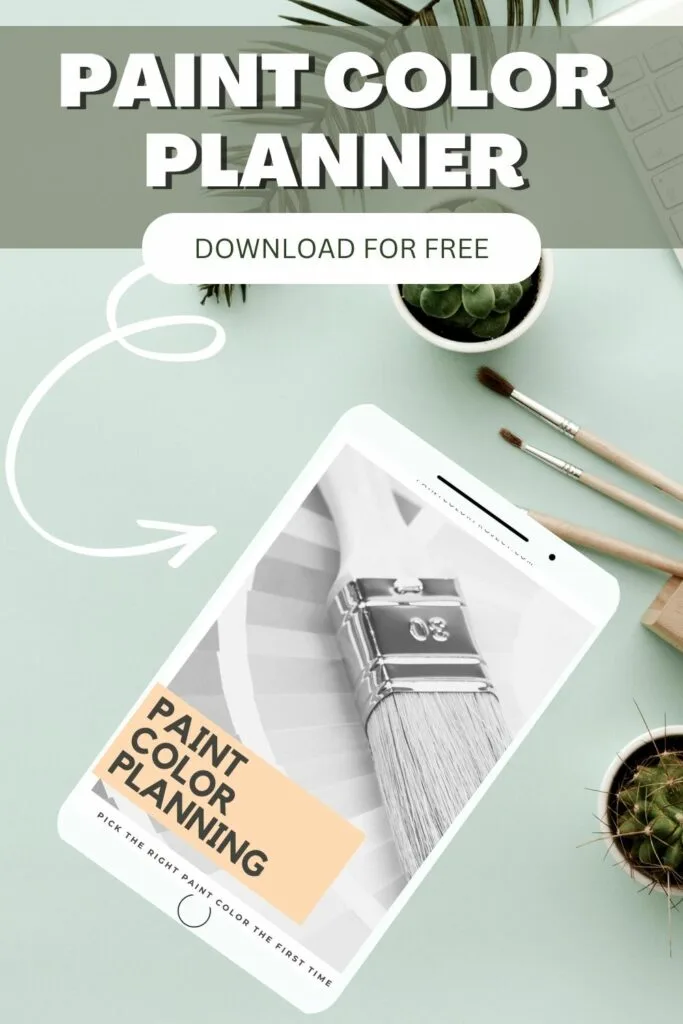 Thanks for reading!