Deciding between Sherwin Williams Agreeable Gray and Repose Gray? Let's compare these two super popular greige paint colors!
Greige is a super popular paint color. Greige means a mixture between gray and beige. Basically, a super neutral color!
Many professionals use Sherwin Williams paint, and these are two of their most popular gray paint colors.
These neutral gray colors are very popular color choices with home builders, real estate agents, and house flippers because they are so universally appealing and unoffensive.
If you look at Agreeable gray and Repose Gray separately, they honestly look about the same. You might be stumped as to which to pick!
So, let's get them side by side so we can really compare them and identify the differences!
Be sure to read my guide on how to choose paint colors for your home!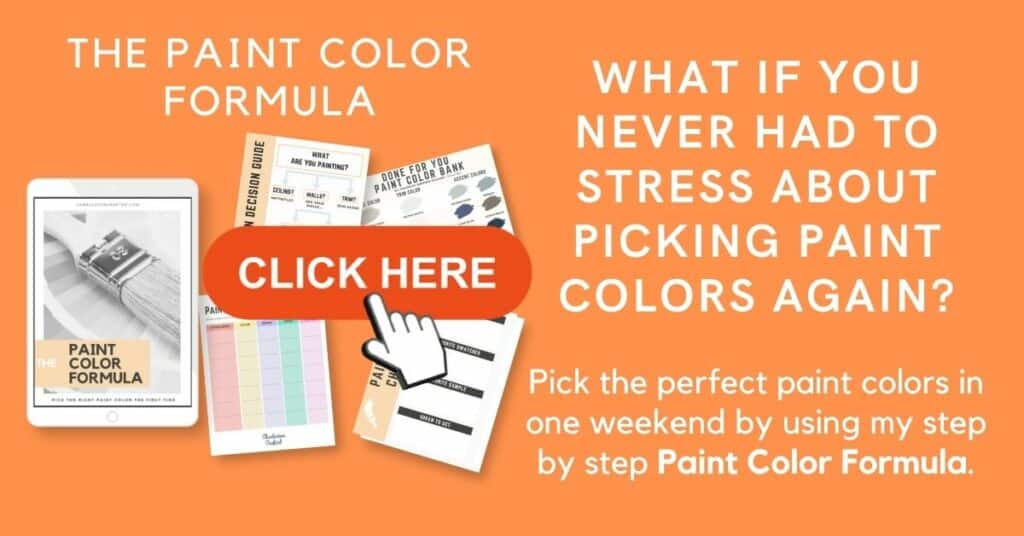 Sample these paint colors
The best way to decide which paint color is right for you is to sample them in your home. You can pick up samples at your local paint store or at the paint desk at any hardware store.
Or, conveniently order peel and stick samples directly to your home from Samplize!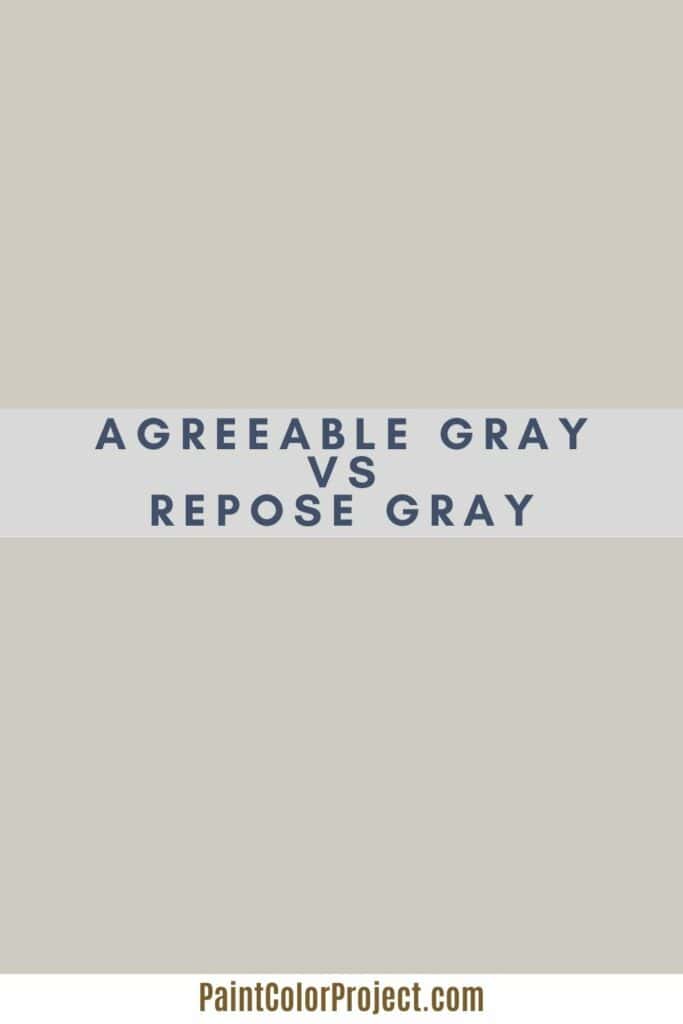 Sherwin Williams Agreeable Gray vs Repose Gray
At a glance- Repose Gray vs Agreeable Gray
At a glance, both of these greige colors are very similar. However, when you get them next to each other you will notice that Agreeable Gray is warmer and more beige while Repose Gray is slightly greener with more gray to it.
Repose gray is also just a shade darker than Agreeable Gray. Repose Gray has a Light Reflectance Value of 58 and Agreeable Gray has a Light Reflectance Value of 60. Smaller numbers mean darker colors because they bounce/reflect less light around!
Undertones
Agreeable Gray
This shade is a very warm tan color. It really doesn't have too much undertones in it. My whole home is painted agreeable gray and it seems to really pick up the tones of the colors used around it.
That being said, if I had to nail down Agreeable Gray's undertones I would say that it has slight pink and yellow undertones.
Read my full review of Agreeable Gray and see it in my home!
Repose Gray
Repose Gray has more green and blue undertones. You will especially see these tones in a North facing room. North facing rooms get cool light, which tends to make color skew blue-r.
Repose Gray also seems to have more gray than beige to it, compared to Agreeable Gray which to me is more beige than gray.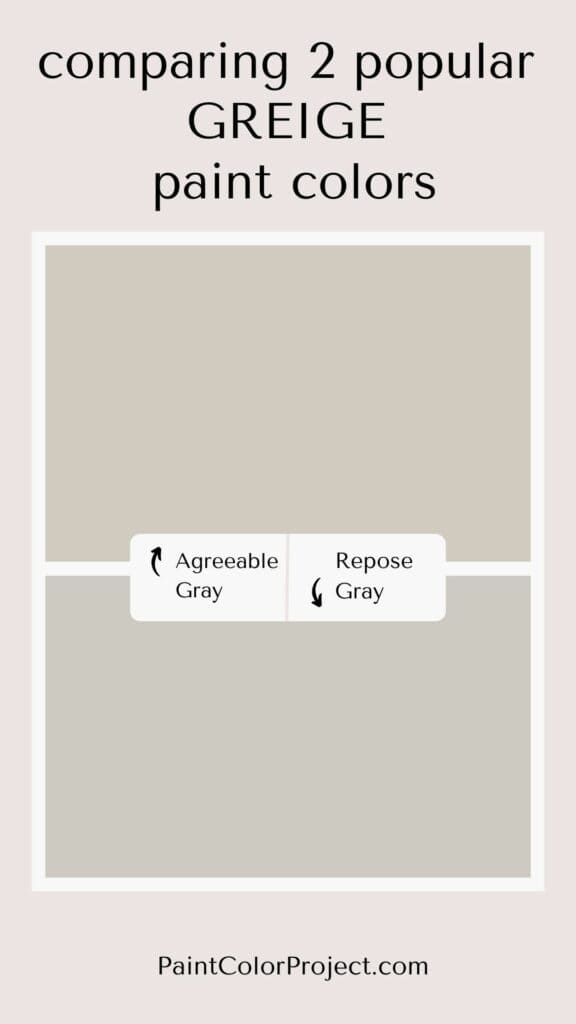 Coordinating colors
Agreeable Gray
Agreeable Gray can pair really well with a lot of different color schemes. I love it with bold, saturated colors, but it also pairs nicely with neutral wood tones, whites, and deep neutral blacks and navys.
I would steer clear of pairing it with anything too yellow, as that really makes Agreeable Grey look very beige and yellow to me.
I'd also steer away from any colors that are the same darkness and go for something lighter or darker to create more interesting contrast.
I would definitely pair Agreeable Gray with a crisp white trim like SW Extra White.
Check out all of Agreeable Gray's coordinating colors.
Repose Gray
Repose Grey also pairs nicely with a variety of color schemes. Blues work especially well and paired with white can create a nice cozy beachy look.
If you want to lean into the green look, pair it with a cool minty green shade.
Steer clear of reds and pinks as the undertones tend to clash.
For trim, you can pair a Repose Gray wall color with a warmer white like SW White Dove or Cloud White.
Check out all of Repose Gray's coordinating colors.
Repose Gray Color Palette
Join the (free!) PaintColorProject+ community to access this exclusive color palette! Once you join, you can right click & save the palette image!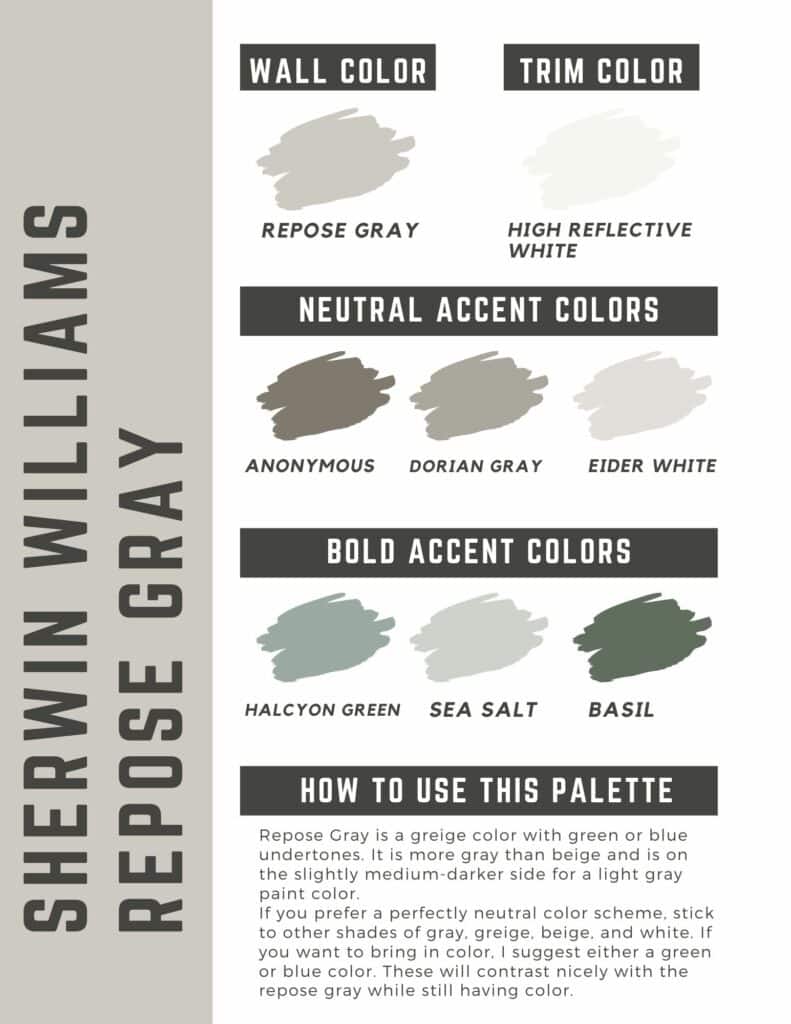 Any more questions I can answer about Repose vs Agreeable Gray?
Still not sure what paint color to choose?
My Paint Color Formula ebook walks you through the painless process of expertly testing paint swatches to ensure you have the perfect color for your home.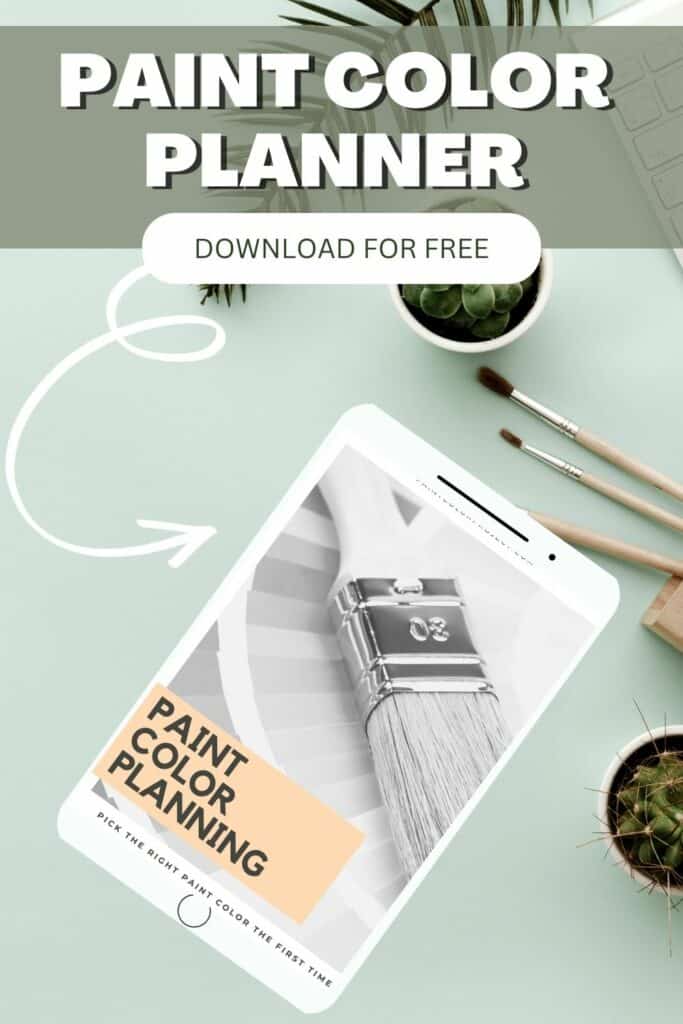 Thanks for reading!